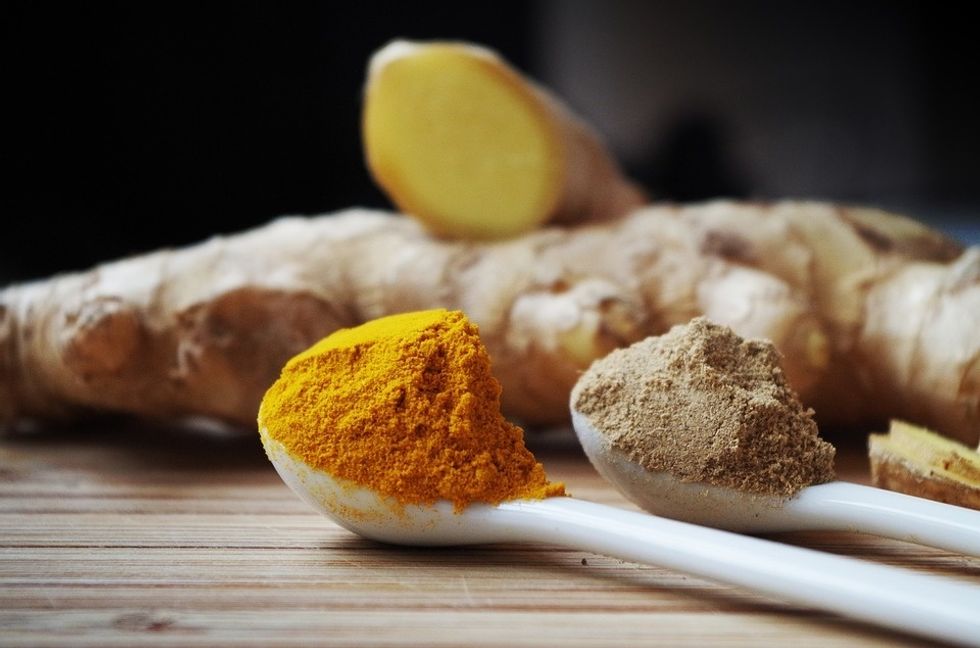 Best all-natural ginger remedies for nausea relief
Nausea's got nothin' on these products
According to Sea-Band Ginger Gum, "In the U.S., fifty-three million people suffer from motion sickness, and up to 80% of women experience nausea during their pregnancy." That's a lot of nauseated folks seeking a safe and swift solution to their tummy troubles.
Head on your quest to quell queasiness with one of these five natural, non-medicinal options for nausea relief that is fast and reliable. Nausea's got nothin' on these products.
Best Capsules: Puritan's Pride Ginger Root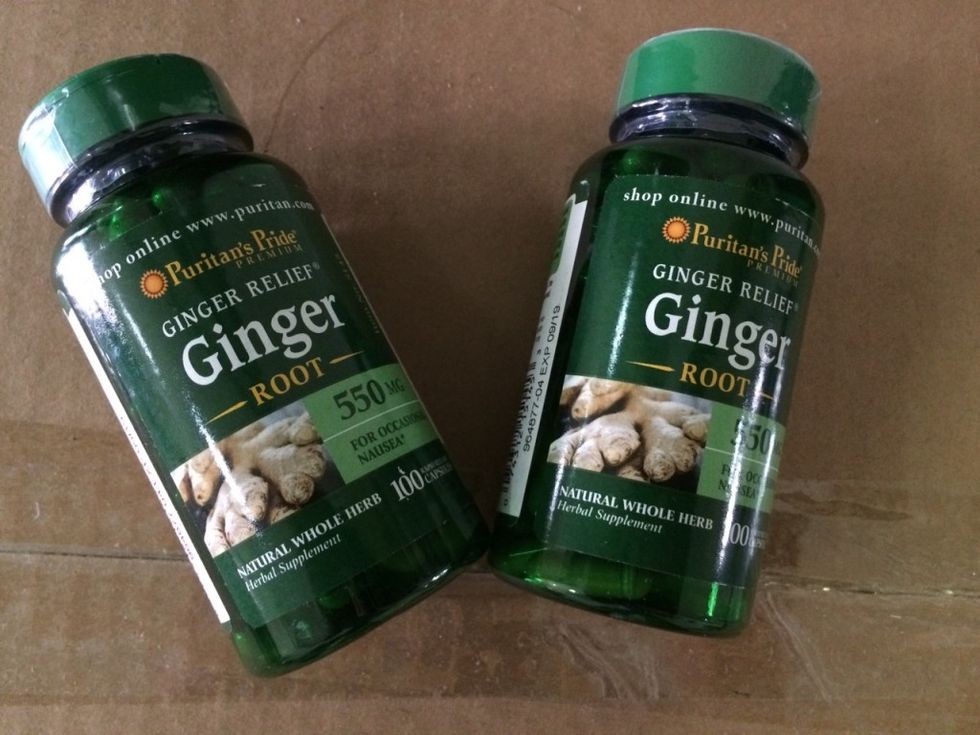 Via neocellcollagenstore.com
Nausea from motion sickness is a traveler's nightmare, but with Puritan's Pride Ginger Root to the rescue, it's all smooth sailing. Made with natural whole herbs, the preservative-free gelatin capsules not only support digestive health but help to treat the queasiness many experience as an element of motion sickness. The aid comes from ginger, with 550mg inside each Puritan's Pride capsule. Why is ginger so good? As per How Stuff Works, "It's probably best known for its antiemetic effect — that is, its impact on vomiting and nausea. It has been shown to work as an intestinal spasmolytic (digestive-tract soother)." Made with the highest-quality ingredients, users have been trusting Puritan's Pride for 40+ years. And this product gets to the root of the problem when it comes to nausea.
Cost: $9.49 for a 200-capsule Bottle
Best Tea: Bundle Organics Citrus Ginger Nausea Relief Tea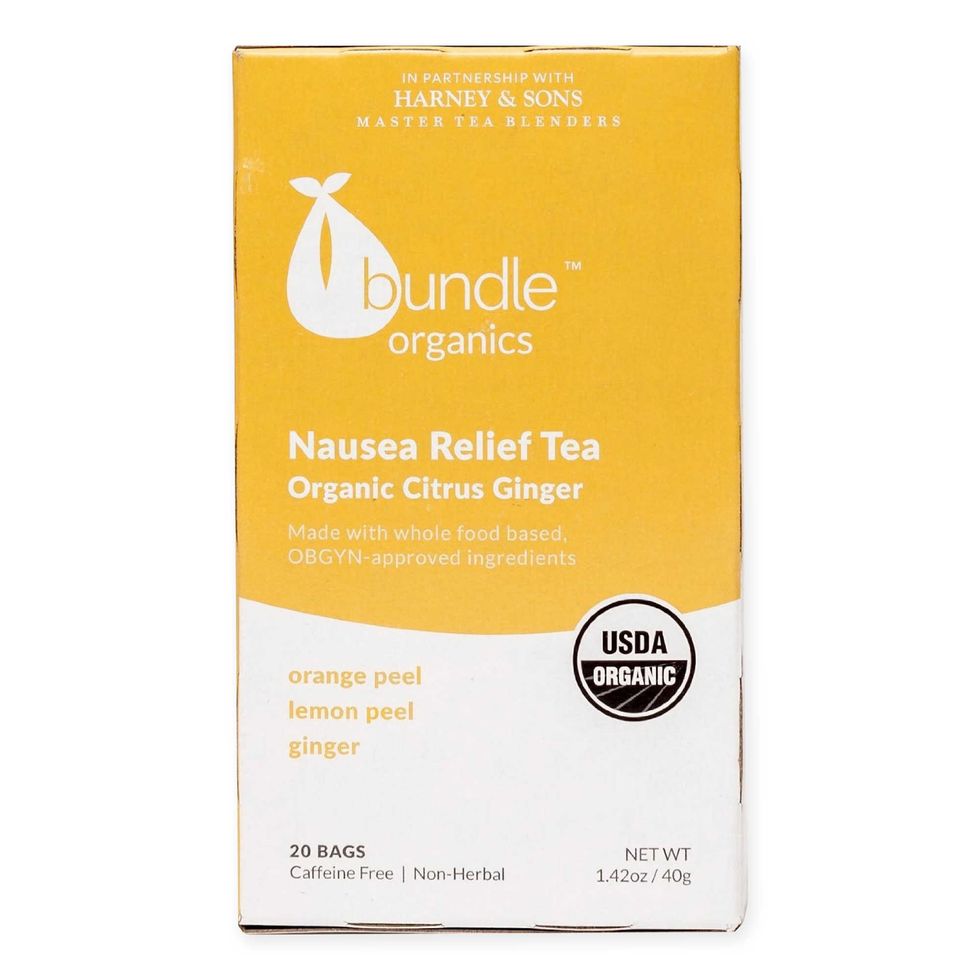 Via buybuybaby.com
A hot cup of tea soothes all the senses, but when nausea hits, tea's powers come forward and prevent that uneasy feeling from flipping your stomach. OB-GYN-approved Bundle Organics Citrus Ginger Nausea Relief Tea is not only tasty, but tames nausea, particularly due to morning sickness. It is USDA organic and naturally caffeine-free. The orange and lemon peel work to soothe the stomach while ginger is a natural way to nix nausea. In a study reported by the U.S. National Library of Medicine National Institutes of Health, "The effect of lemon inhalation aromatherapy on nausea and vomiting of pregnancy was investigated." A randomized clinical trial concluded that women who inhaled the lemon scent found a reduction in nausea and vomiting due to morning sickness." Verywell Health notes, "Scientists suspect that certain chemicals found in ginger may influence the nervous system, stomach, and intestines to help reduce nausea." Inhale, sip, and savor Bundle Organics for the lift of lemon and the gift of ginger.
Cost: $7.00
Best Gum: Sea-Band Ginger Gum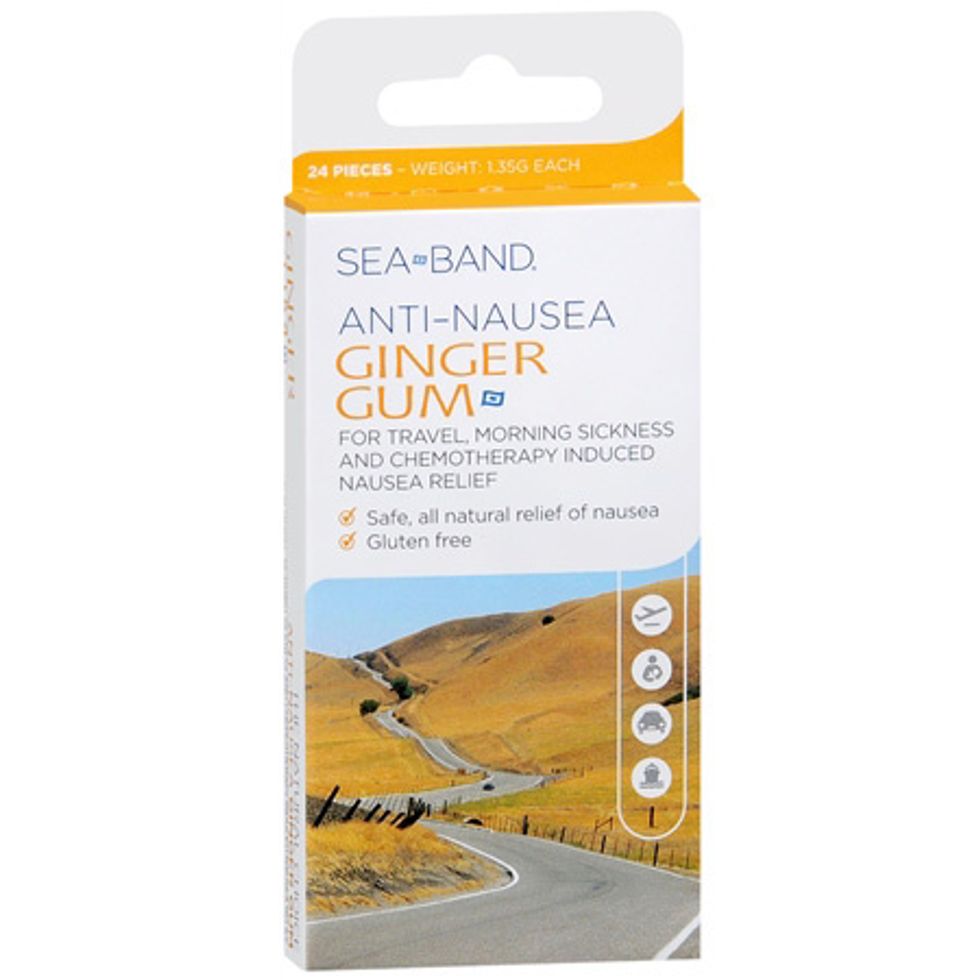 Via fsastore.com
Chew on this. There's a gum out there that is not only tasty and fun to chew but can relieve the nausea many experience from motion or morning sickness, even chemotherapy. As per WebMD, "In the largest study to date evaluating the benefits of ginger for patients undergoing chemotherapy, as little as one-quarter of a teaspoon of ginger cut symptoms of nausea by 40%." Sea-Band Ginger Gum is naturally soothing and drug-free, packed with plenty of ginger root – 12g per pack. Pop a piece in your mouth when you start to experience that unsettling and uneasy feeling, and Sea-Band works fast to provide relief as it touches your tongue. The gum is gluten-free and all-natural, making it a healthy option for getting rid of nausea. Blowing bubbles not required.
Cost: $13.24
Best Lozenges: Tummydrops Natural Ginger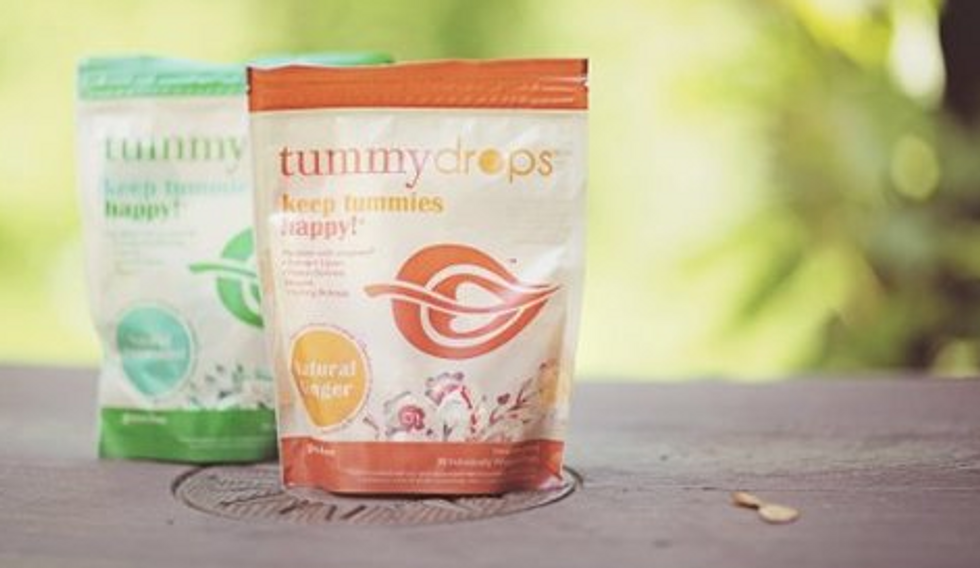 Formulated by GI doctors with non-GMO ingredients, Tummydrops Natural Ginger is the all-natural way to get great-tasting relief from nausea caused by motion or morning sickness, or gastrointestinal issues that need a fast fix. The gluten-free, kosher, vegan lozenges work instantly as you suck, and can even get to work faster by chewing. Made with brown rice syrup, dried cane sugar, and natural ginger powder, you can count on nature's "candy" to cure your nausea without chemicals or side effects. Tummydrops work wonders for IBS symptoms too. According to the Gut Health Project, "Some common symptoms of IBS include stomach cramps, gas, bloating, constipation, and diarrhea. Adding ginger to your diet can help relieve these symptoms because the spice can actually relax your intestines during flair ups."
Cost: $10.99
Best Candy: Verdant Kitchen Ginger Bites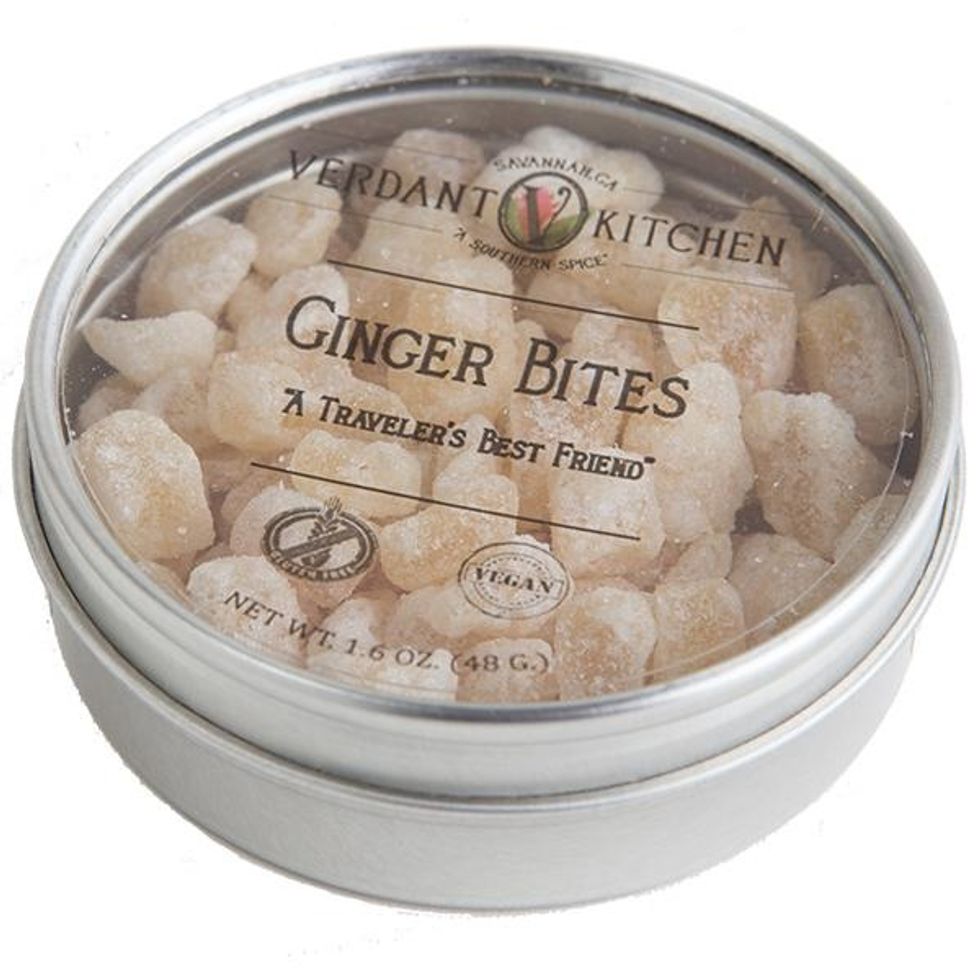 Via verdantkitchen.com
When you need a quick pop of anti-nausea relief, look no further than Verdant Kitchen Ginger Bites, "A Traveler's Best Friend". Raw, gluten-free, and vegan, these sweet candy-like nausea cure-all bits are tasty and tempting, perfect for pre-nausea preparation or for enjoying as soon as that first hint of nausea sets in. Livestrong notes, "Candies are popular choices, as they are easy to eat and are more palatable than raw ginger." And the best part about Verdant Kitchen Ginger Bites is that you can enjoy one any time, not only when you're feeling queasy.
Cost: $8.99
No more nausea, the all-natural way.