Summer has finally arrived and my vacation's right around the corner! Time to switch up my makeup so it's breathable and natural-looking — I hate thick and cakey makeup in the hot weather.
And isn't the summer all about keeping things light? While protecting my skin, of course, which means SPF — tons of SPF. I definitely needed new makeup, but didn't want to break the bank.
My friend Sophie was always raving about Thrive Causemetics' fantastic mascara. She said it's a vegan, cruelty-free makeup powerhouse. They deliver exceptional products that highlight your features and continue treating your skin even after you remove them. Plus, their makeup is packed with beneficial ingredients that are good for you, which is just what I need.
Based on Sophie's natural look and glowing skin, Thrive seems like the perfect place to pick up my summer routine, so I checked out their site. Here's everything I got for my Summertime Thrive Causemetics haul:
The first product, I picked was the Sheer Strength™ Hydrating Lip Tint ($26)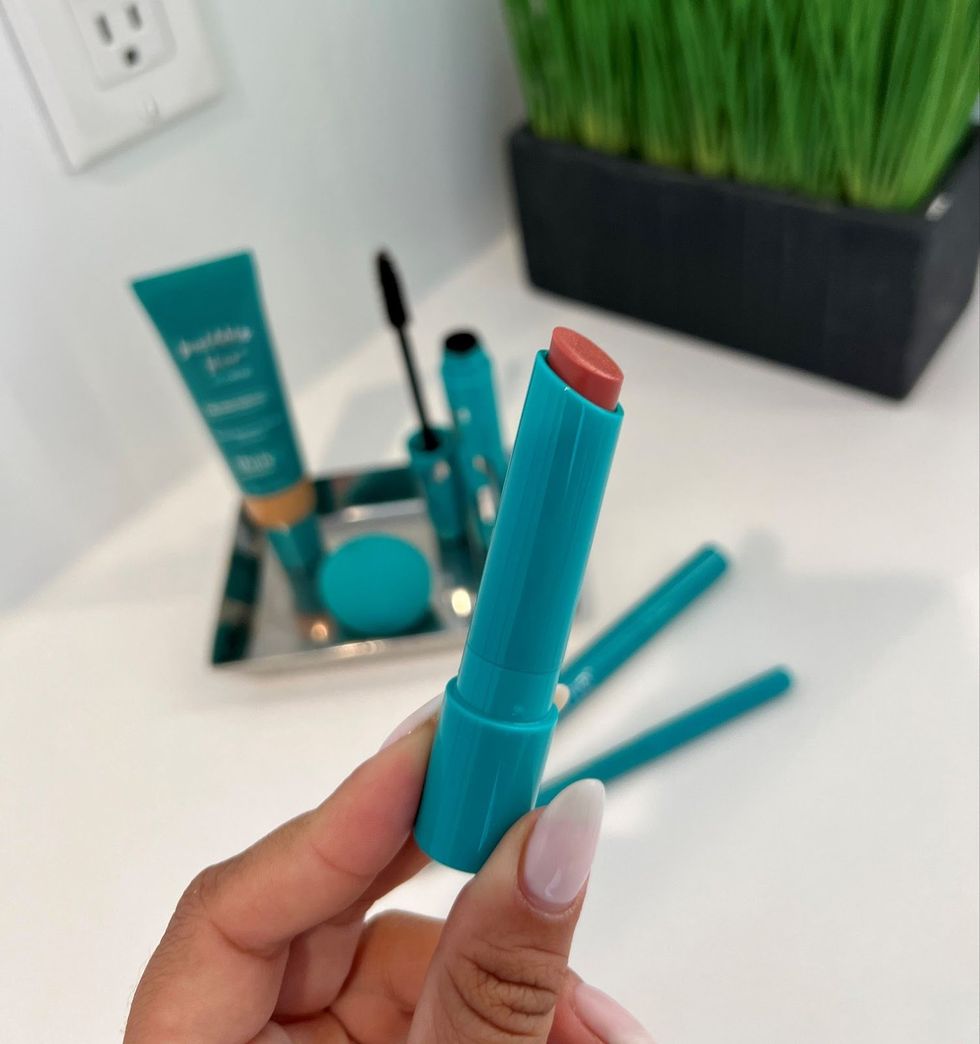 Now that my eyes are stunning — if I do say so myself — it's time to add an extra splash to my lips. My lips get so dry during the Summer, but the Sheer Strength™ Hydrating Lip Tint does the trick. It's lightweight and instantly rejuvenates my lips with a smooth, conditioned surface for optimal color — due to its 24-Hour Moisture Lock Complex™ tech.
I was never too big of a lipstick fan, but this adds just the dash of color my lips need. It comes in 5 amazing shades — you can't go wrong.
Next was the Buildable Blur™ CC Cream Broad Spectrum SPF 40 ($38)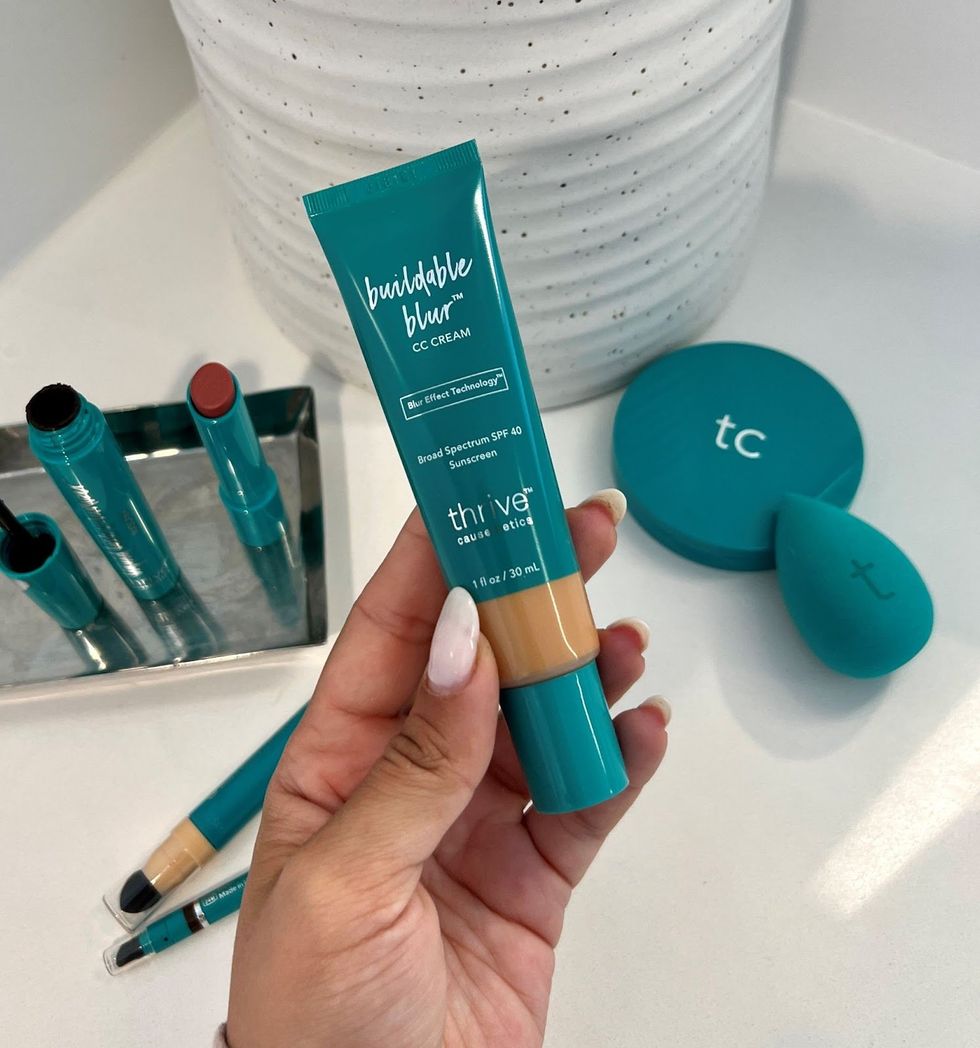 This lightweight CC Cream also has SPF? — Winner! The Buildable Blur™ CC Cream Broad Spectrum SPF 40 contains Blur Effect Technology™ and Smart Pigment Technology™. They help blur the look of fine lines and diminishes the appearce o fredness and discoloration.
It's the perfect base that lasts all day long. Plus, their Broad Spectrum SPF protects against harmful UVA + UVB rays and prevents sunburn. They also have shades for every skin tone.
Next was the Infinity Waterproof Eyeshadow Stick™ ($26)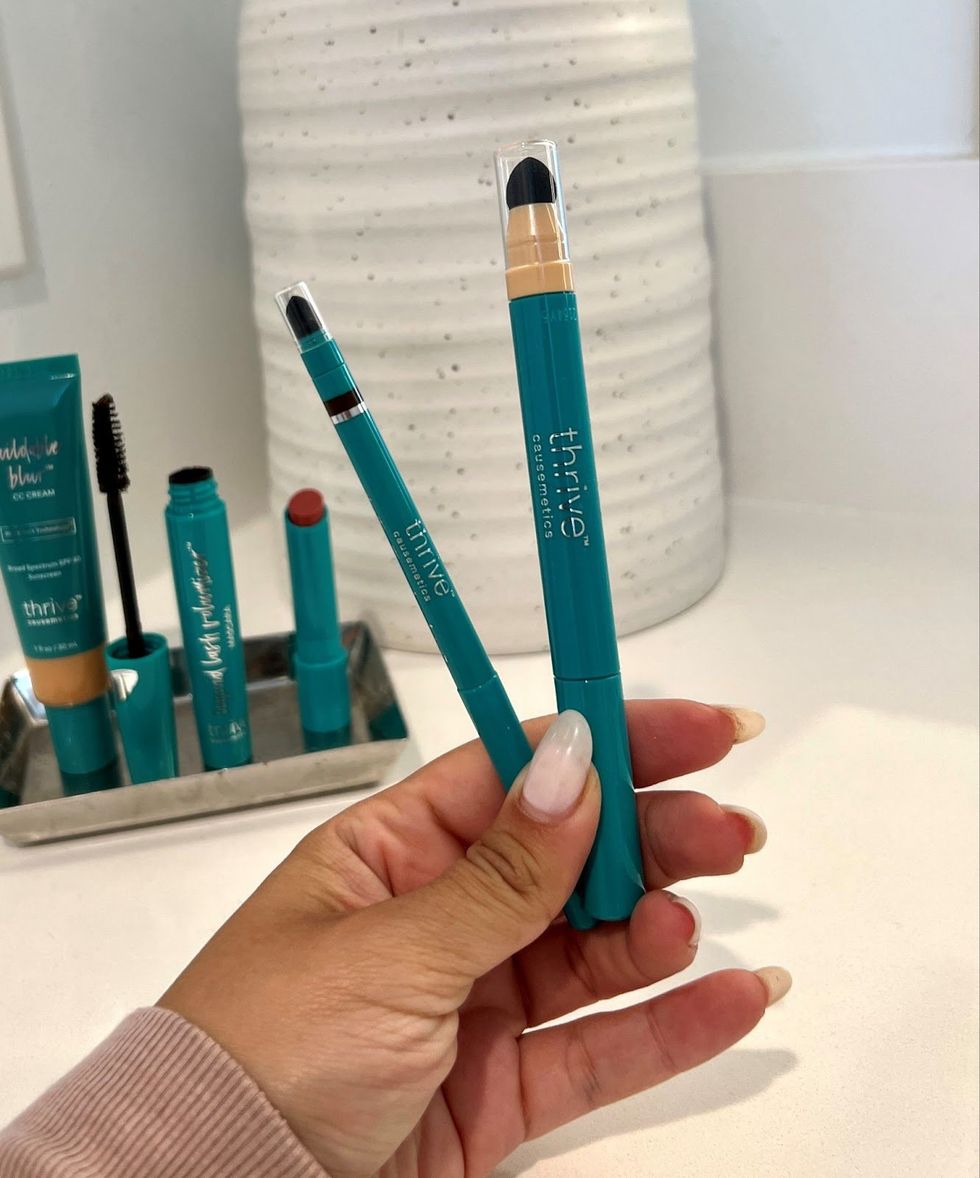 This is the most straightforward eyeshadow stick ever! It glides easily over the eyes. Semi-Permanent Micropigments™️ tech keeps it smudge and waterproof. It's super easy to blend and it doesn't smear when I rub my eyes.
It contains Sodium Hyaluronate, Ceramide NP, and Aloe Leaf Extract + Vitamin B5 plump, which helps hydrate and moisturize your eyelids. I own it in Blythe (Light Cream Matte), but it's available in 11 gorgeous shades. This eyeshadow stick instantly brightens my eyes — I can't go anywhere without it.
It was now time for the Infinity Waterproof Eyeliner™ ($22)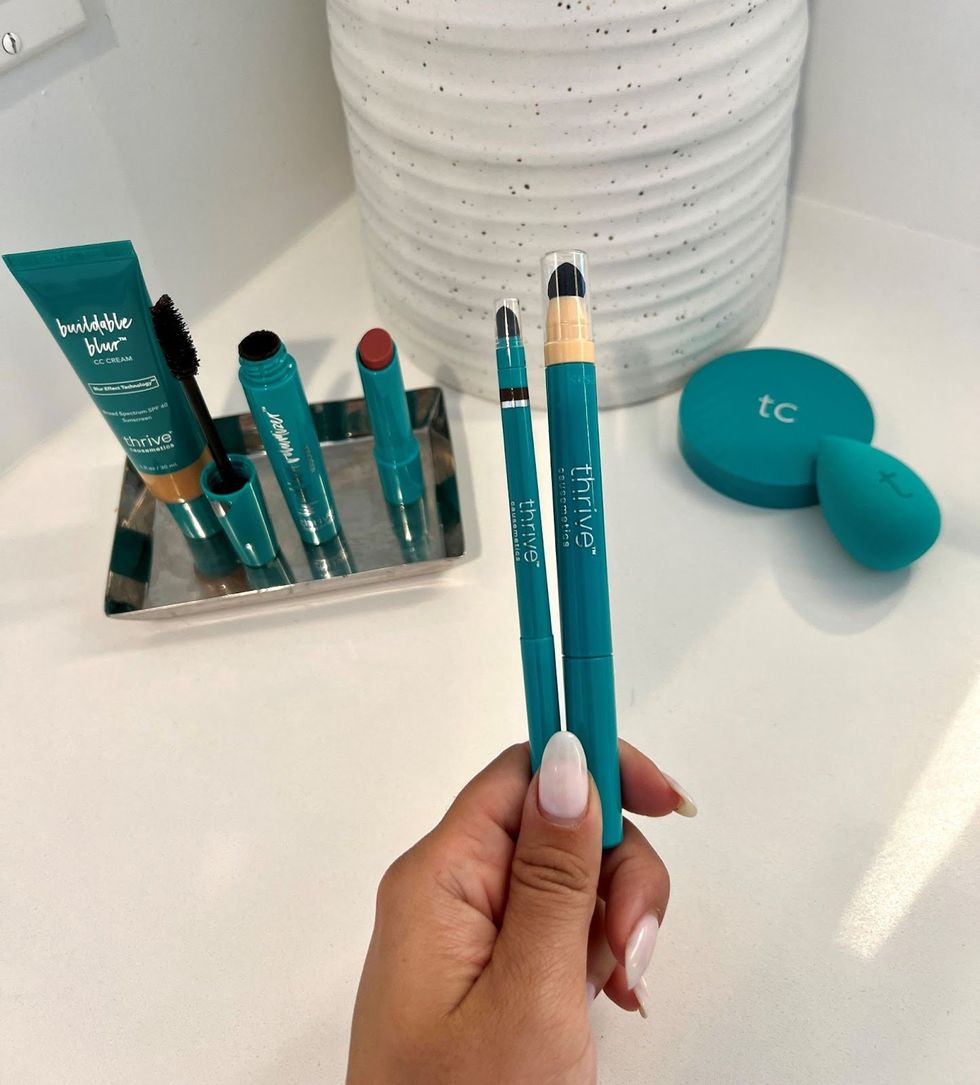 Usually, I hate eyeliner because some take ages to dry, but the Infinity Waterproof Eyeliner™ sets in 30 seconds. The Semi-Permanent Micropigments™️ ensure that it's smudge-proof and ready for all-day wear. So it doesn't come off or transfer, even when my eyelids are kind of sweaty.
The angled smudge tip is excellent for a smokier style. This gives me that winged, smoked-out look I always aspired to. I currently carry the Lauren (Black Matte) in my bag, but it comes in 7 different luscious shades. Next? I'm testing the Jade (Teal Shimmer).
Finally: Liquid Lash Volumizer™ Mascara ($25)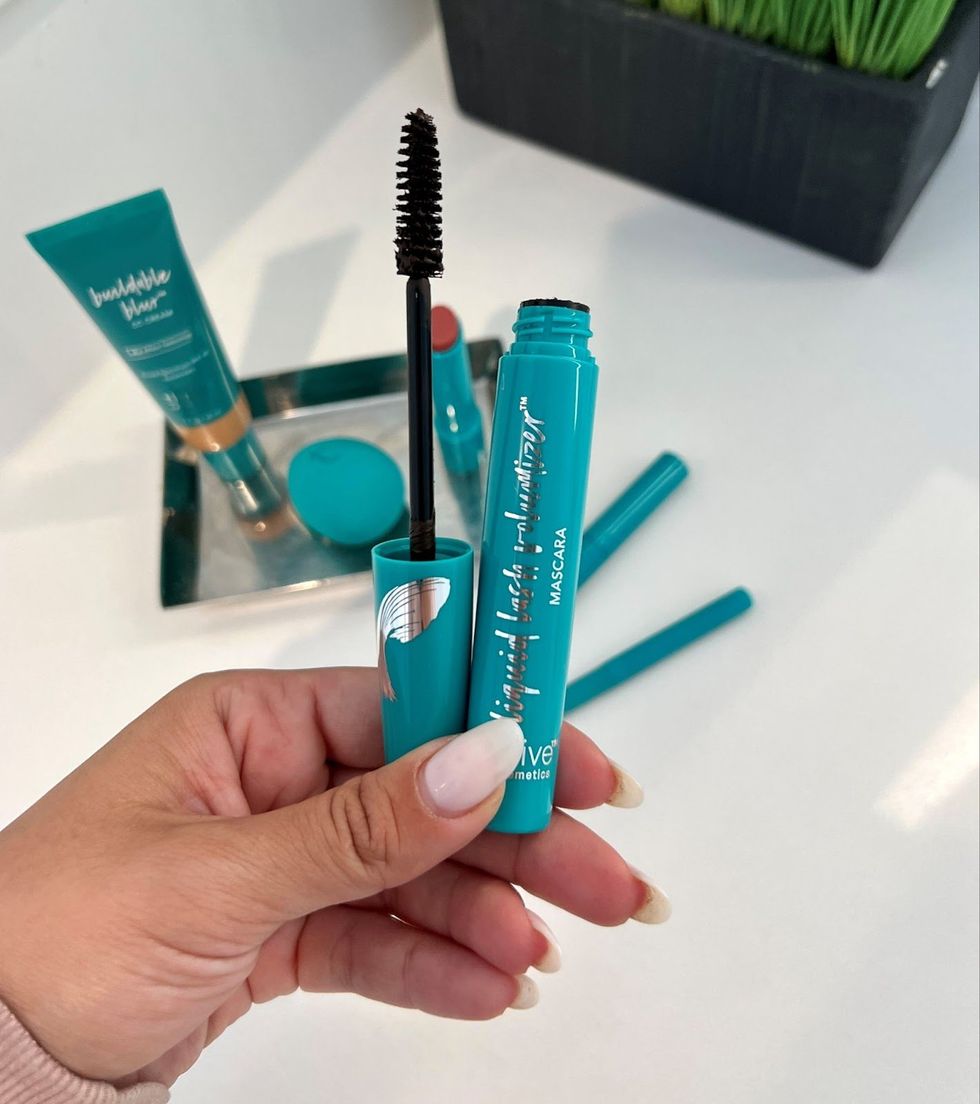 I have fine eyelashes, so I continually wear mascara. Just a few swipes of this and I get the same effect as fake lashes — long and voluminous. Thrive's Liquid Lash Volumizer Mascara is formulated with Power Peptide Lash Booster™, which is a blend of 3 peptides that help create fuller, longer, and healthier lashes.
The Lift + Curl Dual-Bristle Brush™ coats each lash individually — what a fun look for summer. Removal is easy-peasy — I only need gel cleanser. I bought the Brynn (Rich Black) shade, but they also offer Crystal (Brown Black).
Overall, I adore my Thrive Causemetics summer haul.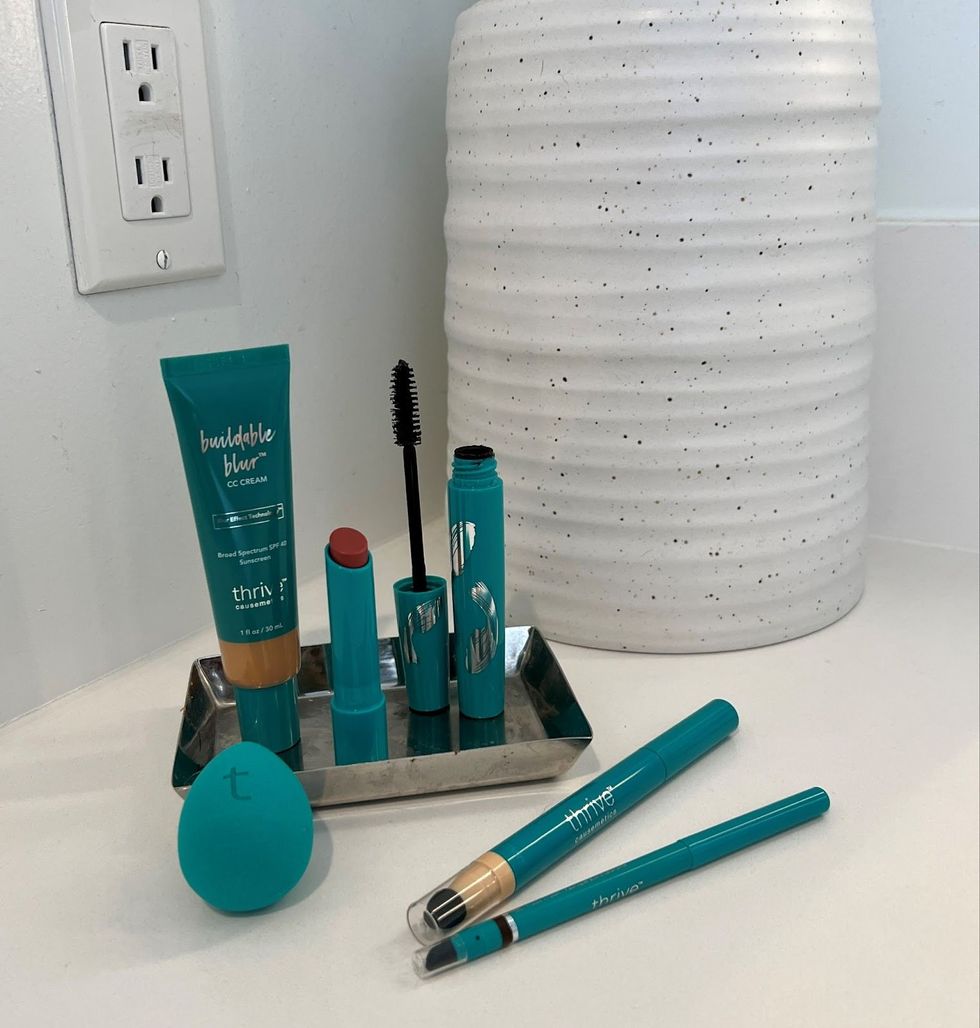 Their line is flawless. It's made from high-quality ingredients, is affordable, and suits any look you want. Plus, their products are designed to be really easy to use, yet effective.
Thrive Causemetics goes way beyond delivering exquisite products. Since their founding in 2015, one of their missions is to help women truly thrive. They've donated products + funds to over 200 non-profit Giving Partners that support women and their communities. They support women fighting cancer, surviving domestic abuse, emerging from homelessness, veterans adjusting to life outside of the uniform, or LGBTQ+ communities. Their Bigger Than Beauty™ initiative is not only admirable but Thrive Causemetics is always transparent about where your money is going.
With this leading beauty brand's awesome essentials you can achieve a quick and flawless natural look or go full-out summertime glam. Thrive Causemetics is proof that vegan makeup works when it's done right — I'm a fan for life! So, get your haul on and cart your summertime must-haves, now!