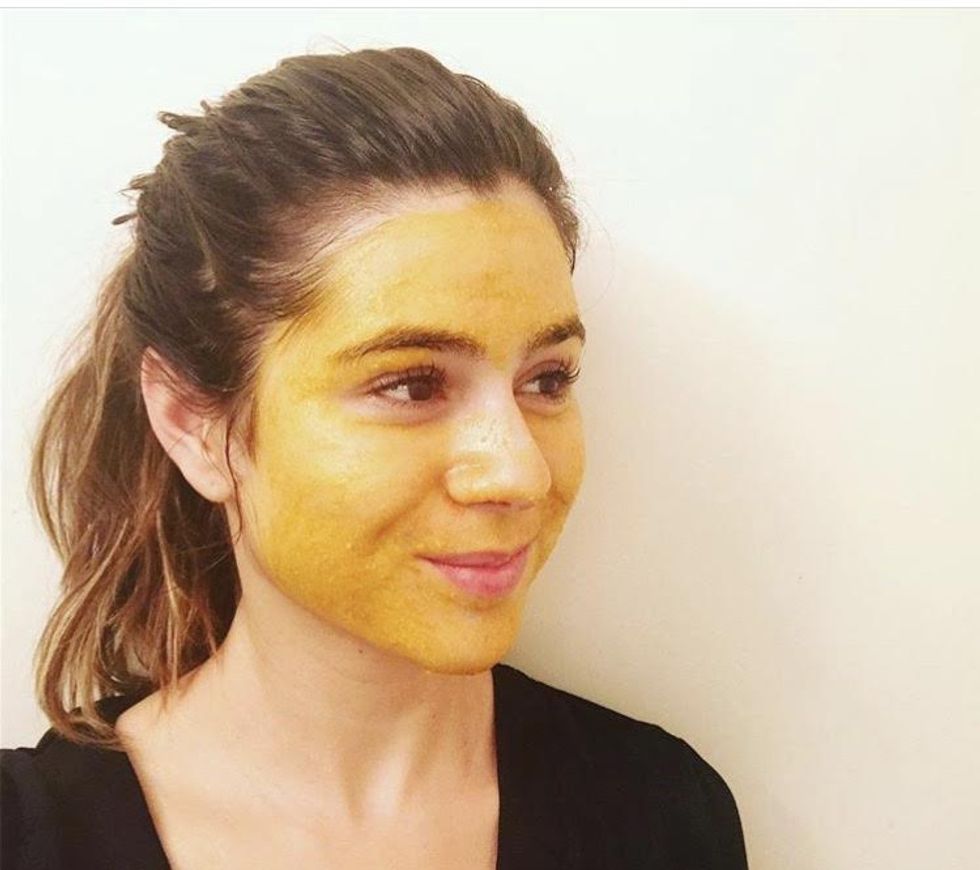 Yllo Scrub is my new go-to skin remedy
This Tumeric- based face scrub is my new acne fighting partner in crime.
After a long, hard week at work (and it still wasn't Friday), I opened my mailbox Thursday night to the best surprise ever. A lover of getting packages in the mail, I would be happy to see anything in my mailbox, but this was just what I needed. I was breaking out from the stress of the week and I knew that Yllo Scrub could help. This company is small, but growing like a force and with good reason. Their project, mission, and company identity is all on point.
The packaging was super simple, but pretty. Yllo Scrub comes in a resealable brown paper bag that seems to be insulated to protect the scrub from becoming saturated in the shower. The scrub is loosely stored in that main cavity. Yllo Scrub was "inspired by Indian traditions that naturally heal and nourish skin in transparent and holistic ways." The company was founded by power duo Jaz and Jamil. Jaz's passion for unique skincare came from her frustration with the current state of the skincare industry and the over-complicated nature of products. Jamil's came from his Bangladeshi background. Turmeric based skin care is traditional in Bangladesh culture and after seeing the healing effects of the spice at a wedding in Bangladesh, Jamil became inspired to create Yllo Scrub. The duo's philanthropic mission was inspired by Jamil's background as well. Child marriage is traditional in Bangladesh culture, most girls being married before the age of 16 in marriages arranged by their elder relatives. Driven to help give young women a choice, the founders of Yllo Scrub decided to share the wealth of their company with organizations who work to end child marriage.
Now what you've all been wondering. Yes, the scrub is yellow. Really yellow. Colored naturally by Turmeric's natural yellow hue, the product has simple natural ingredients: turmeric, chickpea flour, cold pressed coconut oil, cane sugar, sea salt, vitamin E, and lemon essential oil. Yllo Scrub's turmeric scrub is also vegan and cruelty free.
The mixture was corse on my skin and I felt a light tingle. I personally like that feeling because I know the product is working; however, this one was unique because it was more gentle than the store-bought products I am used to. The package instructed me to keep it on for 15-20 minutes and "dance around a little," while waiting. Don't mind if I do Yllo Scrub! When I took the scrub off, it didn't feel dried out like other masks. It was still moist and gentle. I washed it off in the bathtub, turning my water a slight yellow color. When I took it off, my skin felt really soft and supple and it seemed to get rid of some of the pesky blackheads I perpetually deal with on my nose. My pores were open and clean and it was a great feeling after a long day of traversing the city. I even noticed some of my acne from stress, less inflammatory than before. I can only imagine the long term effects of consistent use of Yllo Scrub.
This is a product I will without a doubt use several times a week, purchase again, and recommend to my friends. Whether you're a teen dealing with pesky acne or an adult trying to maintain nice skin throughout a world of stress, Yllo Scrub is for you. It's gentle ingredients make it a great option for consumers of all ages and it's commitment to philanthropy makes it a company I am proud to support. Check out my Yllo face above!