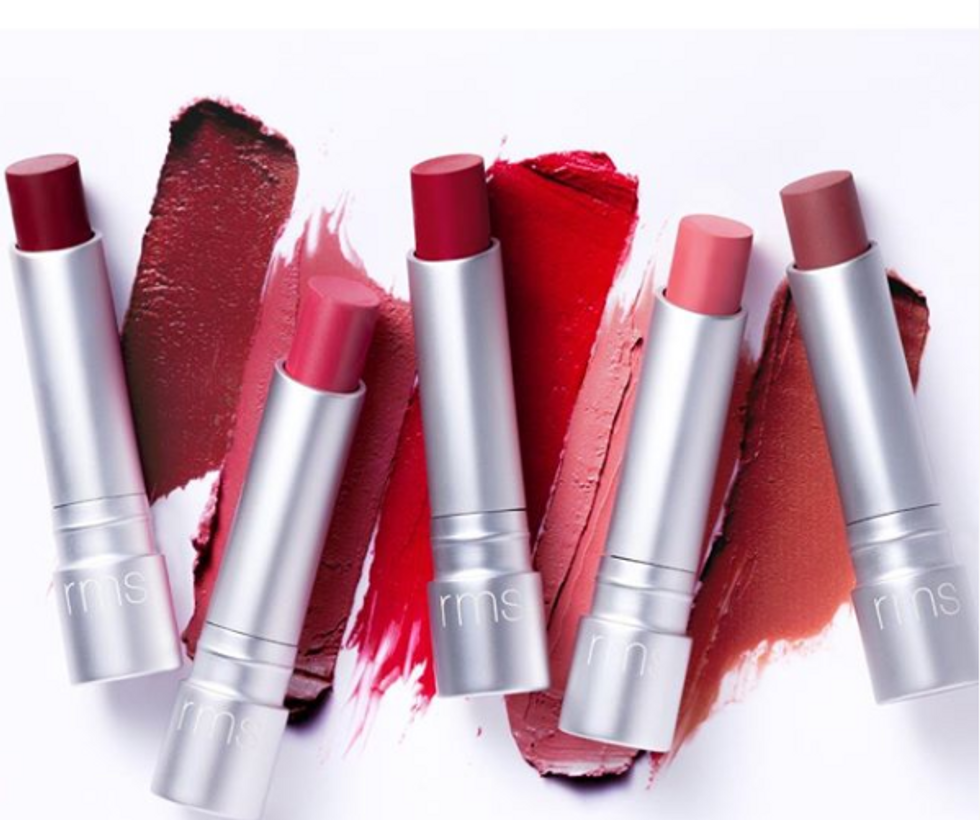 This multi-tasking beauty product is your new best friend
Throw it in your purse and reapply throughout the day.
RMS Beauty is an up and coming natural beauty brand. The founder Rose Marie Swift, a former makeup artist after spending years in the industry seeing the affects of chemicals in beauty products decided to develop her own product that fills the gaps in the industry she noticed. Rose Marie found that most ingredients in beauty products are bleached, dyed, deodorized, fractioned, and heated stripping the ingredients of their natural nutrients and changing them into chemicals. RMS avoids all of this processing and leaves their ingredients natural, organic, and food grade, so not only do you get the quality look, but the product also has healing affects. The smoothness of their products and consistency, allows consumers to mix colors and create a personalized combination that works for every unique skin tone.
My personal favorite product of theirs is their Lip2Cheek duo. Packaged in a tiny glass paint pot, a little of this potent product goes a long way. The Lip2Cheek duo is perfect for the busy minimalist who seeks to streamline their morning primping routine. Applying the balm to both your lip and cheek allows for them to compliment one another and limits the amount of product you need in your beauty cabinet. Compact and well-packed, the Lip2Cheek duo is easy to toss in your purse to reapply throughout the day, though I find it lasts pretty well. The main ingredient in the Lip2Cheek duo is coconut oil which explains why it's easy to spread and apply. Other key ingredients include castor oil, beeswax, jojoba oil, and carnauba oil. While most of the Lip2Cheek duos go on rather sheer, they are all buildable depending on how much you use. Pro tip: Use less than you think you need then add from there, it's really pigmented.

There are a variety of colors in the RMS Lip2Cheek duo. The collection includes nine different colors ranging from a summery coral to a vampy deep bordeux. My personal favorite is beloved, a classic red. I am a huge fan of a bright red lip, but most red lipsticks dry out and have to be re-applyed. Because of the natural ingredients in RMS, I find that the Lip2Cheek moisturizes my lips throughout the day and I only have to re-apply once or so throughout the day. I found that when using the products on my cheeks, the best way to apply is by applying a small amount on the apple of each cheek, and brushing the pigment up your cheek then blending outward. I can't stress enough to use this product sparingly because it's so pigmented and you don't want to end up with huge pink smears on your face!
I highly recommend the RMS Lip2Cheek duo for anyone who likes to streamline their makeup routine. If you like the Lip2Cheek duo check out some of RMS' other amazing products. Some other favorites of mine include the makeup remover wipes that are coconut oil based and leave your skin clean and smooth, and their foundation/concealer product called "UnCoverup" which is perfect for a healthier simpler alternative to your current foundation situation. Check out their products here.