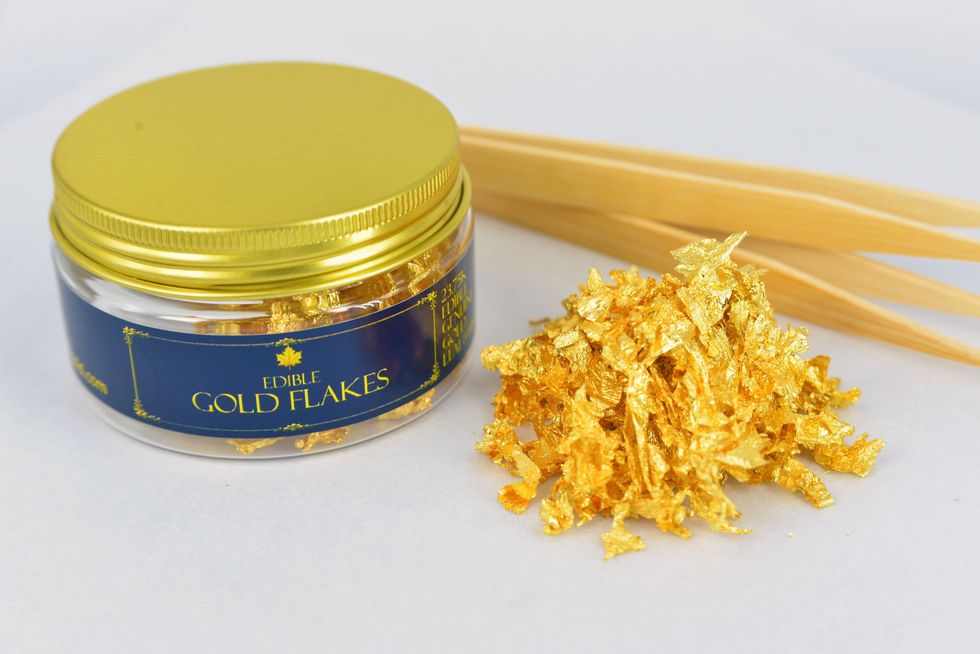 All that glitters is edible gold... five ways to try it
Here are five ways to add a pinch of pizazz to your eats and treats
As the Olympians strive to win the gold, we at home can find our own way to score by gobbling up gold the gourmet way. We are used to wearing glitzy glam on our fingers, in our earlobes, and around our wrists and necks, but did you know gold can be consumed too? Consider it dietary decadence, if you will.
That's right. Gold is making its way to the dining room table. It decorates and delights with shine and sophistication, making dishes glimmer and glow with elegance. Almost too pretty to eat, yet we just can't help ourselves to a "blingy" bite.
As for the safety and taste? As per Slate, "You could eat your fill of 24-karat gold without falling ill. Pure gold is chemically inert and passes through the human digestive system without being absorbed into the body. Since 24-karat gold is very soft and fragile, most edible gold—whether leaf, flakes, or dust—also contains a little bit of silver, which is also inert. Edible gold has no taste, texture, calories, or expiration date." To put it simply, "Although eating gold sounds like the ultimate in gourmet luxury, it adds nothing to a meal other than, quite literally, a lot of glitter," explainsMaclean's. But who would turn down more glitter in their life?
Being fabulous is fun, so let's dig in! Here are five ways to add a pinch of pizazz to your eats and treats. The golden ticket is yours for the taking.
Manetti Edible Gold Crumbs Shaker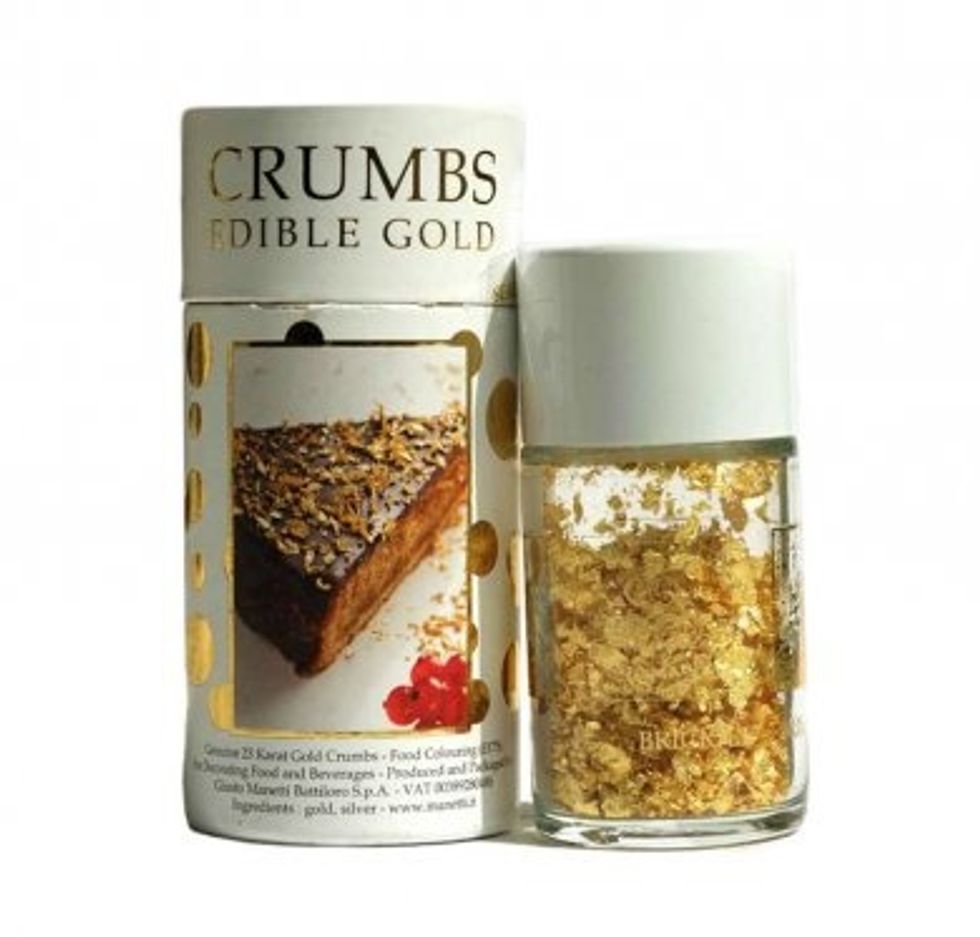 Via almagourmet.com
Shake on some shimmer and give your dishes the royal treatment with Manetti Edible Gold Crumbs Shaker. Watch as the edible gold and silver "crumbs" fall like sparkly snow onto your savory or sweet plates and watch "blah" turn into brilliance. According to Alma Gourmet, "Edible gold is classified as a natural food additive and Manetti produces the finest European edible gold and silver available, they are certified by the LGA laboratories and respond to the European regulations regarding alimentary colorants for the decoration of food and drink." So, go on and sprinkle to get that twinkle, and turn the everyday into something extraordinary.
Cost: $44.50 for a 125mg Shaker
Wilton Shimmering Gold Sugar Sheets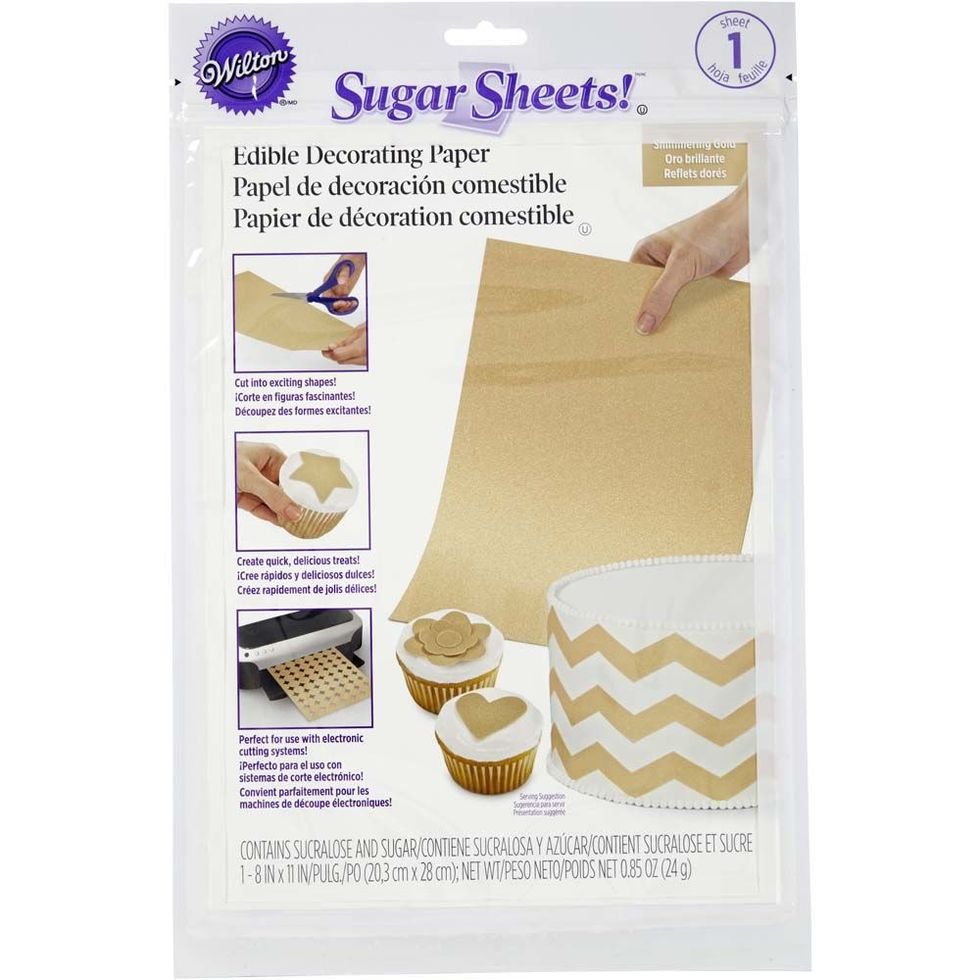 Via wilton.com
Sweet sheets add a warm and wonderful glow to cupcakes and cakes when you want to bake up something brilliant. Wilton Shimmering Gold Sugar Sheets are pretty pieces of fine paper that peel and stick to your cake's surface, and they can be cut into different sizes, shapes, and silhouettes. These have a touch flavor since they are made ofsucralose – an artificial, non-caloric sweetener, and sugar, and while as sparkly as the real thing, they are made of imitation gold. Get that fancy look at a fraction of the price. For ease of use and understated elegance, Wilton Shimmering Gold Sugar Sheets take the cake!
Cost: $4.99 for one 8x11 inch Sheet
Barnabas Blattgold Edible Genuine Gold Flakes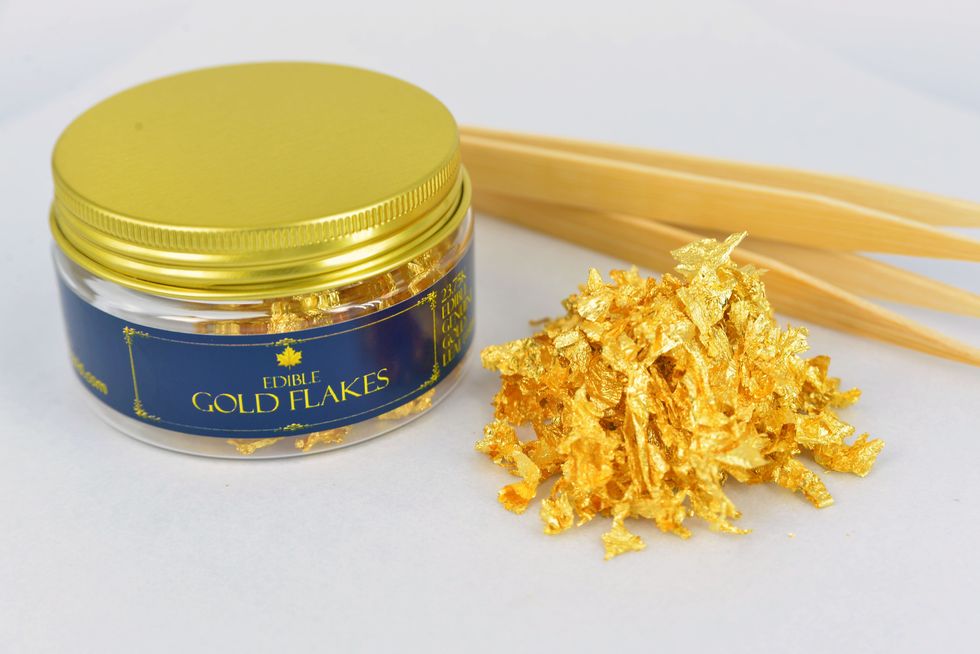 Via barnabasgold.com
We've all heard of Frosted Flakes, but the sugar-coated corn cereal's got nothing on flakes frosted in 23.75K gold. Barnabas Blattgold Edible Genuine Gold Flakes are stunning, adding a subtle touch of royalty to anything from cocktails to candies to cakes and more. As a finishing element to a gourmet creation, these delicate flakes take drinks and dishes from average to amazing. Just picture a brunch Bellini with bling or a lustrous lemon pie for dessert. And If you are looking for even more metal magic, Barnabas Blattgold sells silver and copper edibles too. Shine on!
Cost: $29.99 for a 150mg Jar
Luxe Cake 24 Karat Gold Luxury Dust and Royal Gold Luster Dust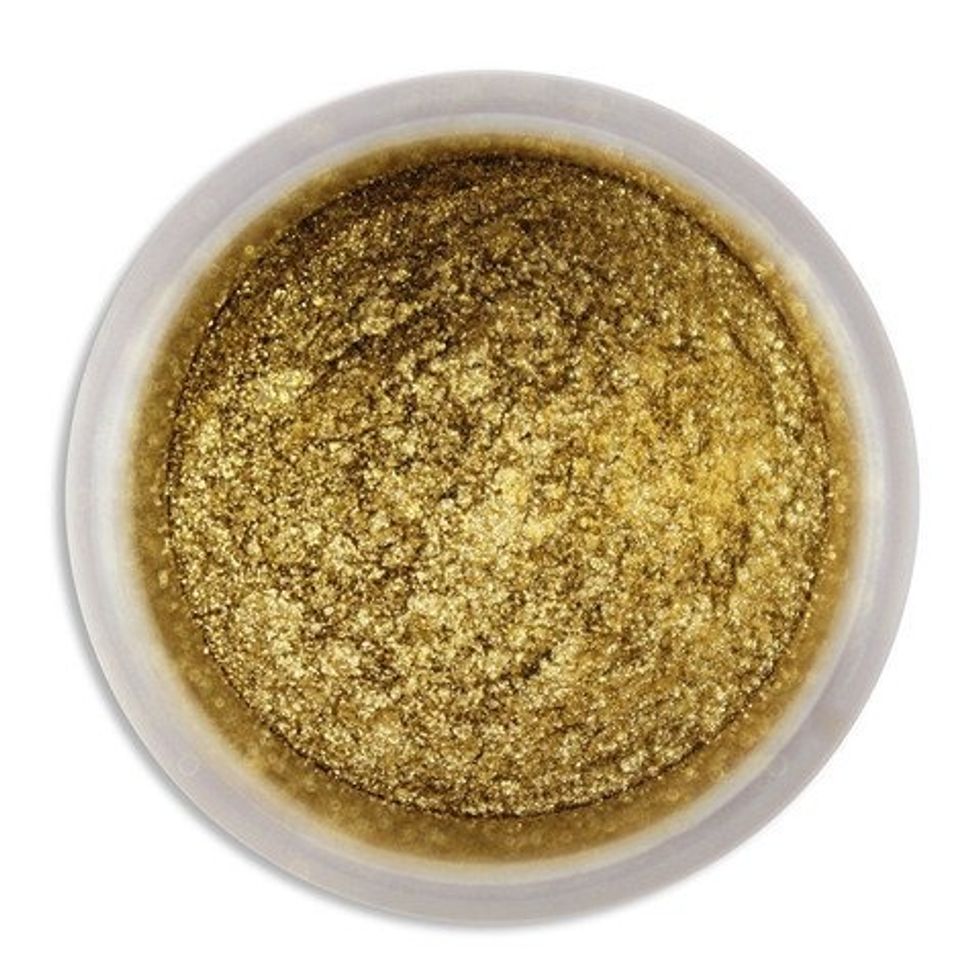 Via amazon.com
Revamp your cake and turn the everyday into something amazing with Luxe Cake 24 Karat Gold Luxury Dust. A dusting of the divine gives layer cakes luster and metallicizes molten lava chocolate desserts. Create a fine powdery finish or mix with a bit of vodka, grain alcohol, or oil-based flavoring to whip up a "paint" and spread on serious shine that will have guests guessing if you've hit the jackpot. 24 Karats of luxury will make any treat even more luscious. Decorate with dust and watch your treats disappear into thin air. While this item is recommended for decorating only, users assert it is perfectly edible and excellent. If you want something 100% non-toxic and great for use with super-sweet rolled fondant for decorating goodies, select Luxe Cake's Royal Gold Luster Dust instead.
Cost: $9.99 for a 5g Jar
Global Sugar Art Edible Gold Leaf Sheets for Sprinkles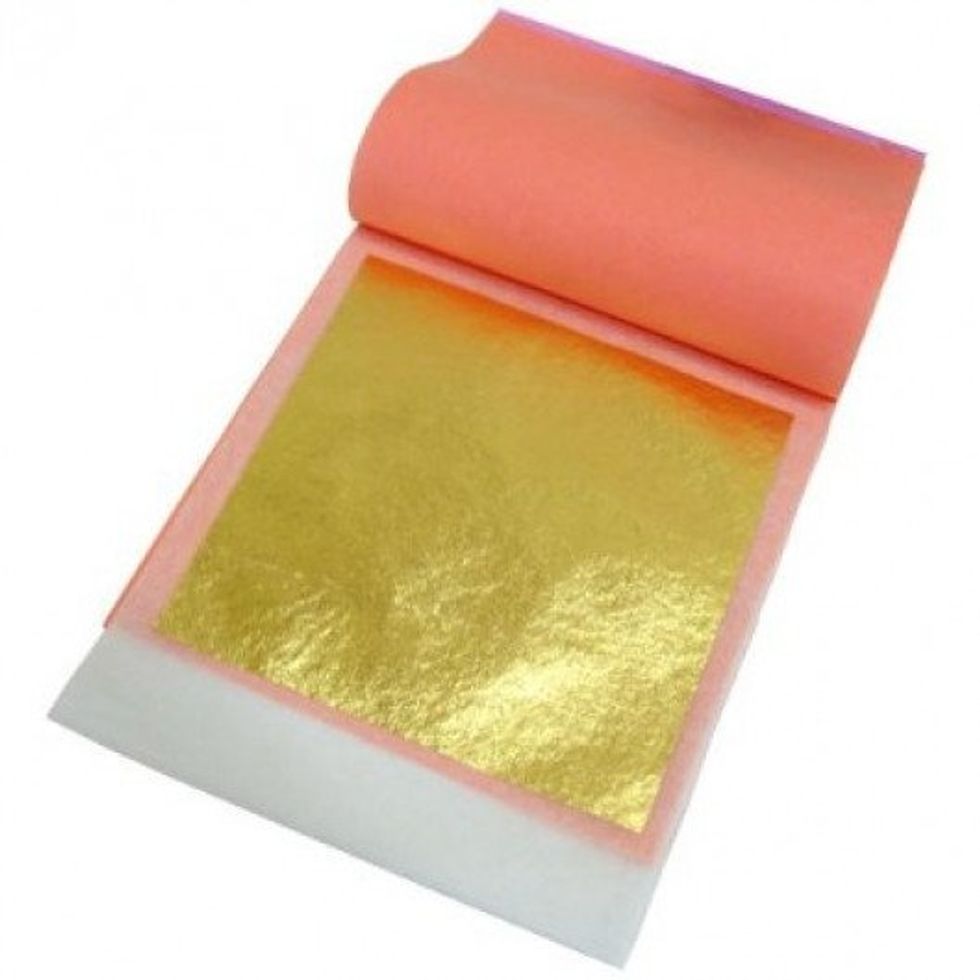 Via globalsugarart.com
Flip the pretty pages of glimmering 23K golden sheets, prepared for creating flakes and sprinkles to jazz up anything from cocktails to desserts. Celebrate a toast with a glass of bubbly with the bright glow of gold or devour a whipped dessert with a delicate decorative golden gleam. WithGlobal Sugar Art Edible Gold Leaf Sheets for Sprinkles, gourmet-level creations are at your fingertips. Layered beautifully within a book, these 23 Karat sheets are stunning and super-shiny, giving drinks and dishes that wow-factor your family and friends will surely appreciate.
Cost: $59.99 for a 25-leaf Book
Gold is a gourmet's dream come true. You are what you eat, so be a shining star!