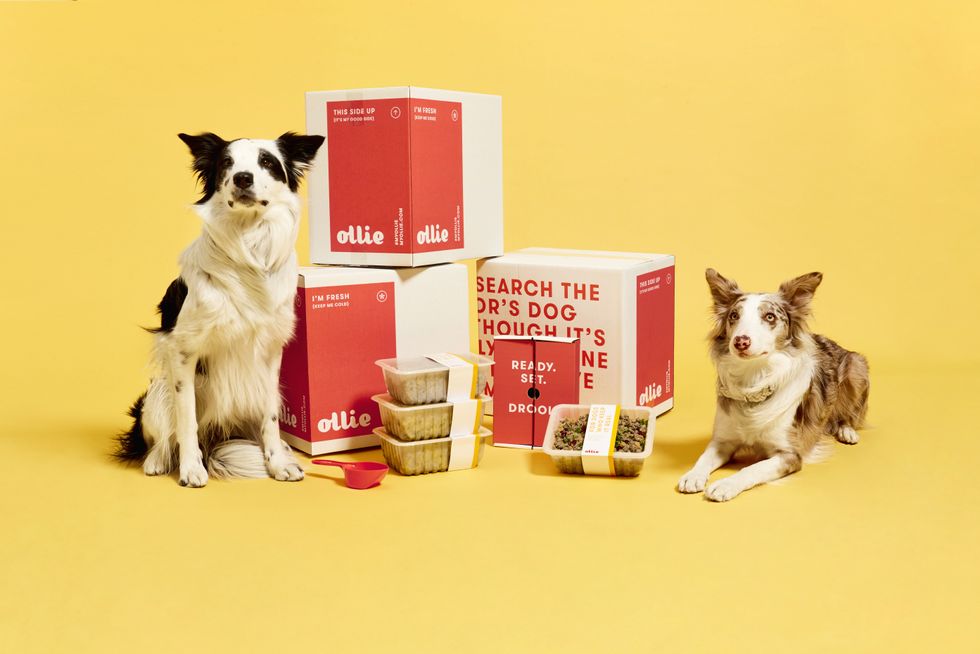 Meet Ollie: Custom Doggy Dining Delivered Fresh to Your Door
As a dog parent, there is nothing more important than making your pup happy and healthy. That means extra-long walks, fun toys, and a treat after being good at the groomer's. But the most important part is their food! Feeding your dog food packed with nutrients is essential to keeping him healthy and strong for a long and happy life. But even if you're all about that top-shelf kibble or spend hours cooking for your dog, it might not be enough to constitute a healthy diet. Did you know that studies have shown that dogs fed a fresh, natural diet of ingredients like real beef, carrots, and chia seeds lived almost three years longer? That's where Ollie comes in.
What is Ollie?
You know the meal-kit craze that's going on in the human world? Well, Ollie is pioneering the movement for our four-legged best friends, offering fresh, custom dog meals made from real ingredients delivered right to your door. No more chopping or cooking required, just scoop and serve. Ollie is not just dog-approved, but all-natural human-grade quality formulated by a veterinary nutritionist, packed with all the essential vitamins and minerals that your dog needs to get a balanced diet. It's free of everything, including artificial flavoring, preservatives, soy, corn, wheat and gluten. It's also low-temperature cooked with limited processing to preserve the nutrients that are in the food.
How does it work?
Getting started with Ollie is super simple. All you have to do is sign up on their site and fill out a short questionnaire to generate your dog's profile, which includes age, weight, breed, activity level, overall health, food preferences, and allergies. Each short answer dictates the perfect meal for your dog, making sure he gets all the nutrients needed to maintain a healthy, active lifestyle. Then the chefs get to work customizing your dog's meals with perfect portion sizes. For small dogs, prices start at $3 per day and you'll get your first order in a few days.
What do the dogs have to say about it?
It's a no-brainer that Ollie makes your life as a human easier, by taking the hassle out of ordering food or making emergency runs to the pet store when you thought you had one more bag. But, what about the dogs? According to extensive 3rd party studies, dogs find Ollie more palatable over other foods. Plus, its nutrition-rich formula makes it easily digestible, unlike some kibbles and other canned food, which often use ingredients like "meat meal" and other fillers that can contribute to obesity and other health problems. Ollie helps promote a healthy weight, and a healthy weight can extend the length of a dog's life by 20%!
Indulge the gourmand in your dog with custom-tailored meals fresh from the dog-lovers and nutrition experts at Ollie. Also check out their blog, which has great resources on how to transition your dog to new food and other fun and helpful tips for the savviest dog parents. Food connects us, and Ollie is more than just dog food, but something to truly bond over.
Update: The folks at Ollie are extending a special offer to our readers! Follow this link to receive 50% off your first order!