Skincare is #1. You know it, we know it - but what so many of us are missing is body care.
That's right, our editors have found the gap in your skincare routine. While we sometimes think our neck is as far south as we need to go with our creams and masks, our skin challenges don't stop there.
You know it, we're talking about the booty, breasts, and belly - and no we're not going to be shy about it.
Thankfully, we found a brand that's all about embracing our assets and giving them the time and attention they deserve. Meet MAЁLYS: the body sculpting brand that's celebrating bodies with game-changing products formulated to shape, lift, and firm. Backed by formulas that go through clinical trials and tested with real women - we know MAЁLYS is the real deal, covering us from boobs to booty and everything in between.
Here are our top picks for any and every size, shape, and skin type:
1. B-TIGHT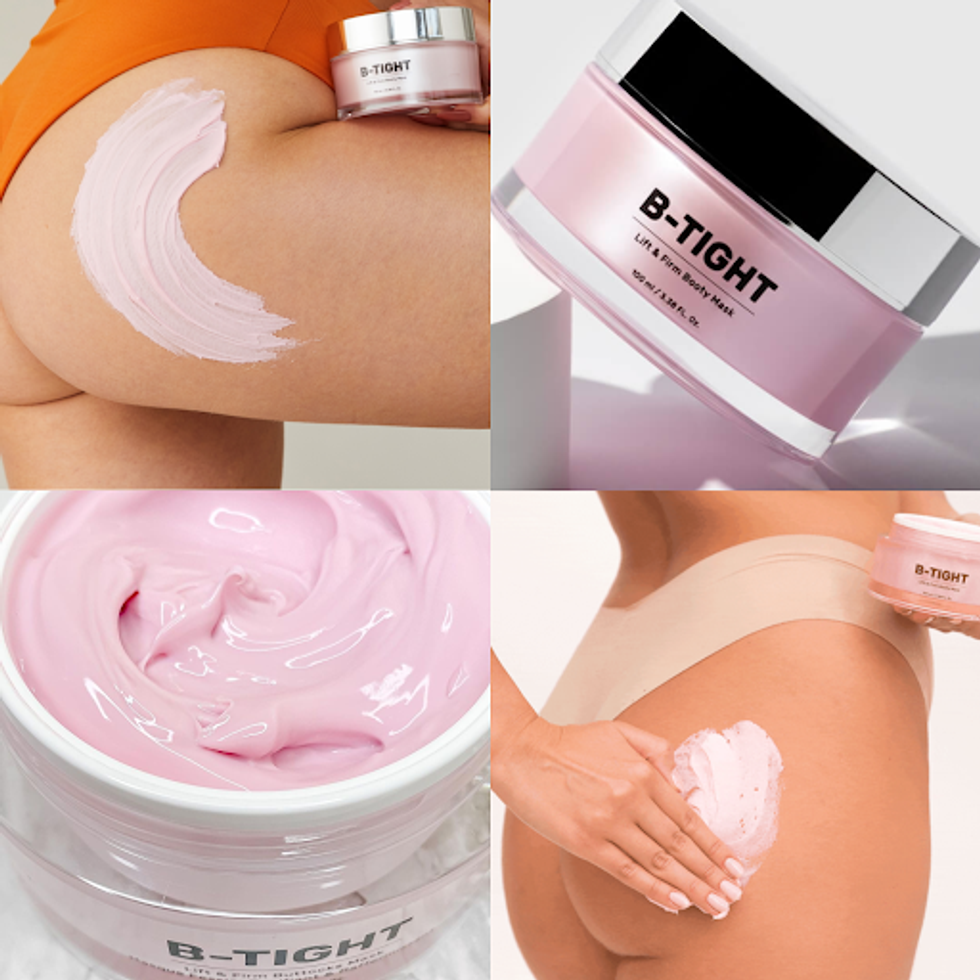 What It Is: A booty mask that lifts and firms, without any parabens, phthalates, or SLS' (surfactants used in skincare that strip the skin of natural oils).
What It Does: Using clinically proven ingredients like Pink PepperSlim, Hyaluronic Acid, and Guarana Seed Extract, this mask helps to reduce the appearance of cellulite and firm the look of skin around the butt and thighs.
Price: $49
Our Thoughts: We never knew we neededB-TIGHT until we did - and now we can't imagine our lives without it. At first, we were unsure that we needed this cheeky cream, but after years of being unsatisfied with other body masks, we decided it was worth a shot. Unlike the rest, MAЁLYS definitely delivers on their promise.
Not only is this brand super cute with sleek packaging and product names we don't cringe at saying aloud, but the science works. Once we applied a generous amount of cream to the thigh and booty area, we waited a few minutes for the warming sensation MAЁLYS said might happen to kick in.
Once we were feeling warm, we massaged it in with circular motions until it was fully absorbed into the skin - that's it! There's no messy rinse-off involved or sticky residue left behind like other topical lotions.
We used the mask daily as recommended and after about a month, we saw some visible results. There was a difference in the appearance of cellulite around our thighs, and we couldn't believe it. We were shocked that for $49 we could get the body skincare we've dreamed of without any invasive or high-price procedures.
2. B-FLAT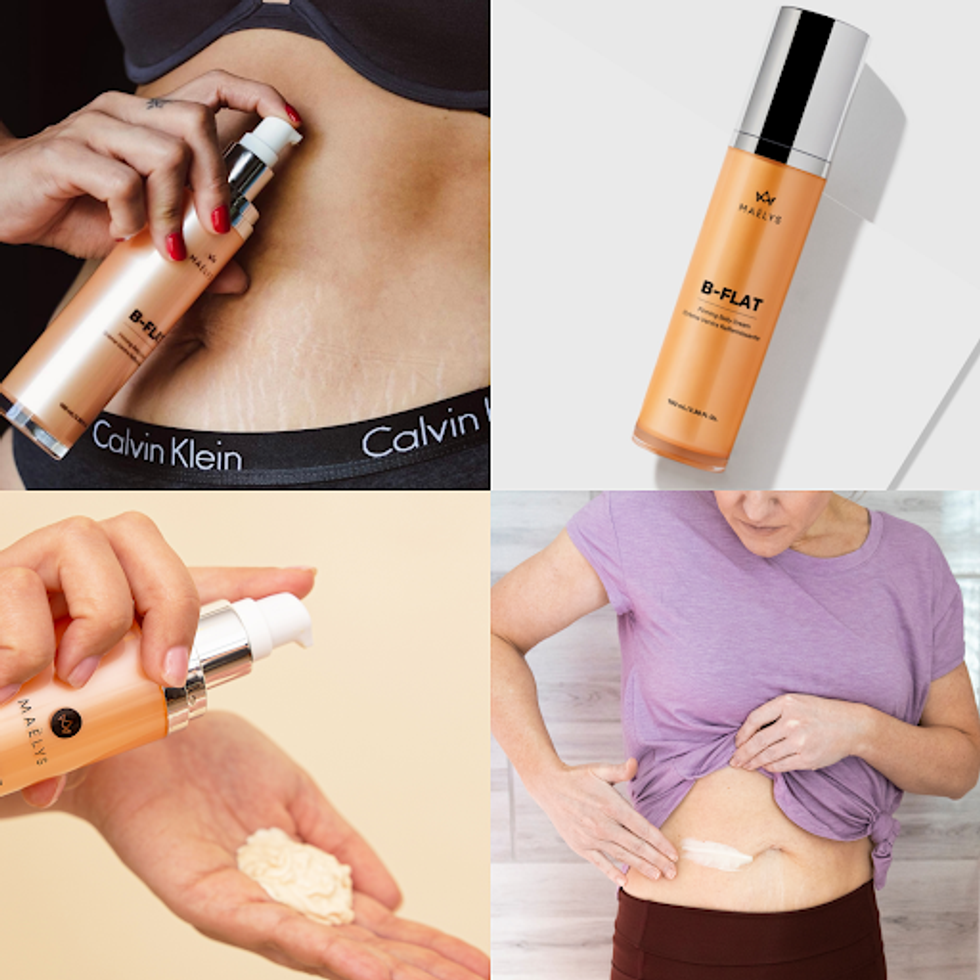 What It Is: A belly firming cream that helps to reduce the appearance of stretch marks for more youthful-looking stomach skin.
What It Does: By combining Shea Butter, Pink PepperSlim, and Avocado Extract this clinically proven belly cream helps to keep stomach skin supple, flexible, and ready to repair itself.
Price: $49
Our Thoughts: Stretch marks are so common and they happen anywhere for any number of reasons, including on our bellies. How often have we felt insecure or self-conscious with our midriff showing? Oh, and the airbrushed, over-filtered photos on our Instagram feeds aren't helping matters. Thankfully, MAЁLYS' B-FLAT cream is changing the game when it comes to stretch marks.
All we had to do was apply the cream as we did with B-TIGHT, but on the stomach instead. Application is mess-free and you just need to massage until it's been fully absorbed by the skin. It sounds too good to be true that you can get visible results without a full-on tummy tuck, but the customer feedback speaks for itself. We can't wait to join the 92% of customers that said B-FLAT helped their belly have a firmer appearance after 30 days.
3. B-PERKY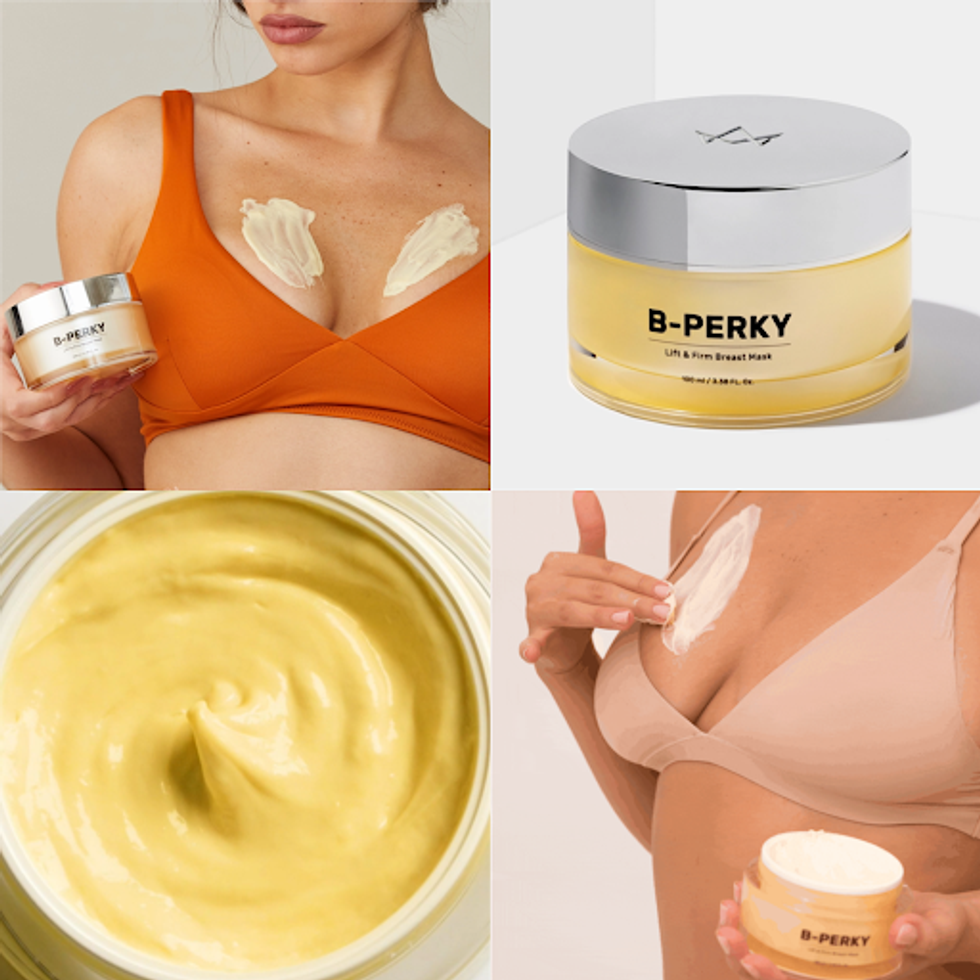 What It Is: A breast mask formulated to lift and firm the bust area.
What It Does: Gives an overall healthy glow with clinically proven ingredients like Palmitoyl Isoleucine, Kigelia Africana, and Jojoba Oil. They work together to provide a tighter look to loose skin as well as a plumper appearance.
Price: $39
Our Thoughts: After treating your booty to some self-care, it only makes sense to follow up with B-PERKY. We loved topping off our full-body treatment with this mask and its luxurious, creamy texture. Like the other MAЁLYS must-haves, we just applied a generous amount, massaged until fully absorbed, and that's it.
After applying it daily for a month, we started to notice a difference. Results vary for every unique body, but we can certainly say that this cream is working not just from our own experience, but from the hundreds of 5-star reviews. Women cannot get enough of B-PERKY and neither can we.
No matter what area of your body you want to target, MAЁLYS has a mask to help you show your skin some love. They're not just feel good, smell good lotions but formulas crafted with clinically proven ingredients to deliver visible results.
MAЁLYS even has a 60-day money-back guarantee for the B-FLAT, B-TIGHT, and B-PERKY so you can rest assured they're driven by making sure you achieve real results. Plus, to make this whole-body routine even easier, you can get the Body Reshaping Collection which bundles all three masks and saves you money in the process.
We're definitely fans of MAЁLYS after giving this collection a try and can't wait to explore their other offerings from the Bellylicious (belly firming) to the Bootylicious (booty firming) bundles.
Try MAЁLYS now, thank us later ;)