There's something about having long lashes that make us feel totally put together. Whether you're someone who prefers to go natural or full glam on the makeup front, there's no denying that long lashes can magically transform your tired eyes so you're all set for the day.
Fake lashes are an option, but between the glue and tweezers they're tough to apply. Then there are lash extensions which can destroy your actual lashes.
And then there are those mascaras we have a love-hate relationship with — you know the ones. They're clumpy, flaky, or difficult to remove.
Meet Thrive Causemetics' Liquid Lash Extensions Mascara™, which is packed with innovative tech that includes a cruelty-free formula that's excellent for those who have sensitive eyes.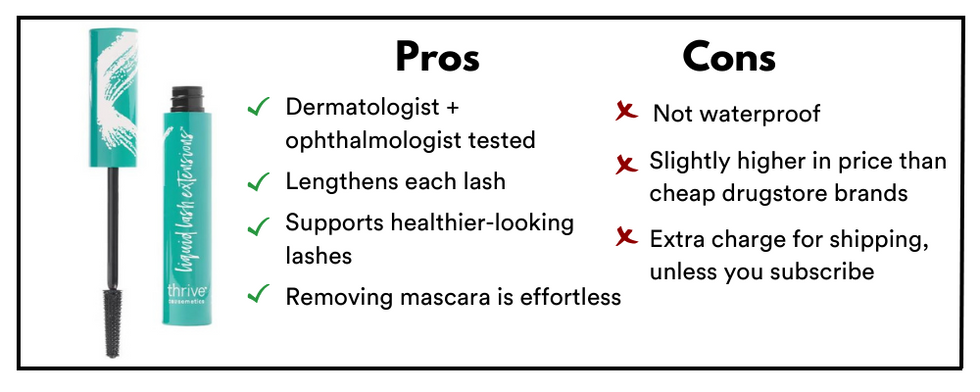 Thrive Causemetics' Liquid Lash Extensions Mascara™ features their patented, Flake-Free Tubing Technology™ and Orchid Stem Cell Complex™ which is powered by plant stem cell technology to support longer and healthier lashes. This genius combination lengthens and strengthens each and every lash from root to tip, giving you incredibly long lashes without the clumps.
If this wasn't enough to convince you, let's add clinically tested to the list of pros. Thrive Causemetics' Liquid Lash Extensions Mascara™ is dermatologist and ophthalmologist approved. It's created with ingredients like Shea Butter and Castor Seed Oil to support lash health. Also included is Carnauba Wax which contains moisturizing properties and Youth B5 Complex, a combination of vitamin B5 + sodium hyaluronate, that encourages healthier looking lashes.
Unlike other mascaras that require tons of make-up remover and then a face wash to completely remove, Liquid Lash Extensions Mascara™ is smudge-proof, yet it dissolves easily with warm water and a washcloth — no stains, leaving your lashes totally clean!
Liquid Lash Extensions Mascara™ has so many pros. The only thing we were slightly hesitant about was the price — $25 costs a bit more than cheap drugstore brands, but worth every penny for Thrive Causemetics's premium quality.
It comes in three stunning shades – Brynn (Rich Black), Crystal (Brown Black), Nola (Deep Blue). So you can truly compliment your eye color or whatever vibe you're going for. There's something for everyone.
Thrive Causemetics' Liquid Lash Extensions Mascara™is only available online on their website. But when you subscribe you can skip the delivery fee and never worry about running out! Choose if you'd like to repeat your purchase every month and it will be delivered to your doorstep like clockwork.
Thrive Causemetics also prides itself in giving back with their Bigger Than Beauty™ Giving Program. They partner with incredible organizations that represent their eight causes- cancer, homelessness and poverty, domestic abuse, racial and social justice, education, LGBTQ+, veterans and under-resourced youth. For every product purchased, they donate to help a number of deserving communities thrive.
Don't settle for the hassle of lash extensions, give Thrive Causemetics Liquid Lash Extensions Mascara™ a try. It'll lengthen and strengthen your natural lashes while giving you a fantastic look!