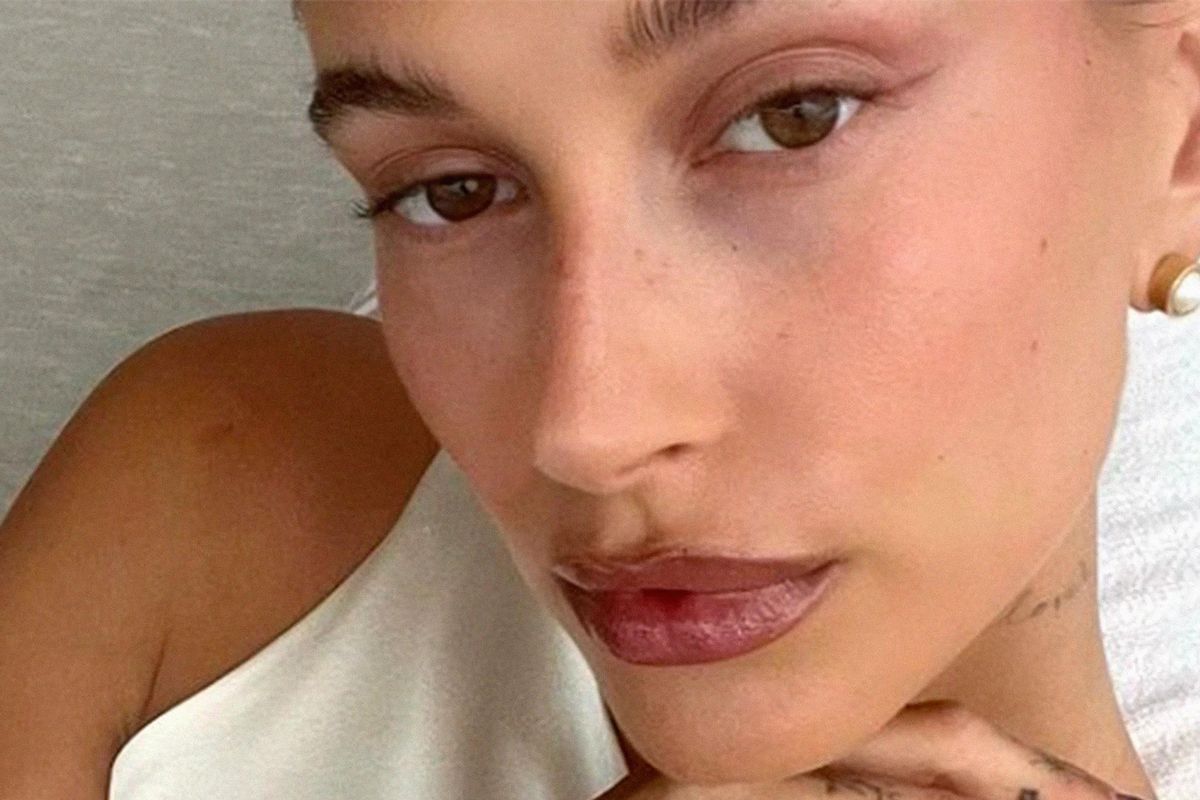 Moisturized, Glassy Lips Are This Season's Hot Girl Essential
Fall's hottest trend isn't a must-have clothing item, it's skin-deep skincare. Everyone's utterly obsessed with healthy, hydrated skin…even down to your lips.
---
It's no secret that Hailey Bieber is our skincare whisperer, and with the restock of rhode skin, we are letting her dictate what we put on our skin. Her line has introduced us to two new techniques: using niacinamide twice in your routine, and having ultra-hydrated lips.
Ever since the release of rhode lip treatment, people have gone crazy over using hydrating ingredients on your lips like hyaluronic acid. But in the age of countless skincare ingredients for different problems, it's hard to tell which product will make my lips look like freshly glazed donuts. And yet, I yearn for the look nonetheless.
The weekends are a rough time for my skin and especially my lips because I am often outside in the cold, dehydrated. I try my best to continuously apply lip balm of sorts, but throughout the day my lipstick starts cracking and I just look thirsty. Which was how I knew I was going to bite into this trend immediately.
I am currently in the process of hydrating my lips 24/7, gearing up for the times when I am not so diligent about my skincare. There's no better way to fight dry lips than constantly treating them. Consistency is key in this case.
There are a few ingredients that I keep my eye out for when shopping for a lip treatment:
Luxurious butters like cocoa or shea
Hyaluronic Acid
Vitamin E
Lanolin - a waxy substance that reduces water loss by 20-30%.
Having at least one or more of these ingredients guarantees lips will actually retain moisture — it's not just "for the look." It would be a shame if my lips looked glossy, but were still just as dry underneath.
If you're still having trouble thinking of a lip balm or lip treatment to use…don't worry. Here are some of my recommendations for even the driest of lips.
Aquaphor is the best for healing dry, cracked skin. You can use it on your entire body and the full size will last forever, but this little lip treatment is perfect to carry with you everywhere.
It contains shea butter and beeswax, which will moisturize your lips while giving them that glassy look a la HB. At $5.49, it's one of the most affordable lippies out there.
Tatcha tends to be more expensive skincare, but this lip mask is in the same price range as La Neige…and is 10x better. With one of the best hydrating ingredients, squalane, as the main character, you are getting plush, glossy lips.
I put this on twice a day with my skincare routine, and it has lasted over six months. Worth every penny.
For those who want a little color with their glass lips, this Fenty magic is no joke. With both cocoa and shea butters and dreamy colors, the Pro Kiss'r gives Summer Fridays a run for their money.
Shade Latte Lips is the perfect neutral pink and the doe foot applicator feels amazing going on.
One of the most famous scents: Brazilian Bum Bum Cream, combined with their hydrating ingredients, in one lip butter. It's often sold out across multiple websites, but it can be used as a mega-hydrating treatment or a natural highlighter on your face.
It smells amazing, and contains cupuacu, acai, and coconut oils to give your lips hydration and shine like no other.
We all loved Lip Smackers as a kid because of the flavors that made the experience delicious. Glossier's version is a little more hydrating and a lot more grown up. Made with castor oil, beeswax, and lanolin, this is one of my fave lip treatment recs.
It'll give you the rhode skin look and taste like Swiss Miss hot chocolate. Perfect for your nostalgia, and your lips.
This winter, give your lips the gift of hydration. In times of struggle, I like to use Aquaphor on my lips overnight to reset my hydration. Remember, constant application is never wrong.
All products featured are independently selected by our editors. Things you buy through our links may earn us a commission.