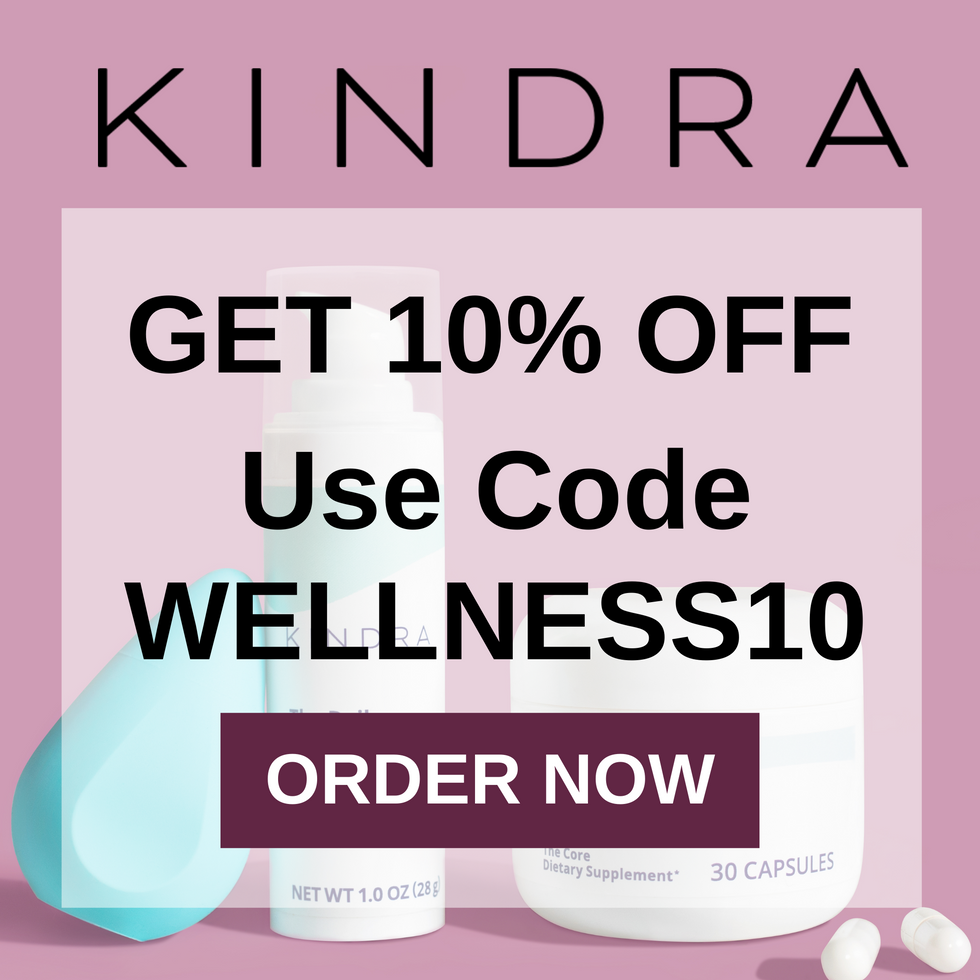 Menopause is normal, natural, and a time worth celebrating, but many struggle through the transition process menopause brings.
Hot flashes, brain fog, fatigue, mood swings, vaginal dryness, trouble sleeping, irregular or infrequent periods — none of this is easy. Thanks to brands like Kindra, it doesn't have to be so tough.
Kindra is the first community to truly embrace the journey of menopause — from peri to post. Their products are free of estrogen or progesterone, physician-backed, clean, vegan, safe and effective - designed to alleviate physical and mental menopausal discomfort as your body goes through these natural hormonal shifts.
They have an expertly-developed collection of formulas that target specific concerns, and their 5-minute quiz will help you find the best regimen tailored for your needs. Try just one product at a time, risk-free if you're experiencing one or two specific concerns. If you're experiencing a few concerns at a time, try a curated bundle, which provides multi-symptom relief without the Rx, delivered straight to your door - and you save big.
Check out the best-selling bundles…Kindra's community swears by these:
This super effective bundle includes the Daily Vaginal Lotion and the Core Dietary Supplement for only $75, saving you $21!
Kindra's Daily Vaginal Lotion is formulated to help with uncomfortable vaginal dryness. It contains gentle yet potent skin-critical vitamins like Niacinamide (Vitamin B3), which supports healing of the skin moisture barrier of intimate skin - super helpful in feeling relief.It also includes Vitamin E to nourish, omega-rich coconut oil and Sunflower Oil to support ceramides for skin healing, and hyaluronic acid to hydrate.
The Core Dietary Supplement mitigates common, frustrating concerns that come with menopause like hot flashes, night sweats, lack of focus, and increased irritability. The antioxidant Pycnogenol® reduces inflammation and supports blood flow. . Ashwagandha helps the body adapt to stress, which is super helpful when navigating hormonal shifts.
Get Kindra's Soothe Bath Soak, Daily Vaginal Lotion, and Sleep Enhancing Supplement together for just $114 (valued at $120).
The Soothe Bath Soak is formulated for women with sensitive skin who are experiencing vaginal discomfort. It includes gentle, clinically-studied peptides shown to provide comfort to tender skin, chamomile to calm the mind and support sleep, and omega-rich oat kernel extract for ultimate hydration. Plus, it was developed with the shifting vaginal pH in mind, which can be a concern for women in mid-life, especially since many bath and shower products may disrupt the delicate skin barrier.
Kindra's Sleep Enhancing Supplement is formulated with Pycnogenol to support relief from night sweats, which can be a major sleep disruptor. Ashwagandha supports reducing cortisol, the stress hormone, which can keep you from falling asleep, especially when hormonal shifts are at play. Plus, low dose melatonin is just enough to help you fall asleep and stay asleep, without the groggy feeling in the morning.
If your skin dryness head to toe is bothering you, this bundle is all the hydration you need. Try this soothing, moisture-rich, nourishing duo: The Soothe Bath Soak and The Daily Vaginal Lotion…for only $60 (down from $79!). Create a ritual to support intimate skin dryness and discomfort…just a 20 minute soak before bed to soothe skin head to toe, plus a few pumps of the lotion on your intimate skin - wake up feeling comforted, hydrated, and soft all over.
These are just some of the product bundles Kindra has to offer. There's also a Day-to-Night Booster Bundle, a Let's Get Intimate Bundle, a Ready for Anything Bundle, and a 24/7 Cool Bundle to name a few.
If you're having a hard time on your menopause journey, or are just dealing with some symptoms related to hormonal shifts - we'd highly recommend trying Kindra's products. Take the quiz to find what's right for you if you're not exactly sure, or join their super supportive community to talk about what you're feeling. It's private, welcoming, and always an easy place to find quick tips for product recs, self-care rituals, and expert advice. Why wait? Find quick relief with a bundle, delivered to your door, and get back to being yourself again.