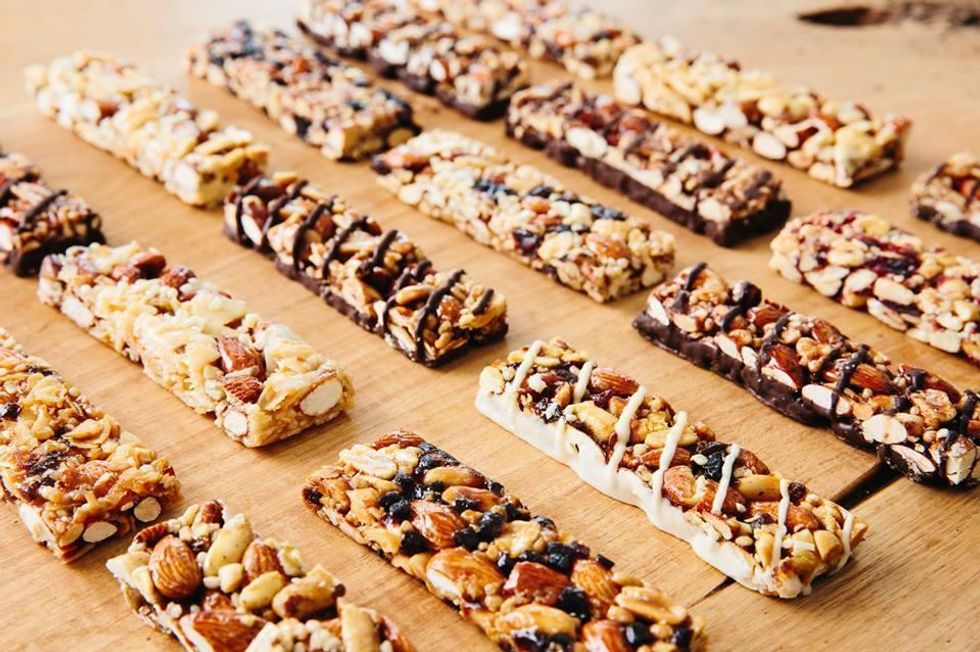 The Best Health Bar For Your Bite: KIND
You can tell a lot about a person by their snack of choice. That's why I like to find snacks that are well-rounded, with just enough crunch, sweetness, and savoriness...
You can tell a lot about a person by their snack of choice. That's why I like to find snacks that are well-rounded, with just enough crunch, sweetness, and savoriness, that are also good for me. Granola bars have been my go-to snack because they're filling, portable, and come in a variety of flavors, but I didn't realize that the granola bars I was eating were actually about as nutritionally-balanced as a chocolate-chip cookie. That was, until I took my first bite of a new kind of health bar.

I had always seen KIND bars around my local stores, and had been intrigued by their well-meaning name. I had heard that they were a brand focused on kindness in all aspects, which meant nutrition-packed ingredients such as whole nuts, fruits, and whole grains without the artificial stuff used in other snacks. I loved looking through the varieties, with flavor combinations that I hadn't seen before in other bars. The Dark Chocolate Nuts & Sea Salt called out to me, because I am a fiend for anything salty and sweet. I unwrapped it and was delighted to find the whole bottom enrobed in a deep, rich chocolate, sprinkled with flakes of Brazilian sea salt that made my mouth water in the best of all possible ways. Pair that with fresh, crunchy almonds and you've got yourself a snack that gives back.
That bar was my gateway KIND bar, which led me to try a whole bunch of their other snacks. I soon also fell in love with the Dark Chocolate Mocha healthy grain bar, which was just the kick I needed to start my day. But it didn't stop there. I looked on their site, and found that KIND has even more kinds of snacks like Popped snack bites, Breakfast bars, and their Pressed line of fruit and veggie bars. With the magic of KIND unfurling before my taste buds, I was super excited to find out about the pièce de résistance: the KIND Snack Club .
Gone are the days when having delicious snacks involved stepping foot outside. The KIND snack club allows you to pick from your favorite KIND snacks and get them delivered to your door. You can even pick the delivery day and the frequency you want them, so that's what I call, snacks on demand. Plus, there's a bunch of benefits to subscribing. They give you an additional 5% off your order, special surprises in your package (like free snacks or awesome swag!), and early access to try their latest products! The best part is that you get free shipping over orders of $50, which is so worth it when you're stocking up on healthy snacks for any occasion.
What I love about the KIND Snack Club is it only takes a few minutes to order enough bars and bites to keep me full all week long. I can pause, skip, or cancel at any time, so there's really no commitment. If you're unsure of where to start, you can try their trial pack, which is $10 for 10 snacks (plus free shipping!). After that, you're automatically enrolled in the KIND Snack Club with $10 off your first order. Whether you're a single snacker or want to spread the snacktime love with your family or coworkers, be kind to yourself and others. KIND bars will not disappoint.
UPDATE:Click here to find out more about how you can wrap your lips around some KIND bars!