We do a lot to our hair—and all the overheating, styling, and a million other things we do to achieve our best hair days are slowly damaging it. Most of us have resorted to adding in extensions or getting haircuts to make our hair look fuller and healthier.
We have been trying to find solutions to help repair our damaged strands and we landed on two — K18 and Olaplex. We tried them both to see which one actually lives up to its promises and which we preferred to deliver healthy, amazing hair.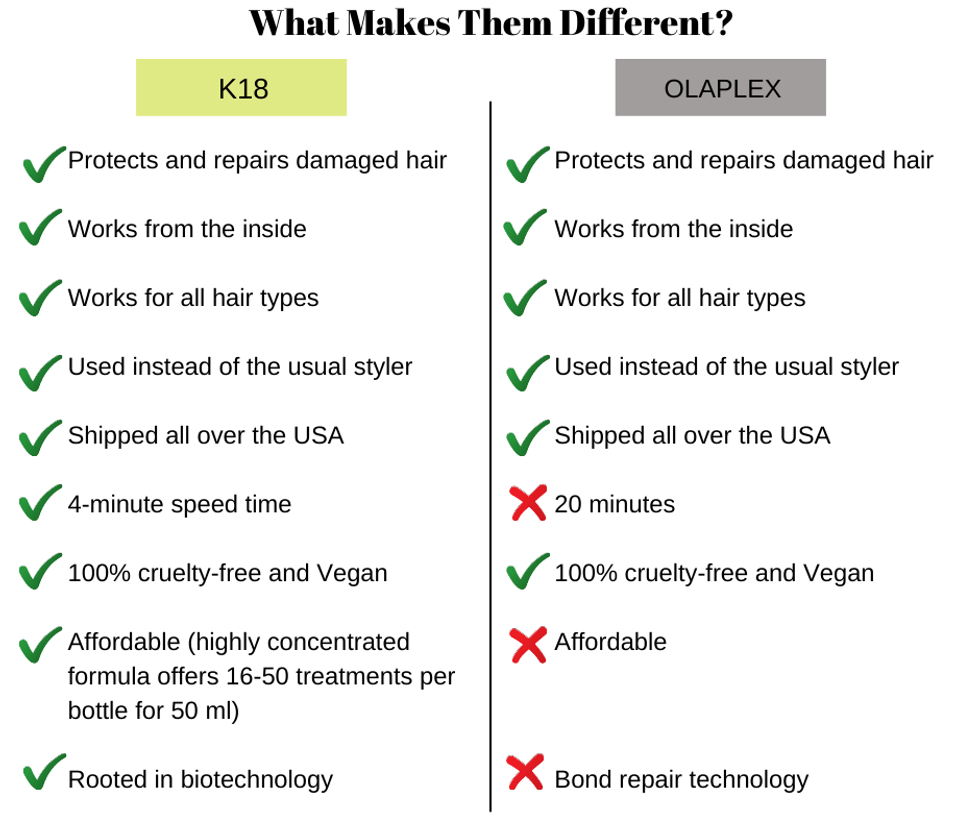 K18 Hair Overview
K18is a professional haircare company that uses biomimetic technology and a scientific formula clinically proven to renew damaged hair and maintain those perfect locks.
All their technology is 100% unique to them. The K18Peptide™ mimics the natural structure of polypeptide building blocks (the amino acid sequences that make up hair). It travels to the innermost layers of hair to reach the core polypeptide chains (keratin chains) and it reconnects these broken chains and disturbed bonds. The K18Peptide™ doesn't just replace the damaged amino acids but also regenerates the bonds that were broken, restoring ultimate strength and softness.
The K18 Leave-in Molecular Repair Hair Mask needs to be used after a hair wash (no need for conditioner), just towel dry and add 1-2 pumps of the product (depending on your hair texture) and leave in for 4 minutes, then style normally.
You'll definitely save with this cruelty-free, vegan, and color-safe product, as it renews your hair eliminating the need for tons of products. It's priced at $75 and one bottle lasts around 50 treatments (if you use one pump dosage). Use K18 after every wash for the first 6 washes and then every 3rd to 4th wash after for maintenance - fast and easy to incorporate into your hair care routine.
Olaplex Overview
Olaplex's instant repair kit works on a molecular level to repair damaged and broken bonds with the help of Bis-Aminopropyl Diglycol Dimaleate which is proven to protect hair from within.
Apply the No.0 to dry hair and leave it in for 10 minutes, it has to be followed by the No.3 which needs to be left in for another 10 minutes. After that just rinse, shampoo & condition for best results. The duo can be kept in your hair longer, but their efficiency will diminish after 35-40 minutes.
The duo pack costs $16 (for the mini) and $56 for the ultimate repair pack. It can be used on all types of hair, including extensions.
Final Thoughts
Both products are meant for any hair type and promise repair and protection to allow you to reach your #hairgoals. In the end, K18 comes out on top for us with its biotechnology taking hair repair to the next level. With K18 less really is more.
Although both provide protection and address damage, we prefer the K18's Leave-in Molecular Repair Hair Mask - its convenient and easy treatment revitalizes our hair without a ton of extra work. Not to mention it's backed by scientists and we trust their formula with our hair (which we can't say for many other brands).
It helps you have the #BestHairDays a lot more often. Trust us, give K18 a try!