Should you try Topdust and its beauty editors to be your trusted partner when it comes to choosing the right skincare? Read our review below to find out all about OneSkin.
We all want to age gracefully, but is it worth desperately trying product after product or spending all your hard-earned money on expensive treatments?
We've written about a wide variety of products over the years, some luxe and some more affordable. Read our review to find out exactly why OneSkin is the skin health product that embraces longevity and ensures proven results.
What Is OneSkin?
OneSkin is a skin health and longevity company dedicated to creating products that strengthen, revitalize, and support healthy skin from the inside out. They address skin health at a molecular level by targeting the root cause of skin aging to make skin look and feel younger.
It's an ideal healthy alternative for anyone who wants to age gracefully and avoid the challenging (and at times harmful) side effects that both Retinol and Botox can cause.
However, at the end of the day, results speak louder than words. So, here's what you can expect from using OneSkin's flagship product, OS-01 FACE:
After 2 weeks - Skin will feel more hydrated and plumper*
After 6 weeks - An increase in skin firmness with a decrease in fine lines and wrinkles*
After 12 weeks - Decreased skin wrinklesin 87%of users*
OneSkin's scientifically-validated formulas help nourish and proactively extend skin health on an internal and external level. Their proprietary OS-01 peptide, which powers OS-01 FACE and OS-01 BODY, is proven to penetrate skin's barrier when applied topically to enact targeted and lasting change from the deeper layers of your skin. The OS-01 peptide has been scientifically proven to support proper skin function, reduce your skin's biological age, and improve your skin's barrier.**
Reviews:
Don't believe us? Here's what other OneSkin users have to say: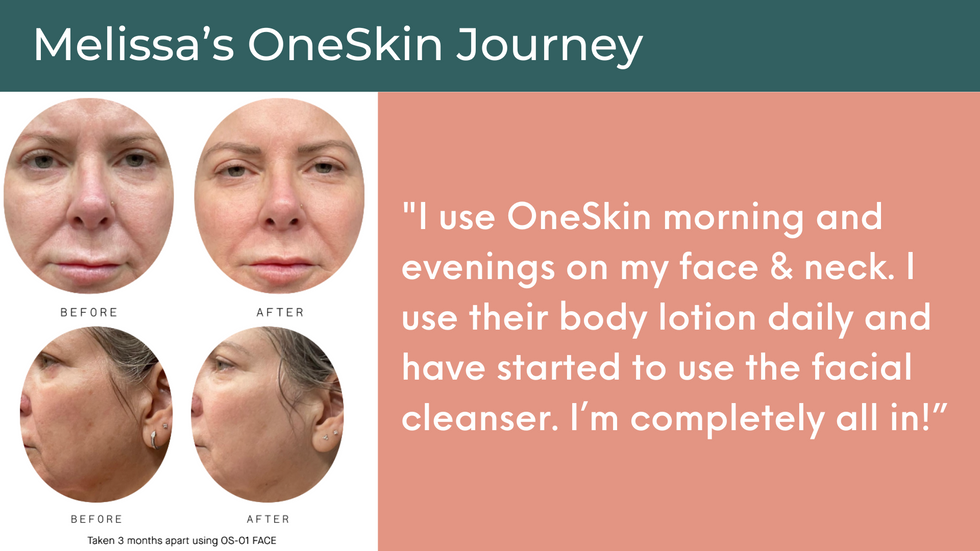 During the pandemic, Melissa decided to prioritize her skin health like many of us out there. After watching Penn Smith interview the inventors on YouTube, she was intrigued by the science behind the OS-01 peptide. Plus, she loved that four amazing women were behind a product and the science that's changing the way we look at skin.
Melissa saw results over 3-months after using OS-01 FACE and is all-in when it comes to OneSkin now, thanks to the "time reversed" effect on her skin.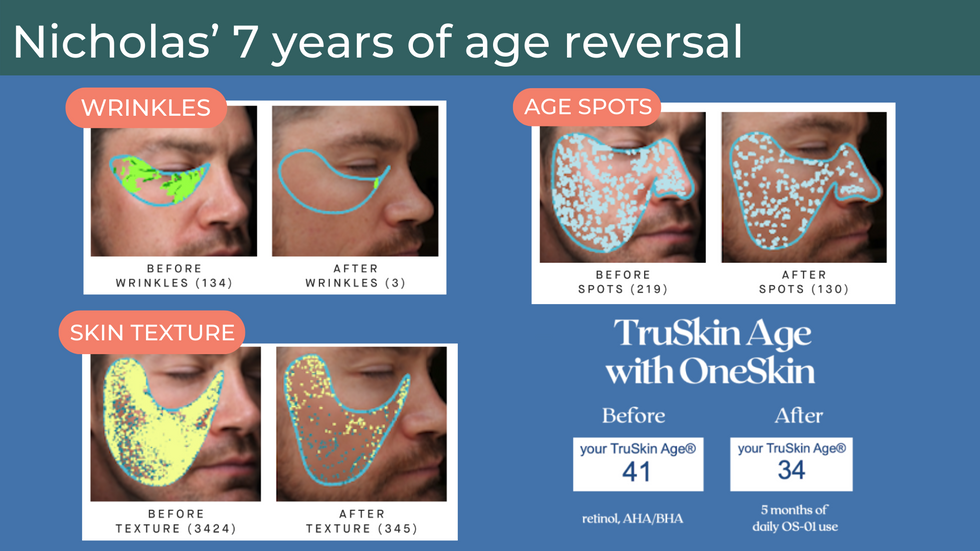 Nicholas (Nick) Engerer is a biohacker and founder of the Longevity Blog, focused on helping people build a personalized and affordable approach to wellness while simplifying complex science. He's known for running scientifically-validated self-experiments to determine product efficacy and that's exactly how he tested out OneSkin.
He used OneSkin's OS-01 FACE daily treatment over a 5 month period, analyzing his face before and after with a VISIA Scanner (the gold-standard for analyzing quantifiable visual metrics on skin). Here were his results:
True skin age — the aesthetic age of skin reduced by 7 years according to the VISIA scanner
Wrinkles — "The change in the wrinkles around my eyes was my biggest visual observation. I really feel as if I turned back the clock with my eye wrinkles"
Skin Texture — Nick's skin texture and smoothness improved drastically with peaks (yellow) and valleys (blue) both decreasing significantly.
Age Spots — Age Spots on Nick's cheek, jawline, and nose reduced significantly
Sun Damage — While results were deemed inconclusive due to small variations in the scanning area/angles, the density of UV spots decreased by 20%.
The Products:
OneSkin has three products to streamline your skin wellness.
OS-01 FACE (costs $120 with subscription $99)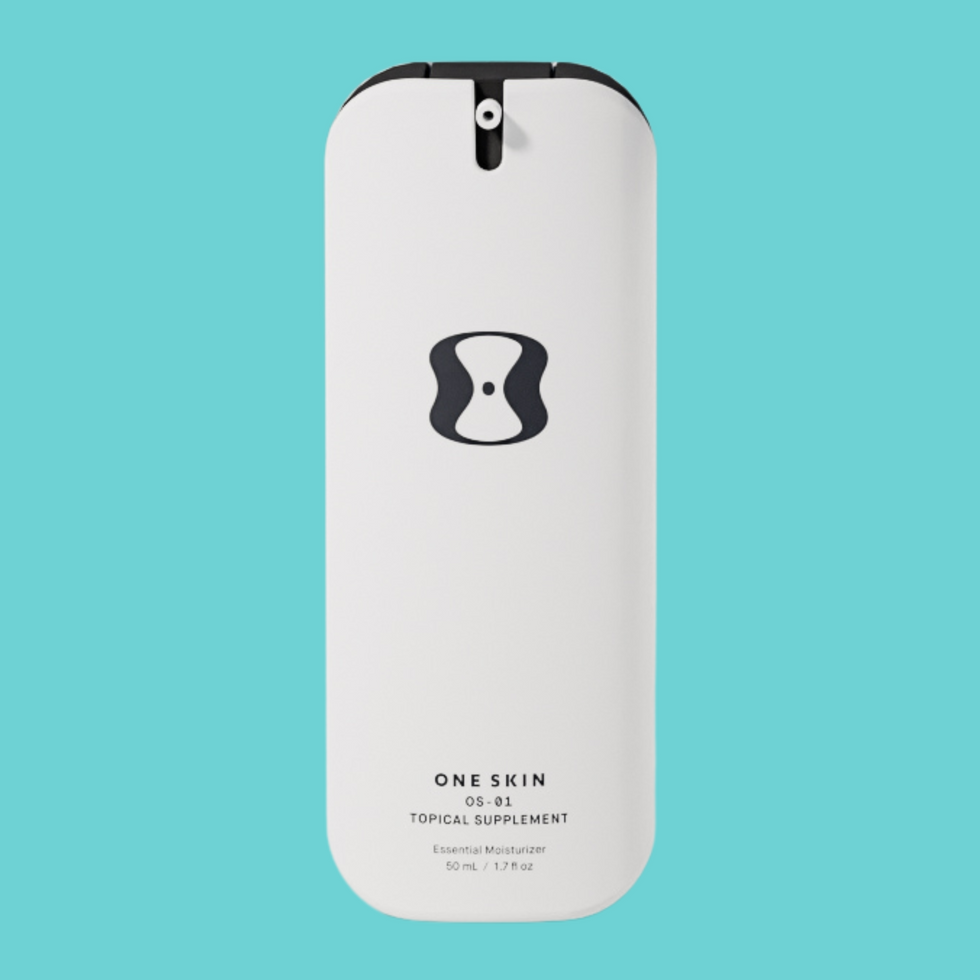 Powered by the OS-01 peptide, OS-01 FACE helps improve collagen and hyaluronic acid production, supports DNA damage repair, and reduces melanin deposits in skin to reduce the appearance of age spots .** This all-in-one moisturizer lasts 2-3 months and is recommended to be applied to the most delicate or damaged areas of your skin, such as your face, hands, and neck 2x daily.
OS-01 BODY (costs $99 with a subscription $89)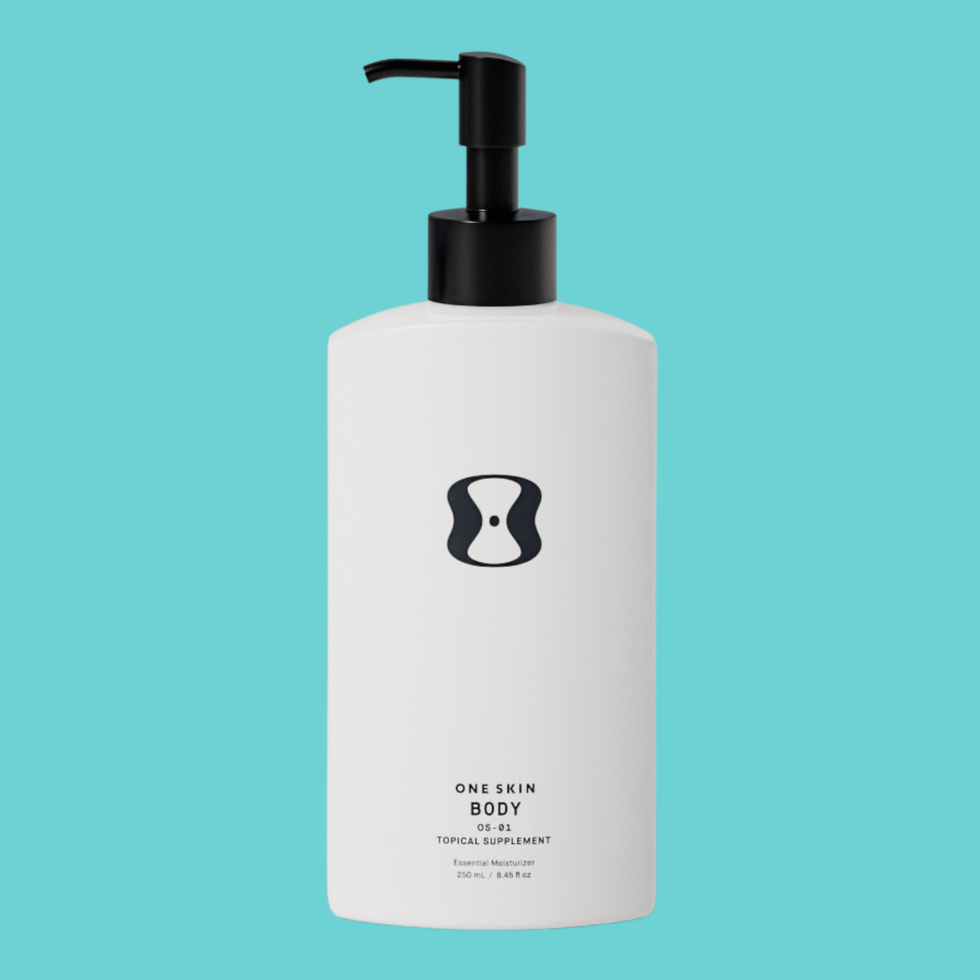 The skin on the body tends to be a bit drier than facial skin because it has less oil-producing sebaceous glands, thus requiring a slightly different formula with some extra hydrating TLC. Just apply the OS-01 BODY, also powered by the OS-01 peptide, to areas you'd like to see improvement and give the peptide time to work its magic.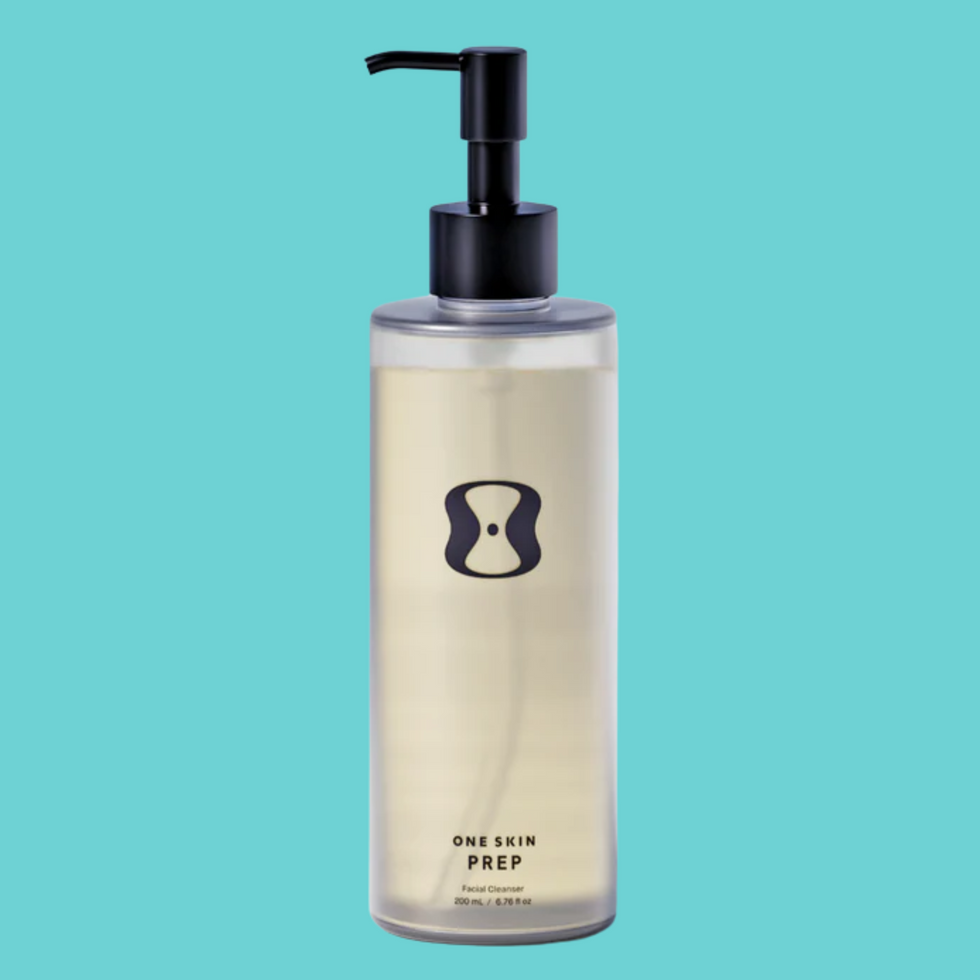 OneSkin PREP is a daily facial cleanser that truly prepares your skin to benefit from the rest of your skincare routine. It thoroughly removes impurities, light makeup, and sunscreen so your skin. It's been scientifically proven to double the penetration of the OS-01 peptide when used in conjunction with OS-01 FACE, compared to using OS-01 FACE alone.**
The Bottom Line:
Ultimately, OneSkin is a luxury. But considering the proven scientific results and all the benefits, it's absolutely worth it. Rather than paying $250-$500 per session for invasive treatments or dealing with Retinol's telltale redness and peeling, we choose to go with OneSkin.
If you want to embrace healthy aging and level up your skin health, skip the letdowns of other brands and invest in OneSkin!
JUST FOR YOU: Our Friends At OneSkin Have A Special Offer For Our Readers! Get 10% Off Your First Purchase or 20% Off When You Subscribe! Try It Risk-Free With A 30-day Back Guarantee. Follow This Link To Shop!
*Shown in a 12-week clinical study, performed by a third-party CRO, evaluating the effectiveness of OS-01 FACE
**Shown in lab-grown ex vivo human skin models