Winning Allure's Best of Beauty Award 2020, Thrive Causemetics' Liquid Lash Extensions™ Mascara boasts over 20,000 5-star reviews
This formula's powerhouse of ingredients benefit lashes even after you take the mascara off
Read below to see why everyone is raving about the mascara that looks even better than falsies!
Lashes have always been that one feature we're all lusting after. We could be totally makeup-free and wearing sweats, but if your eyelashes are curled and dark, we feel put together. There's just something about a long lash that feels right.
We've seen the ads for falsies and while they look like an easy way to get longer lashes, between the glue, the tweezers, and even the ones with magnets, there's just no way that's good for our eyelashes.While the right mascara is crucial for that extra oomph, we also have to start at the bottom to and keep our lashes long and healthy.
After trying drugstore brands to niche brands and more, we were left with either ultra-clumpy and smudged lashes or super thin spider lashes. Knowing there has to be a mascara out there that gives a natural, lengthening look, we continued to search until we found Thrive Causemetics.
Here's everything we love about long lashes and how Thrive Causemetics' Liquid Lash Extensions™ Mascara gives you just that and more:
Technology That Keeps Your Lashes Looking Picture Perfect
Liquid Lash Extensions™ Mascara is packed with innovative and patented technology to keep lashes on point throughout your day.
The Flake-Free Tubing Technology™ lengthens each and every lash from root to tip. It gives lashes next-level volume without clumping, flaking, or smudging – everyone's dream.
Not only does this mascara work wonders on your lashes, but it also works wonders off. Its formula uses Orchid Stem Cell Complex™ to support longer, healthier-looking lashes even without mascara, all through plant-based ingredients.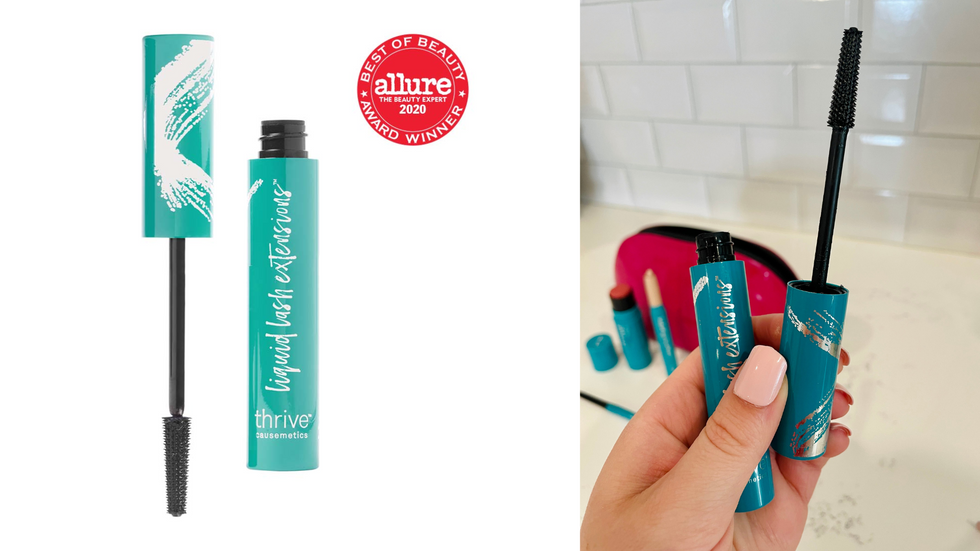 Vegan, Cruelty-Free Ingredients
Unlike other mascaras that have a laundry list of ingredients we've never heard of. Liquid Lash Extensions™ Mascara uses ingredients our lashes love.
It uses shea butter, castor seed oil, and carnauba wax as well as Youth B5 Complex to keep lashes hydrated and conditioned throughout wear. You'll never have to deal with dry, flaky lashes ever again.
This mascara is:
Paraben-free
Sulfate-free
Formulated without Phthalates
Vegan
Cruelty-free
Made with no synthetic fragrances
Perfect For Any Occasion
Thrive Causemetics Liquid Lash Extensions™ Mascara comes in three different shades so you can make sure you're not only complimenting your eyes, but also whatever vibe you're going for – there's something for everyone. Choose from Brynn (Rich Black), Crystal (Brown Black), and Nola (Deep Blue).

On top of choosing your shade, this mascara is also buildable. Thanks to its unique technology and formula, you can either opt for a quick single swipe with incredible lengthening results, or go for a bold look and apply an extra coat on both sides of your lashes.
We've never seen mascara like this. It checks all our boxes from length and all-day wear, to vegan ingredients and benefits post-removal. Plus, it's only $25! With all the money we've spent on one-time falsies or tubes that run out too quickly from reapplying, we couldn't be happier to spend the money on a large tube of mascara that goes the extra mile.
With Thrive Causemetics' Bigger Than Beauty initiative, for every product purchased, they donate to help their communities thrive. Some of their causes include women fighting cancer, the LGTBQ+ community, and working to end racial injustice.
Providing incredible length and volume, plus ingredients that support our lashes sans mascara, we've officially achieved our ultimate lash goals thanks to Thrive Causemetics!
✨JUST FOR YOU: Get up to 45% OFF Thrive Causemetics' best-sellers with their limited-time holiday value sets and a FREE makeup bag with any purchase!✨ Follow this link to shop!