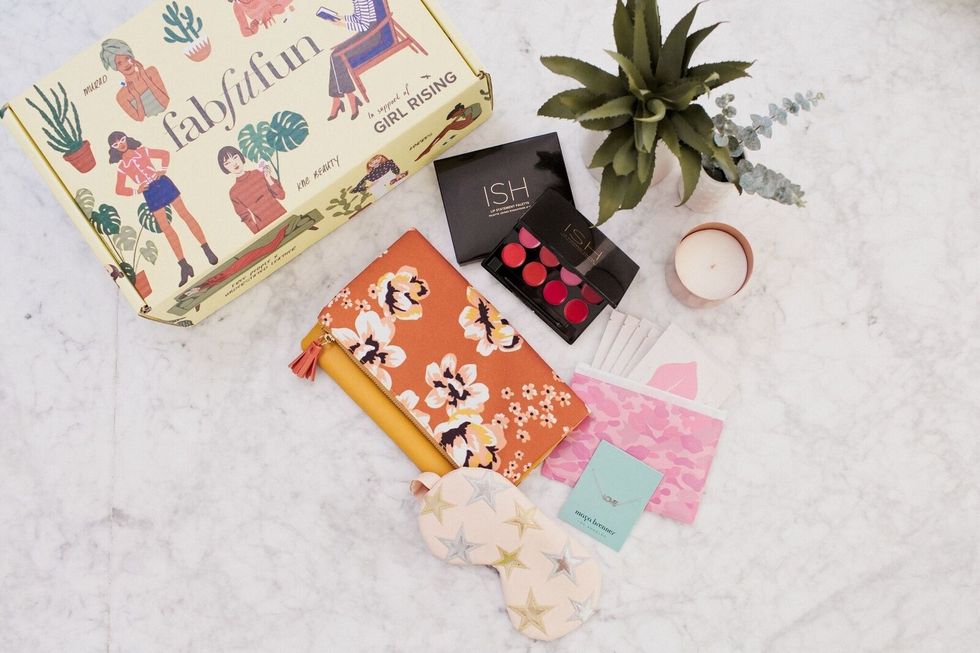 I Tried FabFitFun & Here's Why I Love It
I just survived my first full year in the Northeast after moving from sunny California. I made the big move towards the end of the fall season, and was absolutely dreading the upcoming winter because of all the horror stories I had heard about the cold. Before moving, I did my research on puffer coats and snow boots, but I didn't know how much I would enjoy having different accessories for each season. I was used to most of my clothes and makeup being light, like the weather in So-Cal, but I quickly learned that the long, cold winters of the East called for multiple layers and darker colors. Thankfully at the start of my new job, a coworker suggested FabFitFun - a seasonal subscription box with the latest products, everything from fashion to health and beauty. After she told me about all the amazing stuff she gets, I realized FabFitFun could be my guide to get me through the seasons by sharing their latest finds with me.
FabFitFun delivers a variety of full-size, premium products, from fashion, to makeup, to fitness gear, delivered 4 times a year. My first box definitely took away my winter blues, making it feel like Christmas came early. I'm so happy that I signed up just in time to receive the Winter box before they sold out. My first box included a beautiful Toggle necklace, Bergamot Woods scented candles that gave my apartment a warm, cozy feel, O.R.G moisturizer for keeping my skin soft during that harsh winter, and even some delicious recipes for warm drinks like apple cider and eggnog. My favorite item in the box was the Moleskin Planner. It turned out to be a great tool to keep me organized, especially at my new job.
Receiving my first box was exciting and the products were extremely useful and fun. For the rest of the year, I continued to get new goodies every season. In the Spring my favorite item was the Nature's Bounty Biotin. I had never been exposed to such harsh winter weather and didn't realize how much damage it could do to my hair and skin. The Biotin vitamins were a lifesaver in restoring them, and since they came in a full size bottle I continued to use them for well into the summer. I was so excited to get my hands on one of the famous bkr glass water bottles in the Summer box. I had been seeing a lot of women at my gym using them and had been wanting one for a while. And in Fall, I loved the teal Mer Sea cozy wrap. I was able to use it as an oversized scarf (which was so on trend this year), and also as a blanket. I have been happy with the items in all of my boxes so far and have even stored away some of the staples for next year.
I am so thankful that I found FabFitFun soon after making my big move to a state with such drastic seasonal changes. While the different seasons had me worried at first, these boxes have made me look forward to the start of each one and excited to find out what in store for the next season. Since I am super busy with my job, it's nice that all I have to do is sign up and wait for my amazing box to arrive. I love being a member and while I might not be excited for the cold, I can't wait to get my Winter box.
Update: New Members, follow this link to get $10 off the HIGHLY ANTICIPATED Spring Box now!