Typical training for young baseball players often involves team practices, 1-1 in-person coaching sessions, or driving to the nearest batting cage.
If you're the parent of a kid who plays baseball or softball at a serious level, you know all too well how hard it is to ensure they get the training they need without becoming a full-time chauffeur.
What if you could bring the on-field experience into your living room? Enter WIN Reality …
What is WIN Reality?
WIN Reality is a state-of-the-art baseball and softball training tool that utilizes virtual reality (VR) to provide a variety of drills, workouts, and competition modes.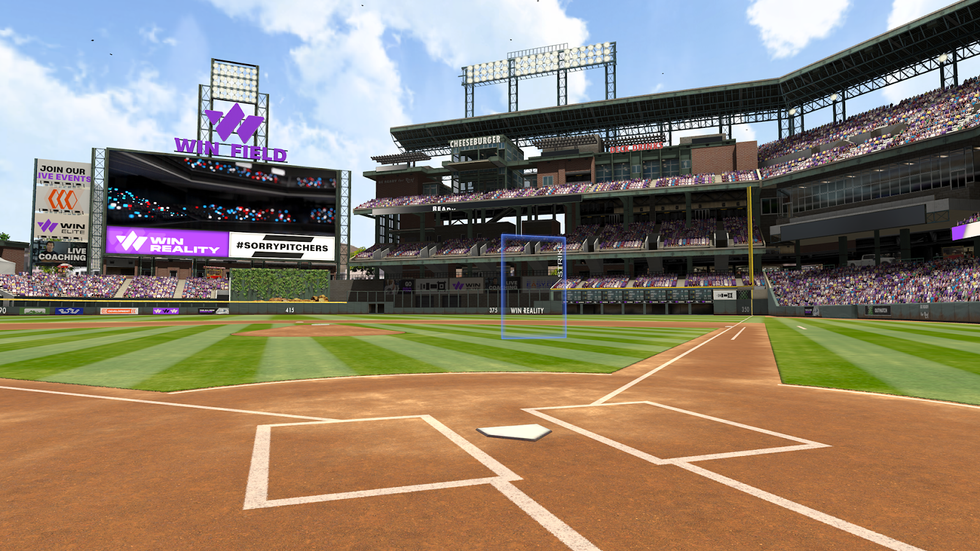 The WIN Reality VR experience is truly something to see
Developed by actual players, the Win Reality app accurately simulates high-speed pitches and delivers real-time results and feedback. It's the brainchild of a former pro baseball player and general manager.
Instead of only practicing swing motion, players can use WIN Reality to improve timing, positioning, and pitch recognition.
Open to all ages and skill levels (we're talking 9-14 year olds to Division 1 athletes and professionals), WIN offers over 600 virtual pitchers that can throw anything from Little-League level up to 100 mph fastballs — and everything in between.
You can choose from 3 types of yearly subscriptions: Standard, Pro, or Elite Academy.
The Standard Plan is just $19 a month when purchased for a year, and includes unlimited pitches, a personalized performance improvement plan, and team trainings, competitions, and special events. The Pro and Elite Academy plans are built around group or 1:1 sessions with professional level hitting coaches.
How does WIN Reality work?
VR technology allows users to experience immersive 360 degree environments (e.g., a baseball stadium) simply by wearing a headset. Combining this tech with sports gives players unprecedented access to game speed practice anywhere, anytime.
Users need a virtual reality headset (Meta Quest is recommended), their favorite bat, and a bat attachment (which is included in every yearly plan). Then, simply put any valuable / breakable objects away and your player is ready to swing for the fences.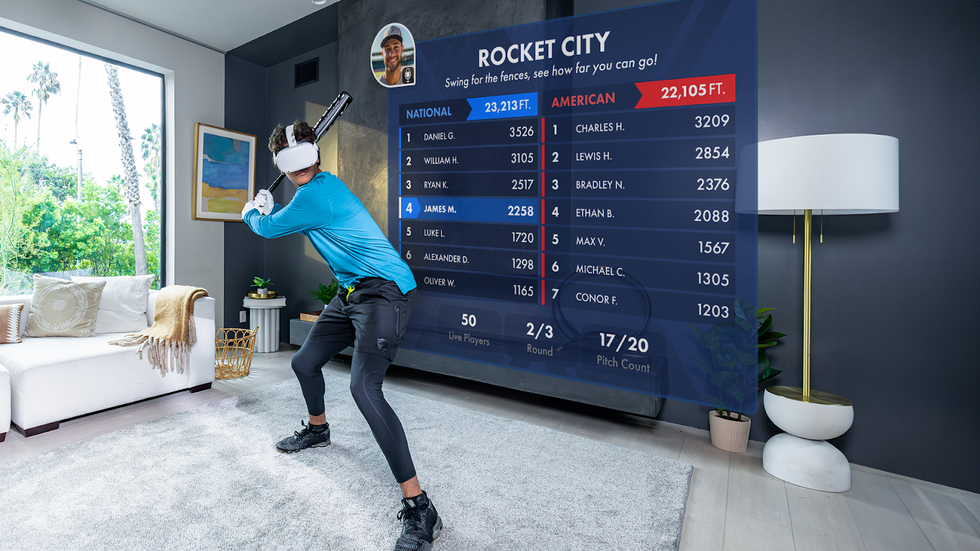 All you need is a headset, and it's batter up!
Once inside the app, users can choose from a variety of different game modes:
Exhibition mode replicates the environment of a real game with a field of players and a stadium of fans.
The pitch simulator allows players to focus on specific skills, such as release point, plate discipline, and swing timing.
Team Training is a series of live hitting competitions that involves teammates and gets the adrenaline pumping.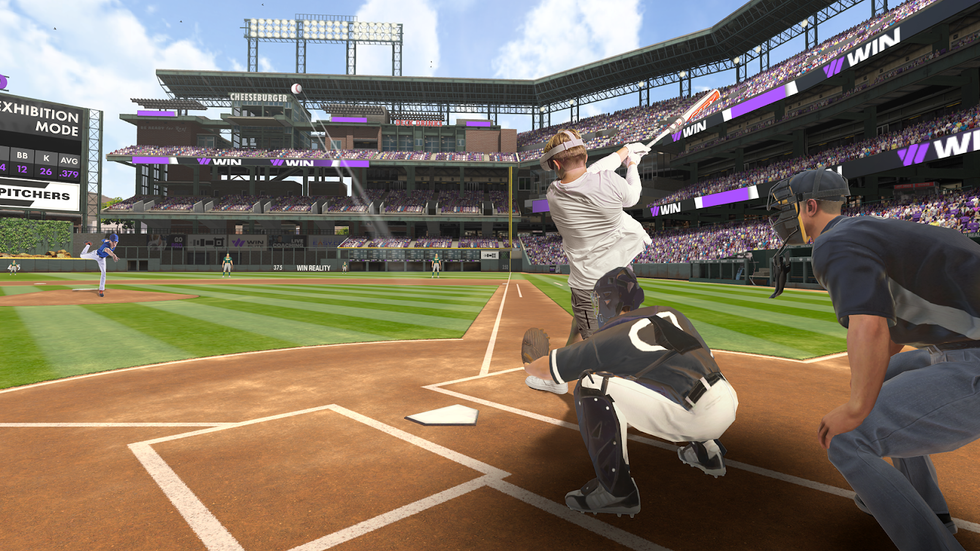 Exhibition mode simulates a real game in a real stadium
WIN Reality automatically tracks all of your hitting data and even uses AI to create personalized trainings for your skill level.
What makes WIN Reality unique?
There's a reason why thousands of pros and amateurs alike use WIN Reality to improve their hitting IQ. Although it may seem like a video game, WIN offers tangible results designed to improve players' actual physical game with meaningful reps.
Unlimited pitches allow players to experience more at-bats in a few weeks than most pros do during a full season. With the Live Pitch mobile app, parents can precisely control pitch locations to improve pitch recognition and provide a custom experience that's irreplaceable in real life.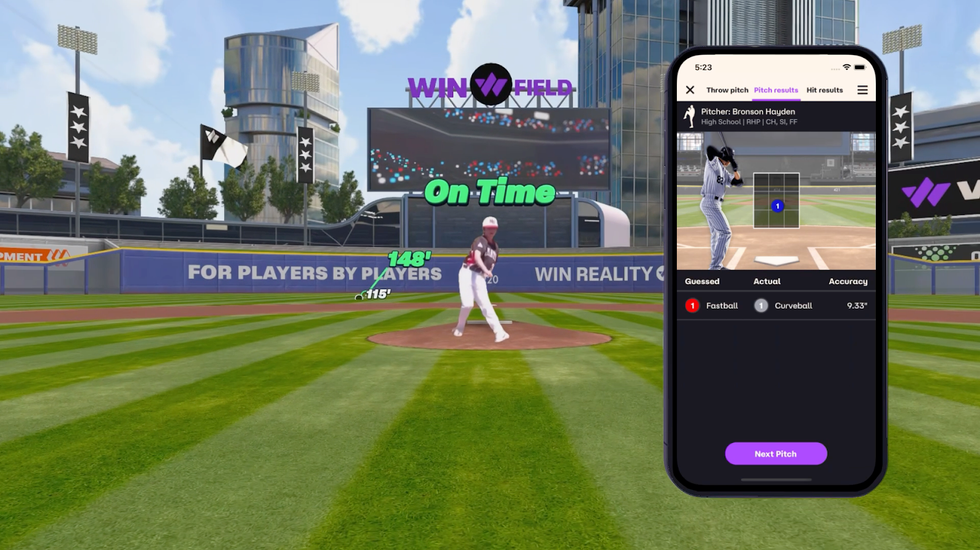 Live Pitch helps improve pitch recognition
In addition to a pitch simulator — which tells you with 100% certainty whether a missed pitch is actually a ball or a strike — WIN-Reality includes 1-1 coaching capabilities and live competitions.
What are the benefits of WIN Reality?
Baseball training can be hindered by weather, batting cage or field availability, and time of day. With WIN's incredible accessibility, off-season training has never been easier.
It gives parents the ability to easily track their kids' progress and specifically target the weaker areas of their game — perfect for additional practice on skills taught by their coach
Most impressively, WIN Reality gives younger athletes access to top level resources that were historically reserved for professionals. Players can choose from different competition modes and workouts to take their skills to the next level.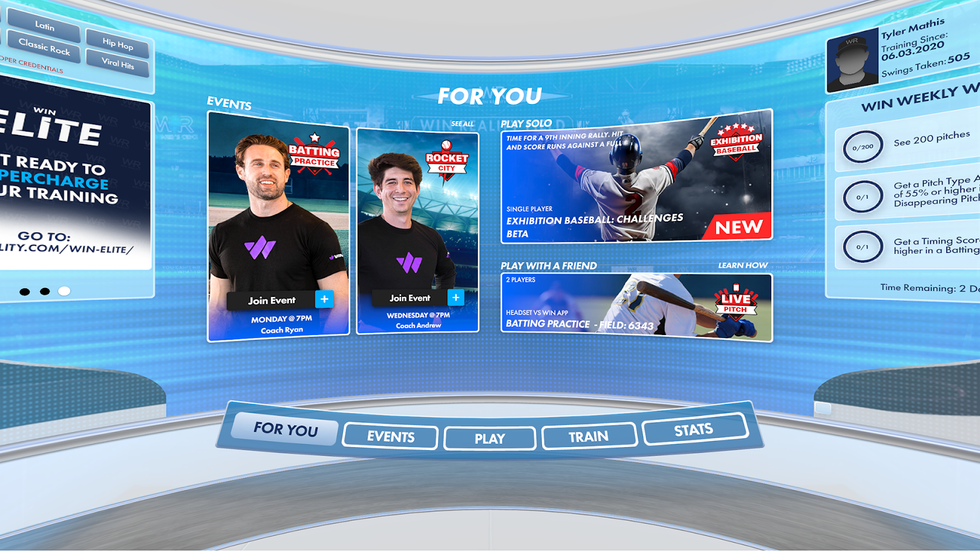 Players can access personalized events, trainings, and more
Parents and coaches can also become more involved in their kids' training with the Live Pitch mobile app and accurate in-app feedback. Viewing these precise statistics with your kids makes the process more informative and interactive.
What do customers think?
Parents love WIN Reality because it provides a convenient, effective way for the players to train. Trusted by players at the highest levels, WIN allows them to face any type of pitch and velocity you can imagine, while providing real-time feedback.
And coaches value WIN for its realistic experience, helping players improve on their own. Here's just a sampling of the many 5-star reviews from players and coaches who use WIN Reality :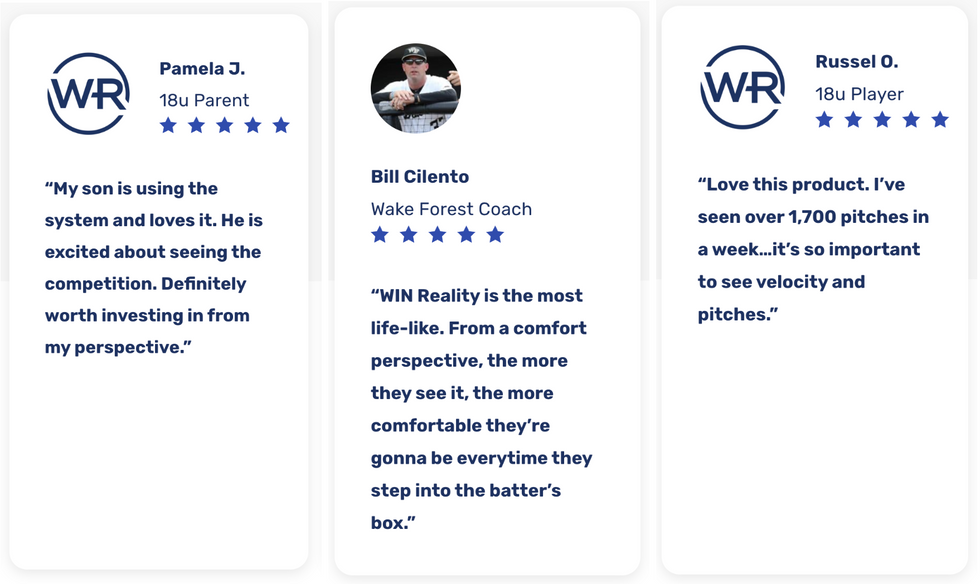 Whether your player is looking to play at the next level, improve specific areas, complement existing training and coaching, or just have more fun, WIN Reality is a solution that offers real results. Talk about effective screen time!
Final thoughts
Training for baseball at the elite level is now more accessible than ever. No matter which plan you choose, Win Reality makes it easier than ever for young players to level up their game from literally anywhere.