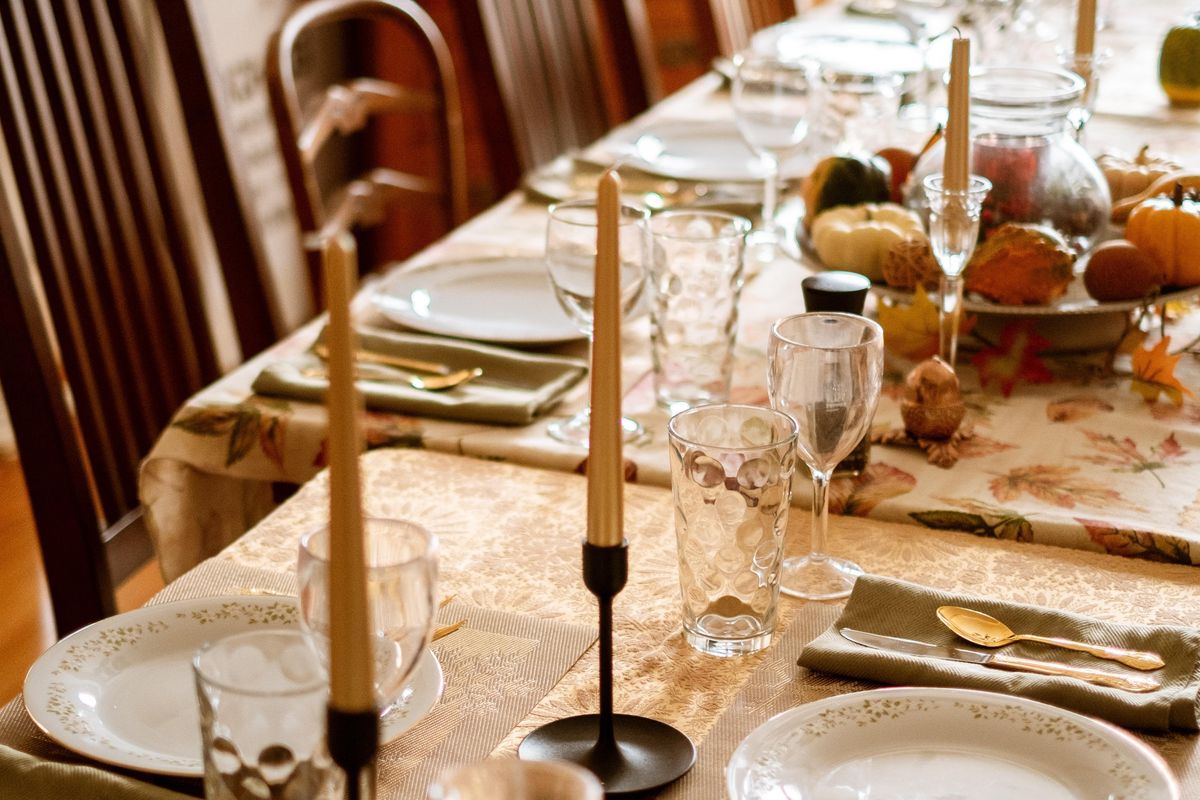 How To Relax This Holiday Season (Plus, Our Favorite Plant-Powered Wellness Offerings)
Remaining relaxed during the holiday season? HA!
It's an impressive goal. But between gloomy 5pm sunsets and stressful family gatherings, it can seem like a pipe dream.
---
You're not the first to require a vacation from your vacation. So we've got 5 tips that will make you feel like you've done this a thousand times before. And Aunt Eleanor will not get on your nerves this year.
Here's how to stay calm even if you drop the pumpkin pie, whipped-cream-side down.
All products featured are independently selected by our editors. Things you buy through our links may earn us a commission.
1. Get Some Support
Maybe that means hanging with your friends the night before, blowing up your group chat, or scheduling a debrief with your partner. But if your fam is what's stressing you out, reach out to some friends, too. Or side up to your favorite cousin early.
2. Be the First At the Snack Table
Sure, your grandma may be telling everyone not to fill up before her famous dish comes out of the oven, but the only thing worse than being hangry is holiday hangry. Try to plan ahead so you're not starving for the big meal. You'll be able to focus and have fun instead of letting your grumbly stomach devastate your mood.
3. Set Those Boundaries
If it's going to be an all-out brawl between both sides of your family. leave before dessert. Or, the second Uncle Eddy brings up January 6th, walk away. Set your boundaries and formulate potential responses for when the conversation inevitably arrives. Stay safe.
4. Enlist Some CBD
Cannabidiol (CBD) is an active non-psychedelic ingredient derived from hemp plants. When it's packaged in a tincture or a gummy, it can be ingested for that lil' extra calming effect. You're not going to fall asleep at the dinner table or hallucinate about the turkey dancing. But you just might feel a little more in control.
We've collected a host of some of our favorite brands that keep us calm and grounded even in the middle of a holiday sh*tstorm.
This brand is all about quality – when CBD first hit the market, there was some sketchy oversight with the new trend and some not-so-great brands took over gas stations. So, the founder of FOCL created the brand with quality ingredients in mind. You can get their premium CBD in a tincture, gummy, supplement, or topical cream. They have a huge following including Becca Tilley, Kelly Stafford, and Ali Manno even has her own exclusive product line with FOCL. To feel calm, we're lovin the Premium Full Spectrum CBD Gummies Variety Pack in Tropical Punch, Mandarin Orange, and Sour Watermelon.
The groovy vintage orange packaging is indicative of how you're gonna feel on feals. Fast-acting mints are great for discreet, on-the-go usage, but the oil's a bestseller. Start with a full-sized bottle of their CBD oil. Or ease in with the $20 Flight featuring their 3 strengths.
Organic hemp meets botanical ingredients in these oils and gummies. With blends like Original, Dream, Calm, Clarity, and Gold Reserve, you'll definitely find something you like thanks to the addition of CBG, or L-Theanine.
Perhaps the most elegant of them all, Lord Jones is an experience that may intrigue the entire family. You may've seen their skincare in Sephora, but it's the gummy boxes that are a seriously decadent treat. Snap up limited edition flavors like Wild Strawberry or go for classic Blood Orange.
Made from 100% Organic hemp flower grown in the USA with no additives or pesticides, Dad Grass is known for their pre-rolled joints in vintage-styled cartons. Grab a lighter and take a walk around the block in your more relaxed state before heading back for seconds.
Bonus: these make a fantastic stocking stuffer for Dads. (But they all make great gifts!)