Once the sparkling holiday decorations are up, many of us reflect on the past year. We mull over all that we have and what we might have done differently — and everything comes into perspective.
During the holiday season, we often realize that this is the best time to give back to our communities and help improve the world. There are small and large ways to give back. Some people go local, while others aim to make a more significant difference. Here's the chance for charities to truly achieve their missions. If you're looking for a philanthropic organization whose purpose is to save lives and empower people to develop resilience and greater control over their lives, then look no further than GOAL.
GOALis an agile first-responder to humanitarian crises and works with some of the most vulnerable communities across the world to help them recover and get them on the road to recovery.
For the last 45 years, they've been working tirelessly to support those who are in need and battling poverty. GOAL responded to crises such as the genocide in Rwanda, the tsunami in Southeast Asia, and the Haiti earthquake. They worked to provide safe water and food rations in Syria; they established treatment centers in Sierra Leone and Liberia during Ebola, and today GOAL is responding to the needs of IDPs (internally displaced people) fleeing Ukraine.
GOAL's commitment and courage stem from the notion that each and every person deserves equal rights and a life of dignity and opportunities. As they envision a world without poverty where every community is safe and healthy, we wonder what more we can do.
So, the big question is, how can you help GOAL this holiday season? Take part in the GOAL Mile, an inspiring event that sees people run or walk a mile at community events all across Ireland. Or you can take part virtually, from anywhere in the world — just walk or run a mile around your house, garden, or local area. For the last 4 decades, the GOAL Mile is a highly popular Christmas tradition for families. What a tremendous way to get the community involved while raising funds for a cause that matters.
Signing up and getting started is super easy. The GOAL Mile takes place on the 25th and 26th of December. Simply pick your location — and it can be any location — beach, forest trail, or running pitches. Depending on the number of participants in your GOAL Mile, you may need a team of organizers to stand at the start, cheer at the finish line, and along the course to hand out refreshments or collect donations.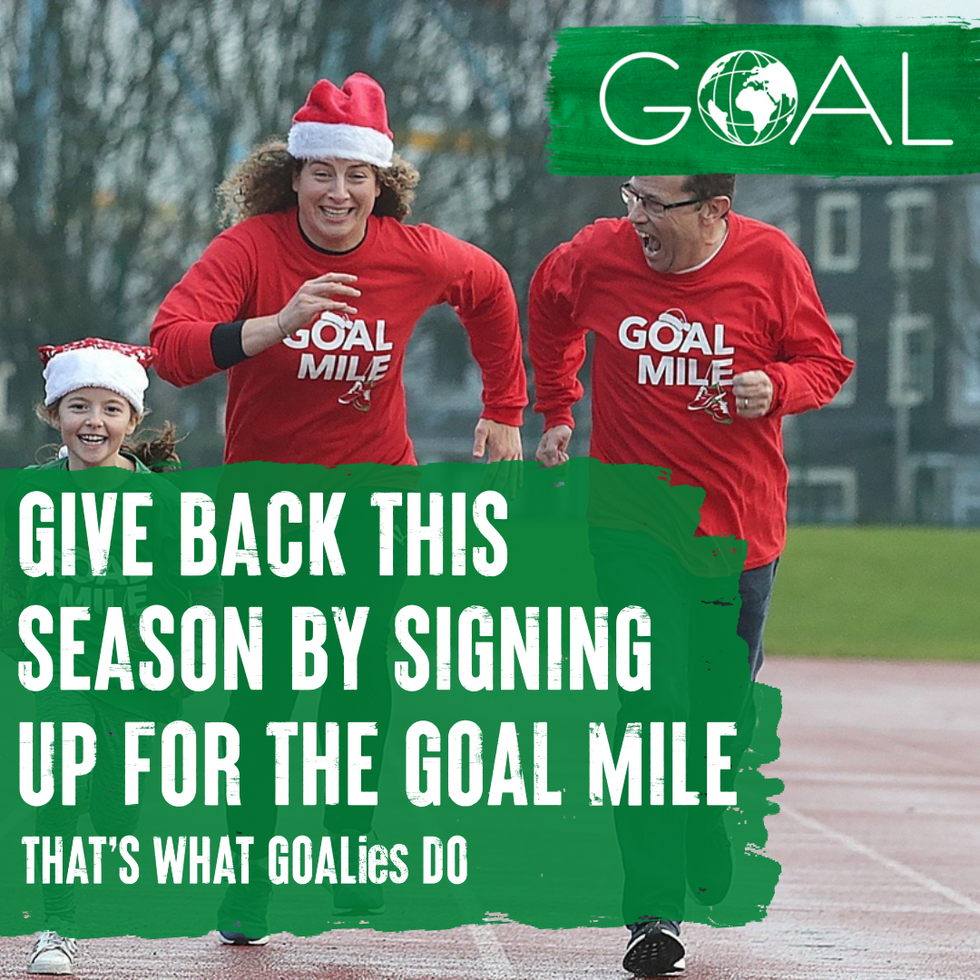 GOAL sets up a fundraising page for you and sends you collection buckets. Additionally, they'll promote your GOAL Mile through their advertising campaign and, of course, social media.
Participants can also register online for their mile on the GOAL Mile website: https://www.goalmile.org/
GOAL Global and the GOAL Mile have helped so many communities all over the globe. Join a local outside event, participate virtually, or start your very own GOAL Mile.
The GOAL Mile is the perfect way to brighten your holidays, make someone's Christmas, and help make a difference in the world.