Instead of putting on our favorite jersey and tuning into ESPN, this spring the TopDust team is lacing up our aprons and preheating our ovens. That's right--March Meal Kit Madness is here!
With so many meal kits to choose from, we've put the Elite Eight to the test. We love the idea of getting pre-measured ingredients and recipe cards shipped to our door, but which option is the ultimate weeknight dinner superhero? Who deserves to be crowned champion as the tastiest, easiest, and quickest meal kit?
Behold our bracket.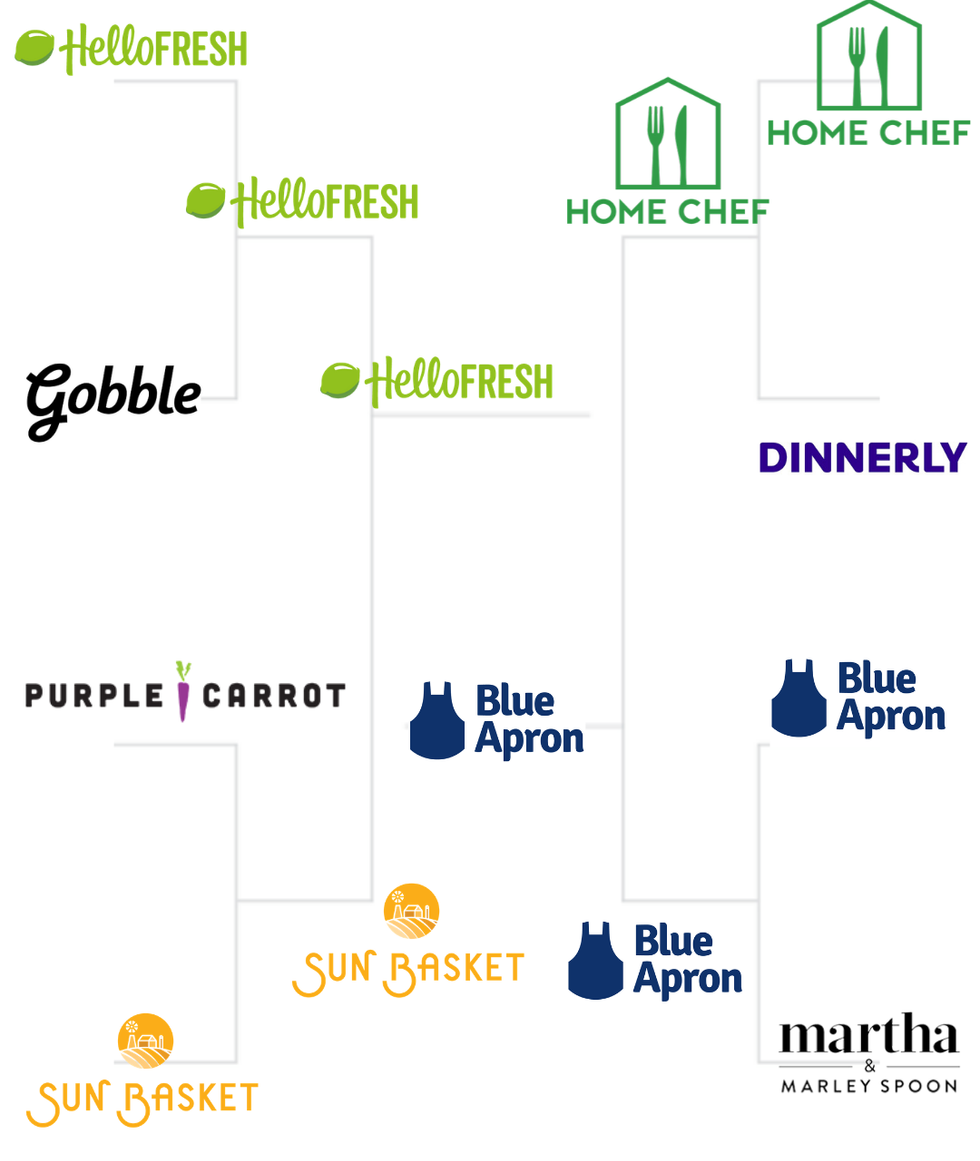 We knocked out a bunch of major players in the meal kit space, due to high prices, lackluster recipes, or poor reviews. America's most popular meal kit, HelloFresh, and the one with the biggest hype upon release, Blue Apron, came out as the top two.

We can't say we're surprised. With affordable prices, chef-curated recipes, and super fresh ingredients, they're both serious contenders.
To determine the winner, we compared them head to head, and we're confident in our ranking. If you're new to meal kits or think you just haven't tried the right one, we'll break down why our winner deserves its spot as King Of The Meal Kits. We broke it down by 1) meal choice 2) customer reviews and 3) ease of recipes.
Here's how it went:
Meal Choice
Winner: HelloFresh
Every week, with both programs, you get to choose your recipes. With HelloFresh, you have over 20 different options per week, and with Blue Apron you only have 11. Both meal kits offer a range of customer favorites, quick meals, gourmet meals, calorie-smart options, and a variety of cuisines, but HelloFresh wins for the larger selection (less of a chance for repeats!). And although Blue Apron has the reputation for being gourmet, we were impressed by HF's selection of gourmet options (Duck a l'Orange with Duck Fat Mashed Potatoes & Arugula Almond Salad, anyone?).
Customer Reviews
Winner: HelloFresh
We knew this coming in, but we needed to double check on TrustPilot and other non-biased sources: HelloFresh has the highest amount of 5-star reviews. Not just higher than Blue Apron, but higher than anyone else out there. If you start with HelloFresh, you're probably not going to switch to a different meal kit later, but some users of Blue Apron went to HelloFresh.
Plus, With HelloFresh, you can skip weeks, or cancel your subscription at any time easily. This doesn't seem to be the case for Blue Apron. Luke, a verified review on Consumer Affairs, says, "Blue Apron makes it extremely tedious to cancel a subscription... You can't remove your credit card… To get the process started, one needs to email their support team, requesting to cancel. This does not appear to be monitored on weekends very well and is delayed by several hours."
Convenience
Winner: HelloFresh
When Blue Apron first arrived on the scene, they were known for their new and exciting foods and gourmet recipes. And they are DELICIOUS. However, the suggested cooking times aren't as accurate as HelloFresh's, and honestly, they can be a little intimidating. A lot of the recipes aren't weeknight-friendly - they're great for a Saturday date night, but at that point, we actually have the time to go to the grocery store.
HelloFresh's meals are great for any skill level of cooking - you'll get an amazing meal if you're an amateur chef or get nervous boiling water.
The Winner Of Meal Kit Madness: ⭐ HelloFresh ⭐
Blue Apron is more gourmet, but that comes at a cost of being universally accessible. Even with step-by-step instructions, too many 45 minute complicated recipes go against what we believe a meal kit should be: convenient. It should save you money, and more importantly, time, and that's why HelloFresh came out on top.
HelloFresh has the most 5-star reviews out of any other meal kit for a reason: it's earned all 5 of them.
Update: EARLY ACCESS: FRIENDS & FAMILY SALE! Our friends at HelloFresh are extending a special offer to our readers! Follow this link to get $30 off including FREE shipping on the first box!