Meal kits blew up in 2020 because of convenience, but also because they are a more sustainable option compared to grocery shopping.
HelloFresh's carbon footprint is 25% lower than that of meals made from store-bought groceries.
We tried three recipes from HelloFresh. They sent all the pre-portioned ingredients, plus recipe cards right to our doorstep.
There has been so much buzz around meal kits lately, and the industry shows no signs of slowing down. Having your ingredients, each one pre-measured, delivered to your doorstep, along with step-by-step recipe instructions? It's no wonder meal kits are so popular.

If you know about meal kits, then you've probably heard of HelloFresh, the biggest player in the game right now.
Our editors are excited to be putting HelloFresh to the test to see if it's all it's cracked up to be.
We tried their service for a week. Here's what happened:
The sign-up was easy. We went with the 3-recipe-a-week plan, but you can choose anywhere between 2 and 5 recipes a week for 2 or 4 people. They have options for vegetarians, meat lovers, calorie conscious eaters, and families.
When the box arrived at our doorstep, we were excited to get started.
First thing to note: the packaging. In order to keep ingredients fresh, packaging is unavoidable. But HelloFresh has innovated some great solutions to meet sustainability goals. Their boxes are made of recycled cardboard, and their packaging is recyclable or compostable – even their ice packs!
Opening the box, it was delightful to see all the ingredients neatly separated into different clearly-labeled bags per recipe – we were off to a good start.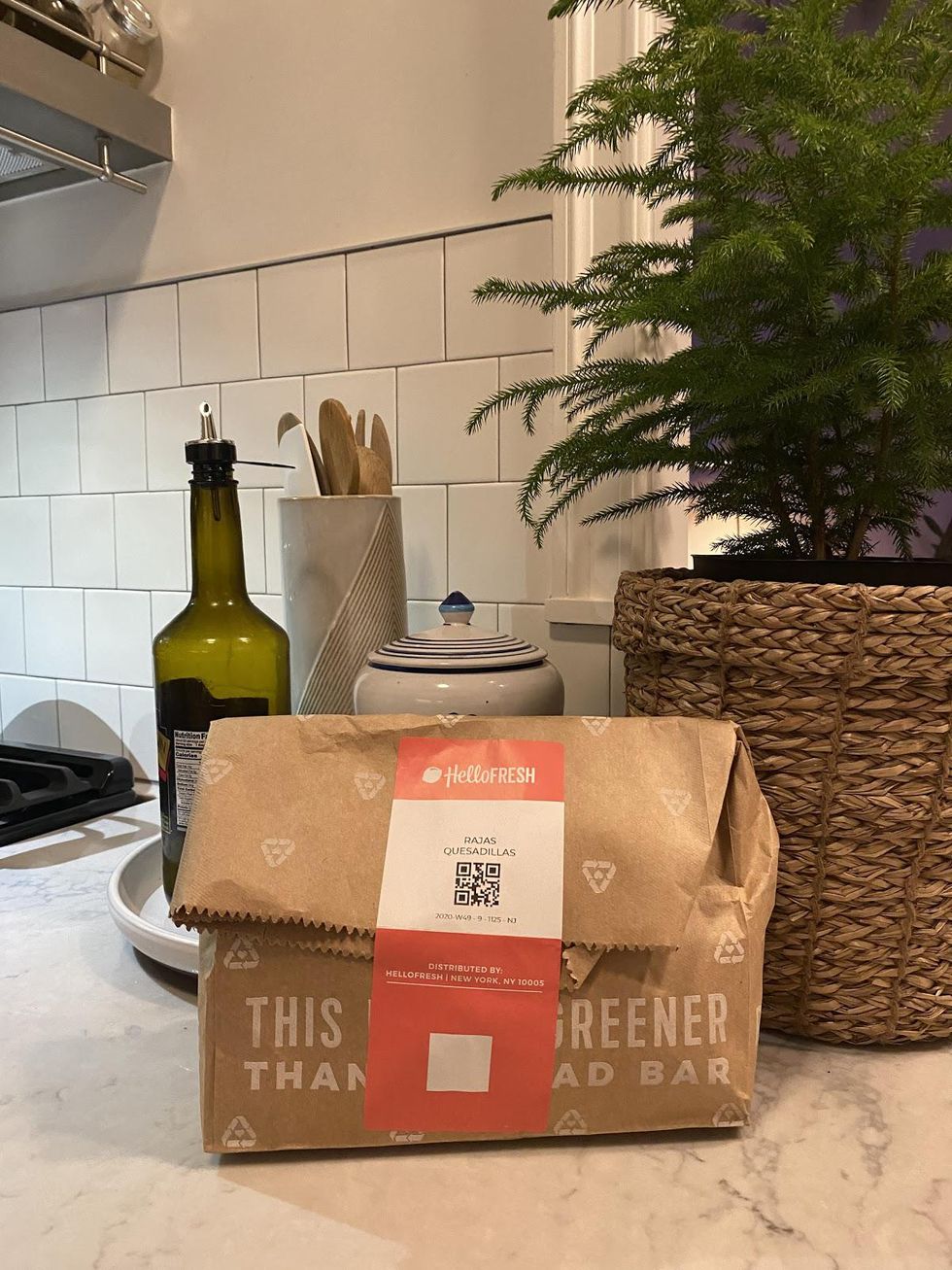 We put the appropriate ingredients into the fridge and got started. Meal number one was a veggie option: Raja Quesadillas. The recipe card had our mouths watering.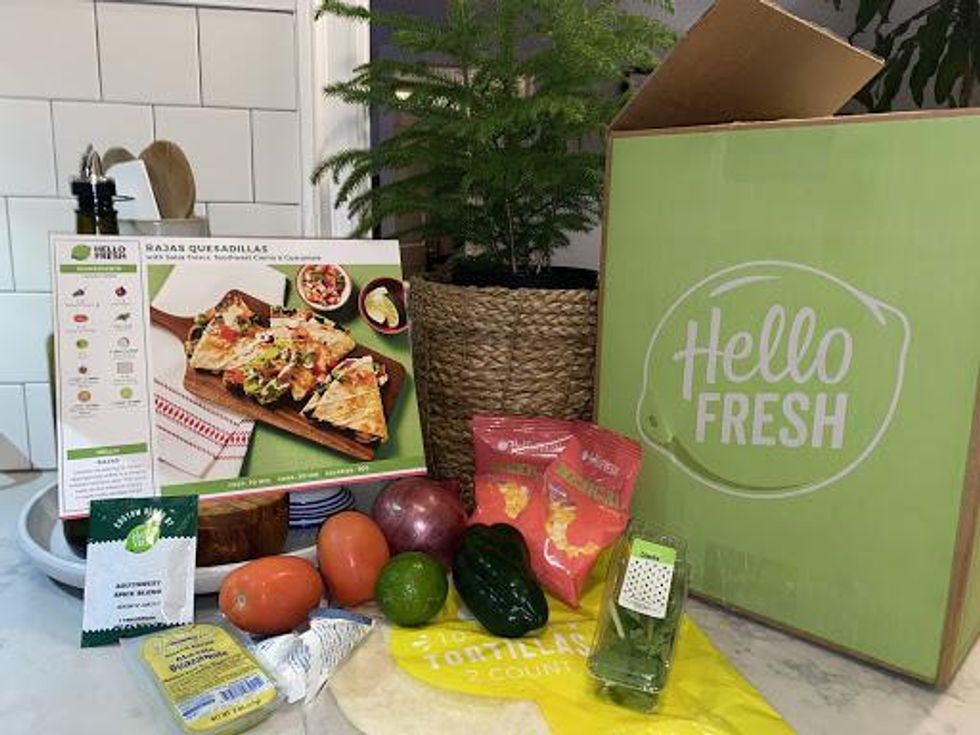 The ingredients with HelloFresh come pre-portioned which means no half-used produce or sauces, and there were only a few vegetables that needed to be chopped. This saved us time and also means less food waste – another environmental win.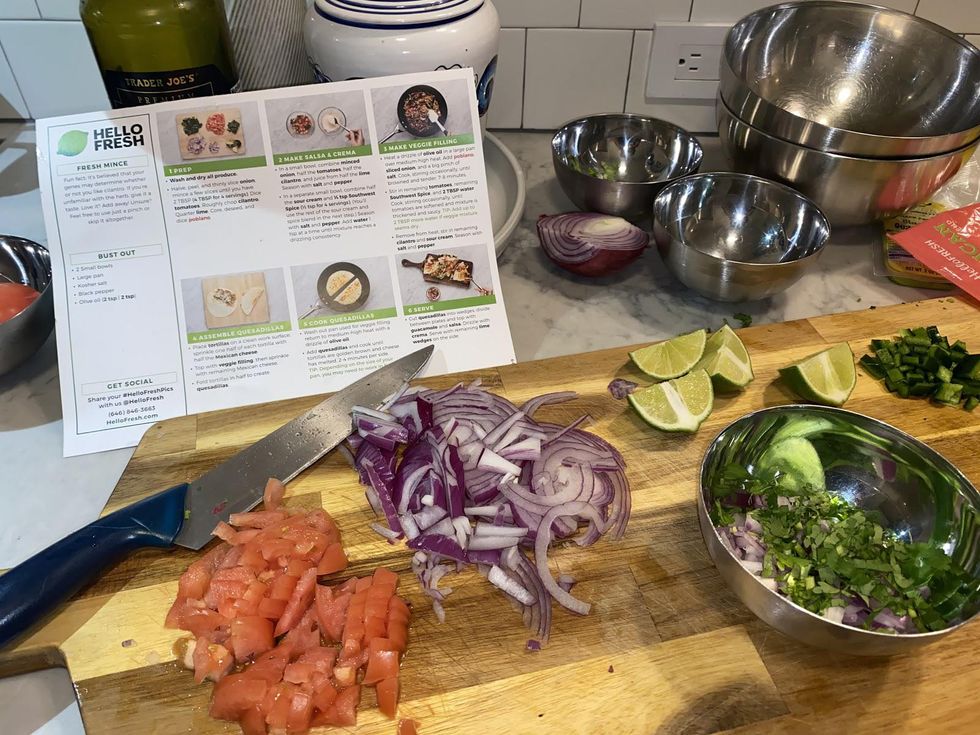 HelloFresh recipes are super easy to follow. After some chopping and mixing, the ingredients were ready to be cooked on the pan for just under ten minutes, then put into some tortillas and put on the pan again to melt the cheese nicely and to crisp up the tortillas.

After just 30 minutes and 6 simple steps, our veggie Rajas Quesadillas were ready! And soooo delicious! The portion was the perfect size, too. We were thoroughly satisfied and impressed. We especially liked HelloFresh's attention to detail that made this quesadilla better than one we'd make on our own. HelloFresh's spice blends took the recipe to the next level, and providing limes for some acidity and cilantro for some fresh herbiness really rounded out the dish.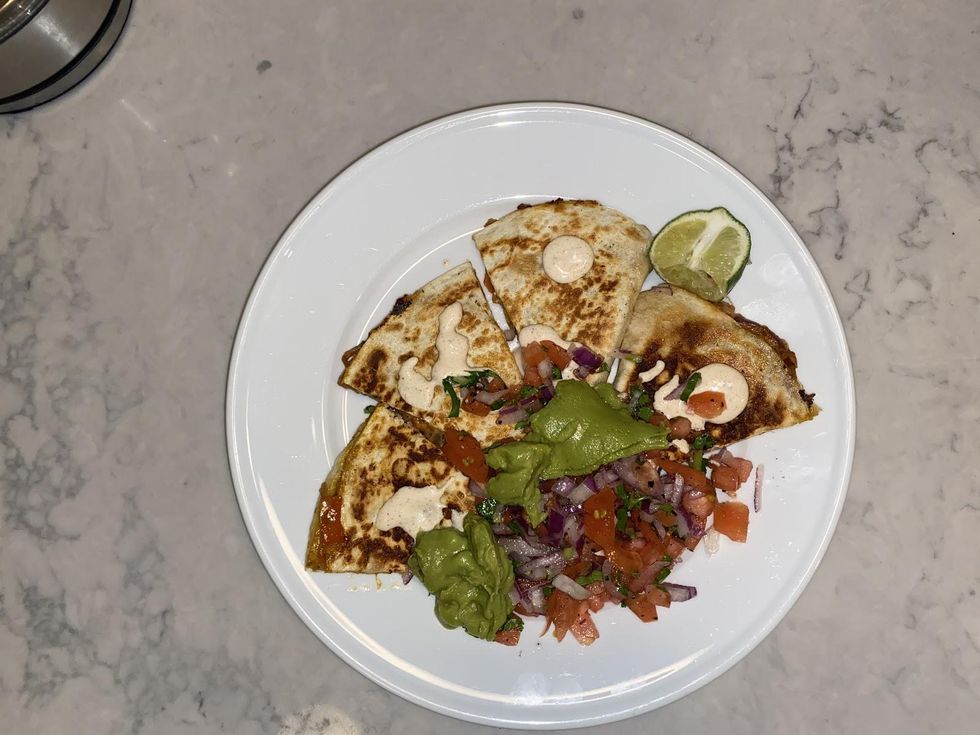 The rest of the week was no different. Our Chicken Sausage Spaghetti Bolognese, and Saucy Pork & Cabbage Stir-Fry were both just as easy-to-prep, yummy, and satisfying. We really appreciate the variety of cuisines we could experience in one week, especially seeing HelloFresh has 20+ meals to choose from each week--Thai, Mexican, Italian, Korean, Chinese, Indian, and many more

We conclude: HelloFresh IS all it's cracked up to be and we're definitely keeping our subscription. Their meals start at just $7.49 per serving, which is a lot less than the grocery store and take out, so you're saving time and money.
Plus, the subscription is completely flexible and you can cancel at any time, so if you're thinking about trying a meal kit we'd recommend HelloFresh. The convenience of getting pre-portioned ingredients delivered along with an easy recipe to follow is unmatched and makes dinnertime a breeze.
HelloFresh gets our seal of approval. Check them out to find out more about their convenient service, wholesome recipes, and sustainable innovations.
Family and Friends Special!!: Our friends at HelloFresh are extending a SPECIAL OFFER to our readers. Follow this link to get 12 FREE meals ($90 value) across 4 boxes including free shipping on the first box!