Dinnertime can be stressful; whether you're cooking for one or six. Thinking of a new recipe, prepping, and cooking from scratch every night takes a lot of effort.
Most of us simply don't have the energy or lost the motivation to search for new recipes a long time ago. So we either go for what's convenient – like oven meals – or stick to the same 4 recipes we know on rotation.
That's why meal kits like HelloFresh came about, allowing people to easily cook new homemade recipes without all the hassle. Keep reading to learn more about HelloFreshand how to get started…
WHAT is HelloFresh?
HelloFresh is a meal kit delivery service that sends pre-portioned ingredients along with recipe cards of your choice to your doorstep every week. They have a weekly rotating menu of 30+ meals to choose from every week.
HOW does it work?
The sign-up process is easy, just follow these simple steps…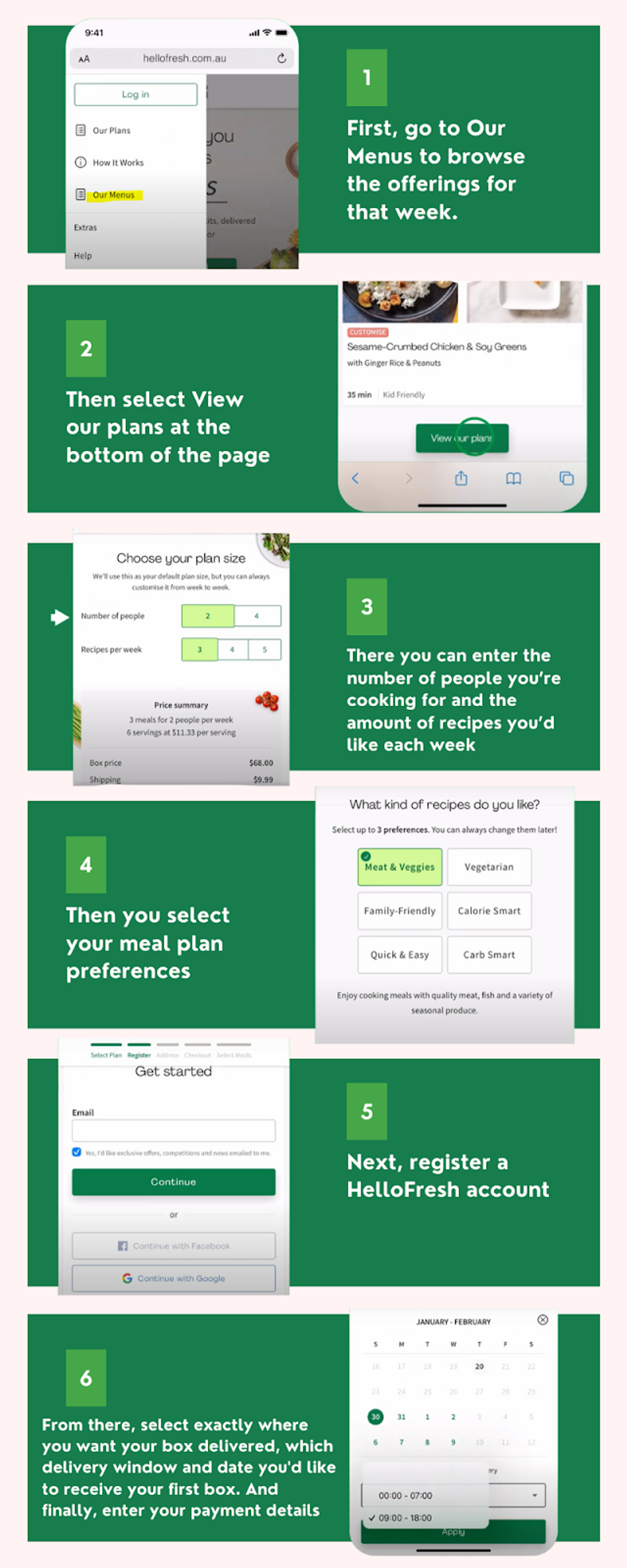 After signing up, fresh pre-portioned ingredients are delivered to your door for your selected meals on your selected date, along with easy-to-follow recipe cards. Then you can start cooking tasty and nutritious meals!
WHO is HelloFresh for?
HelloFresh is for anyone who wants to start cooking more home-cooked dinners. Whether you have a family or you're single and looking for convenient meals (you can always keep leftovers for lunch!), HelloFresh is the easiest way to start cookin'.
HOW much is it?
With meals starting at just $8.75 per serving, HelloFresh is so affordable for the convenience it provides to your evenings.
WHY should you sign up?
Did we mention that HelloFresh meals are delicious? Their menu offers 30+ meals every week and constantly adds new ones, so you'll never be bored. Their recipes include international cuisines such as Easy Peri Peri Chicken & Slaw Bowl with Garlic-Corn Rice & Garlic Aioli and Easy Chermoula Chicken Tacos with Pickled Cucumber & Dill-Parsley Mayo
Not to mention HelloFresh uses only fresh ingredients from the best seasonal produce, so the meals are wholesome, with options to suit every lifestyle.
The best part about HelloFresh is the amount of time you save. You can skip the trip to the supermarket, and their meals can be ready in just 30 minutes! Their pre-portioned ingredients means there's less prep time, less clean up and less food waste.
So what are you waiting for? HelloFresh plans are really flexible so you can skip, pause, or opt out at anytime. You have nothing to lose, so sign up today and thank us later!
Update: The team at HelloFresh are extending a special offer to our readers! Follow this link to get up to $140 Off Including Free Shipping
Offer Expires In