I love sharing my favorite tips and tricks for work. One of my favorite tools that played a secret starring role in my success is Grammarly.
Grammarly's product isn't just a spell-checker. It's a digital writing assistant that helps me feel SO much more confident at work. It provides real-time writing suggestions beyond spelling and grammar to ensure everything I write is correct, clear, and engaging.
How do I start using Grammarly's writing assistant?
If you download the Grammarly browser extension, you can directly access Grammarly's writing suggestions from Gmail, LinkedIn, Twitter, Facebook, and most other sites on the web. You'll know it's working when you see a green G in the lower right corner of the text field you're writing in. Basic writing corrections will appear inline, and clicking the green G allows you to open a more robust pop-up editor to access Premium suggestions.
You also can add the Grammarly Keyboard to your iPhone or Android device to write clearly and effectively in any app, on any website. And if you need to write a longer document, there is the Grammarly Editor (sign in to your account to access it), or download Grammarly's add-in for MS Office (available for PCs) and native desktop apps (PC and Mac). Whichever way you use Grammarly, it always offers an excellent user experience.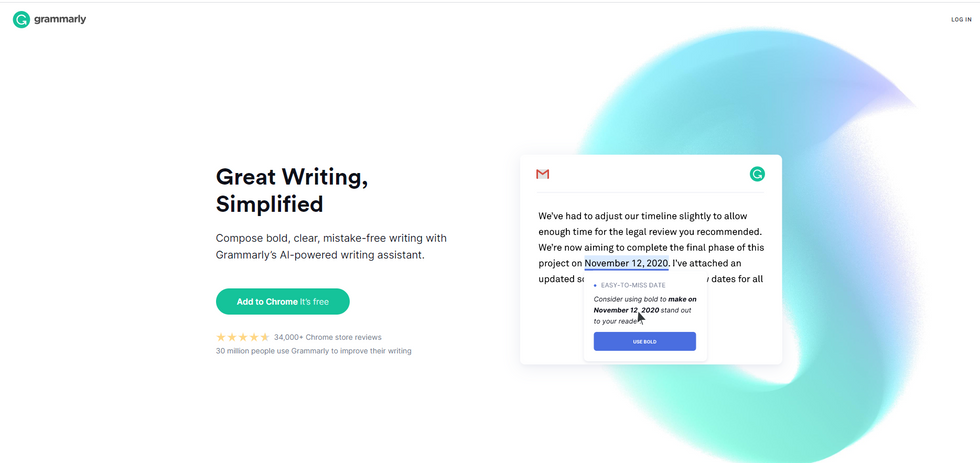 What kinds of suggestions does Grammarly's writing assistant make, besides spelling and grammar?

Everything you could think of to make your writing stronger. Suggestions fall into one of four categories: correctness, clarity, engagement, or delivery.
I like the suggested synonyms that sharpen my writing, but what's most helpful for me is Grammarly's tone detector in the browser extension. It analyzes your writing and describes what tone your message gives off before you hit send. Now I'm not paranoid anymore when I politely email my boss for something!
Grammarly also notices when I should switch from passive to active voice to strengthen my message. For example, it would recommend I change "Yes, the presentation was written by me" to "Yes, I wrote the presentation." See how much bolder that sounds?
There's even a built-in plagiarism checker (great for school!).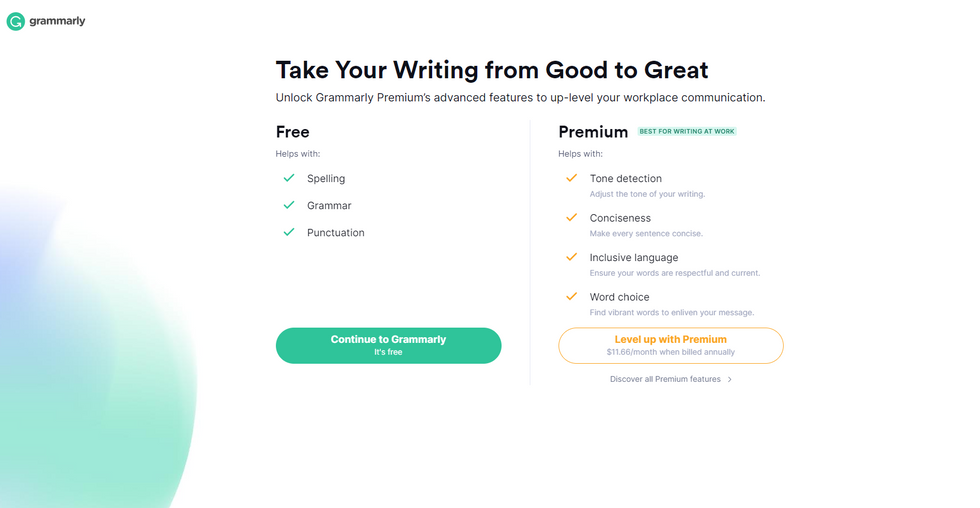 What does it cost?

You can use the free version for basic grammar, spelling, and conciseness suggestions, but the Premium version costs as little as $11.66 a month and gives you advanced writing feedback. I use it multiple times a day, every day, so I find it to be a completely worthwhile investment.
Why do I need this?
Do you want to be a better writer? Boom, get Grammarly. You'll save so much time (and stress!) wondering if your email hits the right note. If you need to establish relationships with clients or do a lot of cold emailing, it will help you always be clear, concise, and engaging to strike that ideal friendly-but-in-charge tone.
It's like a second set of eyes—you could even have it help you craft a delicately-worded text message (for those deep conversations) or you could use it for something like a wedding speech to punch up the language.
Grammarly's writing assistant is great for work, school, or even creative writing! One of my friends, who is a writer, is obsessed with it too. It's easy to download and instantly makes your writing better.
Start writing like a pro today: Follow this link now to try Grammarly for free!