Working from home has put a lot of stress on our relationship, I'll be the first to admit it. So when Matt said we needed to get out of the city for a little while, I signed on immediately. Then he suggested that we… go camping.
Camping? Normally, the idea of being out in the woods in some kind of tent gives me the hives. (Not to mention poison ivy!). But Matt found this amazing company called Getaway. We wouldn't be roughing it at all - we'd be camping in beautiful, private cozy cabins surrounded by nature. Rates start at $99 a night. And Getaway loves dogs! For only $40 extra, we can bring our brindle pit bull, Bosco. All their cabins are dog-friendly and puppy-ready. They even provide bowls, a lead, and some treats. A family outing combining the comforts of home and the beauties of nature? Outstanding.
Getaway makes it so easy to get away. Their website provides handy packing tips so we knew exactly what we'd need to take and what we could leave behind. There were so many gorgeous photos of the cabins and the surroundings, we couldn't wait.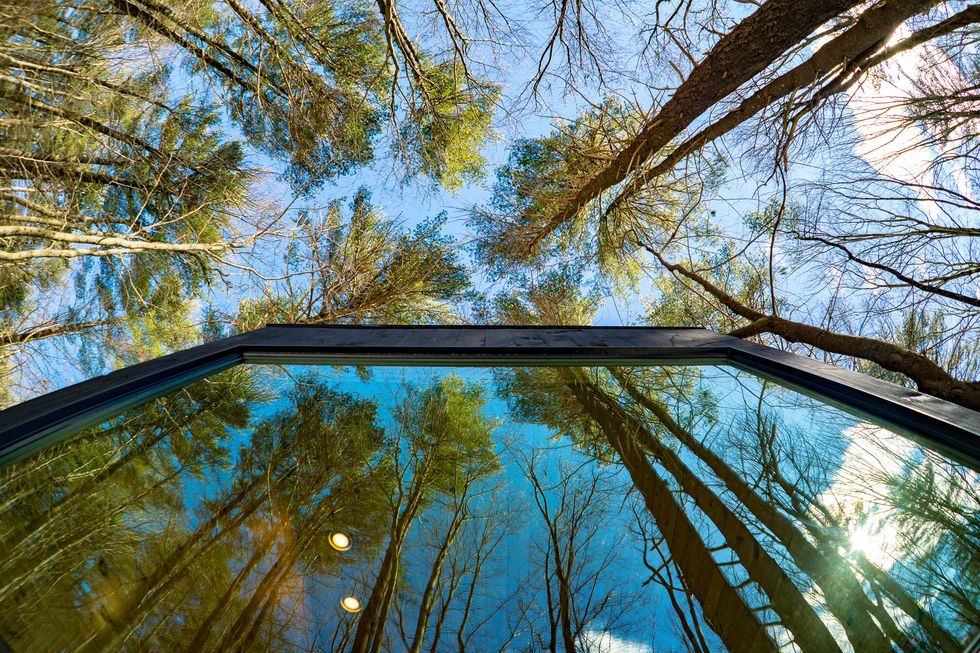 I was a bit apprehensive about traveling with everything going on and wanted to make sure that Getaway would still be a safe option for us. I checked their website and Getaway's Journal posts, plus I emailed their team for reassurance (Matt said I was being paranoid, but you can never be too sure). They really eased my concerns and shared that they've revamped their cleaning procedures to make the cabins as safe as possible for us and that we would be at least 50-150 ft away from the next cabin. Plus, there's no check-in desk so we could go straight to our cabin without interacting with anyone during our stay. It was as simple as driving straight from our home to the cabin!
On the day of our reservation, we drove less than 2 hours to a cabin that had been thoroughly cleaned and prepared for some heavy-duty relaxing. I was wondering how checking in would go with a concierge right now, but it turns out Getaway is all self check-in and self check-out. They text you which cabin you'll be in and the lock code, so you can just drive right up and go in.
The cabin was absolutely inspiring, slightly elevated, and with a huge glass window. We literally slept surrounded by trees in the night. The inside was even dreamier, with walls paneled in pine wood. The private bathroom included a hot shower and fluffy towels. Everything smelled so fresh and clean.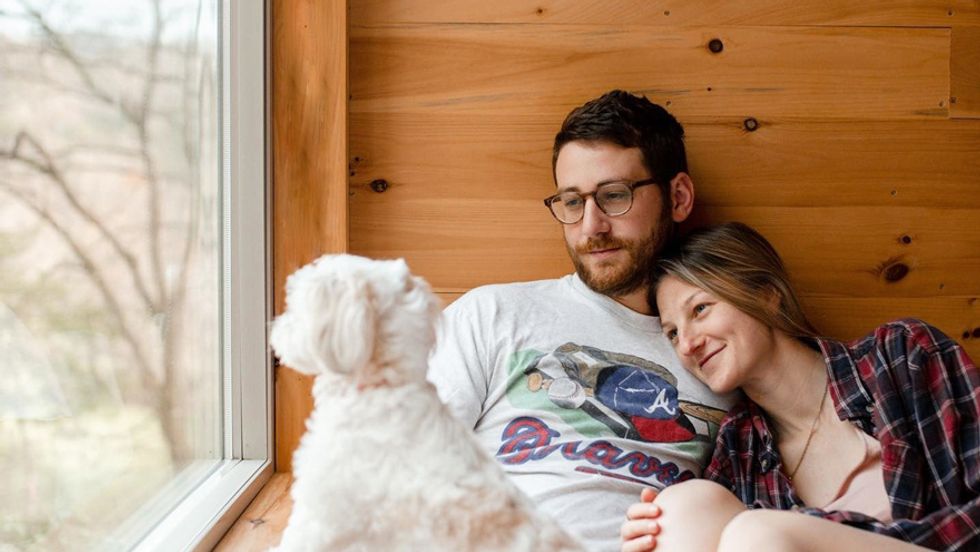 One of the most exciting things (nerdy me) was that our cabin had no wi-fi, and a cell phone lockbox was provided. As soon as we arrived, Matt stashed our phones so we could fully enjoy a social media detox.
I dumped our gear and rested on the super soft, queen-sized bed, gazing out the gigantic window to see Matt and Bosco playing in nature. With all this light, the fresh air, and no devices, I dozed off for a well-deserved nap. After lunch, the three of us went for a stroll in the sleepy forest. We breathed deeply and laughed at Bosco, who annihilated a power-chewer.

Later, as I cooked dinner on the two-burner stove in the mini-kitchen, I noticed thoughtful touches like salt, pepper, even a tea kettle. It really showed how much attention and care Getaway puts into what they do.
The following morning Matt set out eggs, avocado, and bacon on the picnic table. He whipped up Stuffed Breakfast Arepas, a Getaway Campfire Cooking recipe, in the fire pit. The bacon was so crispy and so tasty!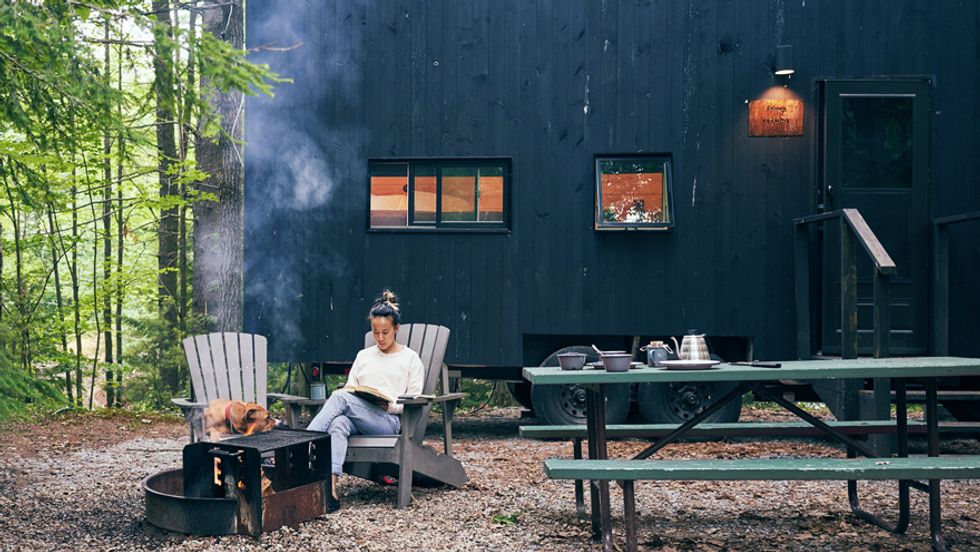 We lounged out in front of the cabin and lazily planned our afternoon hike through the woods and into the hills. Spring was in full bloom, teeny blue wildflowers carpeted the forest floor. When we finally reached the mountain top, we took in the sunny day, the wide sky, and it reminded me how big the world is, how precious.
When we returned to the cabin, Matt soothed his tired muscles with a long, hot shower. Then we sat in Adirondack chairs in the chilly night, warmed by a bonfire and a glass of wine. Before I sank into blissful sleep, I thought about how truly relaxed we were. Just two lovebirds and their awesome pooch.
But that's what love can do, bring us together. We just had to give ourselves the time and space to see it. And thanks to Getaway, we did.
Plan Your Escape With Getaway! Take $20 Off Your Adventure With Code FALL20!
Offer Expires In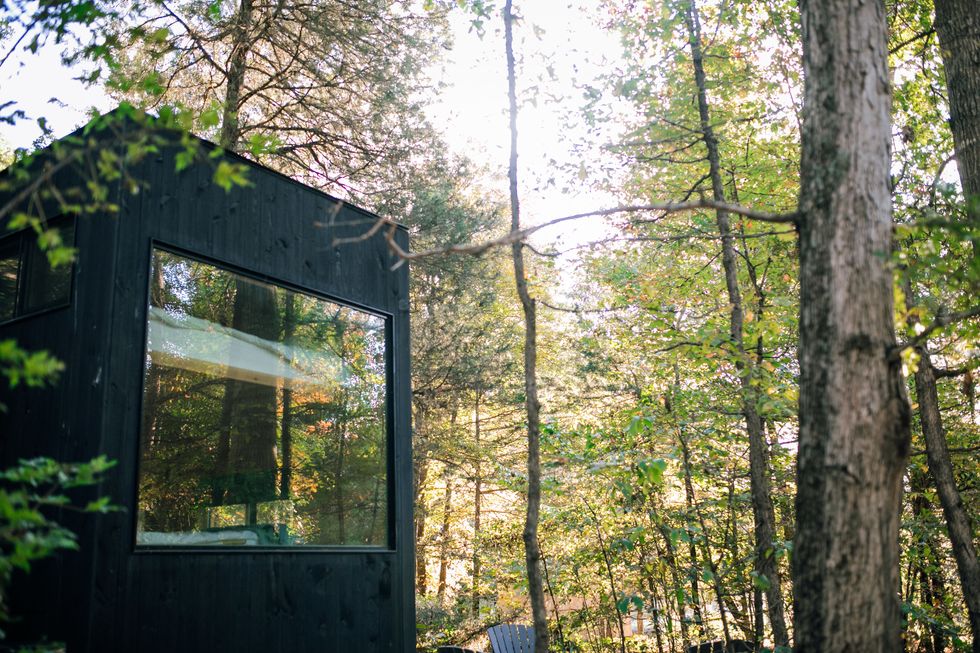 View More: http://brittanyfan.pass.us/getaway