We all can use a break. From work, from the daily routine, from our town and from our cities. Our editors have found the perfect respite for you — a place to relax, disconnect from the laptop and reconnect with nature — Getaway.
Getaway gives you the best parts of camping without roughing it. Their cabins feature huge windows with incredible views of trees and trails. Each cabin holds up to four people and provides the weary traveler with one or two comfy queen beds. From your own private bathroom with a hot shower to a kitchen stocked with cooking gear, each Getaway cabin is equipped with everything you need for a relaxing, carefree stay.
Your comfort is one of Getaway's top priorities — and so is your safety. With at least 50 to 150 feet between cabins, Getaway is socially distant by design. There's contactless check-in and check-out: Drive right up and pop your phones in the lockbox. With no Wi-Fi, you can step outside the social media whirl — and start to really unwind.
Getaway's Outposts are about two hours away by car from major cities. You'll wake up to the sounds of birds chirping in the crisp, fresh morning air. You'll walk and read and plan and dream. You'll breathe deeply and find something you haven't seen in a while: your rested, relaxed, contented self.
Pictures on theGetawaysite say it all. The wifi-free cabins come with a cell phone lockbox, so you can do a total tech-detox if that's what you need. There's also a selection of books, a deck of cards, some fun board games, and a fire to sit around. Getaway is an awesome way to kick back and recharge.
Each Outpost has its own set of activities to bring you closer to nature beyond the cabin. Some posts have nearby vineyards, antique shops, or even apple picking, which is great for kids!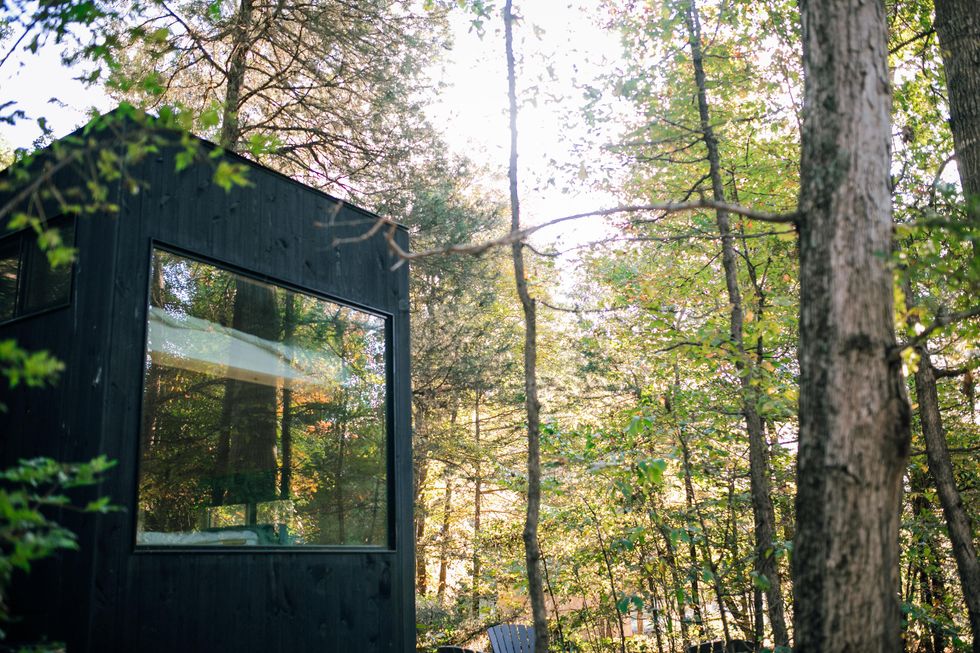 We could go on for days, but let's hear what a few actual customers are saying about their getaway with Getaway:
Completely Offline ⭐⭐⭐⭐⭐
"The kids loved grilling, s'mores, & just being completely offline! They'd never seen a landline, it was hilarious!"- Jillian R.
Best Of Both Worlds ⭐⭐⭐⭐⭐
"The best of both worlds — fully immersed in nature AND comfortable / luxurious." - Bethany L.
Find The Stillness Within ⭐⭐⭐⭐⭐
"We loved every moment of our stay in the Getaway. In a world full of chaos and uncertainty it was nice to just remember to breathe and find the stillness within."- Pooja B.
Amazing Retreat ⭐⭐⭐⭐⭐
"Quiet, secluded space outside. The inside of the cabin had everything we needed. The huge window looking into the forest creates tranquility. Perfection." - Denise R.
Booking Again ⭐⭐⭐⭐⭐
"Allowed us to completely unwind without the hustle and bustle of our daily life. Everything was extremely clean and the view was amazing. We will definitely be booking again." - Michael M.
Getaway has Outposts about a two-hour drive from Atlanta, Austin + San Antonio, Boston, Charlotte + Raleigh, Portland, Seattle, Chicago, Dallas, Houston, Los Angeles, New York, Nashville, Pittsburgh + Cleveland, New Orleans, Minneapolis, Kansas City, and Washington, D.C. Their handcrafted tiny cabins, nestled in the middle of nature, start at $99 a night.
Go with a friend, a partner, the kids, your pup. Each one of you will luxuriate in the peace and quiet and return home refreshed and ready for whatever life brings.
When you gotta get away, Getaway's the way to go!