Now that more and more adults are vaccinated and the kids are on summer vacation, my mom and dad called saying they're coming for a visit. My husband, Gerry, and I could go back-to-vacation — and take a much-needed break. And our kids would get to spend some quality time with their grandparents.
After a year at home, we were thrilled at the prospect of actually going somewhere else. We didn't have the energy for a big trip and didn't want to wrangle with flights and crowds and all the fuss surrounding a major expedition. The goal was to relax, not make ourselves nervous. Time alone — without the kids, much as we love them — was what we craved.
My dad had a fantastic idea: a 4-day, mid-week getaway at the closest Getaway outpost. He described it as "bespoke camping" — cozy cabins tucked away in nature. All the best aspects of the great outdoors without having to rough it. Nothing but stunning views and a chance to unwind in peace.
Early one morning, after a lovely two-hour drive, we reached our handcrafted hideaway. And guess what we did?
Absolutely nothing!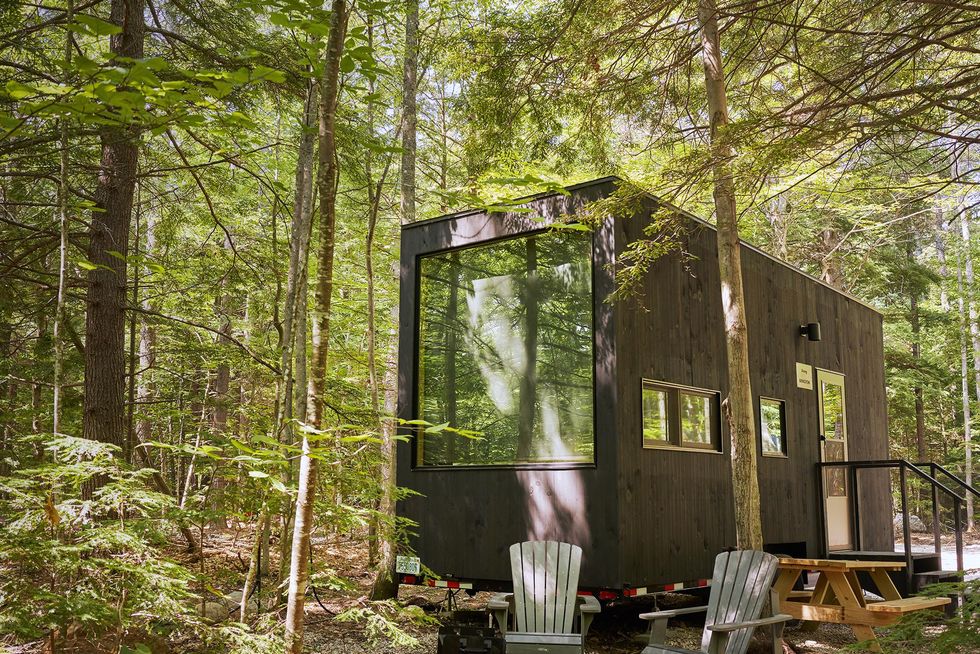 Phones stashed in the thoughtfully provided lockbox, we collapsed onto the freshly made, comfy queen-sized bed and fell into a deep sleep. The following morning, Gerry woke me up with a breakfast tray and a "bouquet" of sycamore leaves. He'd rustled up some pancakes with fresh strawberries in the sweet little kitchenette. It had everything we needed: a two-burner stove, a mini-fridge, and staples like salt and pepper and olive oil were thoughtfully provided for us.

After our late breakfast, we left the cabin and took a long, rambling walk through the light and shadow of the woods. The stresses and strains of the last year melted away. I realized how much tension I'd been carrying around without even noticing it. I felt free and unburdened for the first time in forever.
Back in our cabin, hot showers (using Getaway's complimentary shampoo and conditioner) were followed by lolling around in bathrobes, and yet another nap. Getaway cabins are furnished with books and board games and decks of cards so there's always something to do if you want. We appreciated the thought but were still really only interested in doing...
Absolutely nothing!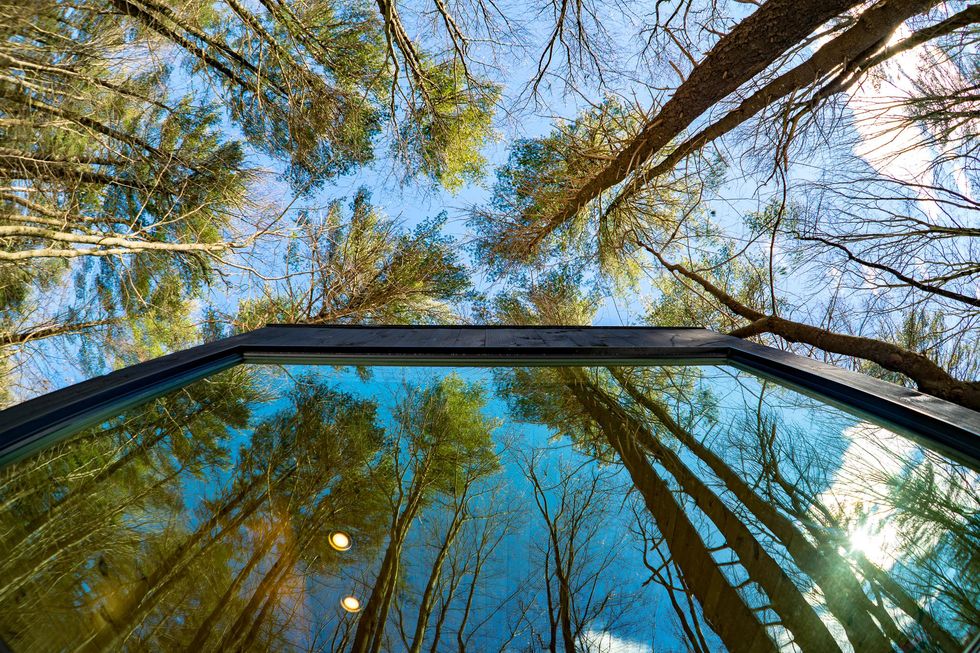 As twilight fell we lounged in the Adirondack chairs and, over a glass (or two) of Sancerre we talked for what seemed like hours, pausing occasionally to toss another log onto the campfire. College plans for the kids. When to re-book the tickets for the family trip to London, which didn't happen last Summer. Anything and everything. We heard each other again. And found out we're pretty fond of each other. Getaway was just what we'd needed to reconnect.

The rest of our stay passed in pure bliss. Friday arrived and we spent our final day hiking local trails and then poking about in area antique stores. Fresh produce from roadside stands made a tasty (and healthy) dinner. An early bedtime brought us deep, refreshing sleep. Next morning, we headed back to the city and the kids.
Getaway has outposts all over the country, all of them about a two-hour drive from major cities like Atlanta; Charlotte; Chicago; Dallas; Los Angeles; NYC; Portland, OR; and Washington, DC. Getaway's handcrafted tiny cabins, nestled in the middle of nature, start at $99 a night.
With at least 50 to 150 feet between cabins, they're socially distant by design. There's contactless check-in and check-out — just drive right up and make yourself at home.
If the last year has taught us anything, it's that the virtual world is convenient but the actual world is priceless. Now that we're all contemplating traveling again, aren't you feeling hemmed in and ready for a break?
I know we were. Take my advice and get away with someone you love.
Plan Your Next Adventure With Getaway!