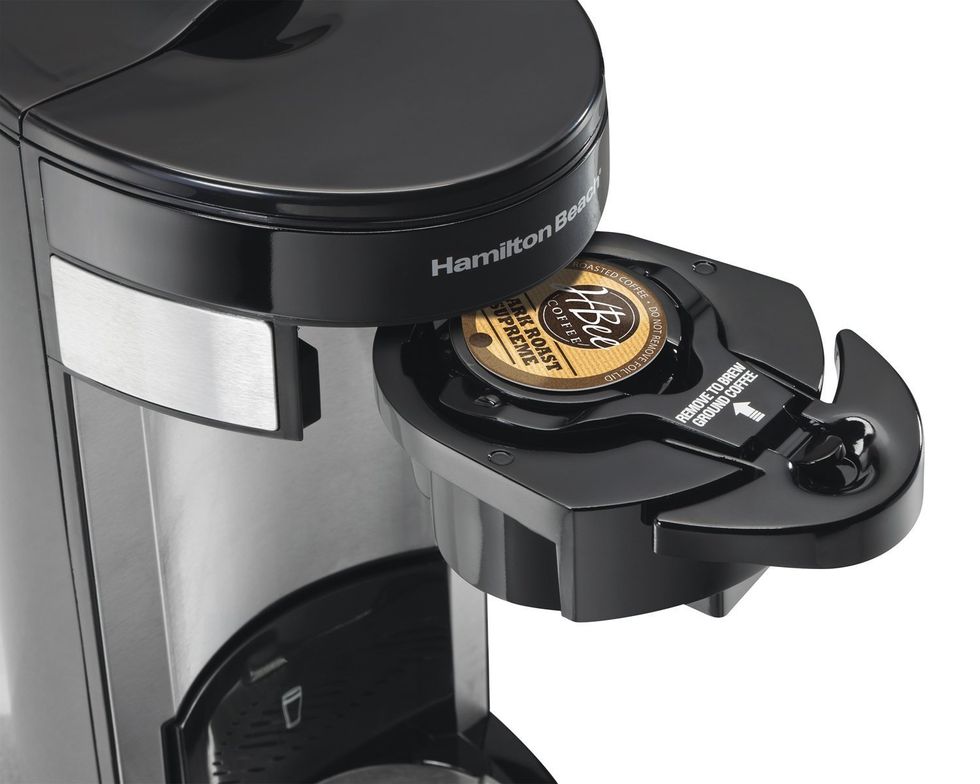 Get your own Keurig brewer for just $40
You don't need to spend $100 for a personal coffee brewer
All coffee drinkers want an on-demand latte. Visiting Starbucks or your local coffee shop is a great experience, but expensive to keep up daily. When you think of home brewers, Keurig is probably the first brand to come to mind. The K-Cup packs bring ease and portability to brewing your own coffee. Also, one box of K-Cups costs about two Starbucks drinks for twelve servings. That's not a bad deal.
But unfortunately, Keurig brewers will run you $100 and up. Sure, that investment will pay off in the long run, but it can be hard to justify that much money for a simple brewer. And also, based on your drinking habits, you'll be constantly purchasing new K-Cup packs. Keurig does have chapter single-serve models that are around $70. But those only fit mugs. You don't have the flexibility to brew a larger size, which can be a problem if you want use a travel coffee tumbler on the daily.
Luckily, there is an affordable solution. It's the Hamilton Beach Single-Serve FlexBrew. The name is a mouthful, but the price is only $40. You can use the device to brew K-Cups or traditional coffee grounds. It also has the flexibility to brew a mug-size serving or pour your coffee into a taller cup. It is single-serve, so you do have to fill the machine with water every time you want a cup. However, this also means you won't have stale water sitting in the reservoir for days or weeks. The Hamilton Beach brewer offers all the flexibility (and even more functionality) than a traditional Keurig brewer for less than half the price.
But does it actually fulfill all of its promises? Yes. It 100 percent does. I've had my own Hamilton Beach brewer for about two months now. Looking to cut back on my Starbucks spending, I wanted to purchase my own Keurig but balked at the price tag. Still, the K-Cups are much, much easier to handle than grinding coffee beans. And as a newer coffee drinker, I despise many of the dark roast flavors. K-Cups gave me enough lighter, sweeter flavors I could handle while also giving me my caffeine fix. The Hamilton Beach brewer was the answer to all of my wishes.
Now every morning, I fill up the device's reservoir, pop in a K-Cup, put my travel mug underneath the spout and let it brew while I make my breakfast. In less than three minutes, my coffee is ready to go. I've used it almost every day since I've had it. One of the more convenient features is that all of its removable parts are dishwasher safe. No need to scrub endlessly trying to get every ounce of coffee from the dispenser.
There is one small drawback. The full reservoir holds 10 ounces. That's the standard biggest serving with Keurig brewers. However, there's no way to perfectly regulate smaller servings like 6 or 8 ounces. If you want a smaller cup, you'll have to measure it out or just guess at it. To make sure you don't overflow, use the cup you intend to drink out of to measure the amount of water you'll need. This isn't a problem for me, but it might be annoying for some — especially if you keep track of your daily calories.
All in all, the Hamilton Beach Single-Serve Flexbrew is a great option for anyone looking for an affordable Keurig brewer alternative.