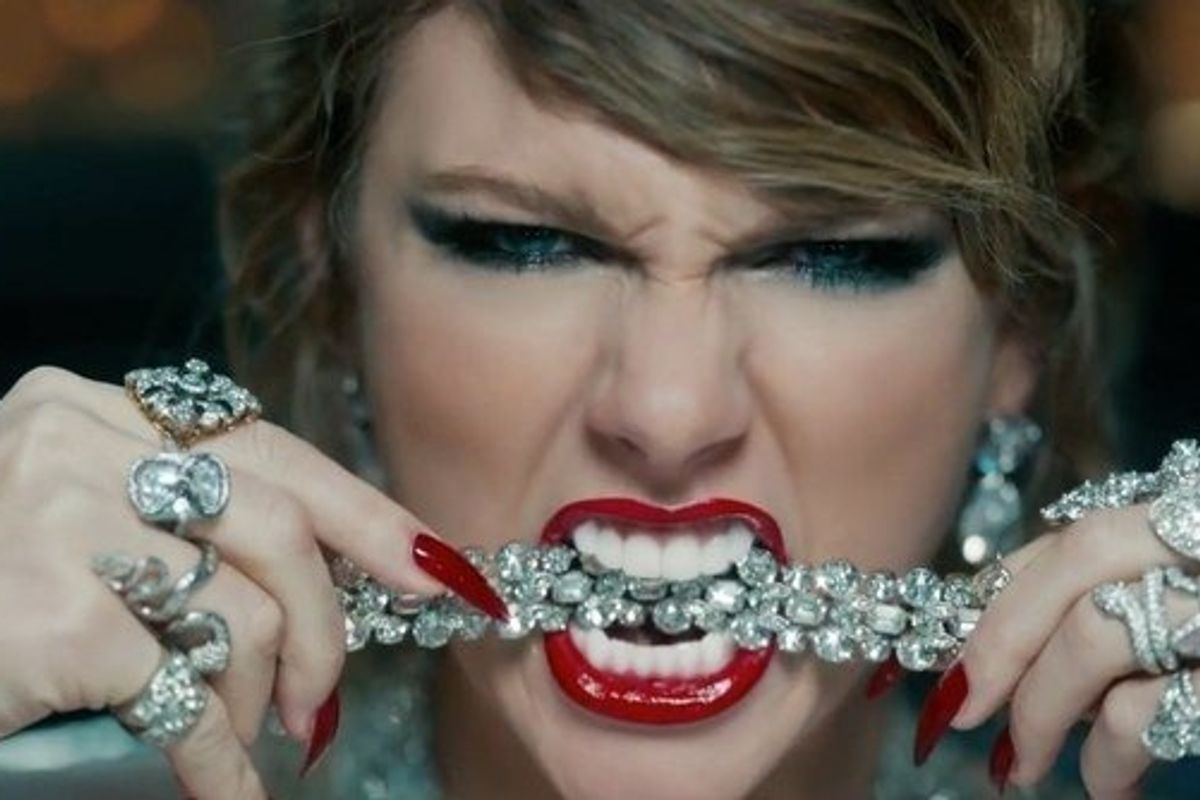 Get Taylor Swift's Fierce New Look
Taylor Swift finally embraced her politics; here's how to get her look.
Taylor Swift has been notoriously silent on her political views, even as the alt-right claimed the star as one of their own. That changed on Sunday, when Swift broke her longtime silence with a post on Instagram announcing she'd be voting for two Democrats in her home state of Tennessee: "In the past, I've been reluctant to publicly voice my political opinions, but due to several events in my life and in the world in the past two years, I feel very differently about that now. . . . I always have and always will cast my vote based on which candidate will protect and fight for the human rights I believe we all deserve in this country." The viral post led to a reported spike in voter registration nationwide, with an unprecedented 65,000 new registrations in a 24-hour period, according to the bipartisan organization Vote.org. (As for Donald Trump, he likes her 25% less. At least he still has Kanye West).

It's not just Swift's political views that have grown up, either. Her impressive 2017 album Reputation, on tour since May, showed a more nuanced side of America's favorite PG popstar, with songs that moved away from the internal anguish of teen heartbreak to a reckoning with her public image for the very first time. In songs like "Look What You Made Me Do," in which Swift bitterly imagines taking revenge on her haters, she declares the old Taylor Swift "dead." Reinvented is more like it, and it's clear that the new Taylor Swift is fully embracing her power.
Here are 3 of Swift's newly fierce, take-no-bullshit looks, inspired by the "Look What You Made Me Do" music video:
Twisted Elizabeth Taylor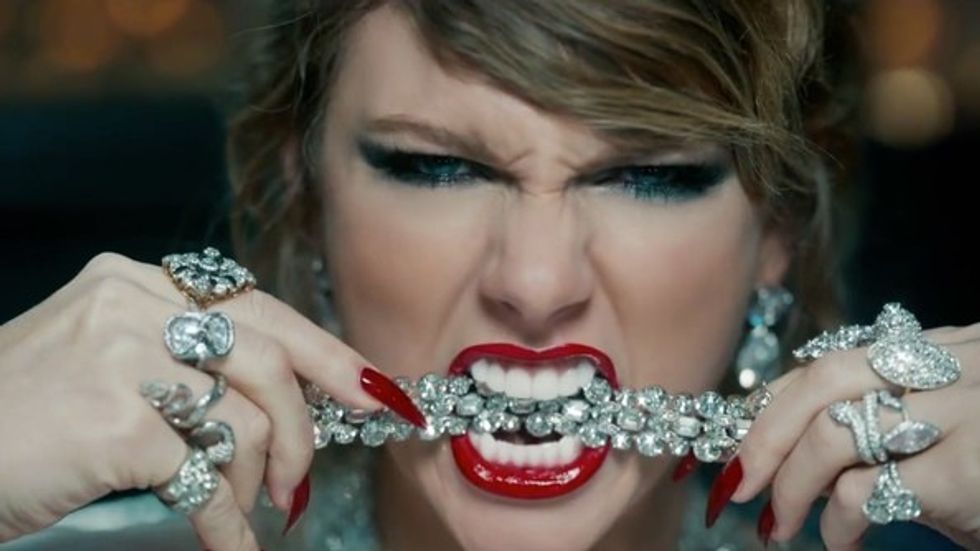 Swift might be wearing her signature red lipstick in this scene reminiscent of Elizabeth Taylor (albeit one who eats, rather than wears, diamonds for dinner), but there's nothing demure about her metallic black cat eye. Get the look with Covergirl Colorliscious lipstick in Hot ($5.99 at Target) and a smoky palette from Smashbox ($29 at Sephora).

Don't Tread on Me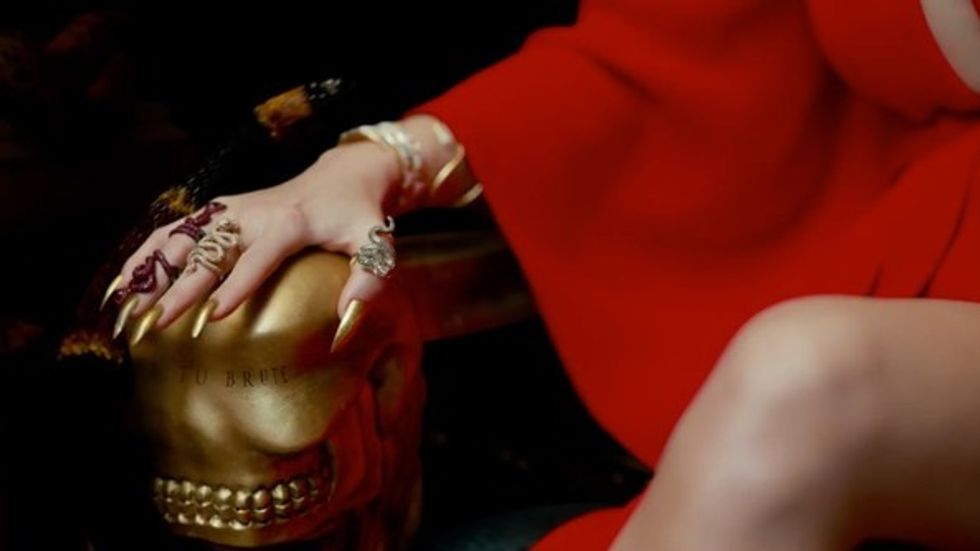 Swift sports gold claw nails in a not-so-subtle dig at her arch-nemesis Kim Kardashian, who's known for her uber-long nails. Kardashian also famously used the snake emoji to refer to Swift on Twitter, and here bejeweled snake rings are a bold and playful display of self-confidence. Get the look with Nars polish in Milos ($20 from Nars.com).

Pop-turned-Punk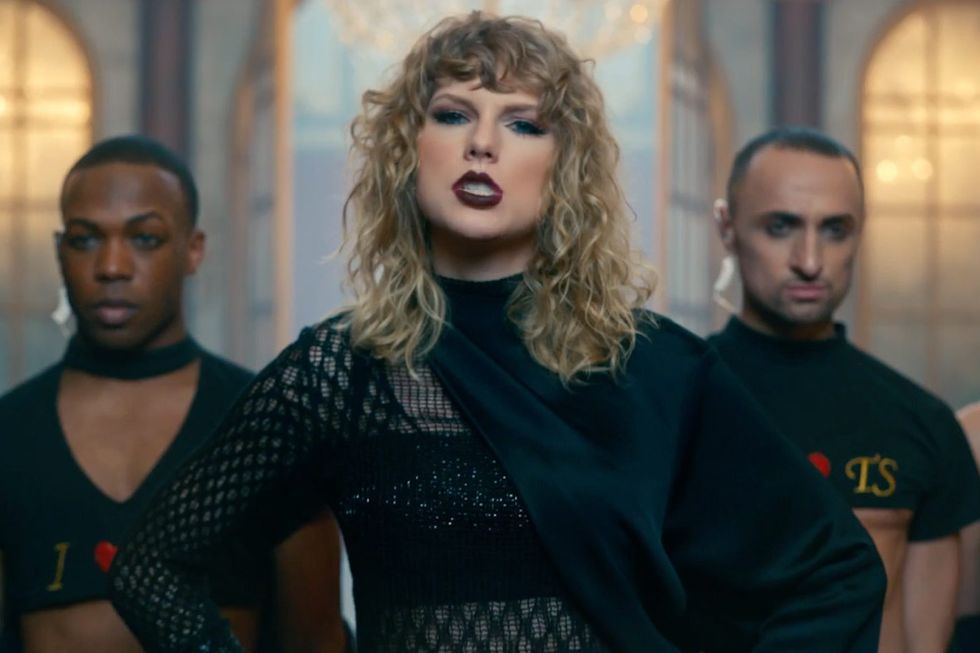 In the music video's closing scene, Swift sports a grungy punk aesthetic, notably messier than her beauty queen curls of yore. Get Swift's oxblood lips with Estee Lauder Pure Color Envy Liquid Matte in Quiet Riot ($28 fromUlta) and her gunmetal grey eyes with Bobbi Brown Shimmer Wash shadow ($25 from Neiman Marcus).
Election Day is fast-approaching; why not arrive in style?