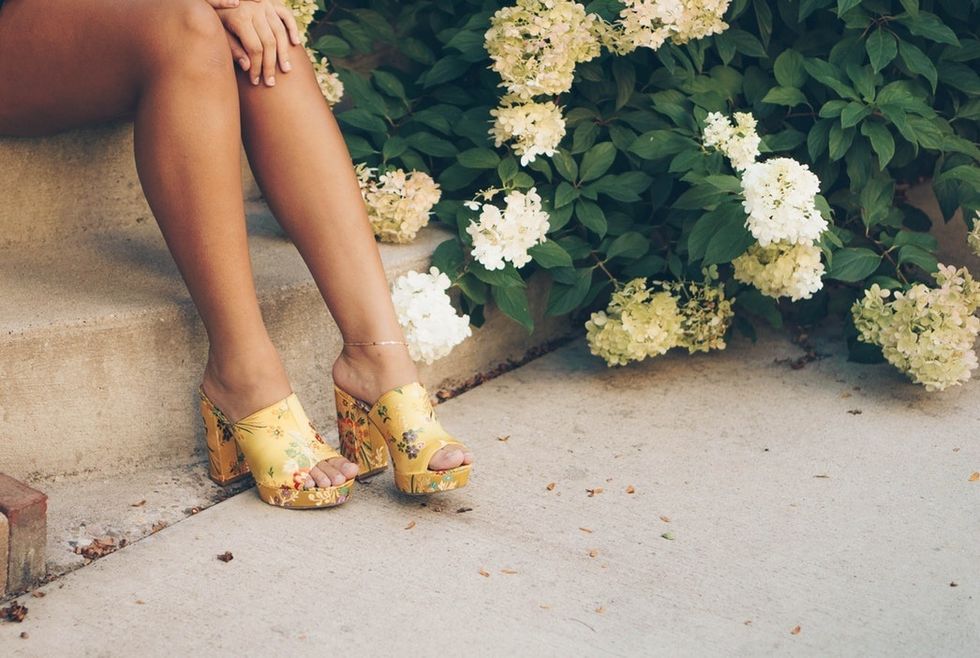 Best Products to Get Rid of Stretch Marks
They may have made their mark, but it doesn't mean they're here to stay
Stretch marks are just one of those things many of us will find unwelcome on our bodies at one time or another over the course of our lives. Even if they crept up due to a blessed event like pregnancy, or from reaching a weight loss or gain goal, those marks can be maddening.
Why do people get those strange streaks in the first place? According to Medical News Today, "They occur when the skin is suddenly stretched and are extremely common. They can occur on a range of body parts, including the stomach, thighs, hips, breasts, upper arms, and lower back. This type of scarring happens when the skin cannot resume normal form after a period of intense growth, often due to pregnancy, weight gain, weight loss, or puberty." Women are affected more than men and "over 50% of women experience stretch marks during pregnancy."
What to do? Well, you can embrace your less-than-lovely lines or make them fade or even disappear. Chances are most people would love to show their stretch marks the door, so here are some top products to help you get rid of them. They may have made their mark, but it doesn't mean they're here to stay.
Bio-Oil Liquid PurCellin Oil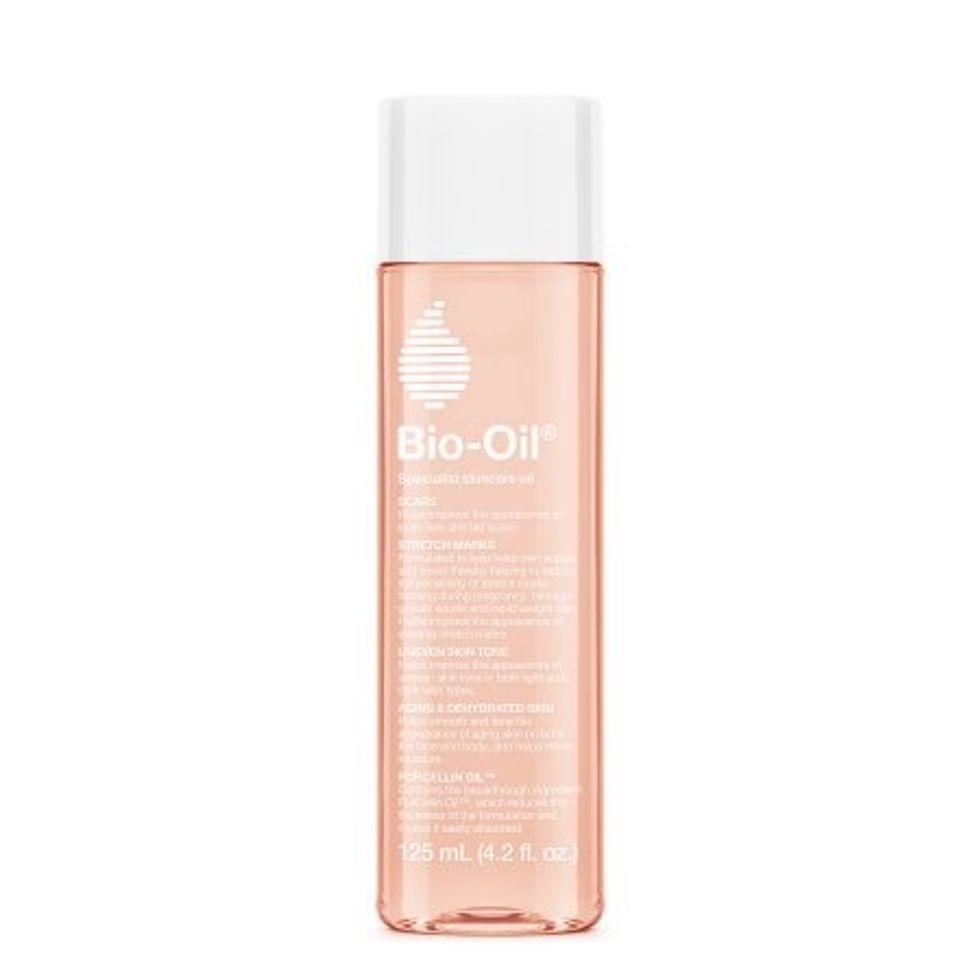 Bio-OilVia walmart.com
Whether your stretch marks are new or have been bothering you for years, Bio-Oil Liquid PurCellin Oil claims to fade stretch marks and even prevent new ones from popping up. The formula is ultra-hydrating, giving skin back its elasticity and creating a more even tone. One of the many healing ingredients in Bio-Oil is lavender oil, and according to Best Stretch Mark Removers, "Lavender oil is one of the best stretch mark remedies." Bio-oil contains mineral oil too. As Skin Alley confirms, "Mineral oil for stretch marks works very fast and results are amazing. Results can be seen within a week of use." Bio-Oil absorbs quickly, so you won't feel greasy as you get rid of those loathsome lines.
Cost: $14.99 for a 4.2-oz. Bottle
H-Stretch Marks Formula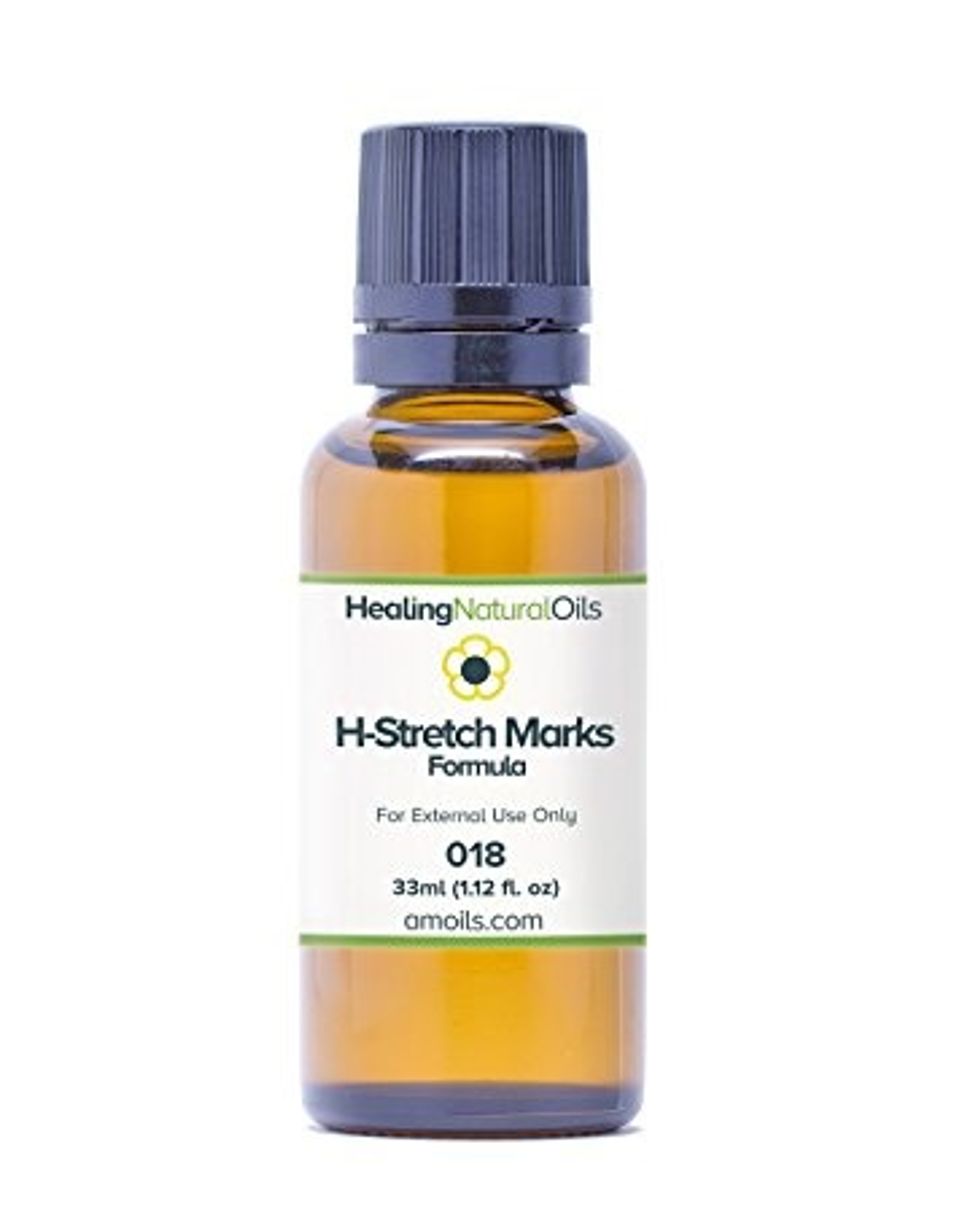 H-Stretch Marks Formula Via amazon.com
Chemical-free and super-soothing, H-Stretch Marks Formula is a fine choice for stretch mark minimization. 100% natural and made of pure essential oils, this formula is the perfect find for those who want to keep their bodies free of the foreign stuff. Among its all-natural ingredients is jojoba oil which Livestrong claims, "is recommended for the treatment of stretch marks because of its many skin healing properties; it has the ability to soothe, moisturize, and restore skin. Rosehip oil is another gem in the H-Stretch Marks Formula's base. As Elegance and Beauty Reviewsnotes, "Because rosehip absorbs so deeply into the skin, it can provide a deep level of nutrients to the skin that other oils can't. This is why rosehip seed oil is a good remedy for stretch marks." H marks the spot!
Cost: $34.95 for a 33ml-Bottle
Shea Moisture Mommy Stretch Mark Butter Cream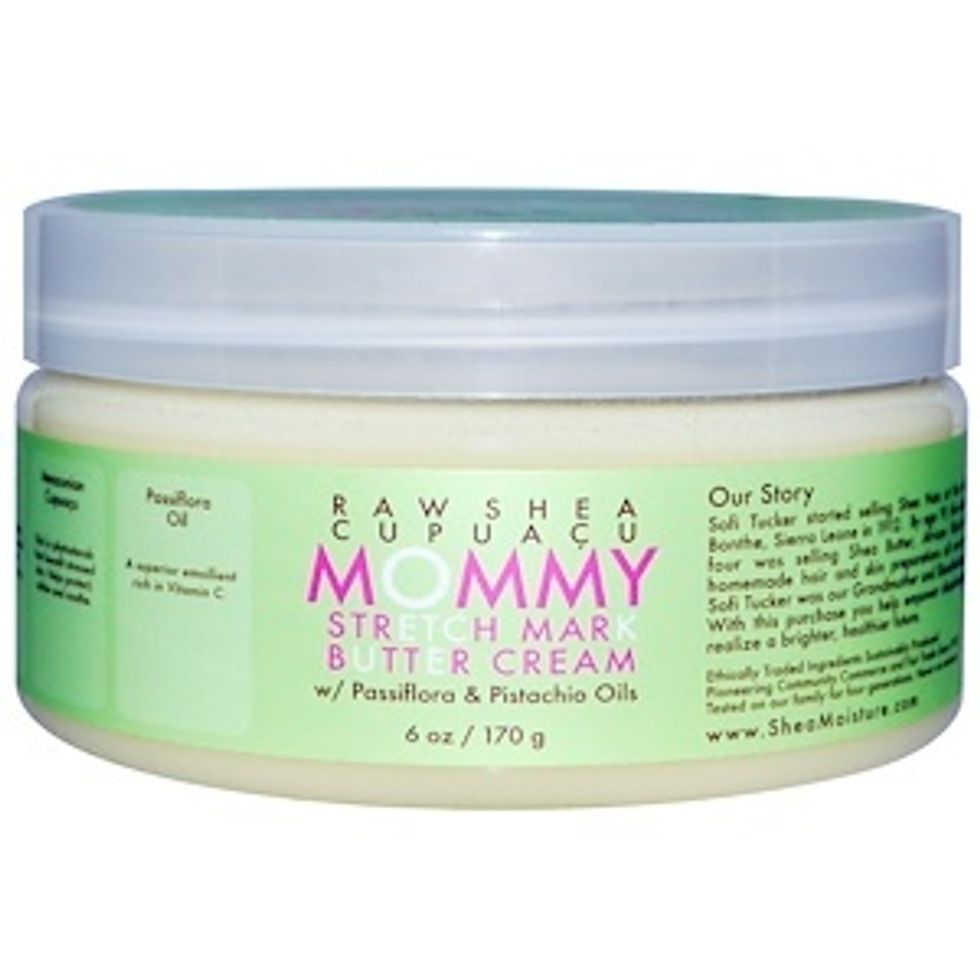 Shea Moisture MommyVia iherb.com
Made with all-natural ingredients, Shea Moisture Mommy Stretch Mark Butter Cream is rich In nutrients and essential fatty acids that moisturize to the max, getting straight to those stretch marks. Plant-based ingredients hydrate and improve the skin's elasticity, the first steps in subduing stretch marks in a gentle manner. Shea butter is nature's gift to gals (and guys) who want their stretch marks out of sight. As per I Love Shea Butter, "Shea butter has wonder(ful) qualities including stretch mark reducing abilities. It is free of artificial toxic additions and is packed with beneficial vitamins, minerals, and antioxidants. It promotes faster healing and regeneration of the skin and evens out skin tone." Shea all the way!
Cost: $9.48 for a 6-oz. Jar
StriVectin-SD Advanced Intensive Concentrate for Wrinkles and Stretch Marks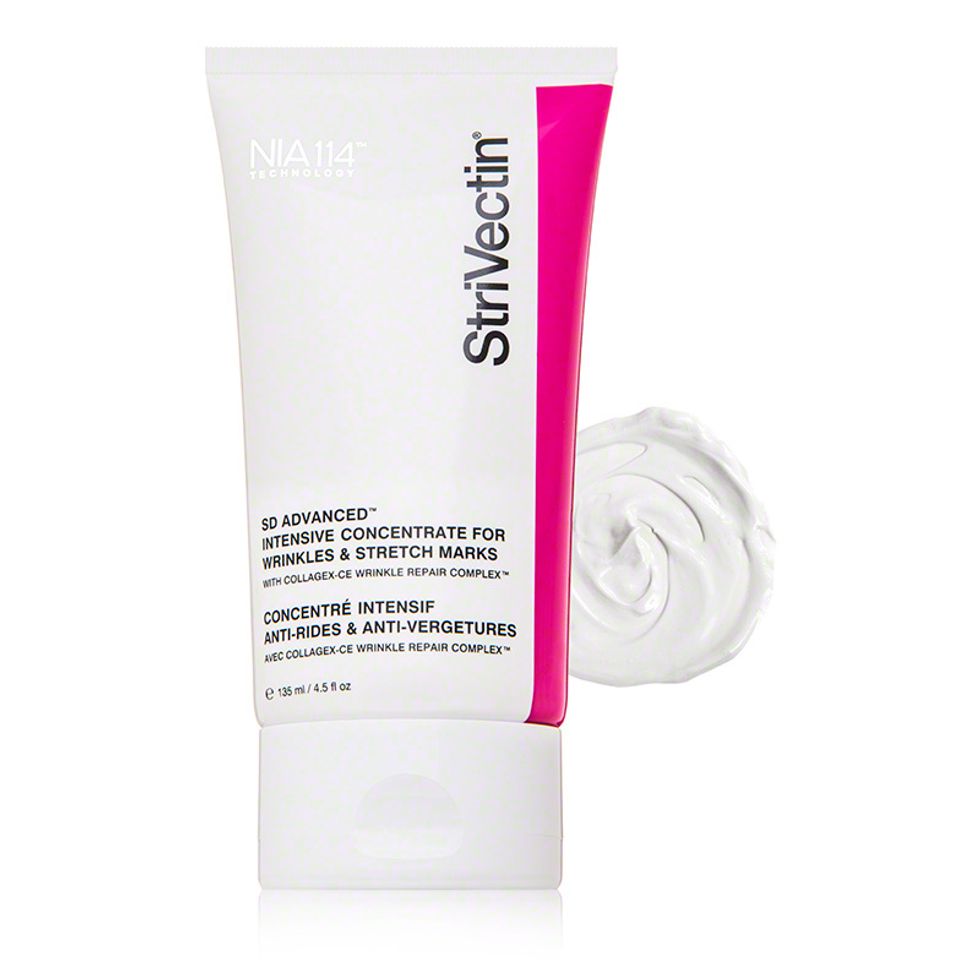 StriVectin-SDVia dermstore.com
If you are dealing with not only stretch marks but wrinkles too (oh my!), conquer them double-time withStriVectin-SD. This powerful, clinically-proven formula works quickly and effectively, smoothing out skin, making it look younger and better, and getting you feeling like yourself again. StriVectin was created to help "rebuild skin layers" when discovered during skin cancer prevention research. If it is strong enough to handle such hardships, imagine what it can do for your stretch marks! It's all in the peptides which are "proven to improve the appearance of stretch marks in 2-8 weeks." Strive for stretch mark-free skin with StriVectin!
Cost: $15.00 for a 10ml Tube
Coconut Oil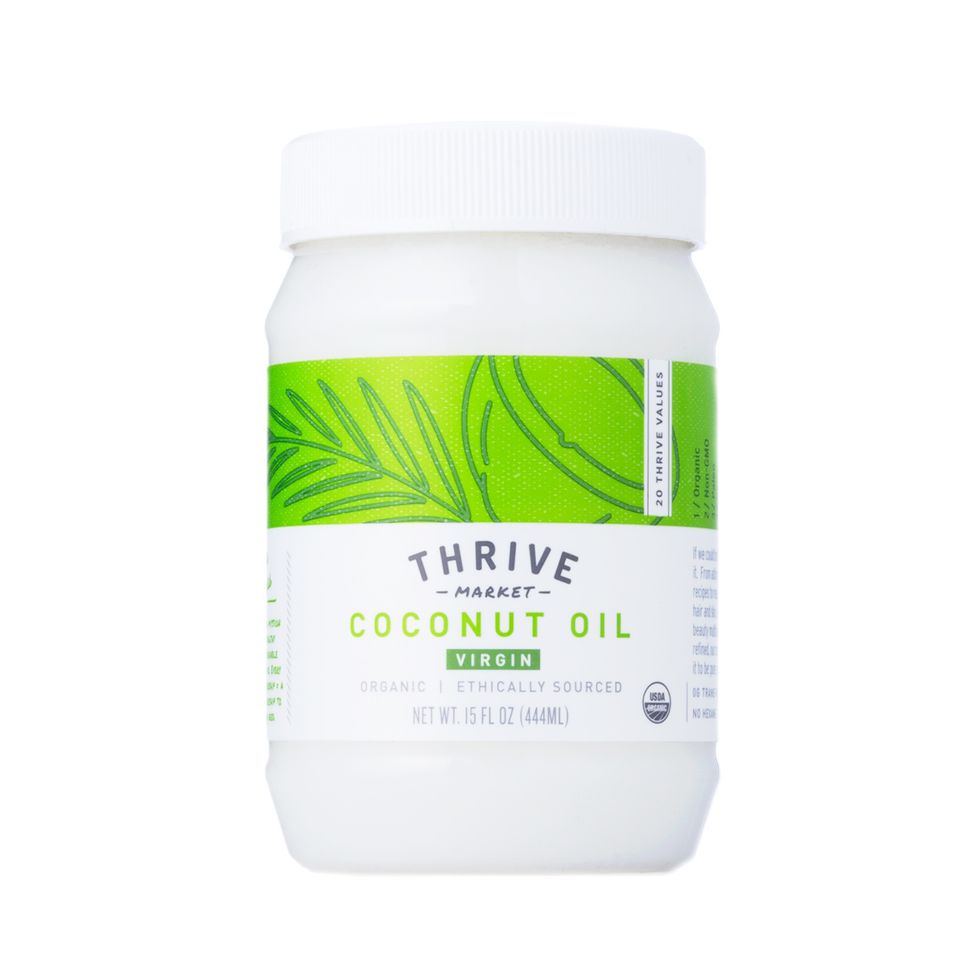 Coconut Oil from Thrive Via thrivemarket.com
A quick trip to the grocery store could be the key to stretch mark success. Along with its goodness nutritionally, many folks swear by its ability to get rid of those lingering lines. According to Healthline, "Consistently applying virgin coconut oil to the skin, either alone or with other emollient oils, may help reduce the occurrence of stretch marks or speed their healing. It may also help to diminish their appearance." Organic Daily Post adds, "Thanks to its healing, repairing, and moisturizing properties, coconut oil is an effective solution you can use to reduce the appearance of your stretch marks." Try Thrive Market's Organic Virgin Coconut Oil. Whatever you don't use on your stretch marks can be finished up in the kitchen!

Cost: $21.99 for a 54-oz. Jar
Sayonara stretch marks!