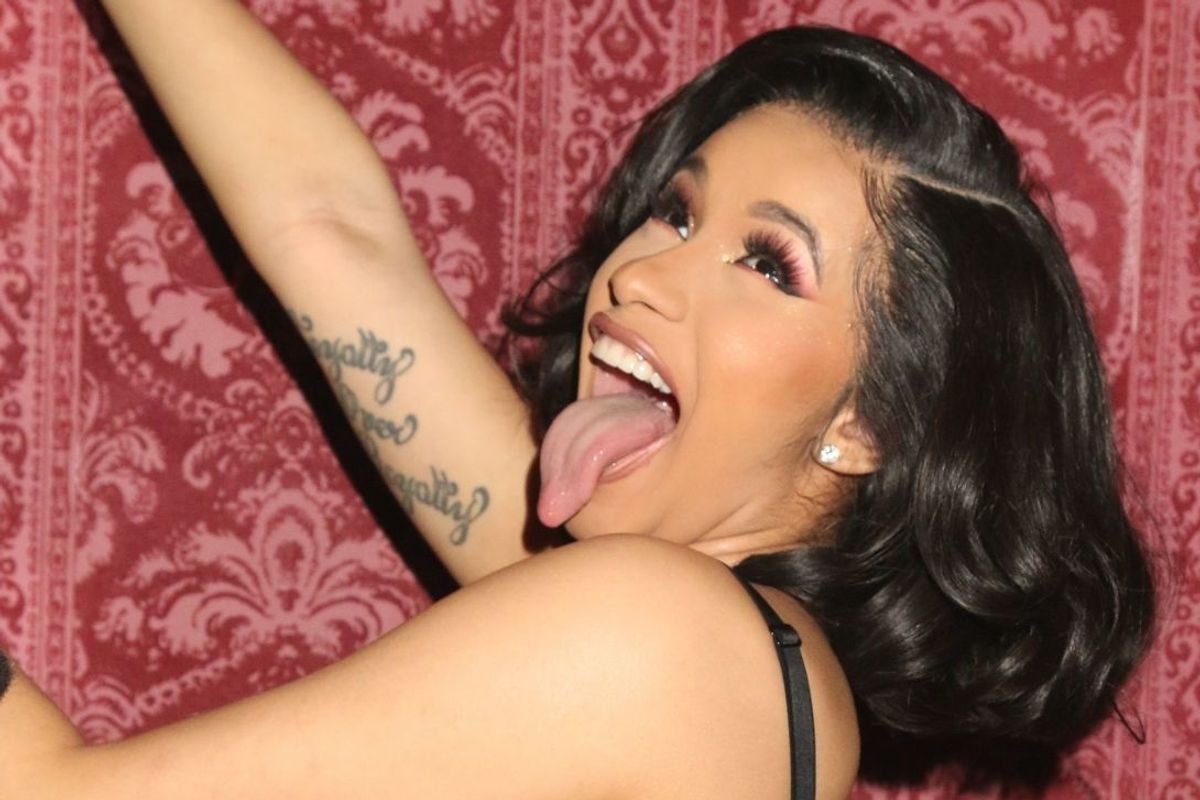 Get Cardi B's Look with These 4 Iconic 2018 Styles
2018 is the year of Cardi. Not only did the 25-year-old rapper drop a chart-topping album, Invasion of Privacy, but she also had a baby with her husband Offset, debuted at Coachella, and was nominated for a whopping 10 VMAs. She has also become one of the most recognizable stars, thanks to her totally original style. The good news for Cardi fans is that her looks, though bold, aren't super expensive (she recently made news for wearing a $20 dress from Target). Here's how you can recreate 4 of Cardi's most memorable styles from 2018.

Cardi B vs. Nicki Minaj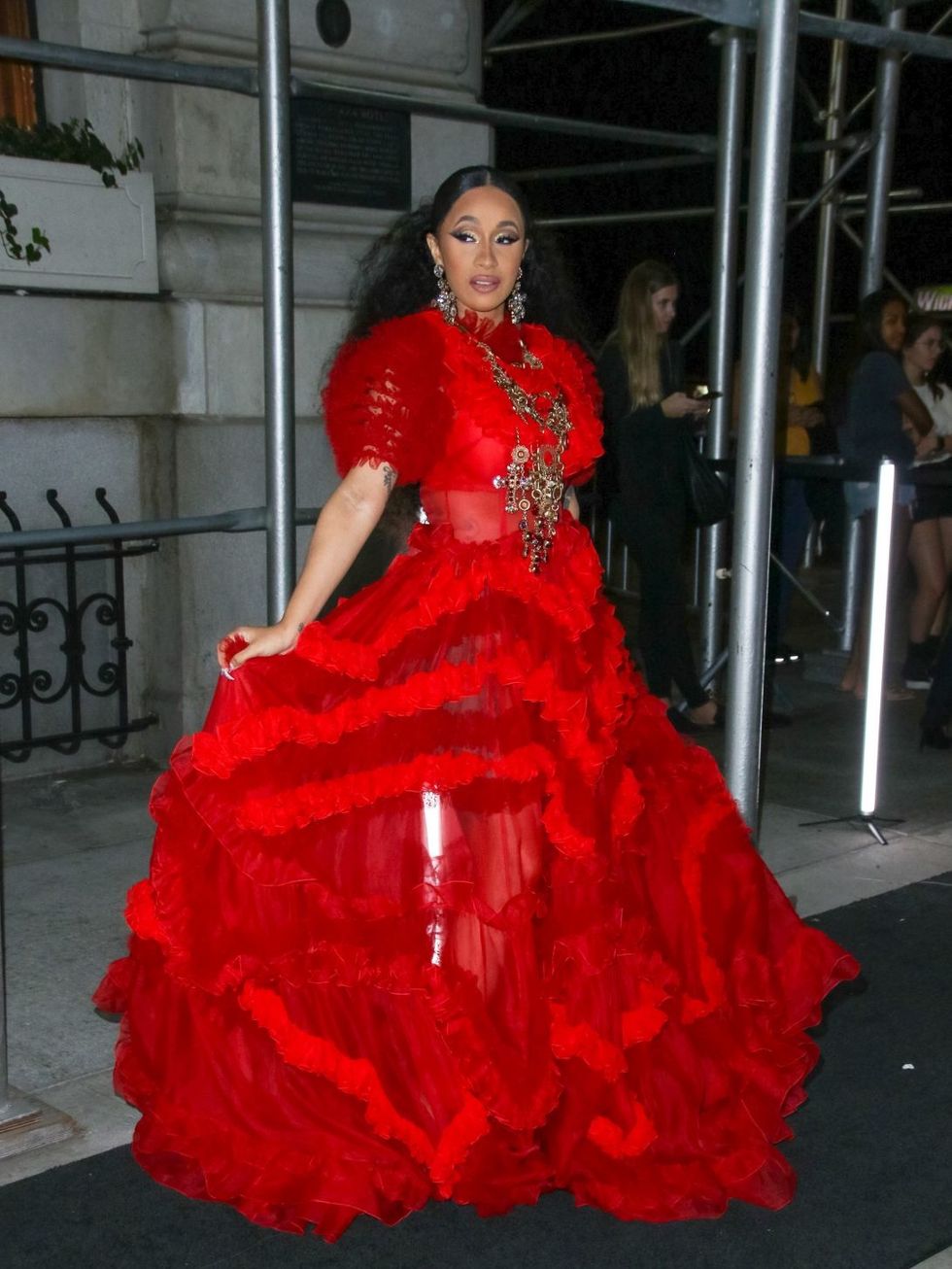 This is the dress Cardi wore to the New York Fashion Week party where she famously threw a shoe at Nicki Minaj, her nemesis. It's pretty badass to throw a shoe in a full-on ball gown; if you think this might be the look for you, just work your hair into a tight, low pony-tail and find yourself a red lacy gown and a gold statement necklace to really show everyone who's boss.

Recreate the look with this Lace Ruffle Ball Gown from Amazon ($49.99) or, for a more toned-down version, the Love Triangle lace maxi from Asos ($87). To complete, a vintage statement Free Press necklace from Nordstrom Rack ($16.97).
Coachella Queen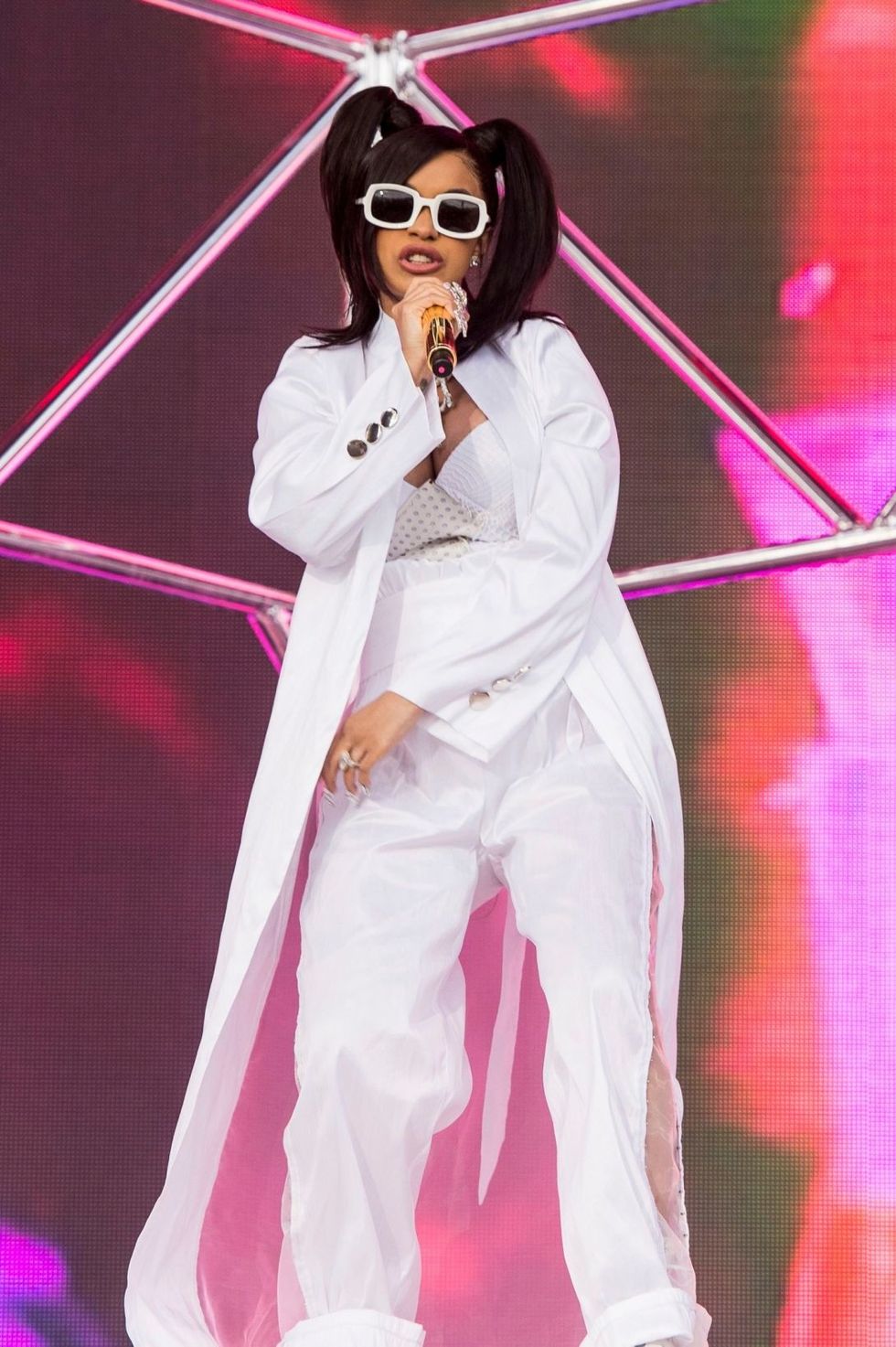 Cardi made history when she played at Coachella 5 months pregnant, in a set that, impressively, included her signature twerk. Whether you're sporting a baby bump or not, you too can rock FILA track pants, a white bustier, some combat boots, and a pair of adorable pigtails.

Recreate the look with Cardi's FILA track pants ($39.99) and these white combat boots by Steve Madden ($99.98).
"Okurrr"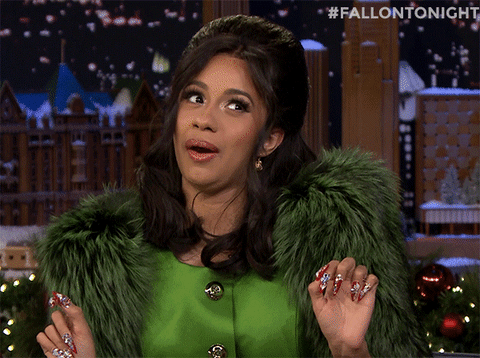 media3.giphy.com
This is a look for the ages, featured in Cardi's popular "okurrr" GIF. While it's now pretty much impossible to find the Rubin Singer jacket that Cardi wore during her now infamous interview on The Tonight Show with Jimmy Fallon, you can recreate it with a similar green shawl (there are a TON on Etsy, like this one for $207) and green top. Any pair of black jeans and pumps will do—just make sure you respond to any and every question with "okurrr."

Bodak Blue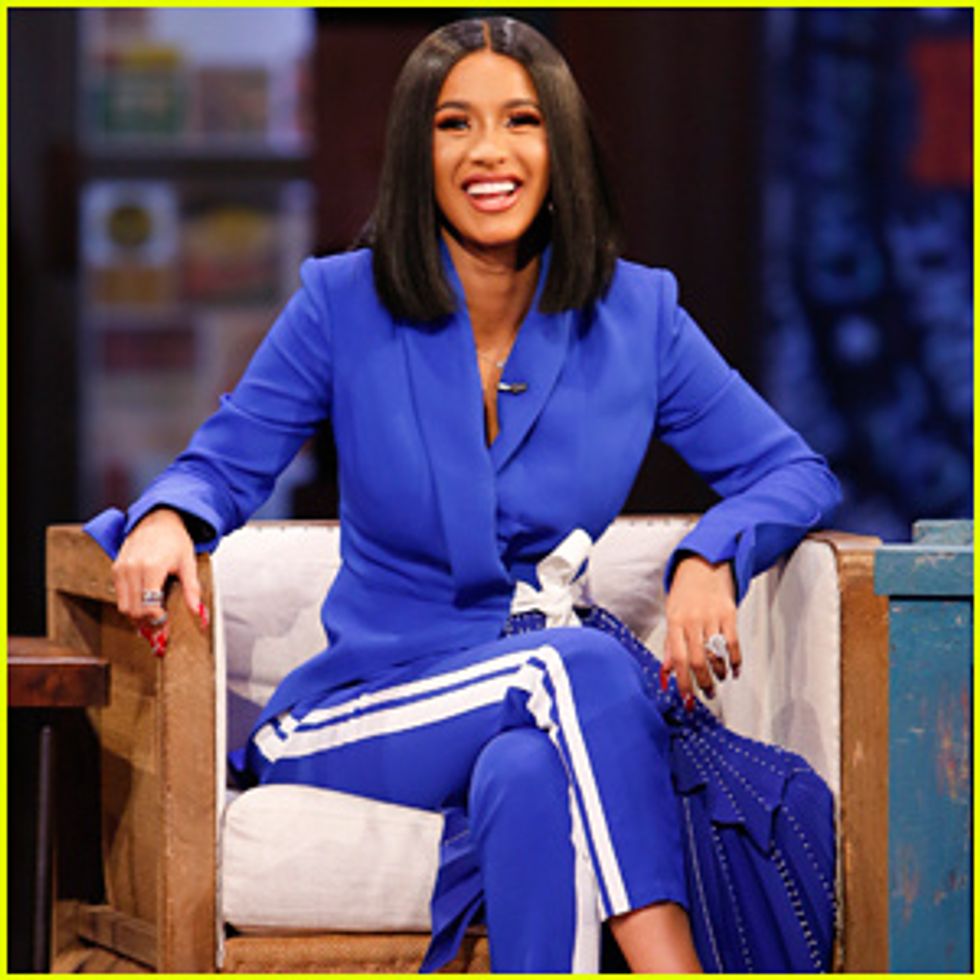 After giving birth, Cardi appeared on Jimmy Kimmel in a stunning and sophisticated royal blue tuxedo. But that doesn't mean she wasn't willing to get down and dirty as usual. When the late-night TV host asked whether pregnancy was harder than expected, Cardi responded, "It was totally harder. She broke my [lady parts]," referring to her now newborn daughter, Kulture.

Recreate the look with a bright blue blazer from Zara ($49.90) or this low-cut velvet tux blazer from Asos ($98).