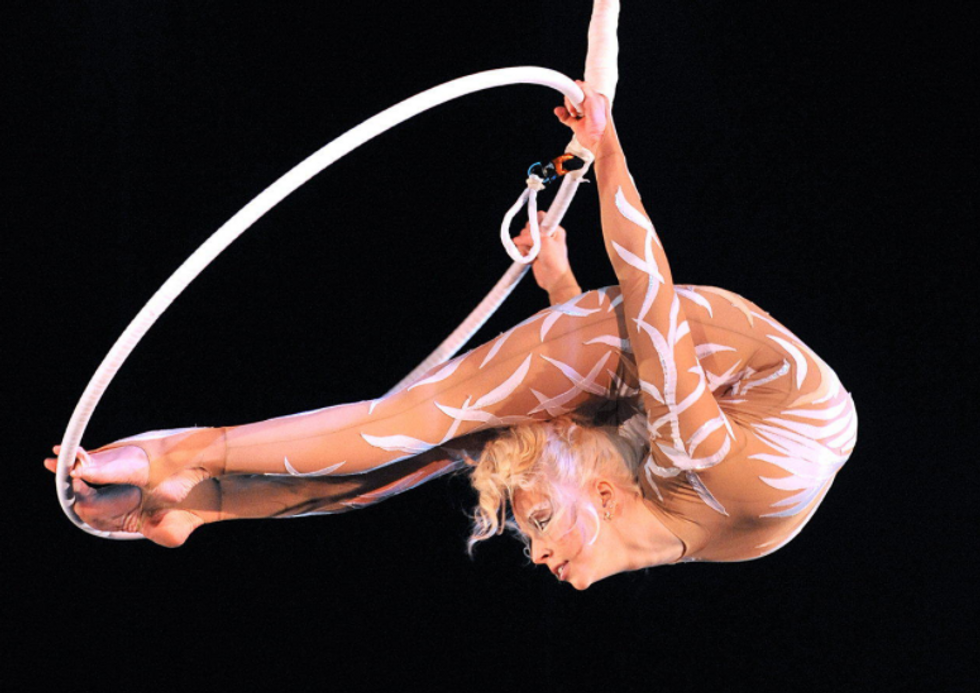 Tired of your old fitness routine? Try flying!
Aerial fitness or lyra is a fun and sexy way to shake up your old workout routine.
A dancer, I was super excited for my first lyra class. I'd nail it, I assumed. After all it incorporated things I was good at, right? Flexibility, strength, and grace. Flash forward to the day after and I can't move my arms. Thanks Karri! Karri Becker is the founder of Crunch Fitness' lyra program. We got to chat a few minutes before class. I was immediately super interested! Karri, a fireball of positivity and fun with really cool red hair to match, told me she was that friend that wouldn't try pole fitness but was dragged to a class by a friend. After taking her first class she was hooked and soon enough became a trainer there and opened her own studio in DC. She eventually relocated to San Francisco where she worked as a manager at Crunch and that's where Crunch's lyra program was born. Karri proposed the program and has now grown it from San Francisco all the way to the East Coast. I was lucky enough to give it a try last night and I can honestly say it is the most challenging and simultaneously fun workout I've ever endured.
Class started with a fun dance warm up. Karri taught us some basic moves and then lead us in working it out. She encouraged adding a little personal flavor to the moves which made it really fun. Her comfort with being goofy and silly in class allowed the small and somewhat timid class, myself included, to open up more. We then learned some basics on the hoop. To get us familiar with the feel of the hoop, she had us in partners pull up on the hoop and hang. Thanks Bailey for being an awesome partner! We then moved on to harder stuff! She taught us a few different mounts. Your core and upper body are both really important in lyra. As I got more tired throughout the class, mounting the hoop got harder and harder. Karri stepped in just in time and taught me an easier mount. She told me since most of the class had been doing lyra for a while she was teaching us more advanced mounts. That really helped so I could get up on the hoop and work on the other skills she taught us in class. Something really great about the class was that though it was a higher level class, Karri was great at adjusting the difficulty to make it both easier and harder or everything in between.
My favorite part of class, was the end where we incorporated choreography. We didn't know it at the time, but as we learned new moves, each built upon the former to create a sexy and impressive routine on the hoop. Towards the end of class, she taught us a little floor combo to set the tone and get us on the hoop. To my pleasant surprise this included a few pirouettes which was right up my alley as a dancer and it made me feel grounded after doing something new for the past hour. The simple combo was to Michael Buble's cover of Cry Me A River. It was the perfect tempo for trying out all of the fresh moves we learned at our own pace while still feeling sexy. I learned that a big part of lyra was initially feeling comfortable with the hoop. Once you learned how it felt to hang from, lean on, and squeeze onto the hoop it got much easier to trust in it. My favorite move was when we threaded one thigh on each side of the hoop and laid in a flat plank. I thought the juxtaposition between the circular hoop and my flat body made a really cool shape.
I will definitely be returning to Lyra soon and hopefully will be trying pole soon as well! I've never felt sexier or more empowered and all the while challenged. Even more so, it was so encouraging to see ladies of all shapes, sizes, and ages working the hoop and having a blast while they were at it. For other options, check out
Body & Pole
and
Aerial Arts NYC
. Don't forget to follow the amazing Karri Becker on
Instagram
to find out when and where she's teaching her next class. Check out a video from class below!