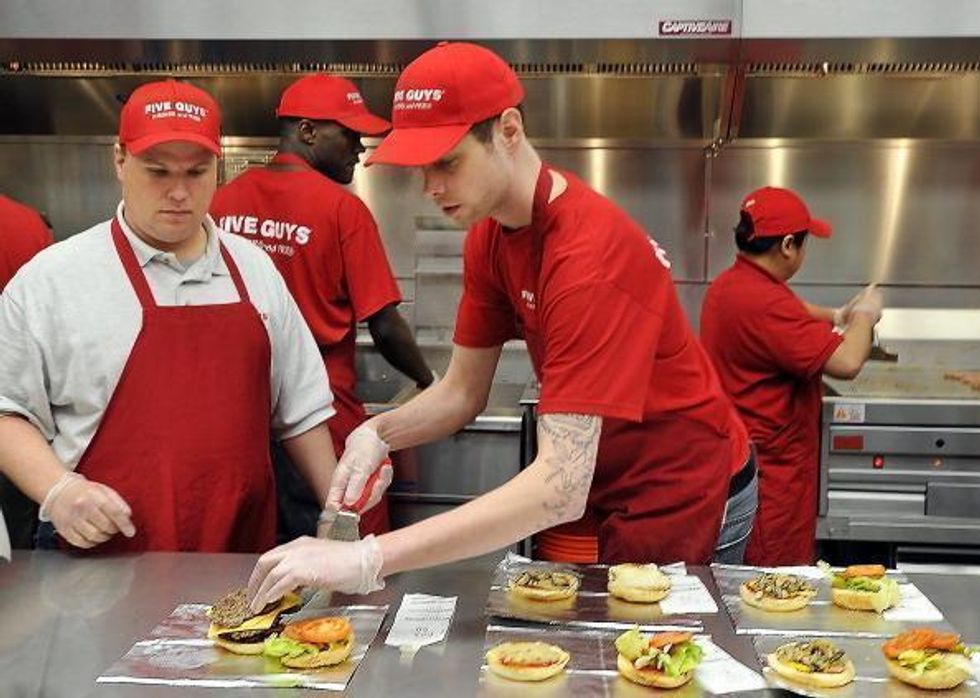 Five Guys: The East Coast's Best Burger Chain
The newly crowned best burger provides a tasty and filling treat.
Amidst the many divides in our society, there is a surprising schism amongst our citizens, namely where the best place to get a burger is. After spending the first 18 years of my life in California where there was one definitive chain to rule them all, the beloved In-N-Out, I had no idea the schism that was awaiting me in New York. While some of these sects may have their own faithful followers willing to wait as long as it takes to get their fix, I long ago found myself committing to the low key delights that come with Five Guys, the newly crowned Best Burger in America.
Right now I'm sure you're wondering what makes this burger joint different from the rest? And the truth is not that much. Five Guys doesn't attempt to put on airs and disguise it's food with anything overly cute. Despite being a chain, Five Guys carries the spirit of a traditional greasy spoon. Just some red and white tiles and a few tables are all the aesthetics to make a customer feel like they're in their neighborhood burger spot. But it's not just its low maintenance vibe that sets it apart, but the restaurants hearty portions for those willing to indulge. To understand the Five Guys philosophy, look no further than each standard burger beginning with two beef patties. Though they're amenable to those seeking smaller sizes, the place makes it clear its intentions are to fill you up.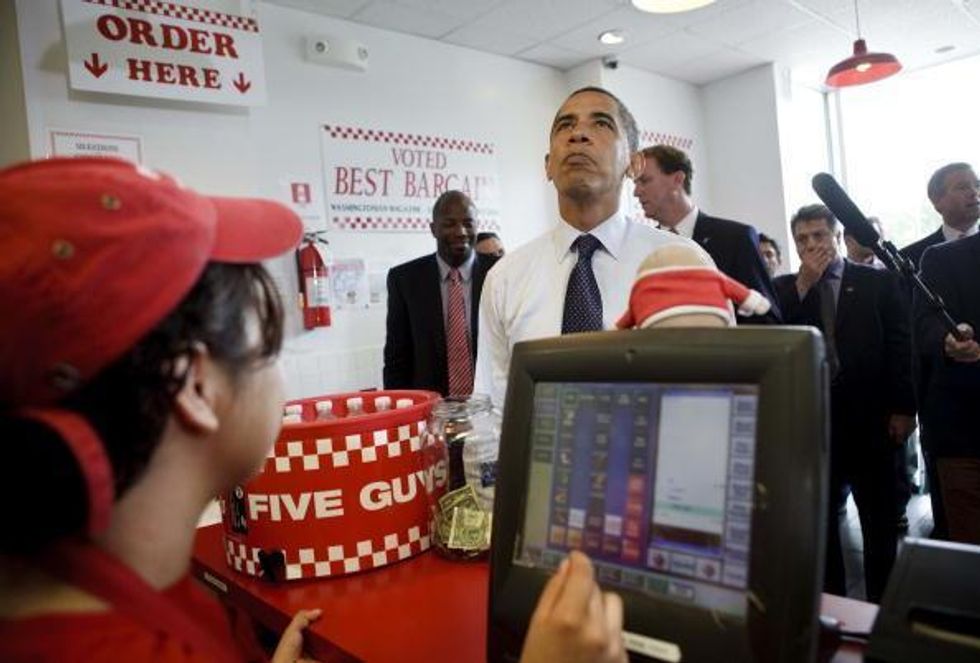 Brendan Smialowski- Getty Images
And when it comes to taste, the thick patties deliver, carrying just enough char to satisfy the taste buds. The restaurant promises only fresh ground beef in its burger, and you can certainly taste the difference. Keeping with the philosophy of indulging the place offers a vast array of complimentary veggies and condiments and customize your burger creation. Whether you're a traditional lettuce, tomato, pickle kind of person or like your burgers with caramelized onions or jalapeño heat, Five Guys is there to satisfy thanks to the helpful staff there to take your order. But no meal is complete there without an order of fries. Perfectly seasoned with just the right notes of subtle heat and fried in peanut oil, the fries offer the salty treat so many crave without forgetting about the potato.
Whether you top your meal off with a soda or a shake, Five Guys offers exactly what high end fast-food sets out to, low stress food that tastes good and fills you up. While everyone will always have their own specific criteria when it comes to finding their burger of choice, as long as I'm here on the East Coast, I'll trust Five Guys' meat to meet my needs and provide a pleasant treat when my stomach's growling.