Gone are the days of pouring over magazine articles trying to figure out your exact hair type or curl pattern. Our editors have found the holy grail of hair products that really, truly works for every single hair type. Meet the K18 Leave-In Molecular Repair Hair Mask.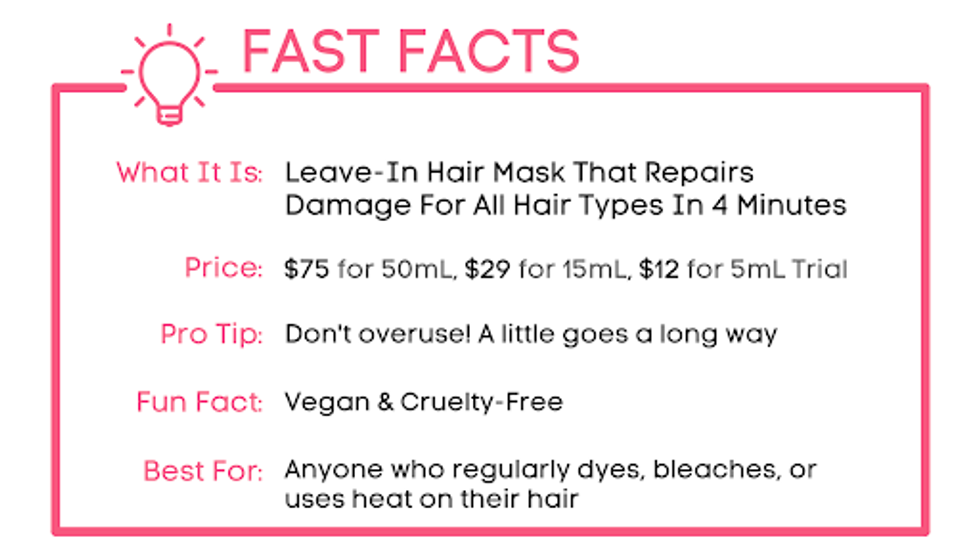 This innovative formula is made with patented peptide technology to repair damaged strands in yes, you read that correctly, four minutes.
Seriously, all of our editors who tried K18 absolutely loved it and saw a visible difference the first time they used it.
Here's how it works. After shampooing in the shower, towel dry hair and (depending on your hair length) work in 1-3 pumps of K18 into your hair. Disperse evenly, and wait four minutes before applying any other sort of product or using heat. And voila! It really is that easy.
It's pricier than your average leave-in hair mask, but you're also not supposed to use it every wash day. Use without conditioner for your first 6 washes (however often that is for you), then move into maintenance mode using every 3 or 4 washes.
The magic of K18 is that this gives you a new lease on your hair by restoring hair's core strength and elasticity. If you've been wanting to go silver blonde forever, with K18, you've got the power to do it. If you miss your beachy waves because the daily heat was too much, K18 not only repairs damage, but leaves hair stronger to withstand future damage.
Also, you don't need anything else! This is the one product that's going to replace the shelf of masks in your shower. Plus, it smells great.
Vegan and cruelty-free, this is the perfect mask for you or for anyone in your life! We're so in love with it and we're not the only ones! Refinery29, Elle, professional hair stylists, and users like us all recommend this product.
So what are you waiting for? Start your healthy hair journey.
JUST FOR YOU: Our friends at K18 are giving readers 10% off + FREE shipping to new customers! Follow this link to shop!