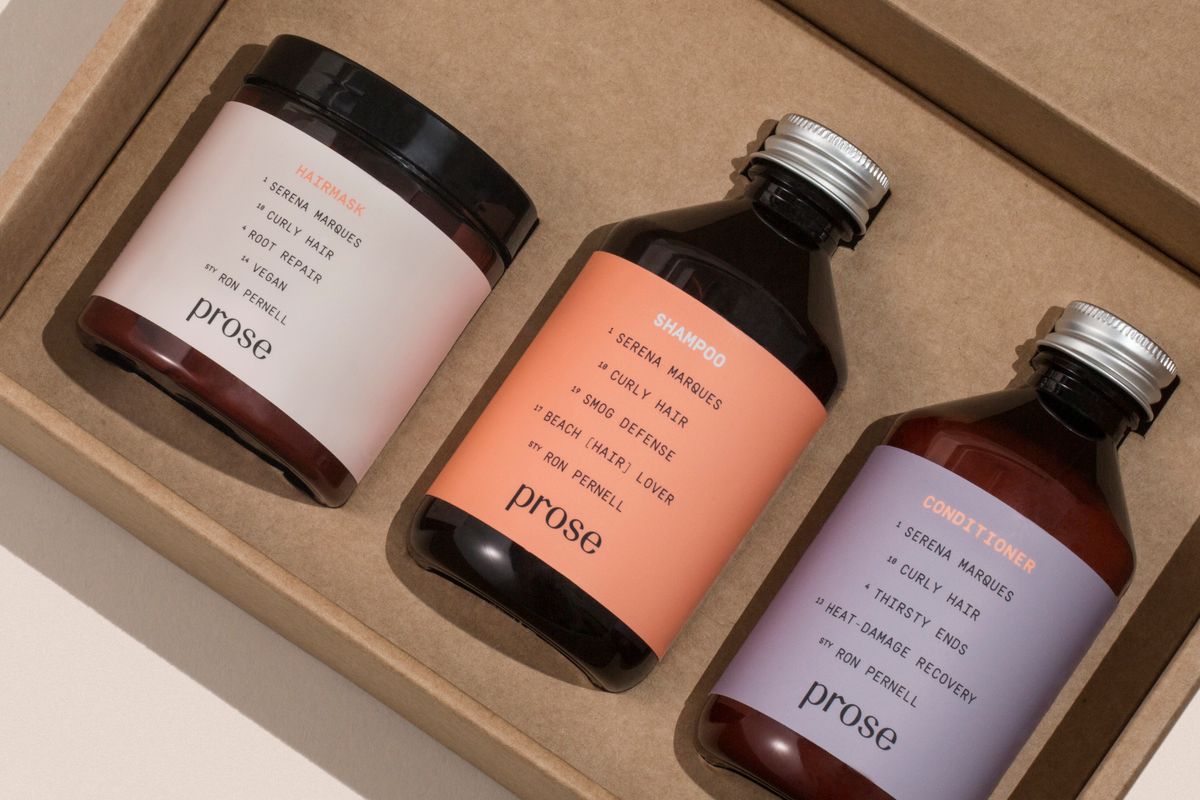 Everything You Need To Need To Know About Prose
What is Prose?
Prose is a custom hair care brand that creates a custom routine tailored to your hair needs and goals. Consisting of a shampoo, conditioner, and hair mask (designed to be used as a pre-shampoo treatment to target both scalp and hair concerns), your unique routine is one of 50 billion possible combinations. All ingredients are organic or eco-certified, made from sustainable resources, and come together to create the most natural and effective formula for you - they contain only what you need and nothing more.
How do they know what my hair needs?
What sets Prose apart is the depth of their consultation, which asks 25 questions to gather 85 data points that inform exactly how your formula comes together. Instead of just asking the basics about your hair like hair texture and type, this consultation asks about factors you may not immediately think about when considering hair products. That means your formula will not only take into account things like hair thickness and texture, but also how you style your hair, chemical treatments you have had, and even lifestyle factors like your stress level, diet, and exercise. Using your zip code, Prose will even ensure your formula is tailored to environmental factors like humidity, pollution, and the hard water factor where you live.
What ingredients do they use?
Prose products are made from over 75 natural active ingredients and are always free of parabens, mineral oil, dyes, GMOs, phthalates, and sulfates. The specific ingredients and dosage of each ingredient are unique to everyone. They even give you the option to make your formula vegan, gluten free, or silicone free. In addition, Prose lets you choose between three fragrances or opt for a fragrance-free formula. Some of the natural active ingredients are--
Sunflower seed extract to restore hair proteins and lipids to ensure longer-lasting color
Pomegranate peel to improve scalp health, and control dandruff, scaliness and itching
Spirulina and Dog Rose Root to rebalance sebum levels to help make hair less oily
Porphyra algae to smoothe hair locks from root to tip, giving an ultra soft feel
Who can benefit from this?
Everyone! People who benefit the most are those who have been searching for a solution to their hair issues, but haven't been able to find the right one. Many people turn to Prose for help with restoring color damaged hair or hydrating dry hair. Unlike most other store or salon-bought brands, Prose listens to what you need and builds a customized and holistic hair routine to address your specific needs.
How much does it cost?
Shampoo and conditioner run from $25-$32, and the hair mask ranges from $38-50. You have the option to buy these individually, or all three of them after you complete your consultation. Plus, Prose offers free shipping on all orders and has a 100% satisfaction guarantee to ensure you're totally happy with your products. When you're ready to reorder, your formula is saved on the Prose website so that when you run out and want to order the same one again, you can reorder with total ease!