If you're reading this, then you've thought about listing your vacation home on a short-term rental website. Once upon a time, this was a crazy idea or simply took too much time and energy to coordinate, but now it's easy.
With tons of companies out there helping people like you manage their short and long-term vacation rentals, we found the best: Vacasa. This vacation rental management company is changing the game for homeowners everywhere.
Thinking about sharing the joy of your vacation home, but still not sure who to go with? Here's everything you need to know about working with Vacasa.
What does Vacasa handle?
Unlike many vacation rental companies, Vacasa offers full-service vacation rental management. That means they handle everything it takes to rent your vacation home to guests—creating an online listing, taking bookings, marketing, housekeeping, 24/7 guest support, coordinating maintenance and repairs, and more. All these essentials are included in their management fee, so you don't have to deal with separate vendors or worry about getting nickel-and-dimed. Plus, they have local teams across North America and beyond, so there's always a trusted crew nearby to look after your vacation home.
What kind of homes are they looking for?
Everything from lake houses to ski chalets to beachfront bungalows is in their wheelhouse. Your vacation home is someone's dream vacation waiting to happen, and Vacasa is ready to help.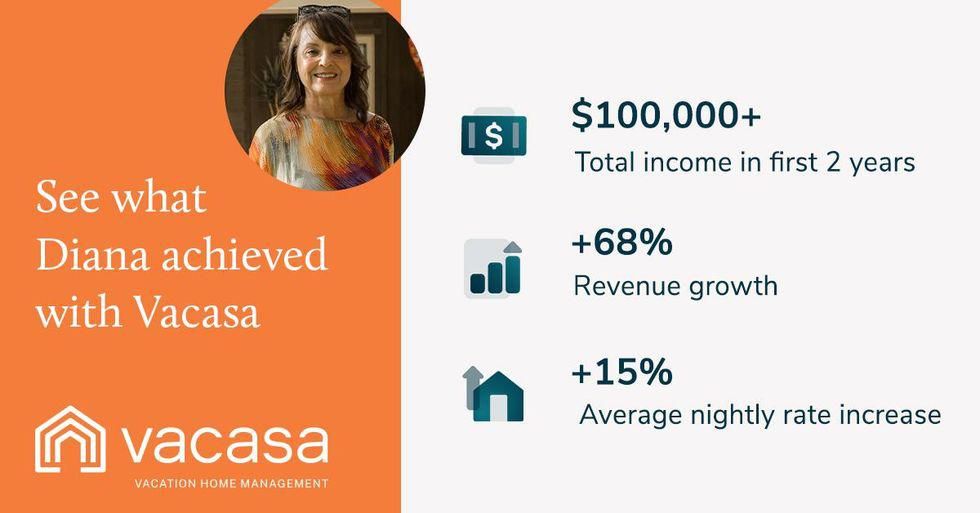 What's Vacasa's management fee?
Vacasa's management fee varies since it's tailored to each home's unique location, amenities, and characteristics. They believe that since every home and destination is different, the fee should reflect that, too. You can contact their team to get a quote on what the management fee would be for your specific home and location.
How do I get started with Vacasa?
First, you can get in touch with their Homeowner Consultant team through the Vacasa website. They'll see if your home's a good fit, and go over your personalized management fee. If you choose to move forward, you'll sign a management agreement. (And if you ever want to cancel your agreement with Vacasa, you can do so anytime with 90 days' notice.)
Next, Vacasa will request access to your home to clean, confirm permits, do an initial inspection, and compile your online listing. Then when your home is ready for guests, Vacasa handles everything you need to maximize revenue.
How much time can Vacasa save me?
Vacasa's full-service vacation rental management can save you countless hours on marketing, communicating with guests, cleaning, and all the other daily tasks that come with running a successful vacation rental. When you work with Vacasa, they'll cover:
24/7 guest support (so you'll never have to answer a late-night call)
Advanced rate-setting technology that automatically updates your prices for maximum revenue
Managing your online listing, including 3D home tours, professional photography, custom copywriting, and advertising across popular booking sites
Taking care of your home, thanks to an on-call local property manager, housekeepers, and maintenance pros
Plus, the easy-to-use online account and Vacasa Homeowner app give you round-the-clock access to key information about your home. Review your booking calendar, read guest reviews, and access real-time performance data. You can even submit maintenance requests online.
VACASA
All this with one straightforward fee, no long-term contracts, and the freedom to visit your home as frequently as you like. List your home with Vacasa and make 20% or more per year!
Click here to get an estimate
Am I still in control of when my home is rented?
Yes, one of the biggest benefits of working with Vacasa is that you can rent exactly when you want to. They don't limit when or how often you can use your home for your own vacations (as long as you honor existing guest bookings, of course).
It's easy to reserve your own vacation time using the calendar in your online homeowner account.
How much can I earn?
Homeowners who switch to Vacasa from another vacation rental manager earn an average of 20% more in their first year. List your home with Vacasa!*
Vacasa's industry-leading pricing system is part of what helps so many homeowners succeed. Regional revenue experts customize your home's rates to meet market demands, factoring in over a billion data points—like local events, weather, and seasonality.
Vacasa even helps you find ways to earn extra revenue—for instance, allowing dogs at your vacation rental leads to 10–20% higher income on average.** They also offer professional interior design services in-house, which help your home stand out and attract more guests. In fact, homes designed by the Vacasa team earned 73% more per night compared to similar properties in the same market.***
What do real homeowners think of Vacasa?
Not only do we recommend Vacasa as your vacation rental partner, but so do tons of homeowners across the country.
Vacasa's website includes testimonials from people like you who have transformed their second homes into successful, income-generating vacation rentals.
"Vacasa's revenue optimization system is second to none. The local team that looks after my properties is fantastic. They treat my homes as if they were their own, and their attention to detail is unmatched."
- Patrick B., Vacasa homeowner in Ocean City, MD
"Having Vacasa manage [our home] for us has really given us the confidence to let it go... I just don't have any worries. I could be 7 hours away and not have to think about anything."
- Danielle M., Vacasa homeowner in Rockaway Beach, OR
Vacasa delivers a superior, consistent guest experience, higher profits, and local care that makes vacation home ownership easy. Make the most out of your vacation home without the hassle, all with Vacasa.
Homeowners who switch to Vacasa from another vacation rental manager earn an average of 20% more per year. Get your estimate today!
*Reflects same store basis; Before Vacasa vs. After Vacasa metrics based on portfolio additions with an onboarding date from August 1, 2017 - January 1, 2019 and 12 months of history leading up to onboarding and at least 12 months of management by Vacasa after onboarding
**Data collected from Vacasa.com reservations as of July 6, 2020. Additional occupancy data collected from Vacasa reservations as of September 15, 2020. Percentages have been rounded to the nearest whole number.
***Data based on homes that participated in the Vacasa Interior Design program i n 2019.