Meal kits have been on the rise for years, and they're definitely here to stay.
Who can say no to pre-portioned ingredients and recipe cards that walk you through every step of the process? They're delivered right to your door and make dinner a breeze.
However, if you're looking to try one, it can feel a bit overwhelming. With so many meal kit companies out there, how do you know which one is right for you?
We've taken a look at the top brands and narrowed it down to two of the best: Everyplateand Sunbasket. So, we tried and tested them both to see which one is worth your time and money.
Here's what we thought:
Key Similarities:
Both are subscription-based
Both prioritize high-quality ingredients sourced from suppliers with whom they have strong, trusting relationships
Both use insulating materials and ice packs to keep their ingredients fresh during shipping
Both pre-portion their ingredients so you only have exactly what's needed for each recipe
Both offer a variety of plans and meals
Both provide recipes that take 30-minutes or less to cook
Both plans are flexible with options to skip, pause, or leave
Key Differences:
EveryPlate starts from $4.99 per serving - Sunbasket meals begin at $11.49 per serving
Sunbasket has a separate Fresh & Ready option for pre-made meals
EveryPlate's menu has 17 new recipes every week - Sunbasket offers 15 recipes each week
EveryPlate recipes take 20-30 minutes to cook - Sunbasket has recipes that can take as long as 45 minutes
Level of difficulty for EveryPlate dishes is easy with no more than 6 steps
EveryPlate has more discounts and regular special offers compared to Sunbasket
EveryPlate offsets all its carbon emissions - Sunbasket has yet to take on this initiative
EveryPlate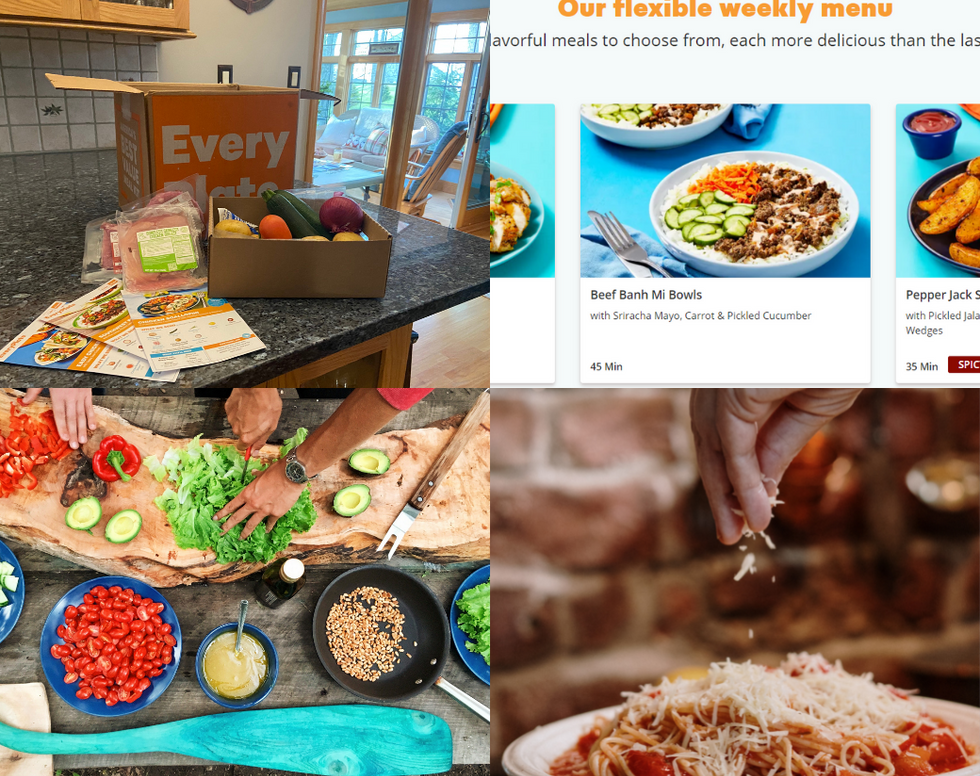 EveryPlate beats every meal kit we've ever tried when it comes to price - dinner for $4.99 per serving is an amazing deal. Their weekly rotating menu is packed full of international cuisines, as well as some classics. With such an incredible price per serving on offer, it did make us wonder about the quality and how fresh the ingredients would be, and how yummy the meals would taste.
After a very quick and easy sign-up, our EveryPlate box was at our door in no time. All the ingredients for each meal are perfectly pre-portioned and individually packed, ready to put in the fridge.
And the quality? Really impressive. We love the increased amount of veggies EveryPlate delivers. Their dishes feature seasonal produce which helps keep down the price while ensuring fresh, delicious ingredients.
We appreciate the use of less packaging, which is all recyclable, and only receiving the ingredients we actually need, nothing else. EveryPlate even sends digital recipes to save paper. Plus, this way we always have them. All recipes take no more than 6 steps, so our Sticky-Sweet Chili Chicken with Scallion Rice & Zesty Carrots was ready to eat in 30-minutes.
Their premium meal offering is a fantastic add-on and a smart way to treat yourself once a week. Premium meals have a per-serving price that's a couple of dollars higher than their regular meals. This week it was
Spiced Barramundi with Chimichurri, Crispy Potatoes & Lemony Green Beans
, and it was the flakiest, butteriest fish we ever tasted. Overall, the price-to-taste ratio simply cannot be beaten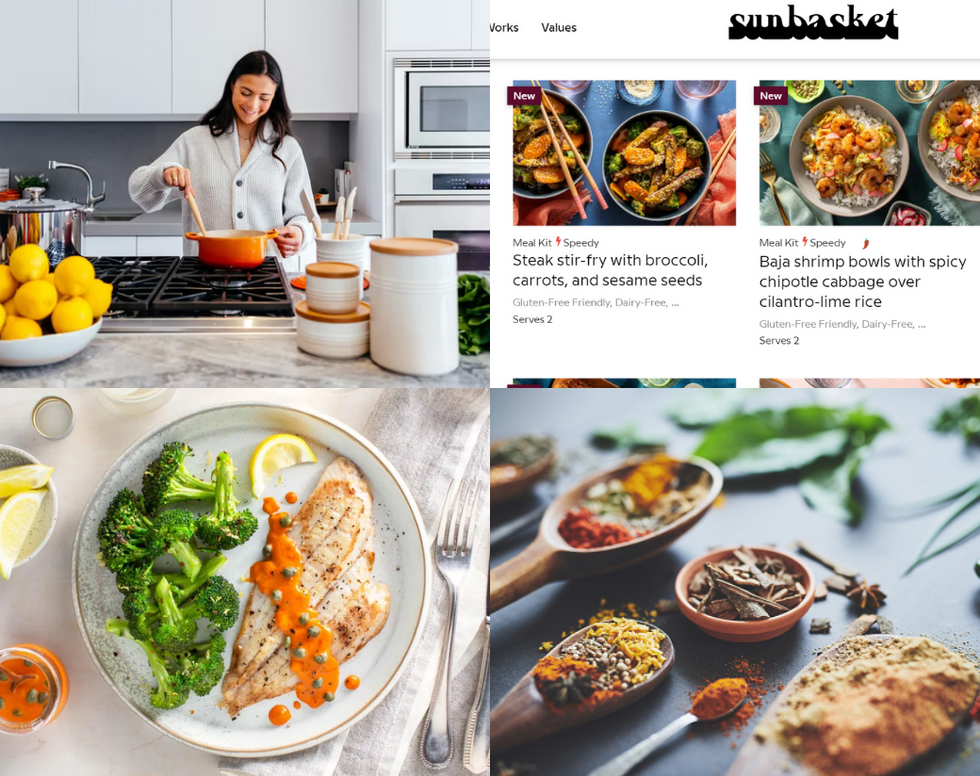 Sunbasket caught our eye for the number of choices - endless. You get to choose from 9 different menus including Paleo, Carb-Conscious, Chef's Choice, Vegetarian, Gluten-Free, Pescatarian, Lean & Clean, Mediterranean, and Diabetes-Friendly.
We appreciate how Sunbasket makes it easy for those with specific dietary needs to still enjoy a meal kit dinner. Simply select options to avoid certain ingredients like dairy and soy, or enter your preference for high fiber, low sodium recipes. Their meals fit your needs but still sound fun and flavorful like the Thai-style Spicy Yuba Noodle Soup With Potato and Bell Pepper and the Pulled-pork Taquitos With Tomatillo Salsa Verde and Queso Fresco.
While we like having options… we were a bit overwhelmed. Sunbasket has their 9 menus plus, tons of grocery store add-ons covering breakfast, lunch, snacks, protein, and pasta & sauce. Honestly, we were dizzy.
If you're looking for a straightforward meal kit service, you may feel bogged down by Sunbasket's robust offerings. However, if more is what you need you'll love being able to choose between 2 and 4 servings for 2 to 5 dinners per week.
After trying Sunbasket for a couple of weeks, we didn't find it to be worth the price of $11.99 per serving - and it can go up to $14.49/serving. Yes, you get organic produce and interesting recipes but the longer cooking time and steeper cost prevent Sunbasket from coming out on top for us.
Overall Verdict
EveryPlate and Sunbasket are both excellent options for those considering a meal kit. You can check fresh, high-quality ingredients off your list for both. But in the end, it all comes down to value.
After trying both we're sticking with EveryPlate. On their plan, we actually save money and time thanks to their game-changing $4.99 per serving. With EveryPlate, everything from signing up to sitting down for dinner is a breeze.
Sunbasket may offer more dietary options and menus for a higher price, but EveryPlate triumphs in every other aspect including variety, convenience, and price.
Save money, while enjoying quick and yummy, home-cooked meals with EveryPlate.