Meal Delivery Boxes continue to rise in popularity - so many families have tried at least one recipe delivery service in the last year. The pitfall usually comes down to their luxury price tags.
The $5 meal kit company, EveryPlate is making a lot of noise with delicious balanced recipes, fresh high-quality ingredients, and tasty dinners the whole family will love.
We signed up to EveryPlate to see if their pre-portioned ingredients and recipe cards sent right to our doorstep are worth the subscription.
The first thing that will catch your attention about EveryPlate is the $4.99 price per serving at full price. It's one of the main reasons we wanted to do this review. We wondered if the food be fresh - would it be high-quality, would the portions be tiny, would there be any variety?
For 5 dollars we weren't expecting the same service we get from other meal delivery companies where we pay twice as much. You get what you pay for, right?
Signing up for EveryPlate was quick and easy. Choose how many people you're feeding and how many meals you want per week; they offer 3, 4, or 5 meals. Then it's just email, address, checkout, and pick your meals.
Each week you have a rotating menu of 14 recipes to choose from. Having the options of choosing 3 or even 5 meals from a selection of 14 provided a lot of variety and choice in our opinions. Plus when we got to the weekly menu our mouths were watering looking through all the recipes.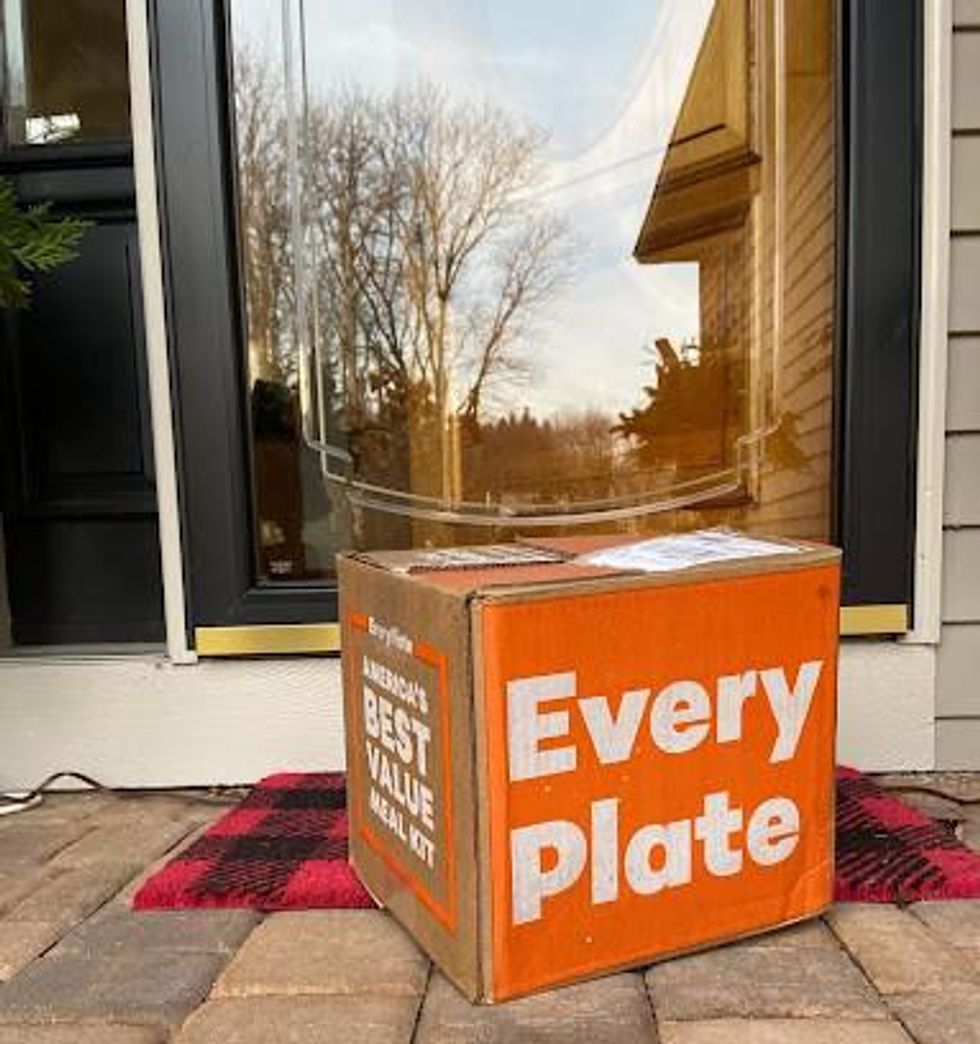 They have the time each recipe takes to cook clearly outlined and they offer veggie meals too which are clearly labeled as you scroll through the weekly menu. We also noticed they offer premium recipe options, with a per-serving price point that's a couple of dollars higher than their regular meals which you will be charged with your subscription, but is the perfect way to give yourself an extra treat during the week.
They also offer an additional feature called the protein pack which offers the choice between 6 chicken breasts or ground beef and 4 chicken breasts as an extra add-on. High-quality prepped protein that is ready to cook is very handy if you need to increase your protein intake.
Once we chose our recipes, we were offered even more customizable features. "Double-up" allows you to double the size of your meals, and the "Modularity" feature allows you to replace proteins in some of your weekly meals. This personalization of your meals and flexibility is not something we expected for such a low price but we loved the personalized feel it gives to your meal box.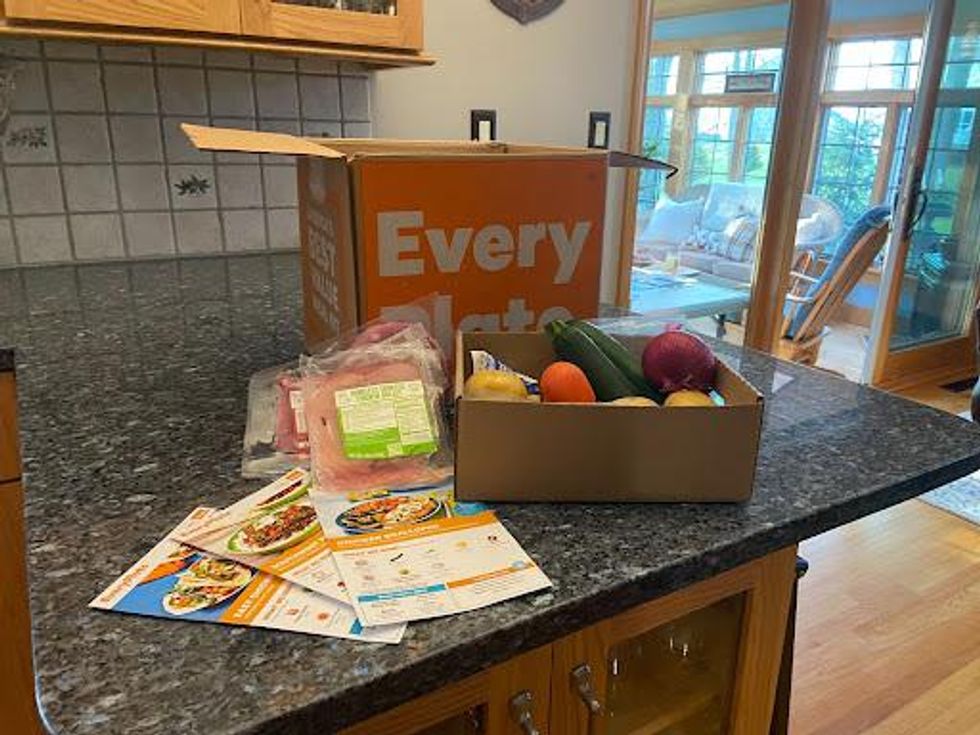 We were possibly the most excited we'd ever been to receive a meal box so when our EveryPlate box arrived at our door we couldn't wait to open it up. All the ingredients for all the meals were perfectly pre-portioned and individually packed ready to put in the refrigerator. At first glance, all the produce looked, felt, and smelled really fresh.
EveryPlate's dishes are full of seasonal produce which helps keep down the price but also ensures fresh and delicious ingredients. We also appreciate the use of less packaging that was all recyclable, and only receiving the ingredients we actually needed - nothing else. They even send you digital recipes, saving paper, and this way we always have them.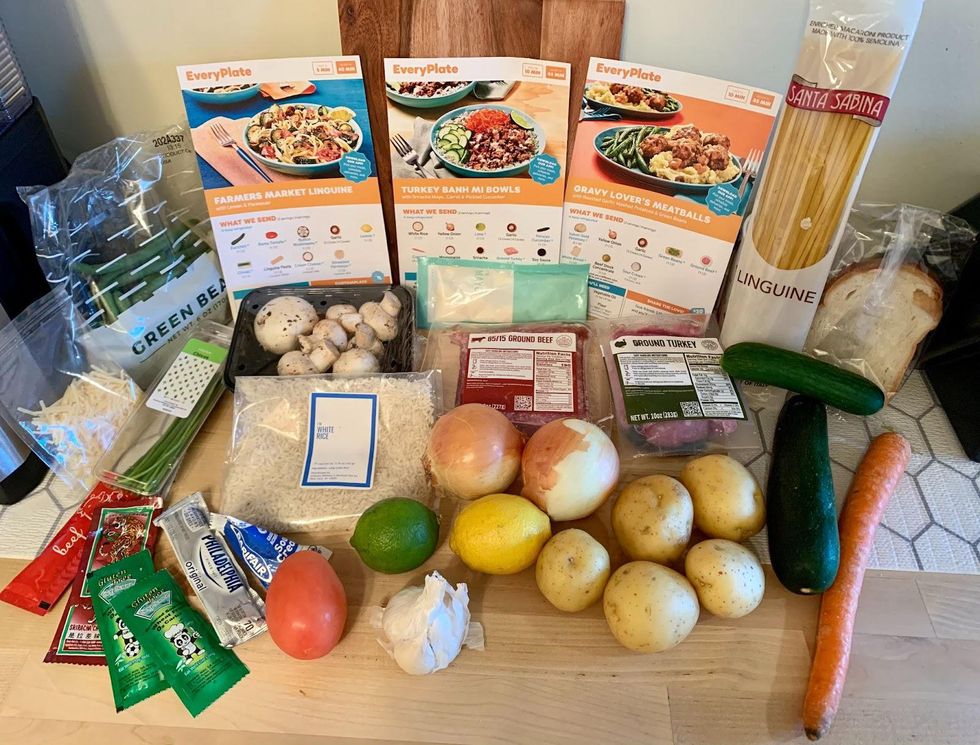 The first meal we opted for was on the more adventurous side: Sweet Umami Beef Bowls
with Pickled Cucumber & Wasabi Aioli. We love going out for any type of Asian food but rarely cook it at home for fear of messing up one of our favorite dishes. With all the ingredients laid out ready to cook and a recipe with only 5 steps, we felt at ease attempting our umami bowls.
30 minutes later we are seated and ready to taste; the ponzu beef was so tender, oozing with taste while the vegetables were perfectly zingy and the jasmine rice so fluffy. It was perfect, we couldn't believe we cooked it all in less time than it would have taken to order it and get delivered.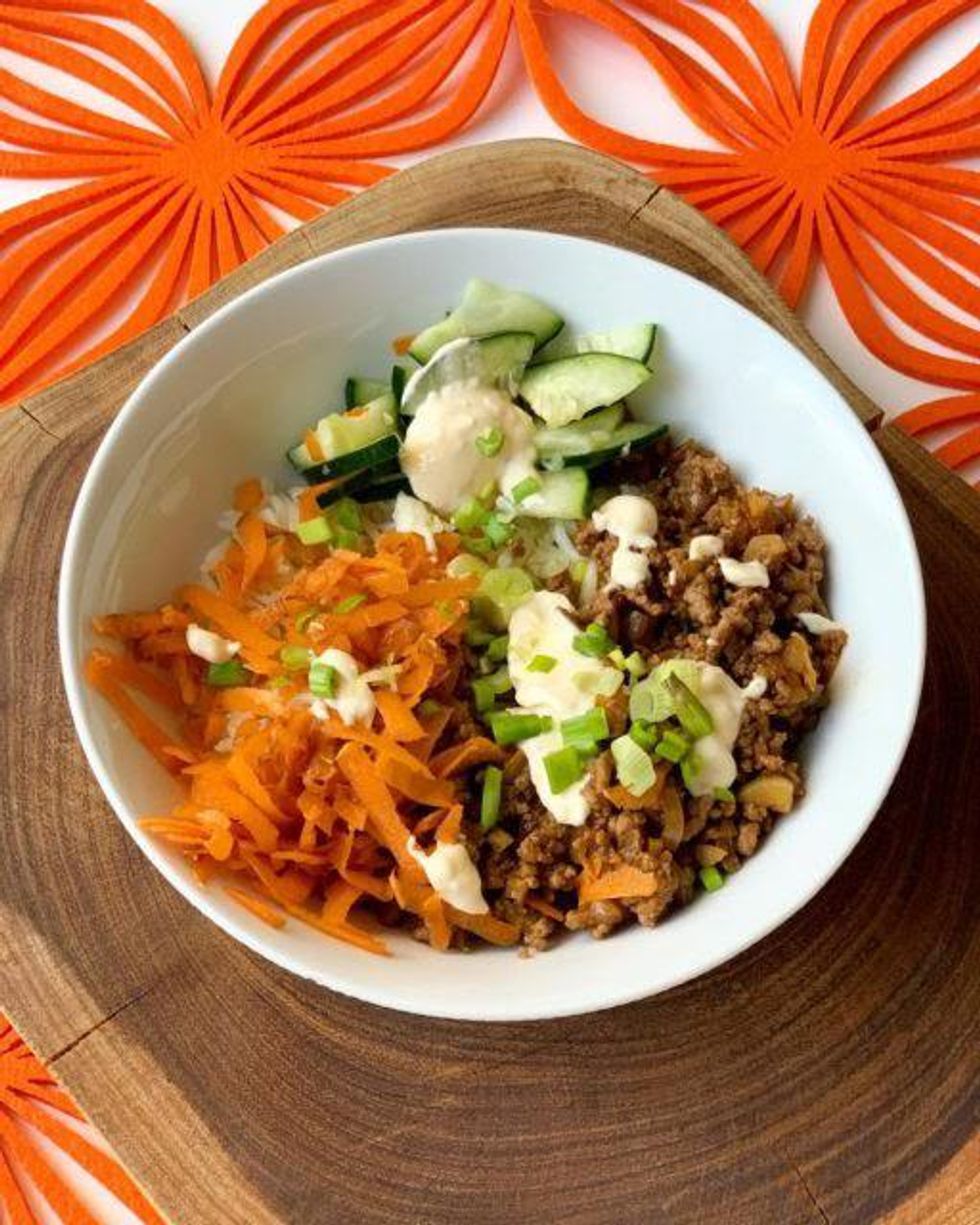 The Charred Zucchini & Tomato Melts with Fresh Mozzarella & Potato Wedges was the comfort food we needed for our meat-free dinner night and of course, we had to try the Zesty Herb-Rubbed Salmon with Roasted Potatoes, Green Beans & Creamy Lemon Sauce premium meal. It did not disappoint, it only took 30 minutes to cook and the salmon and creamy sauce were restaurant-worthy. Delicious.
After one week of EveryPlate we had to keep our subscription (it is very easy to pause or cancel),.There are so many more meals we want to try and with new ones each week the choice of international cuisine and home comforts was just too good. But mostly because the price to taste ratio simply cannot be beaten. EveryPlate competes with the top meal kits on taste, variety, selection, service, and add-ons and then hits it out of the park with their amazing $5 per meal.
If you want to try a meal kit delivery service or looking for a better offering than the one you currently use, you have to try EveryPlate - you will not regret it!