With Meal Kits everywhere right now, it's tempting to try one out and see what they are all about. Who could say no to pre-portioned ingredients and recipe cards that walk you through every step of the process? They are delivered right to your door and makes dinner time a breeze.
You might be contemplating whether or not to try one, or trying to decide which one to try next. Either way, you have probably heard of EveryPlate and Blue Apron, two of the most popular meal kits out there right now. So, we tried and tested them both to see what unites and what distinguishes these two top contenders.
Here's what we thought of EveryPlate and Blue Apron:
Key Similarities:
Both are subscription-based
Both prioritize high-quality ingredients sourced from suppliers with whom they have strong, trusting relationships.
Both use insulating materials and ice packs to keep their ingredients fresh during delivery.
Both pre-portion their ingredients so you only have exactly what you need for each recipe.
Both offer a variety of plans and meals.
Both plans are flexible with skipping, pausing, and canceling options.
Key Differences:
EveryPlate starts from $4.99 per serving, Blue Apron meals are $9.99 per serving.
EveryPlate's menu has 14 new recipes every week, Blue Apron offers 8 recipes on the 2-Person menu and 4 recipes on the Family menu each week.
EveryPlate meals take 20-30 minutes to cook, Blue Apron recipes are between 30-50+ minutes to fully prepare.
Level of difficulty for EveryPlate dishes is easy with no more than 6 steps, Blue Apron would be more advanced with complex steps.
EveryPlate has more discounts and regular special offers compared to Blue Apron.
EveryPlate offsets all its carbon emissions, Blue Apron has yet to take this initiative.
EveryPlate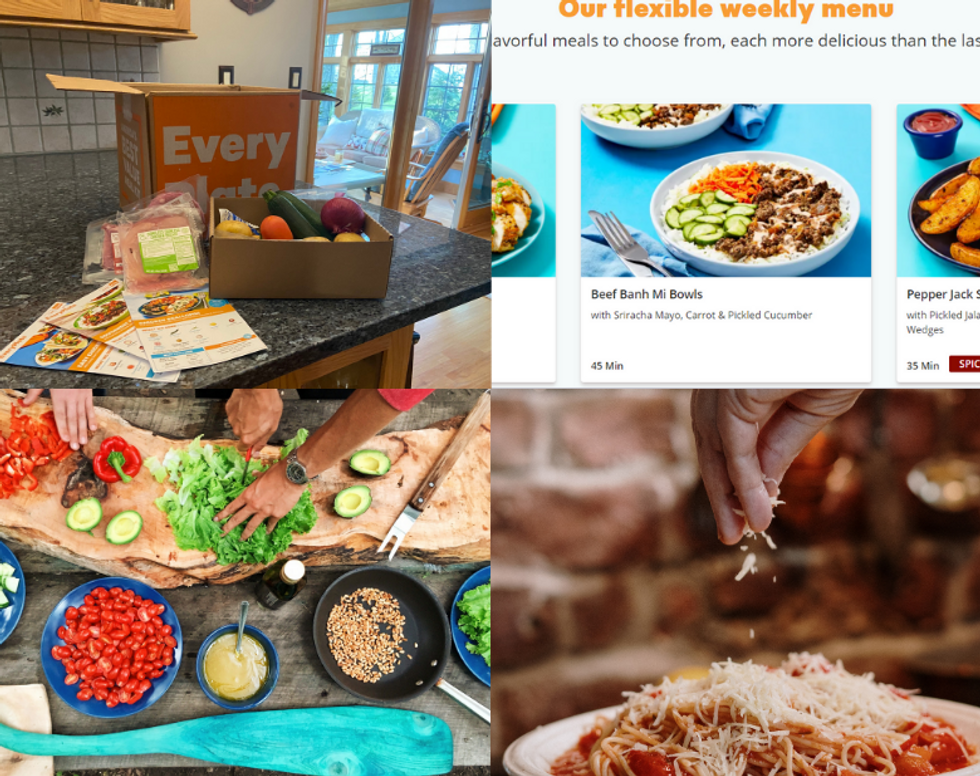 EveryPlate beats every meal kit we have ever tried when it comes to price-- dinner for $4.99 per serving is an amazing deal. Their weekly rotating menu is packed full of international cuisines, as well as some classics. With such an amazing price per serving on offer, it did make us wonder how fresh and high quality the ingredients would be, and how good the meals would taste.
After a very quick and easy sign-up, our EveryPlate box was at our door in no time. All the ingredients for each meal were perfectly pre-portioned and individually packed, ready to put in the refrigerator.
And the quality? Really impressive. We love the increased amount of veggies EveryPlate delivers. Their dishes are full of seasonal produce which helps keep down the price but ensures fresh and delicious ingredients.
We also appreciate the use of less packaging, which was all recyclable, and only receiving the ingredients we actually needed, nothing else. They even send you digital recipes to save paper, plus this way we always have them. The recipes are all no more than 6 steps, so our Sticky-Sweet Chili Chicken with Scallion Rice & Zesty Carrots was ready to eat in 30 minutes.
Their premium meal offering is a great addition to treat yourself once a week, with a per-serving price that's a couple of dollars higher than their regular meals. This week it was Spiced Barramundi with chimichurri, served crispy potatoes & lemon green beans, and it was the flakiest, butteriest fish we ever tasted. Overall, the price to taste ratio simply cannot be beaten.
Blue Apron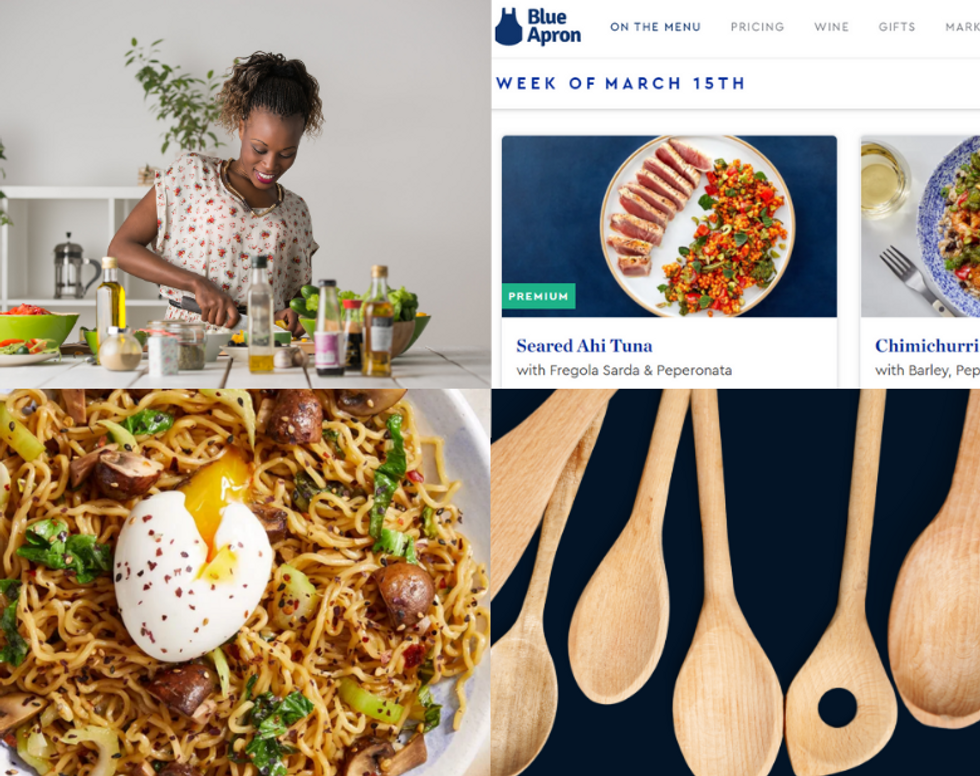 Blue Apron is the meal kit providing health-conscious options. They take pride in offering nothing but the freshest, sustainably sourced seafood, hormone-free, antibiotic-free meat, and nutritious seasonal produce fresh from the farm, free from GMOs.
This is all great, but when signing up we were shocked at the lack of variety and choice in their plans and meals. The 2 person plan only has options to receive 2 or 3 meals per week with 8 recipes to choose from, while the 4 person (family plan) has options of 2, 3, or 4 meals per week with only 4 meals to choose from. Every weekly menu has one chicken dish, one seafood dish, one salad dish, one soup/stew/chili dish, and one that is either pork or beef. Customer reviews also comment on the frequent repetition of the same meals regularly. It is also difficult to enjoy this box if you are vegetarian or pescatarian, as the choices are very limited.
When our Blue Apron box arrived we were ready to get cooking, but we were disappointed that all of the ingredients were thrown in the box together, not clearly divided by meal like they were with EveryPlate. Since some of the recipes required the same ingredients in different amounts, I had to be extra careful to make sure I used the correct portion with the correct meal. For me, this basically canceled out the promised convenience of pre-portioned ingredients.
The Crispy Steelhead Trout & Creamy Dijon Sauce with Pancetta, Potatoes & Brussels Sprouts was delicious but took about an hour from start to finish and the sauce was pretty advanced for any new cooks.
Overall Verdict
There's no denying that both EveryPlate and Blue Apron deliver fresh and high-quality ingredients to make a tasty dinner while avoiding the meal planning, prepping, and even the trip to the grocery store. But as similar as meal kits sound, our experience with both were very different.
After trying both we all agreed we would be sticking with EveryPlate, it is now our favorite go-to meal-delivery kit. Their recipes are quick and easy yet delicious and satisfying. The whole process from beginning to end was seamless with EveryPlate, and you just can't beat the price.
Blue Apron may offer more gourmet style options for a higher price, but EveryPlate trumps it in every other aspect including variety, convenience, and price. EveryPlate adds new recipes every week, so we're never going to be bored with what they have to offer.
Who knew dinner could taste so good for such an affordable price? Save money, while enjoying quick and tasty home-cooked meals with EveryPlate.
Offer Expires In