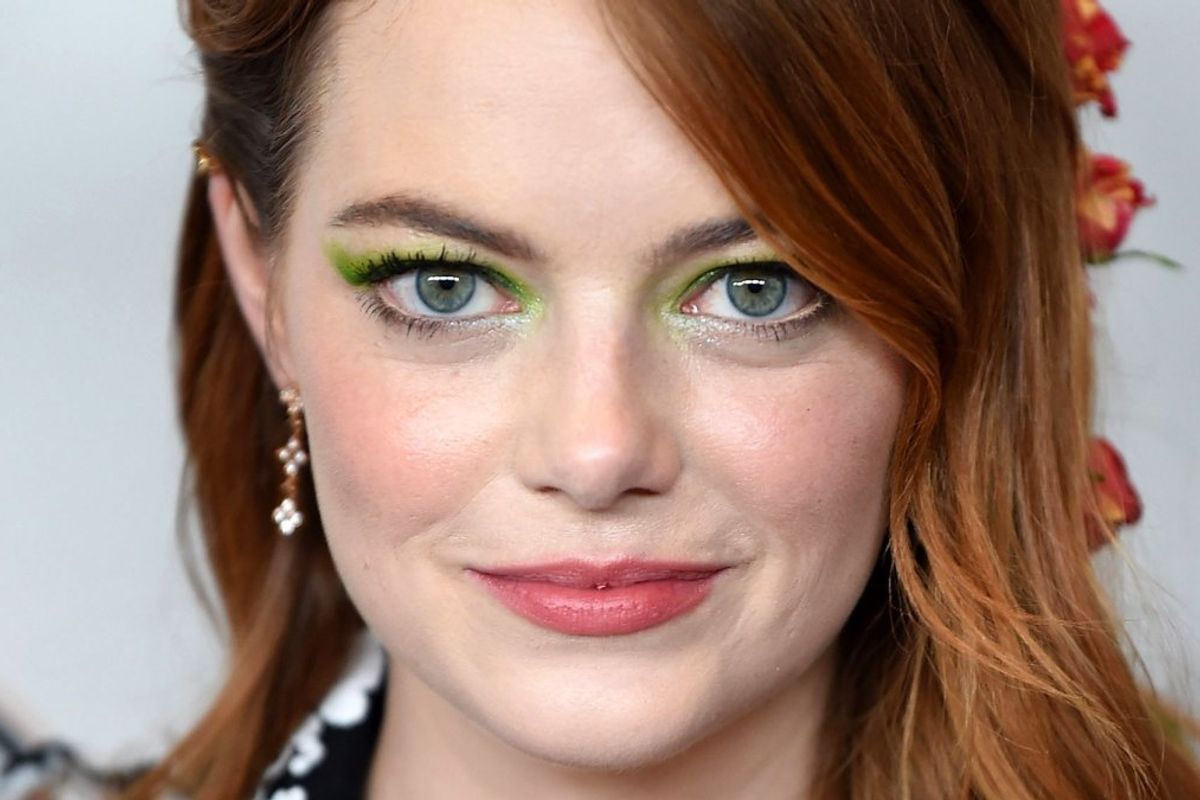 Emma Stone's Green Eyeshadow, Get the Look
Bright and bold eyeshadow has been consistently gracing the eyes of our favorite stars, with green emerging as THE color of the season for an effortlessly edgy and daring look.
While Kermit may lament that that it's not easy being green, celebrities from Lucy Hale to Janelle Moelle are flawlessly proving otherwise, embracing the hot trend. We now understand the phrase, "green with envy" while we drool over the trend that doesn't look to be going anywhere anytime soon - it's certainly a refreshing change of pace from the typically demure looks we see on red carpets. Maybe all that glitters isn't gold, but is in fact green?

This year has really brought green into the mainstream, flooding instagram with images of supermodels including
Kaia Gerber, Gisele Bündchen, and Ashley Graham
flaunting shimmering emerald hues. Although the stars all rock the trending though, no one does it better than the OG of green goddesses Emma Stone.

Touting the look as far back as 2011, Emma has been slaying with green shadow, the look remaining a favorite throughout her many beauty transitions - whether she's a platinum blonde bombshell or a rich burgundy redhead, the star effortlessly pulls off the look. Is she a secret makeup muse goes around sprinkling inspiration across Hollywood's hottest makeup artists? It's very likely.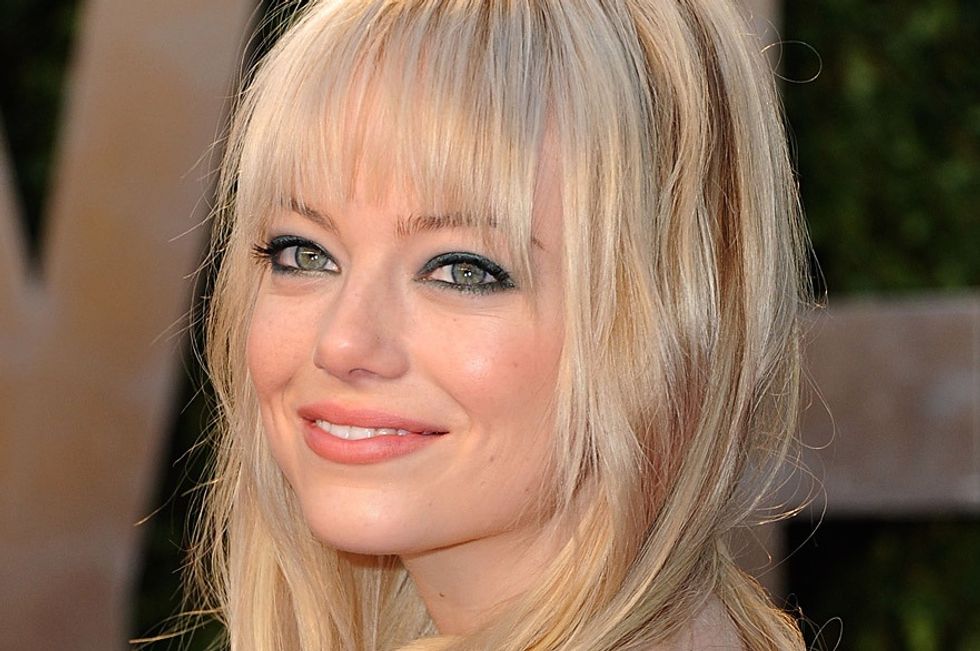 Via JennySue Makeup
Most recently, Emma maintained her spot on the throne, showing up at the New York Film Festival earlier this fall with a a winged out shade of lime meets granny smith apple hues. On her instagram makeup artist, Rachel Goodwin, credited an April 1969 Harper's Bazaar cover starring French Actress Anouk Aimee for the inspiration behind Emma's look. Goodwin cheekily comments on her bold makeup choice for Emma Stone, writing in another post, "I was feeling a lot of things yesterday but neutral was NOT one of them!"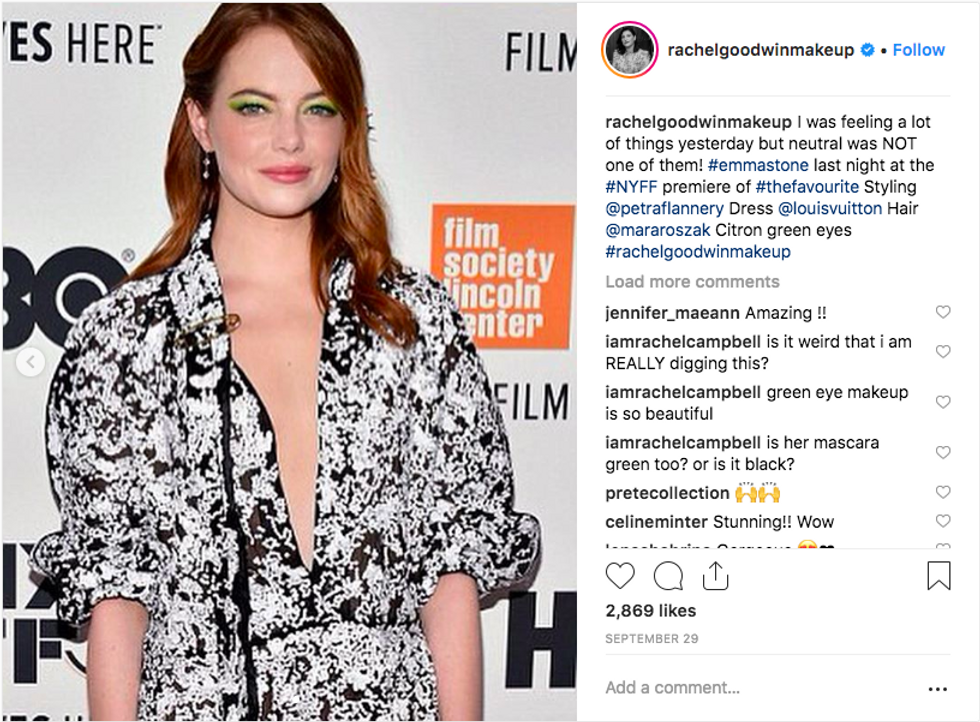 Via @rachelgoodwinmakeup instagram
For those days where you're feeling anything but but neutral, we dare you to try the bright look yourself with some tips to help you sweep on the green like a pro:
1. To keep the looking vibrant and fresh, it's best to stick to just shadow and mascara on the eyes.
Goodwin created Emma's simple pop of color swept a the three matte greens in the Viseart Editorial Brights Eyeshadow Palette over the lids and NARS Climax Mascara on the lashes to keep all the attention of Emma's eyes.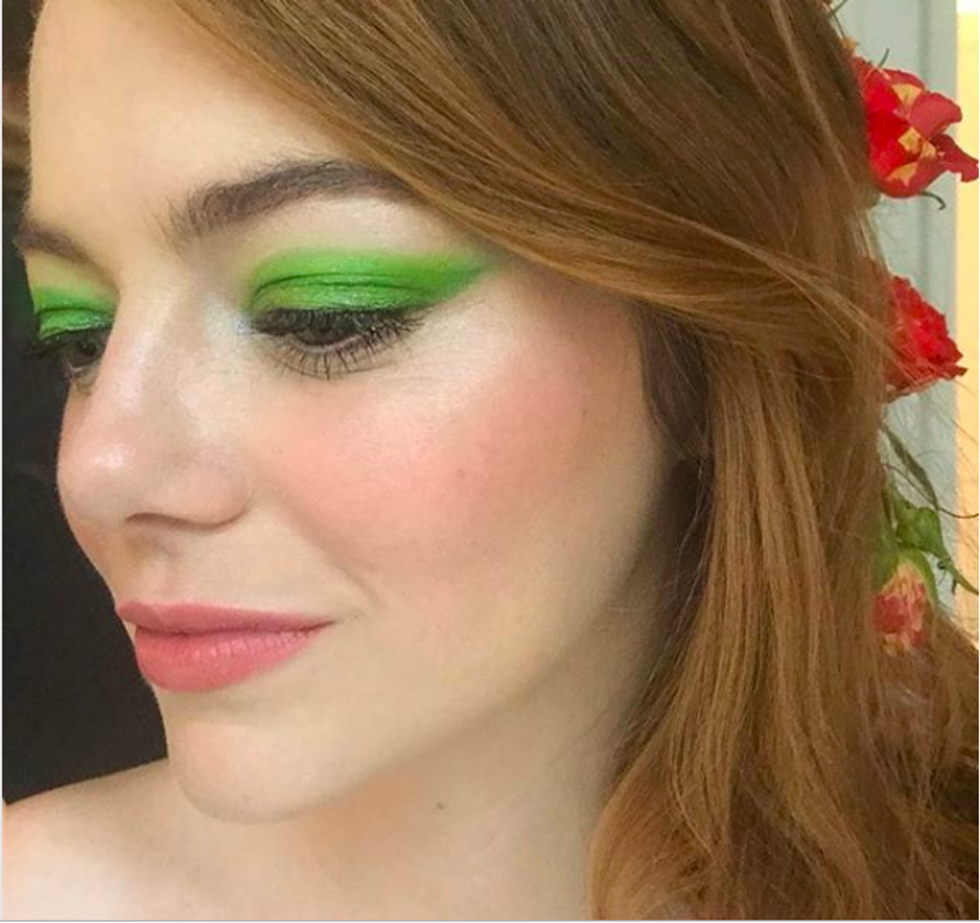 Via @rachelgoodwinmakeup instagram
2. A well prepped complexion set with the right powder creates the perfect canvas to really show off those citron green eyes.
Emma's flawless face was created using
NARS Natural Radiant Longwear Foundation
with a dusting of the
Marc Jacobs Beauty Finish-Line Perfecting Coconut Setting Powder
kept everything in place.
3. A simple lip works best to balance the bright eyes but it doesn't need to be purely nude - a soft rosy neutral complements the green hues for an overall glowing look.
As as Director of Pro Artist and Red Carpet for Nars Cosmetics, Goodwin kept it in the Nars family to finish off Emma's look with NARS Audacious Lipstick in Raquel, one of the many gorgeous shaded in the Audacious collection.
Our final tip? Don't forget about the universal beauty trick that works for every single woman – confidence!