Let's face it, every guy has lost their wallet before. We all know what a headache it can be tracking it down, or even worse, replacing all of your IDs and cards.
We've also all carried around bulky, textbook-sized wallets that bulge out of your pocket and make you lopsided, if you're sitting on it, which none of us want but put up with for some reason.
Our Style Editors decided to do a deep dive into the world of accessories for guys. Luckily, we came across Ekster - an innovative company that merges premium accessories with functionality and ground-breaking tech to enhance the day-to-day life of guys all around the world.
What impressed us the most was that with Ekster, you can protect your essentials and upgrade the look of your wallet.
Here's the 3 reasons why an Ekster wallet is perfect for every guy:
The Last Wallet You Will Ever Buy
What separates Ekster from the wallets of yesterday is its impressive ability to make their products unlosable. Anyone can track their wallet worldwide with Ekster's global system and can even pair it with Google Assistant, Alexa, or Siri. Simply speak a command into your phone to have your tracker card pulled up on a map for a speedy recovery.
An extra you can add to any of their wallets, the EksterTracker Card is perfect for anyone who has ever misplaced or lost their valuables. And get this, it's solar-powered, so it only needs 3 hours of sunlight to last for 2 months.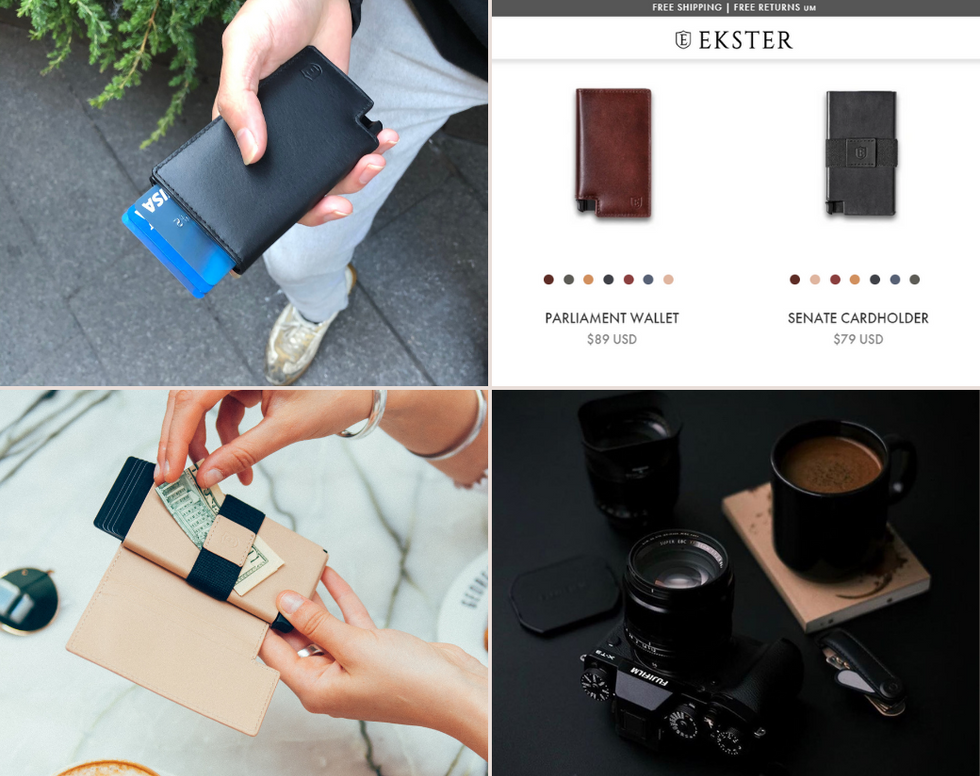 Various High-End Styles
With Ekster you aren't just stuck with the boring, bulky, square wallet design. Instead, they offer sleek, slim wallets (0.15" \ 0.38cm) :
Parliament Wallet - made with premium leather this smart wallet is the perfect slim, money-holding solution you've been looking for. It has a built-in aluminum card holder that fans out your cards with the push of a button.
Senate Cardholder - an elegant cardholder that's perfect for those moving away from cash. Also made with premium leather, it has a built-in aluminum cardholder that makes pulling out cards as easy as pushing a button. Bonus, there's a removable cash strap if you need to have some cash on hand.
Aluminum Cardholder - Ekster's slimmest wallet yet comes in 5 colors and is made from space-grade 6061-T6 aluminum. It can hold up to 12 cards and comes equipped with integrated RFID blocking tech to fend off scammers.
Impressive And Protective Tech
RFID technology, which makes contactless payments possible, also opens you up to the risk of data skimming. It's used by electronic pick-pockets to swipe data off your cards, and even steal from your bank account.
Ekster's wallets offer built-in RFID protection which keeps cards safe no matter where you are or what you're doing. With RFID protection, you can rest assured your cards and data are safe from electronic theft.
Just imagine a world where you always have what's important comfortably in your pocket - a world Ekster's tech makes possible.
Ekstermakes carrying your essentials better than ever, and alleviates the stress that comes with misplacing your wallet and IDs.
Say goodbye to your bulky and easy-to-lose wallet, and hello to Ekster's line-up of premium, smart wallets, perfect for any guy!
LIMITED TIME ONLY: Follow This Link For 20% Off Site-wide!