How do you choose your wallet? Most people go with their favorite brand and then find the color that best suits them. But isn't it time we opt for the best functioning wallet that contributes to our daily lives?
In the search for this wallet, we compared and contrasted the top two box-style wallets on the market - Ekster and Secrid.
Secrid is the OG of box wallets, and Ekster is the latest stylish option with top tech features. Here are all of the details-
Key Similarities
Both have RFID (Radio-frequency identification) blocking, so your cards are protected from skimming
Both have box design with a pop-up mechanism for card display
Both made with aluminum box and leather interior
Both come in a variety of colors
Both hold cards and cash
Both wallets cost $89
Key Differences
Ekster comes with a Chipolo worldwide tracker that's voice-activated and solar-powered - Secrid offers no tracker
Ekster has a bi-fold design like opening a book - Secrid has a tri-fold design
Secrid comes with a plastic cash holder - Ekster has a cash strap
Secrid has a trigger/lever mechanism that causes the cards to pop up - Ekster has a single-piece button mechanism that ejects the cards
Secrid is held together with adhesive making it less durable - The Ekster has lining, intricate stitching, and is covered in Italian leather
Ekster Wallet fans out cards with ample space between - Secrid ejects cards quite close together
Secrid offers 3 versions with little variation - Ekster offers 4 styles that appeal to varying tastes and needs
Ekster Overview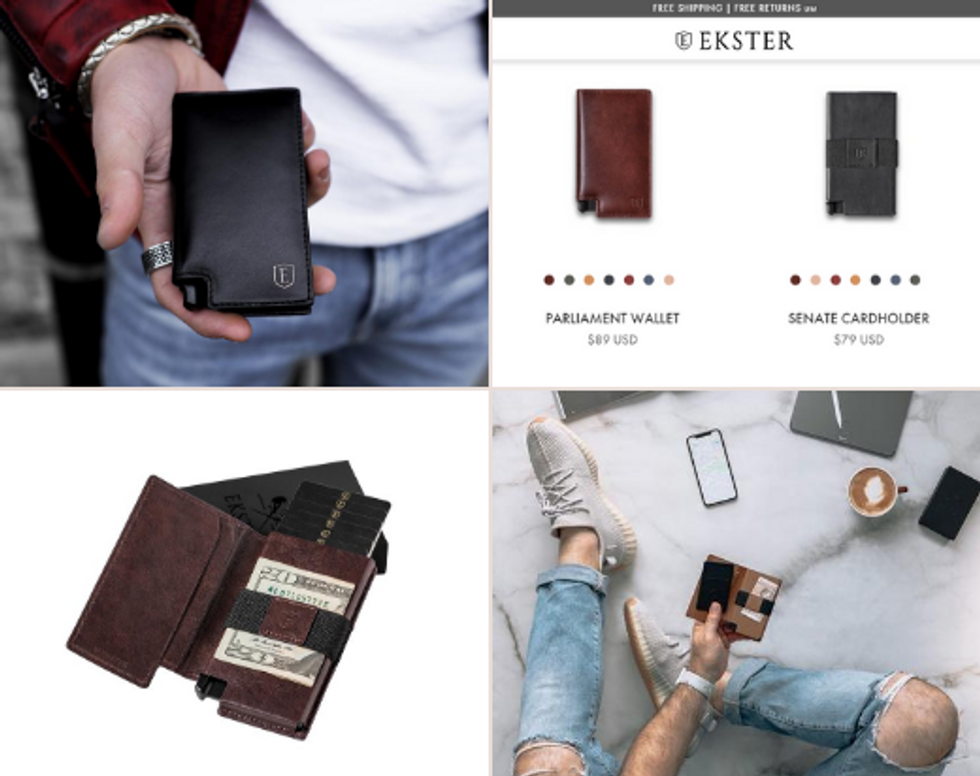 Ekster'scustomers praise it for being the most stylish and sophisticated wallet for both males and females. The Dutch design is sleek, super slim, and screams exquisite quality in all 7 shades it comes in.
But how does it function? The Parliament Wallet is a classic bi-fold wallet with a box cardholder and button mechanism. The button on the bottom left corner fits perfectly with the design and swiftly ejects all your cards without having to open the wallet.
Although it can hold 12 cards, Ekster recommends 9. The box cardholder can handle 6 along with 3 to 4 more cards inside. It also has an external pocket and an internal cash strap. Many companies overestimate how many cards a wallet can hold, but the Ekster can easily hold 10 cards, a few cash notes, and is still super slim in your pocket.
What makes Ekster's smart wallet truly stand out - their technology. RFID blocking is fine, but sometimes it's not enough to protect your wallet. That's where Ekster's tracker comes into play. This smart wallet isn't just amazingly well-designed and functional, its voice-activated Chipolo tracker allows you to track your wallet from your phone - and vice versa - via Bluetooth connection.
Each tracker has a unique QR code, so if you lose your wallet and someone finds it and scans the code, you'll receive an instant message letting you know where your wallet is.
And if your wallet is out of Bluetooth range, the Chipolo's worldwide GPS tracker network spans across the globe to help you find your wallet.
Ekster's tracker is solar-powered, with a full 3-hour charge that lasts up to 2 months. Plus, it's compatible with Google Assistant and Amazon Alexa for voice control. New tech tricks are being added to all kinds of products - even when unnecessary - but a trackable wallet is natural. It just makes sense.
Secrid Overview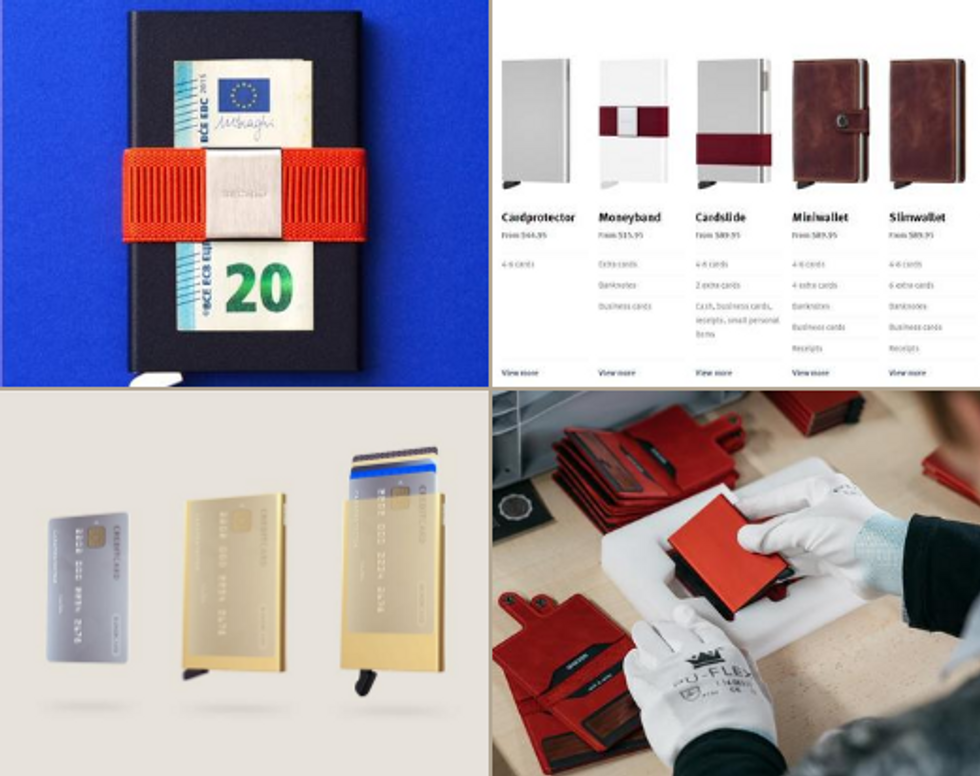 Secrid was the first box cardholder wallet with a lever mechanism to enter the market back in 2009. But since then, they haven't updated their design or features.

When opened, the Original Secrid Wallet folds out into three sections - the aluminum card holder box and two pockets. The plastic cash hold is attached to the box, which doesn't hold as many bills as a strap and doesn't sound safe.
Secrid claims it can hold 12 cards, 6 in the cardholder, and 6 inside the wallet. 6 non-embossed cards fit easily in the cardholder, but the inside pockets can't accommodate 6 - maybe 3 at most before the wallet gets pretty bulky. It does come in 54 different colors and patterns, so lots of choices.
The Secrid Wallet does come with RFID blocking for card protection, but that's as far as they go in terms of protection. Overall, the wallet's design really lacks, which was disappointing considering Secrid's huge presence in the market.
Final Notes
After looking at both wallets, their differences are quite clear. The most obvious being Ekster's Chipolo tracker. Ekster offers unparalleled security at little extra cost (the tracker is $49.99) while still delivering an extremely slim wallet.
When considering both wallets' design, functionality, and value, Ekster's innovative Parliament 3.0 Wallet wins on design for many reasons. Premium top-grain handcrafted Italian leather wraps around the aluminum card holder box, the pockets are fully lined, it's handsomely stitched, and the edges are painted to give it that finishing touch.
Secrid's aluminum card holder box, the leather, and the plastic cash holder are held together with adhesive. This looks like it could come apart very easily with normal usage.
You get so much more out of the Ekster for the same price. And you have the option to add the tracker, which transforms your wallet into a smart wallet with the quickest card access out there.
FATHER'S DAY SALE: Get 30% OFF EKSTER SITEWIDE (Up To 40% OFF Bundles) and a FREE Tool Card With Orders $100+!