How do you choose your wallet? Most people go with their favorite brand and then find the color that best suits them. But isn't it time we opt for the best functioning wallet that contributes to our daily lives? In the search for this wallet, we compared and contrasted the two most highly rated wallets on the market - Ekster and Bellroy.
Bellroy is a traditional wallet with a classic style and Eksteris the latest sleek option with top tech. Here are all the details-
Key Similarities
Both have a bi-fold design
Both have RFID (Radio-frequency identification) blocking, so your cards are protected from skimming
Both use premium, high-quality leather with gold-rated Leather Working Group environmental protocols
Both come in a variety of colors
Both hold cards and cash
Both wallets cost $89
Key Differences
Ekster comes with a Chipolo worldwide tracker that is solar-powered and voice-activated - Bellroy offers no tracker option
Bellroy has a coin pocket - Ekster doesn't hold coins
Ekster has a button mechanism that ejects cards for easy access without having to open the wallet - Bellroy has conventional card-holding pockets
Ekster comes with a cash strap - Bellroy has a traditional note sleeve
Bellroy holds 4 to 11 cards - Ekster can hold up to 12 cards but recommends 9
Ekster is a taller, sleeker wallet - Bellroy is a wider wallet
Ekster Overview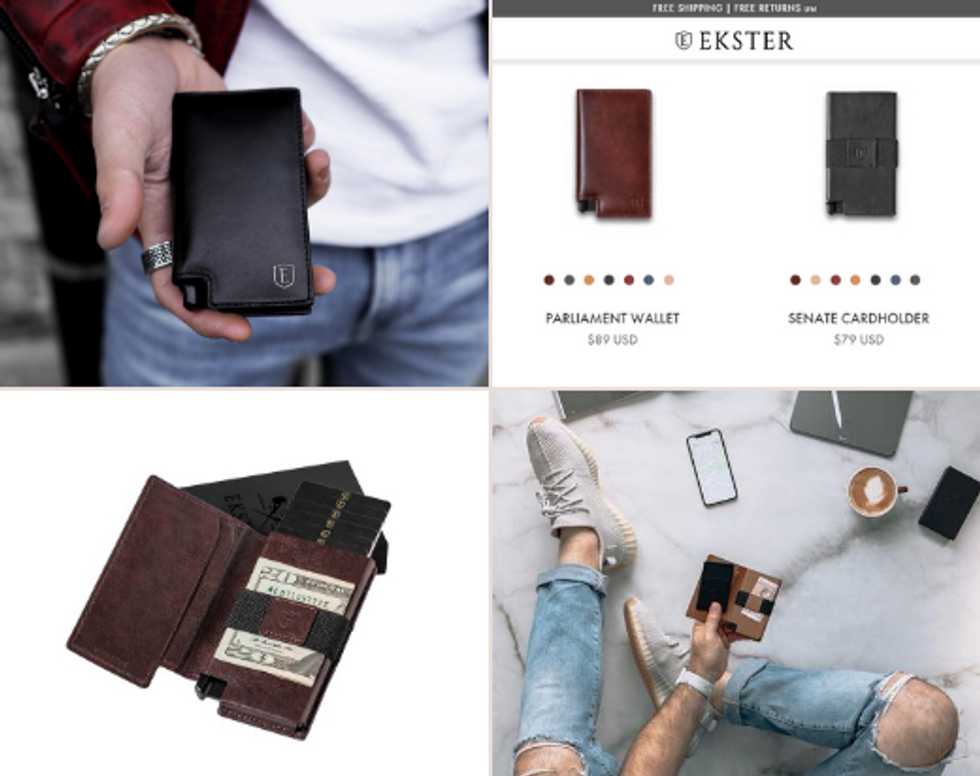 Ekster's customers praise it for being the most stylish and sophisticated wallet for both males and females. The Dutch design is sleek, super slim, and screams exquisite quality in all 7 shades it comes in.
But how does it function? The Parliament Wallet is a bi-fold wallet with a box cardholder and button mechanism. The button on the bottom left corner fits perfectly with the design and swiftly ejects all your cards without having to open the wallet. This may not sound like an important feature but think of all the times you fumble and waste time trying to get the exact card you want out of your wallet. This button feature puts an end to all of that fanning out all your card to give easy access to them all, whichever one you need. It's quick, easy, and looks impressive.
Although it can hold 12 cards, Eksterrecommends 9. The box cardholder can handle 6 along with 3 to 4 more cards inside. It also has an external pocket and an internal cash strap. Many companies overestimate how many cards a wallet can hold but the Ekster can easily hold 10 cards, a few cash notes, and is still super slim in your pocket.
What makes Ekster's smart wallet truly stand out - their technology. RFID blocking is fine, but sometimes it's not enough to protect your wallet. That's where Ekster's tracker comes into play. This smart wallet isn't just an amazingly well-designed and functional wallet, its voice-activated Chipolo tracker allows you to track your wallet from your phone - and vice versa - via Bluetooth connection.
And if your wallet is out of Bluetooth range the Chipolo's worldwide GPS tracker network spans across the globe to help you find your wallet.
Ekster's tracker is solar-powered, with a full 3-hour charge that lasts up to 2 months. Plus, it's compatible with Google Assistant and Amazon Alexa for voice control. New tech tricks are being added to all kinds of products - even when unnecessary - but a trackable wallet is natural. It just makes sense.
Bellroy Overview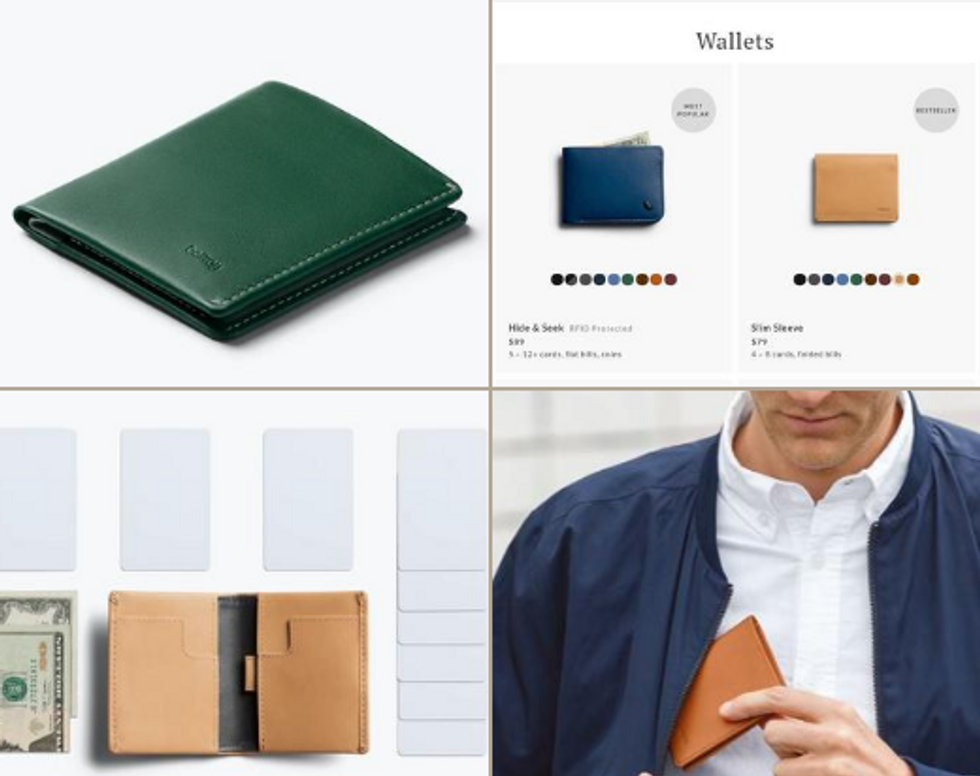 The Note Sleeve is simply a very well-made traditional wallet that does everything a basic wallet should do. Its durable, high-quality leather comes in 9 shades.
It has a bi-fold design that opens up to display 3-card pockets for your 3 most used cards. Behind this quick access pocket on the left is a large pocket to store the rest of your cards. Bellroy claims it can hold up to 11 cards but we could only fit 9 cards before the wallet got too bulky.
Behind the card pockets, you'll find the wallet's namesake - the note sleeve. Here's where you can store your cash. Any coins can go in the coin pocket hidden inside this sleeve. The Bellroy is a perfectly functioning wallet but, unlike Ekster, it offers no extra features for its premium price.
Final Notes
After looking into both wallets, their differences are quite clear. The most obvious being Ekster's smart features. Ekster offers unparalleled security at little extra cost (the tracker is $49.99) while still delivering an extremely slim wallet. It gives us the peace of mind we all need.
When considering both wallets' design, functionality, and value, Ekster's innovative Parliament Wallet wins on design for many reasons. Premium top-grain handcrafted Italian leather wraps around the aluminum card holder box, the pockets are fully lined, it's handsomely stitched, and the edges are painted to give it that finishing touch.
Although Bellroy is a well-constructed wallet, when compared to Ekster it lacks the sophisticated finishing touches of a truly premium wallet.
Ekster easily trumps the Bellroy wallet on design, functionality, ease of use, durability, value, not to mention innovation and tech.
You get so much more out of the Ekster for the same price. And you have the option to add the tracker that transforms your wallet into a smart wallet with the quickest card access out there.
FATHER'S DAY SALE: Get 30% OFF EKSTER SITEWIDE (Up To 40% OFF Bundles) and a FREE Tool Card With Orders $100+!