So you've already done socks, whiskey, and golf gag gifts, but what else is there? Father's Day can be a tricky one.
Our editors have been searching for the perfect gift for any Dad, and we think we've found a crowd-pleaser: The Eksterwallet. We know what you're thinking. Your dad already has a wallet... Why would he need a new one? Well, when you read about the features the Ekster wallet has, you'll see what we mean.
For starters, the Ekster wallet is super high quality. It's made from the finest hand-crafted sustainable leathers available. It may look small, but you can hold 7 cards in it, and the strap can be used for cash. Since there's not much room for coins, it's a great way to go cashless - after all, most of our time is spent online, and we're just not into being out and about with a heavy wallet full of cash and coins anymore.
The wallet is slim and super sleek. Starting at 0.15 inches (0.38cm), this is officially the slimmest smart wallet on the market.
Every dad loves gadgets, and Ekster smart wallets have some cool tech features that any dad would be impressed with. Click the trigger and all your cards pop up for easy access. It's super convenient - no awkwardly searching for the right card at the register.
One of the most useful features is its tracker card. Ekster wallets have a solar-powered tracker card that only needs 3 hours of sunlight to last for 2 months, and allows you to ring your phone or wallet when you lose it. You can even track it on a map! So your dad won't ever have to worry about misplacing his wallet (again).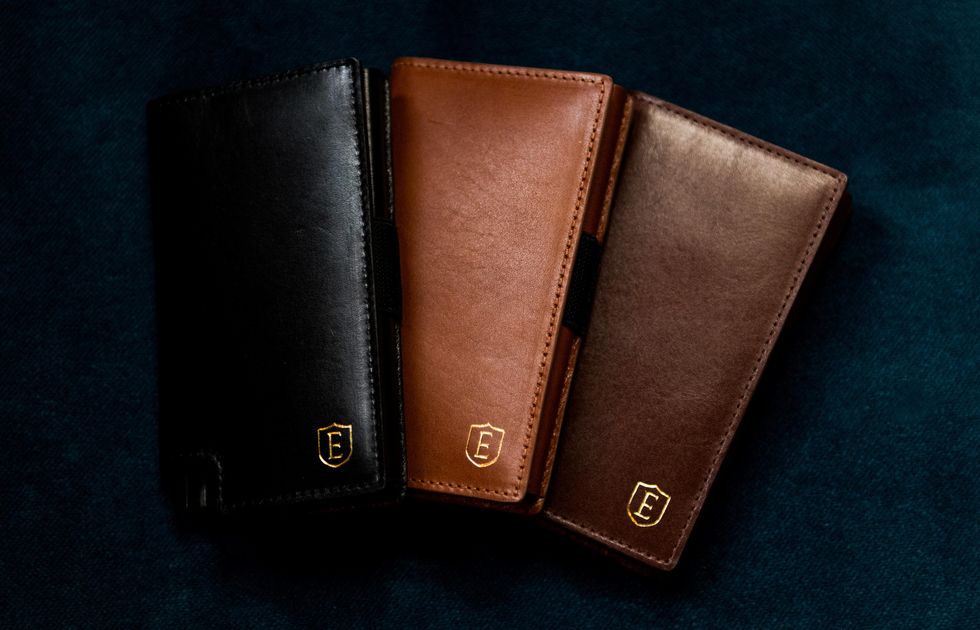 Ekster wallets even protect your cards from electronic theft with built-in RFID protection. This stops electronic pick-pockets swiping data off your cards and stealing from your bank account.
Plus, you can use the tracker card to take fun selfies on your phone, and you can even connect the wallet to your Google Assistant, Amazon Alexa, or Siri, and make the wallet voice-activated, so you can find it totally hands-free.
Considering it has all these amazing smart features, the Eksterwallets are surprisingly affordable, starting at just $69. You can just imagine all the fun your Dad can have with this wallet! Plus, it's convenient, safe, and high-quality.
BONUS: Meet the Milled Parliament - a limited edition Father's Day edition of Ekster's best-selling smart wallet. Why will dad love it? This wallet comes with a complimentary dad-joke generator so he'll always have enough ammo.
All types of dads are gonna love this wallet, so if you want something that's practical and attractive, this is the "it" gift. Did we mention each wallet comes with a complimentary dad joke generator? Treat Dad Today to an Ekster wallet!
FATHER'S DAY SALE: Ekster is giving 30% OFF SITEWIDE (Up To 40% OFF Bundles) and a FREE Tool Card with orders $100+! Follow This Link To Shop Before They Sell Out!