Every bill comes on a different day. You have your weekly groceries, Netflix at the beginning of the month, bills towards the end of the month, and other random subscriptions right in the middle. It is hard to keep saving just to make sure you never run out of money before your monthly salary comes in.
We all know the feeling of barely scraping together enough change to pay for drinks the night before payday, but we need not worry about that anymore.
Our editors looked through financial apps that would help you receive advances from your paycheck - basically, a loan that you would pay back once you receive your check.
We found Earnin, Dave, and Brigit. We tried each of them and decided which one we should stick with. Read our review below to see which one comes out on top.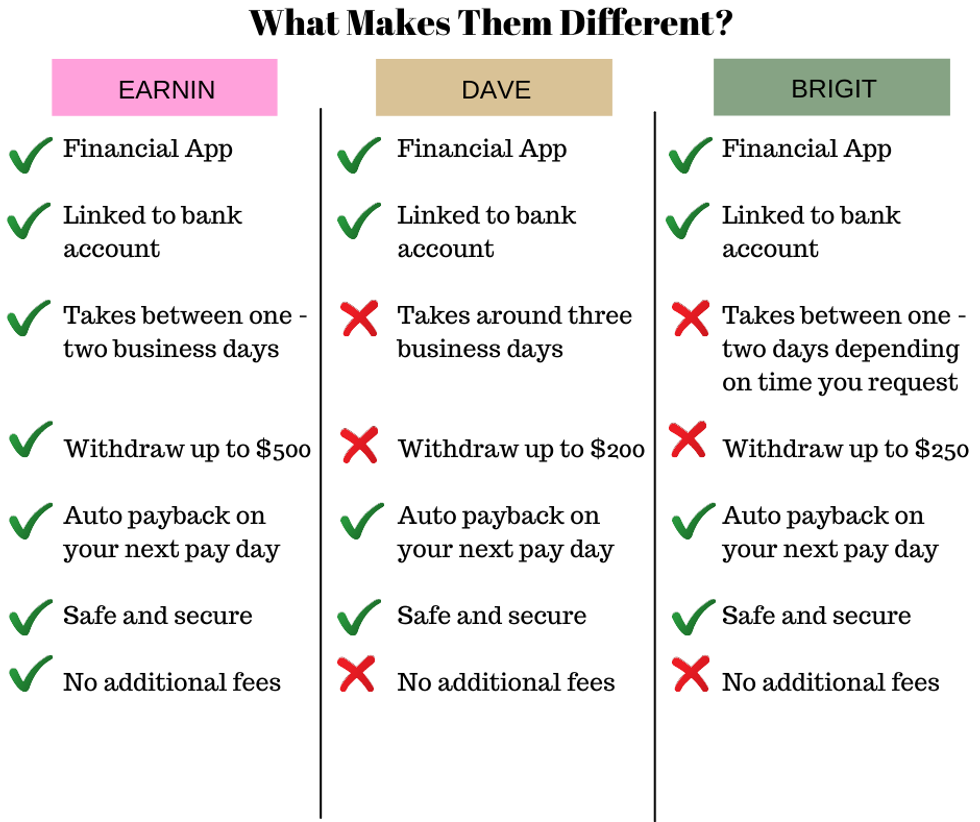 Earnin Overview:
Earnin is an app that lets you withdraw up to $500 per pay period,* which can also be withdrawn daily at $100. Earnin tracks your hours worked — using either a timesheet or tracking your location and gives you the ability to access the money you have earned earlier.
All you need to do is download the app, enter your employer information and link the app to your bank account (preferably the one your salary enters into). It usually takes one to two business days unless you sign up for the Lightning Speed feature.
Once everything is verified, the money hits your account within minutes.** Although Earnin doesn't charge fees, you have an option to tip the community anywhere between $0-$14. Earninwithdraws the cash you have borrowed on your next payday; it is not a loan. The site is entirely safe, secure, and your employer is unable to see that you are withdrawing your money earlier. The app also has a feature that notifies you when your bank balance is low and gives you the option to top it off for free.
Dave Overview:
The Dave app gives users an advance of $200 on their paychecks which helps them cover small expenses like groceries or gas. There is no overdraft, no minimum balance fees, and no ATM fees from 32,000 MoneyPass ATMs.
It takes about three days to get your money, but if you pay the additional express fee ($1.99 to $5.99 depending on your account), you can receive it within eight hours. They also have a $1 monthly subscription fee and an optional tip option. Their accounts are all protected with banking-level security, and their automatic budgeting feature shows you exactly where you spend your money.
Brigit Overview:
It is mainly a budgeting app that allows you to gain financial help, insights into your finances, and overdraft notifications. With their paid membership that costs $9.99 a month, you are eligible for advances; these advances depend on your credit score (which varies based on how much you earn and spend), and according to that, you can receive between $50 to $250.
Brigit will not let you take out another advance until the previous one is paid. You can extend your repayment date in the app, but only once for every two advances you pay back. They give you all the tools you need to stay on top and understand your spending habits. Brigit also covers you with up to $1 million with identity theft protection if you ever experience a data breach.
Final Verdict:
Out of all these three banking apps, we have found that Earnin is the best of the bunch. It gives you access to the highest amount of money and enables you to do that at the cheapest value (an entirely optional tip).
The app has everything you need to help you keep your finances in check. It's focused on enabling people to access and save the money they've already earned in a way that empowers them. Our editors agree that Earninis the best, and if you need help paying your bills on time, then Earnin is here for you.
*Restrictions and/or third-party fees may apply, see Earnin.com/TOS for details
**Lightning Speed may not be available to all Community Members.
Cash Outs may take up to thirty minutes, actual transfer speeds will depend on your bank connection.
Restrictions and/or third-party fees may apply, see Earnin.com/TOS for details