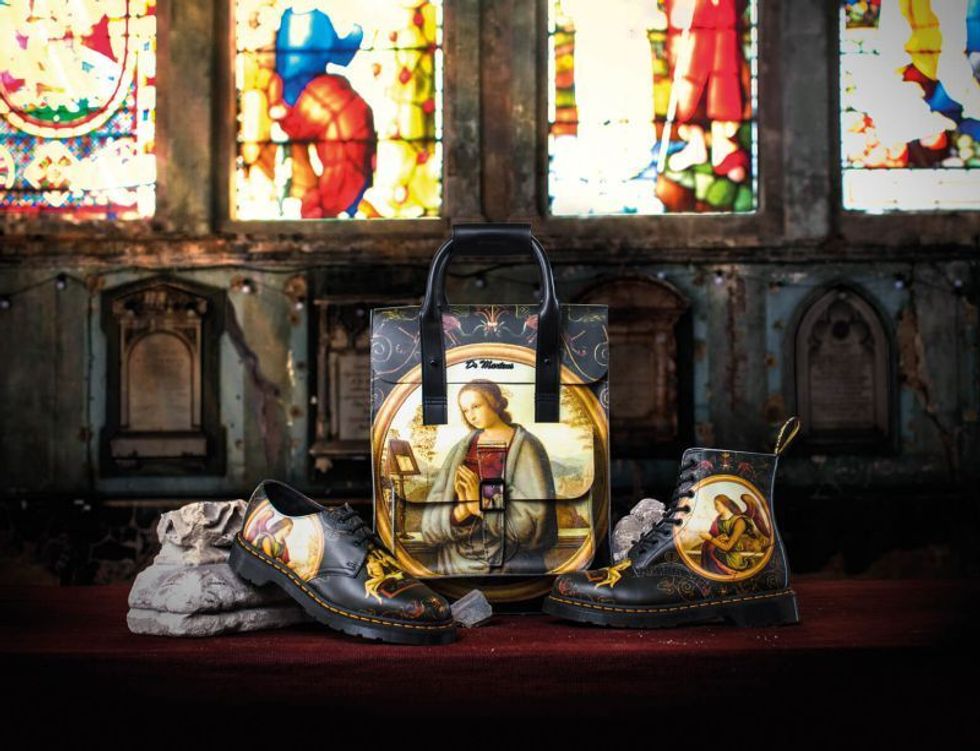 Art Historian-Chic: Doc Martens' Museum Collection
This fall, look like you know your way around a gallery.
It's
been
fall, and winter is nearly upon us. For the fashionistas out there, your time has come: break out the scarves, sweaters, and boots that have been collecting dust at the bottom of your closets. The last of these items is perhaps the most important—wearing sandals in this weather is probably a poor choice, anyway. Most of us look for durability and good quality in our boots; good leather always looks good.
Doc Martens
knows this, building a powerful brand on both the sturdiness and style of their footwear. For the bold, Doc Martens have never disappointed.
For the boldest (and artsiest) among us, they've raised the bar yet again.
This fall, Doc Martens' celebrated
Museum Collection
added Giannicola di Paolo (or Giovanni di Paolo, accounts differ) to their repertoire of designs in the form of a new
Pascal boot
($150) and a
1461 shoe
($140), as well as a
stylish leather backpack, two shirt designs, and a scarf
. The sleek shoes are emblazoned with the image of Di Paolo's
Annunciation
, with the Virgin Mary staring languidly at the Angel Gabriel, who offers her a lily. The tops of the shoes are decked out with Renaissance cherubs. Combine the muted golds and scarlets of the work with the black backdrop of Doc Martens' quality leather, and these shoes add color and class to any look. These are best worn with an all-black ensemble, and with the days getting shorter this is a good go-to outfit.
If you're not about religious imagery on your person, the other boots in the Museum Collection have more than enough to offer: opt for fellow Italian Renaissance painter Biagio D'Antonio's design,
The Triump of Camillus
or 18th century English painter William Hogarth's
A Rake's Progress
. For the extra adventurous, look no further than the Bosch Pascal boot, designed in the hellish image of Hieronymus Bosch's iconic triptych
The Garden of Earthly Delights.


Whether early surrealist Danes or Italian Renaissance painters are more your style, these boots combine the badass with the classical. This fall, strut the halls of your local museum looking like you can tell a
Dalí
from an
Ernst
, or at the very least like you know you have the best shoes in the room.