Over the years my skin hasn't been picture perfect. In high school, I suffered from acne and just didn't know how to take care of my skin. As I've gotten older some of the issues have cleared up on their own but I'm realizing not everything will.
Family members have always tried pushing their own skincare products on me. I will say, though I didn't like the really pink packaging or some of the sweeter scents, I discovered taking care of my skin did make a difference. Now that I'm getting older there are new problems with my skin but this time I'm ready to tackle them right off the bat.
However, I set out to find something that would help and be made for my specific male-skin issue. That's when I discovered Disco.
Discowas the first brand I came across that was made to actually address men's skin issues. Their products looked simple, all-natural, and something I could see myself using. I decided to give it a try and get skincare made by a guy, for a guy. The best part though was that he even explains how to use it ALL: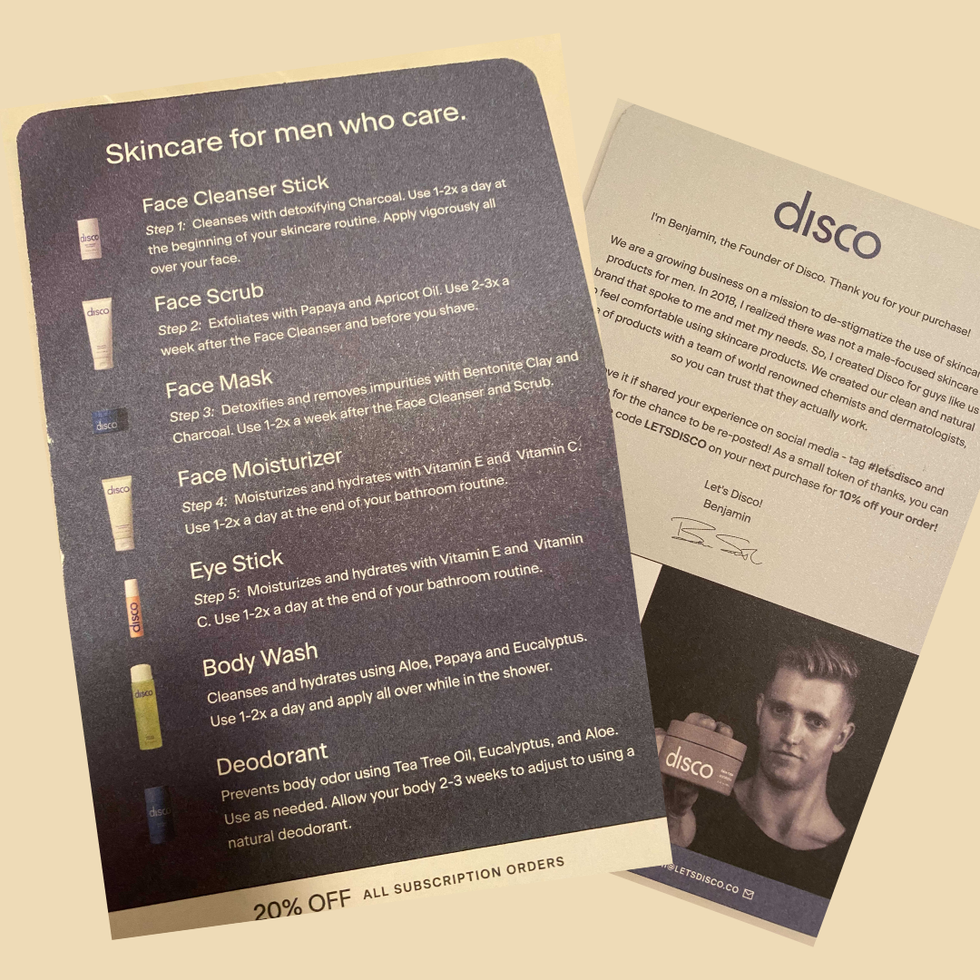 Eye Stick ($24 3-month supply)
I never realized how dark those circles under my eyes were until I started using Disco's Repairing Eye Stick. All I have to do is roll it on underneath my eyes in the morning - simple. It contains caffeine to reduce puffiness and minimizes dark circles. Now, if I'm up late working and then rising early with the family, I won't look as exhausted as I may feel.
Face Scrub ($22 3-month supply)
Exfoliating is never something I talk about with the guys but Discoshowed me it's amazing and helpful for my skin. The Face Scrub is so easy to use; all I do is dampen my face, gently rub on the face scrub for 30 seconds and then rinse it off. I use it 1-2 times a week before I shave to help prevent razor burn. This is a major game-changer after years of trying different shaving creams and razors; who knew simply exfoliating would make all the difference?
Face Mask ($44 3-month supply)
Disco's Purifying Face Mask completely changed how I viewed face masks. I can apply it all over my face or just the areas I need it, leave it on for 10-20 minutes, and then rinse it off. And it's not a daily routine, just 1-2 times a week.
This mask is perfect for absorbing all that extra oil my skin still has and helps draw impurities out as well. The best part is that it's great for skin rejuvenation and at this point, I know I need the help and I'm not afraid to get it.
Plus, Disco uses ingredients to help with anti-aging (which I'm definitely embracing).
I finally have a skincare routine that works for me, thanks to Disco. Their products are easy, straightforward, and work with my lifestyle. I don't have to settle for OK skin now, but most importantly I can start looking as great as I feel!
Disco breaks down skincare to just the essentials, so now my skin is healthy, and I can keep it that way. On top of that, Disco's affordable and you can get 20% off when you subscribe to get a 3-month supply delivered every 3 months. You don't even have to go anywhere to make this change.
As a guy who knows what it's like to struggle with their skin, trust me - it's never too late to start taking care of it. Just try Disco.