If you don't suffer from migraine, count yourself as one of the lucky ones. These headaches can appear out of nowhere or creep up for days, and completely throw out your schedule as you fight back excruciating pain.
Thankfully, there are helpful resources. There are a plethora of different options and medications that can tackle your unique situation other than advil or tylenol for migraine. Whether you have something that works or are just beginning your journey to combatting migraine, there are multiple ways to access what you need.
There's the good ol' drugstore, but there are also new methods, like Cove and Nurx that deliver medication right to your door.
To make the process easier, we tried out everything to see what works best. Here's what we found.
Key Similarities
All allow you to browse multiple options and pick what you think is best
All deliver to your door
Key Differences
With OTC, you don't need a prescription or a doctor to pick something up. With Cove and Nurx, you may be required to speak to a professional first
Nurx does not treat cluster headaches
Cove and Nurx both provide access to follow-up care
Drugstores don't offer prescription options over the counter
Cove
Cove is a telemedicine company that's dedicated to migraine care. They offer an extremely wide range of options, including generic and name-brand medications. Cove doesn't just provide emergency migraine medication - they offer preventative medications as well as specially curated supplements. Their nutrient-packed Beam supplement dissolves in water, and you'll find plenty to browse.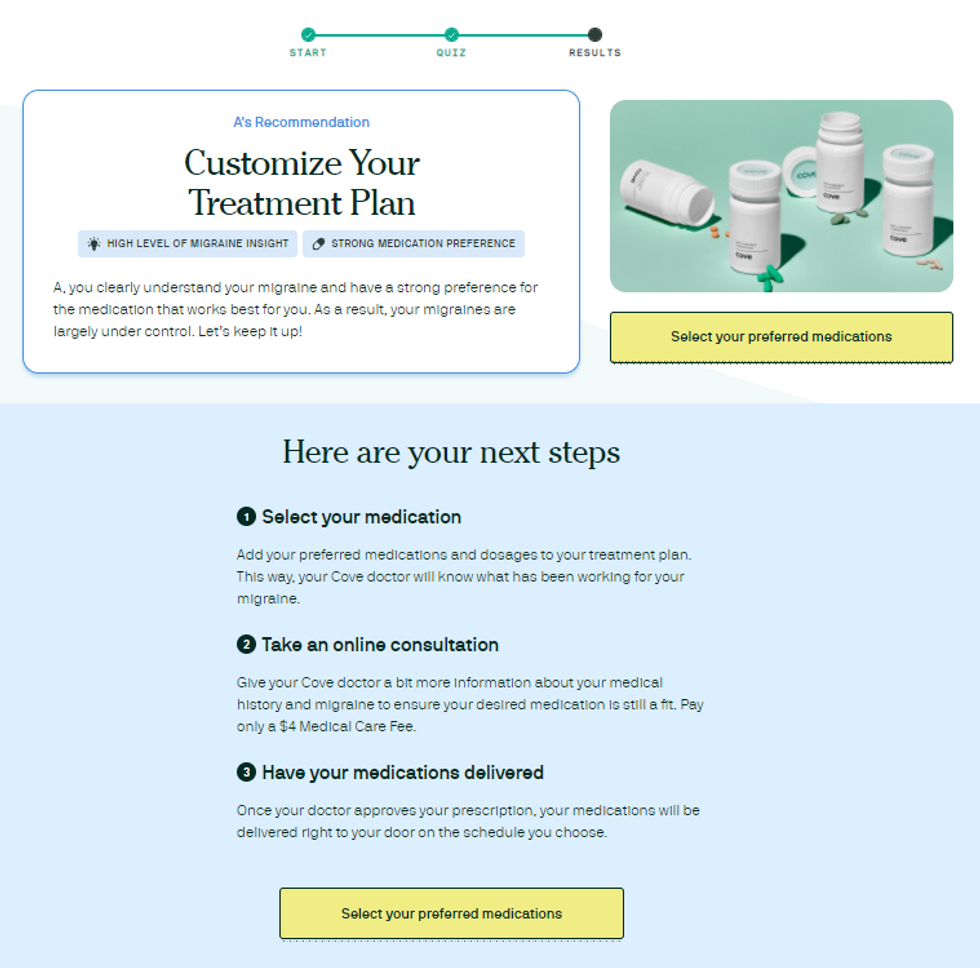 If you already know what works best for you, you can skip to the end of their migraine quiz and get it delivered. You'll get access to one of their migraine specialists for your consultation and you'll be presented with all pricing information before you commit to a purchase.
Their website is super easy to navigate, and we have to say we're a fan of their customized bottles.
Nurx
Nurx is a telemedicine hub for all types of things, from birth control pills to rosacea treatment to STI testing. They offer a similar service to Cove, though there are a few key differences.
They're transparent about medication pricing, but they don't have the holistic supplement options that Cove offers, Nurx has a much smaller pool of medications to choose from, and Nurx does not treat cluster headaches.
We do like that your neurologist will follow up with you twice a year if anything's changed, but with Cove, you have 24/7 access if you have questions or want to change your plan at any time.
We also aren't clear if Nurx's neurologists specialize in migraine, but Cove's do.
OTC
The unique option with over-the-counter treatment from drugstores is that you can try everything, if you need to. Advil Migraine, Excedrin Migraine, Motrin Migraine, and more are available to you. Your pharmacy may even have a delivery option and if you collect coupons, there are plenty of discounts.
...But does Advil help migraines? If nothing works, it doesn't matter how convenient it is. At pharmacies, you're not going to find a wide variety of migraine-specific products, and once you include generic versions, you've got a very limited supply.
Final Notes
For migraine, it pays to seek out specialty care. For regular headaches, OTC may be fine! When migraine comes with debilitating pain, nausea, and other issues, you usually want something a little stronger or more targeted than Advil, which is why Cove and Nurx are better options. Between the two, we're endorsing Cove.
Cove has a wider range of medications than Nurx and specializes in migraine, whereas Nurx is still known for birth control. Cove also has over 20 different migraine options and 24/7 access to leading migraine specialists, unlike Nurx which only clarifies that their experts are neurologists.
Check out Cove now for migraine relief.