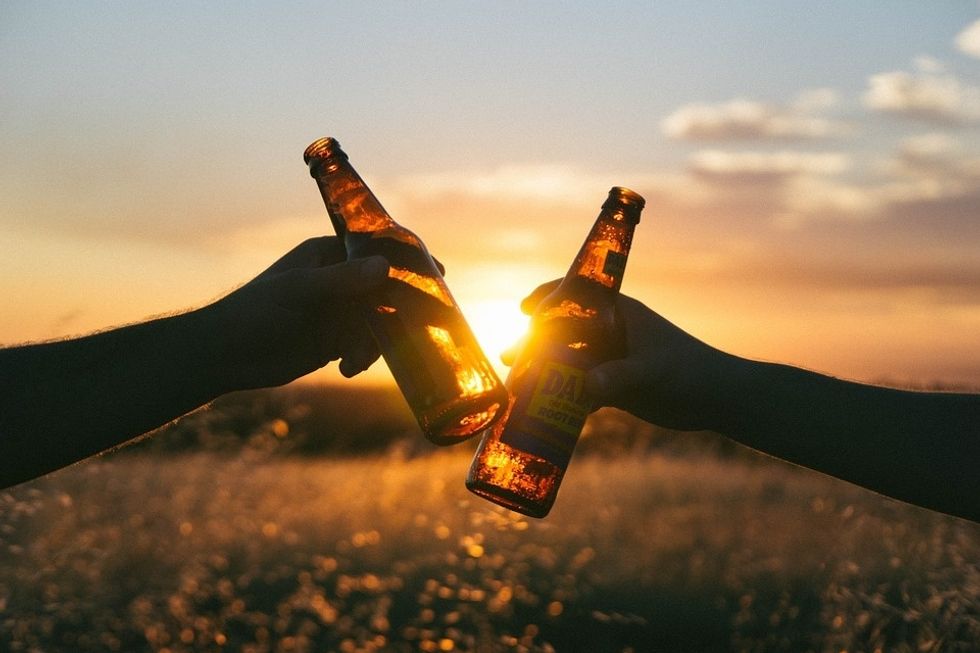 Bottoms up to a tall glass of beer and all that goes with it!
Do you have a friend who thinks nothing is better than an ice-cold beer? They deserve a gift that is worthy of their beloved beverage, and these nine nifty selections will have them saying "cheers" to you!
Personalized Growler Crate from Man Crates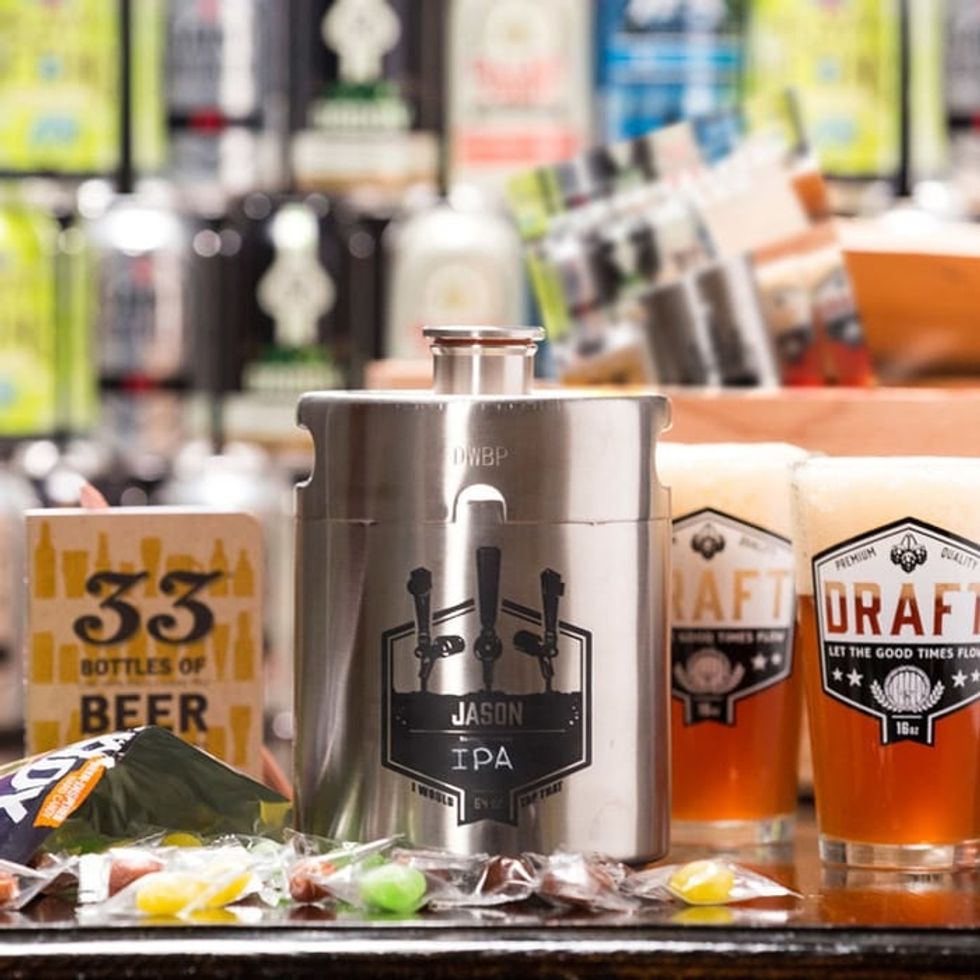 Via mancrates.com
Every beer-lover needs a nice big 64-oz. growler to hold their brew, making it a mini-keg for the ages. But this growler doesn't come boxed on its own, it is part of Man Crates' Personalized Growler Crate which carried even more beer-related stuff that's aimed to please the palate and personality of those who truly love beer. The glorious growler is personalized with the recipient's name and it comes with two classic pint glasses, a white chalk pencil so they can write down what's in the growler, 33 Bottles of Beer Book for logging notes about beers consumed, and Brew Candy – beer-inspired hard candy. With so much beer-loving fun, this crate is simply great!
Cost: $79.99
Cali Craft Sampler Gift Basket from The BroBasket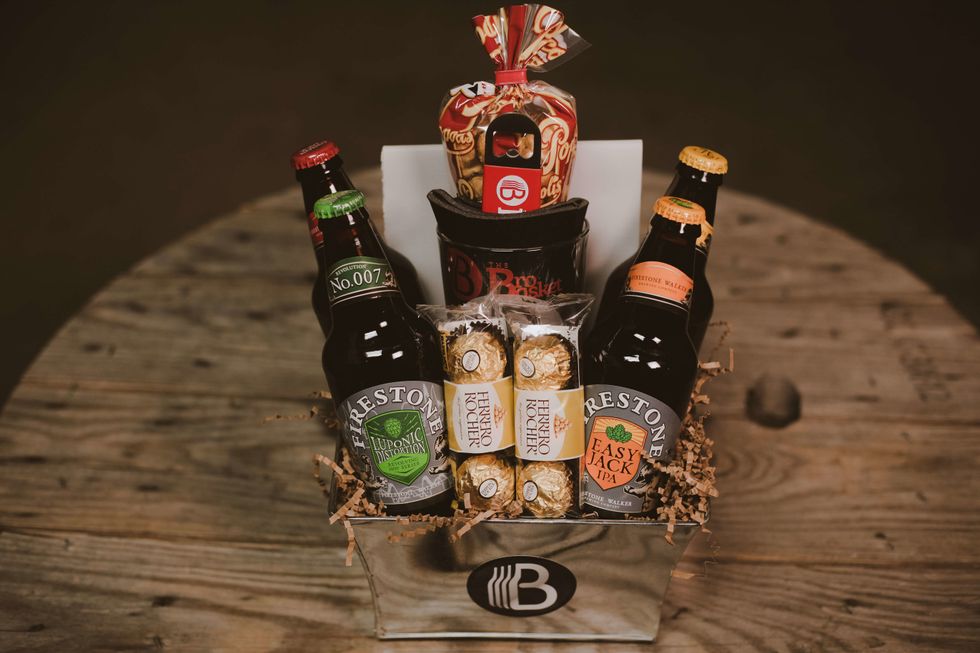 Via thebrobasket.com
Why try just one beer when a choice of four is so much more exciting? With the Cali Craft Sampler Gift Basket from The BroBasket, a tin of beer-themed goodies is there for the taking. Filled to the brim with gourmet flavored popcorn, tempting hazelnut chocolates, a pint glass, a bottle opener, and a variety pack of 12-oz. bottled California beers, this attractive tin basket makes for a cool gift for the bro in your life who is all about the beer. BroBasket chooses the beer selections or you can create your own specialized variety pack. Add a personalized message for that extra touch and say a toast to good friends and good drinks.
Cost: $49.95
Belgian Beer Filled Chocolates Gift Set from The Vermont Country Store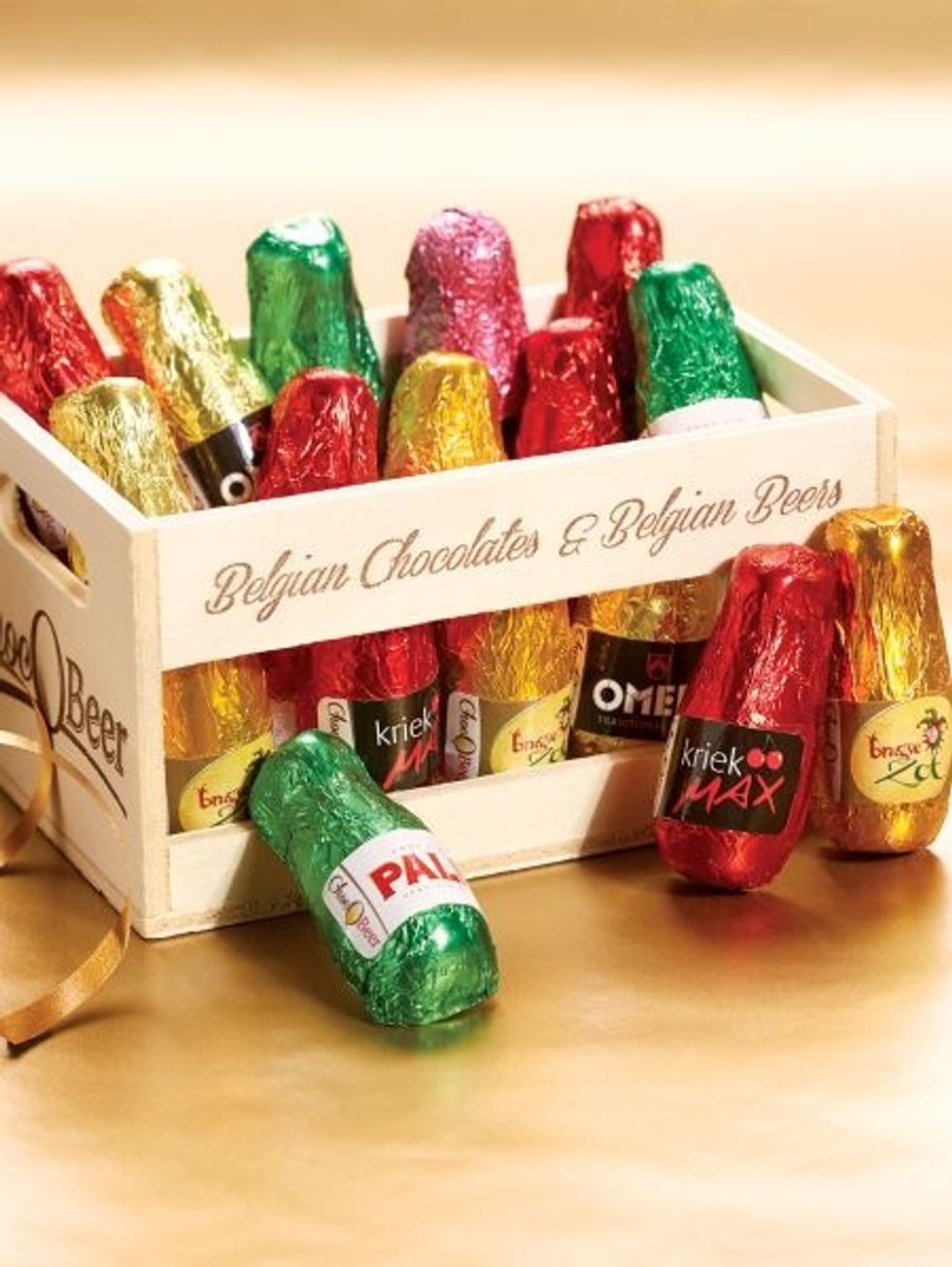 Via vermontcountrystore.com
For the beer-lover who is crazy for chocolate too, Belgian Beer Filled Chocolates from The Vermont Country Store will have their taste buds in a tizzy. Beer bottle-shaped hollow chocolates filled with beers including Traditional Blonde, Amber Beige, Fruit, and Kriek, are packed inside an adorable wooden crate, 16 bottles in all. Each sweet beer-filled treat is individually wrapped… but not for long! These make for a delicious after-dinner sweet or an anytime snack for the beer-lover with a serious sweet tooth.
Cost: $7.98
Brooklyn Brew Shop Beer Tasting 4 Piece Set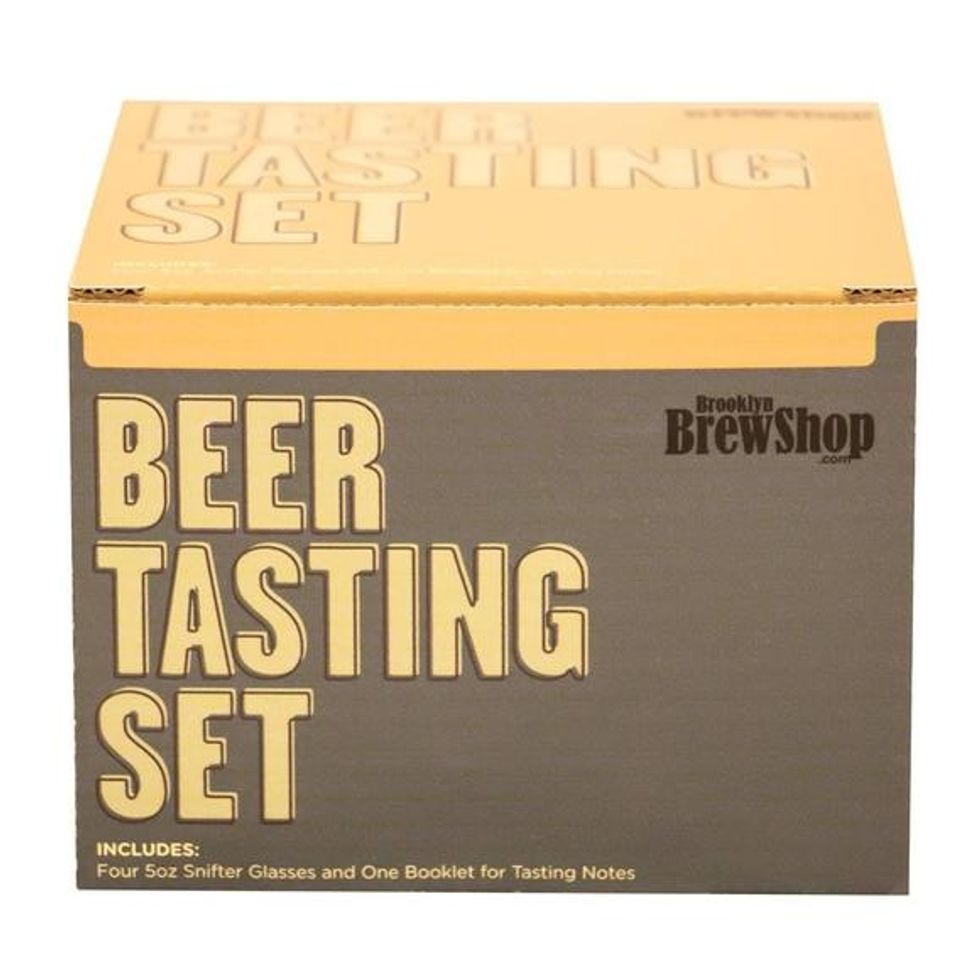 Via brooklynbrewshop.com
For the beer connoisseur or even a beginner, a tasting set makes for a nice gift to sample brews and do it well. Go for the Brooklyn Brew Shop Beer Tasting 4 Piece Set and see how the 5-oz. snifters make all the difference in taste and overall drinking experience. The set comes with a Beer Tasting Notes booklet with tasting instructions, along with four tulip tasting glasses. Become a beer expert with the right vessels for smart and savvy sipping.
Cost: $20.00
Leather Beer Tasters Log Book from Rustico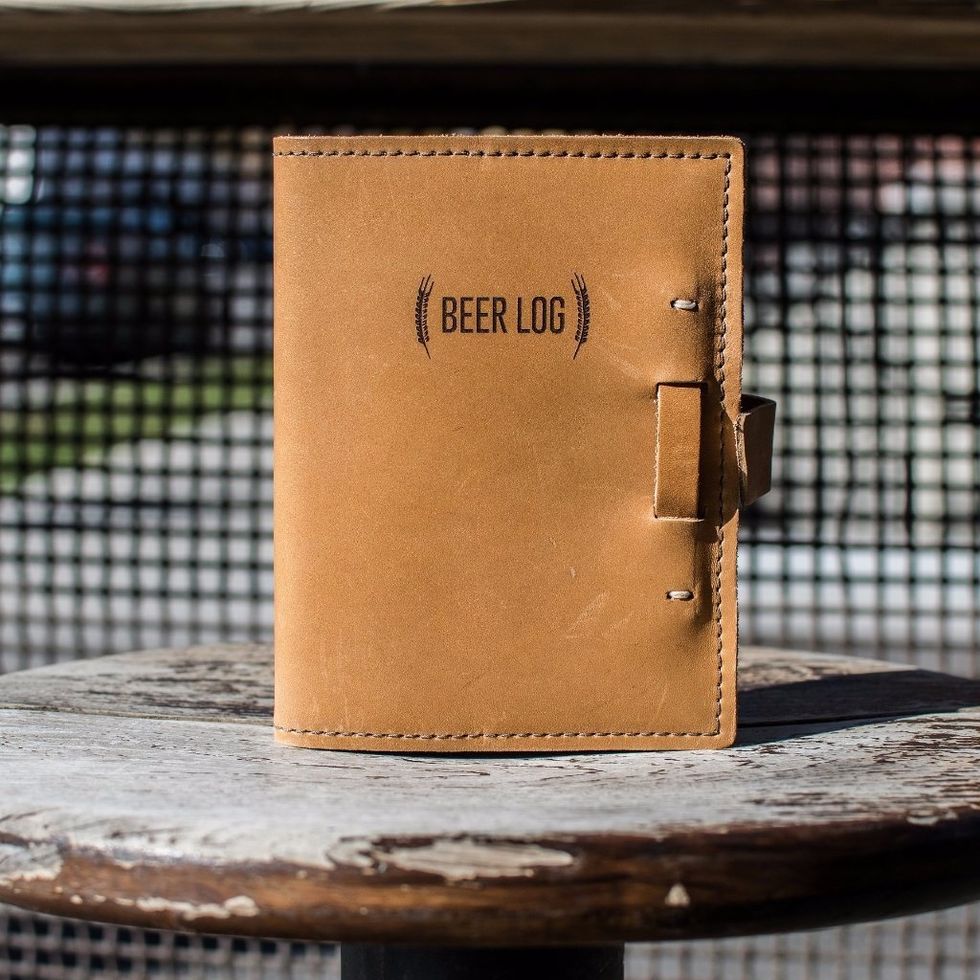 Via rustico.com
For the beer-lover who loves to log their lagers and keep diary entries of their draughts, here's the gift that's just write for them. The Leather Beer Tasters Log Book from Rustico is sophisticated and stylish, perfect for taking notes about beers from bars, restaurants, trips, and other places for sips. The leather-bound entry book comes in a variety of colors like black, dark brown, saddle, buckskin, stone, and charcoal, has a cool buckle closure, and it is refillable for endless entries.
Cost: $44.00 (personalize for an additional $12.00)
Handbrewed All-Natural Beer Soap – IPA from KegWorks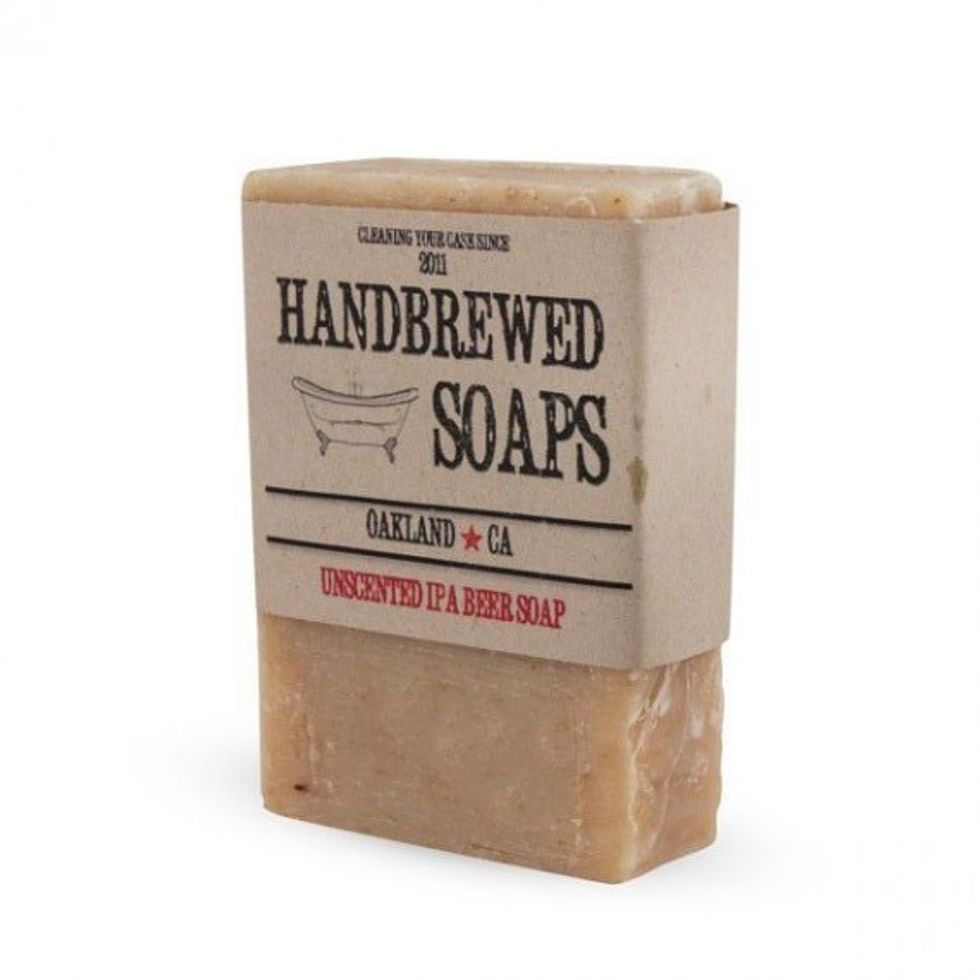 Via kegworks.com
If you know someone who loves beer so much they'd bathe in it, now's their chance. KegWorks' Hand-brewed All-Natural Beer Soap is beer for making bath time so much fun. Crafted in small batches in California's Bay Area, this soap is made of olive, coconut, and palm oils, ground hops, and homebrewed IPA. Fragrance- and chemical-free, this unique soap will exfoliate, cleanse, and soften skin. After washing with the goodness of beer, suit up and toss one back!
Cost: $6.49 for one bar
Go Pro Small Batch Beer Brewing Kit from Northern Brewer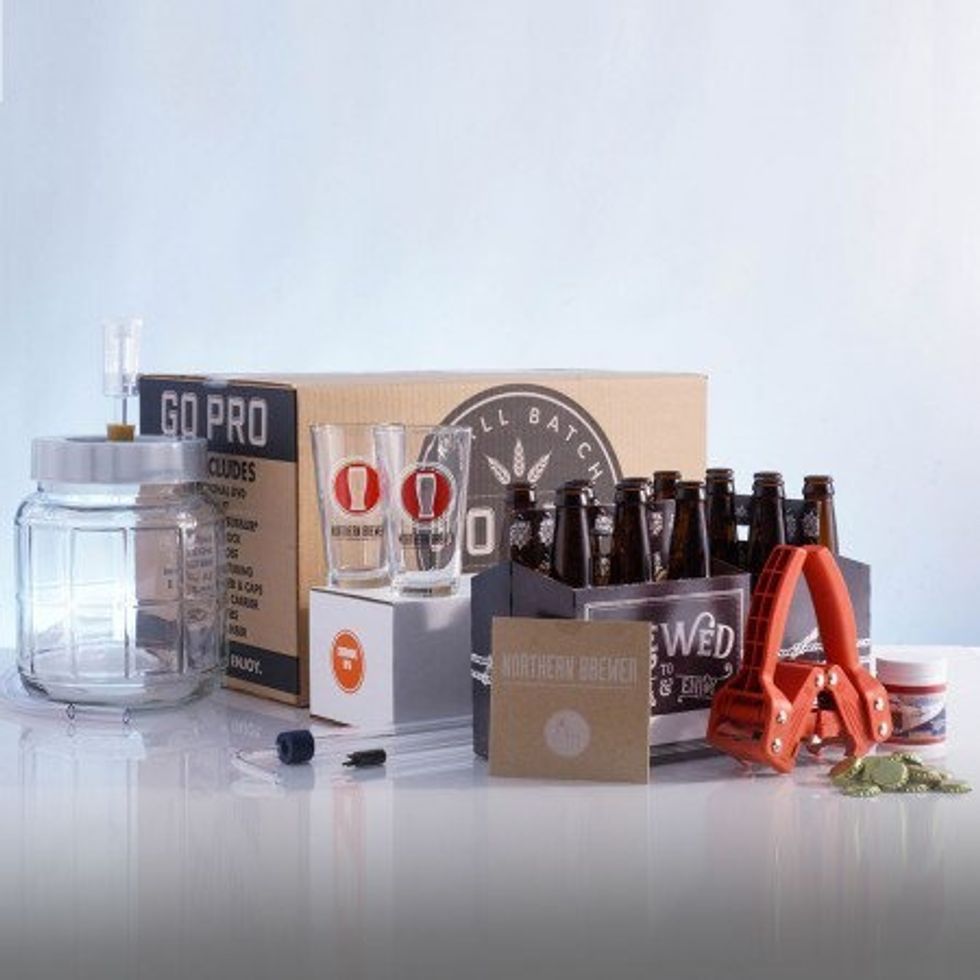 Via northernbrewer.com
We've all heard of BYOB, but what about MYOB… as in make your own beer? The Go Pro Small Batch Beer Brewing Kit from Northern Brewer comes with everything needed to make delicious beer at home, along with 12 beer bottles, two pint glasses, and instructional DVD, and an IPA recipe kit. This will be the gift that keeps on giving as your recipient brews up new beer creations time after time. Hopefully they'll save a bottle or two for you!
Cost: $69.99
Tickets to NYC Craft Beer Festival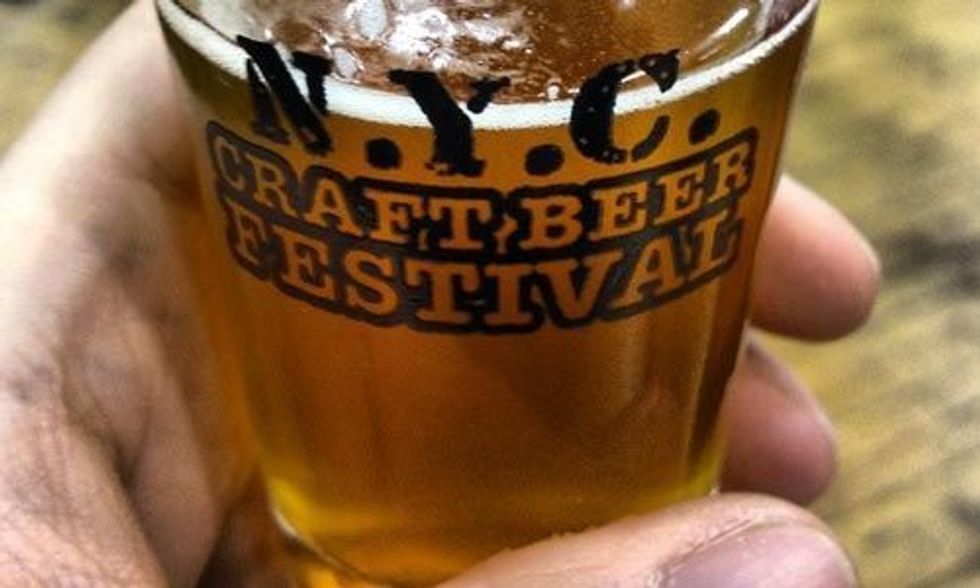 Via nyctourist.com
Get festive at the NYC Craft Beer Festival held April 20th-21st at Metropolitan Pavilion in Manhattan. General admission tix will give way to the "Beer Hall" filled with 150 craft beers from 75 breweries, craft spirits, a souvenir tasting glass, food vendors, shopping, and unlimited tastings. Go for the VIP experience in the exclusive VIP loft with unique craft cocktails, an extra hour of tastings, an oyster bar, special lounge area, an acoustic band, and more. For a special day out for the true beer-lover in your life, get tickets here.
Cost: $49.00 - $85.00
Beer-lovers will be so thankful for your thoughtfulness. Bottoms up to a tall glass of beer and all that goes with it!