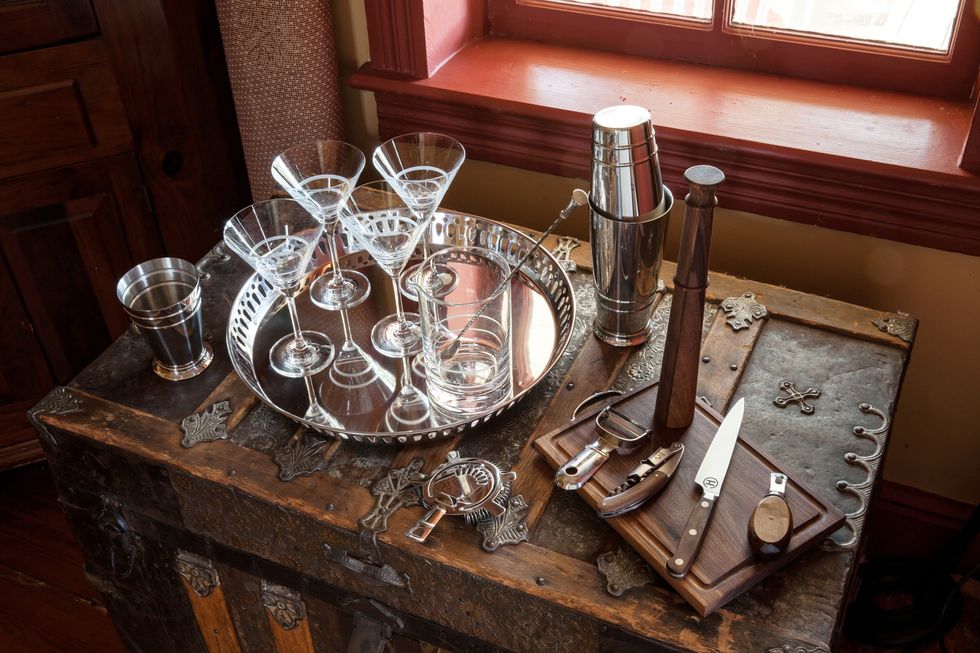 Cocktail Enthusiasts, Crafthouse by Fortessa® Will be the Best Gift Set of the Season
As a cocktail enthusiast, you know a thing or two about a perfectly mixed drink: it has a unique and balanced flavor profile, is served at the perfect temperature, and looks like a work of art. That's easy for your favorite bartenders, who can make five-star Manhattans in their sleep. While going out is always a good time, countless attempts at recreating Tom's Manhattan at your home don't compare. Well, you're in luck. World Champion bartender Charles Joly has just the thing you need this holiday season.
The Crafthouse by Fortessa® collection is a comprehensive line of bar tools and glassware for the aspiring mixologist. Joly has collaborated with industry leading designer and manufacturer of tableware, Fortessa Tableware Solutions, to create Crafthouse by Fortessa®—the bar collection that will raise home mixology to the highest level of masterfully crafted cocktails.
The collection includes the Boston Shaker, Jigger, Hawthorne Strainer, Muddler, Mixing Glass, Bar Spoon, Julep Strainer, Smash Cup, and something that you probably have never heard of: The Smoking Box™. This signature piece of the lineup features a chest for smoking cocktails and a smoking gun. Other great additions include the Channel Knife, Peeler, Bar Knife, Bar Board, Ice Scoop, and Ice Bucket. The Double Old Fashioned, Collins, Martini and Cocktail Coupe are made of Schott Zwiesel Tritan® lead-free crystal for durability and brilliance, and all the products are made in Germany and hand-cut in the USA.
Though the à la carte pieces are treasures for anyone's home bar, a set for everything you need—the core pieces to entertain and create authentic, balanced, and unforgettable cocktails at home is perfect gift for this holiday season.
1. The Shaker Set
The Shaker Set is the perfect set for creating great shaken drinks. It includes:
2-piece Boston Shaker—the bartender's choice for "waking up" your spirits.
2-ounce Jigger—the beak-shaped spout makes for precision pouring.
A muddler—with a rich black walnut finish and the perfect weight for smashing with confidence.
A Hawthorne Strainer—its heavy coil spring ensures that only good stuff goes in the glass.
Those are the tools you really need to get started. All of the stainless steel items are dishwasher safe. The muddler can be rinsed or hand washed with mild soap, and all wood maintained periodically with food-safe mineral oil.
2. The Mixing Set
The Mixing Set is everything you need to make stirred cocktails inside, and includes:
A Mixing Glass—the proper volume for delivering precise temperature, texture and dilution.
A Julep Strainer—the right tool for holding back ice and ensuring a smooth pour.
A Bar Spoon—the ideal shape and size for balanced stirring and micro-muddling.
2 Double Old Fashioned Glasses—the Schott Zwiesel Tritan® lead-free crystal glassware for serving up your cocktails.
These stirred, more spirit-forward cocktails are as popular as ever. The Mixing Set will be your next move, and all items are dishwasher safe.
3. The Bar Tool Set
This zest-infusing set includes:
Peeler—the professional's tool for making garnishes.
A Channel Knife—the specialty blade for creating artful twists and unlocking flavorful oils.
A Bar Knife—the go-to knife for preparing citrus, fruits, herbs and spices.
A Bar Board—sturdy, rich black walnut, and the ideal size for your cocktail prep.
The Channel Knife, Bar Knife, and Bar Board can be rinsed or hand washed with mild soap, and wood maintained periodically with food safe mineral oil. The Peeler is dishwasher safe.
Any of these sets can make the perfect gift for the entertainer who has everything. Thanks to the easy-to-follow videos by Charles Joly himself, making impressive cocktails at home can be fun and interactive. All of the items in the collection are equally as functional as they are beautiful, and can be used on more than just a special occasion. Joly wants the unique collection to last for generations and become an heirloom: "I wanted to create barware that people would look at 10 years or 50 years from now and want to use. This line is timeless and works. I hope people enjoy it for years to come."
Update: The Crafthouse by Fortessa® collection is now available at Williams-Sonoma! Follow this link to get the world class collection now at Williams-Sonoma.