A new beauty brand has just arrived in Canada, and our editors have given it their full seal of approval.
Canadian readers, meet Thrive Causemetics: a 100% vegan, cruelty-free, makeup and skincare brand. Founded in 2015, they've already made their mark in the U.S for being the beauty brand that gives back. Their ingredients are always formulated without harmful ingredients and clinically proven to work.
Many beauty brands not only contain harmful ingredients but do nothing to give to communities that need support. For each product purchased, they donate to help a woman thrive. One of our favourite initiatives is their $5 million commitment to their Bigger Than Beauty™ Giving Partners who work to combat root causes of systemic racism.
We know our editors have stepped up their skincare and beauty regimen in recent times, so we'd like to recommend our top 3 must-haves from Thrive Causemetics: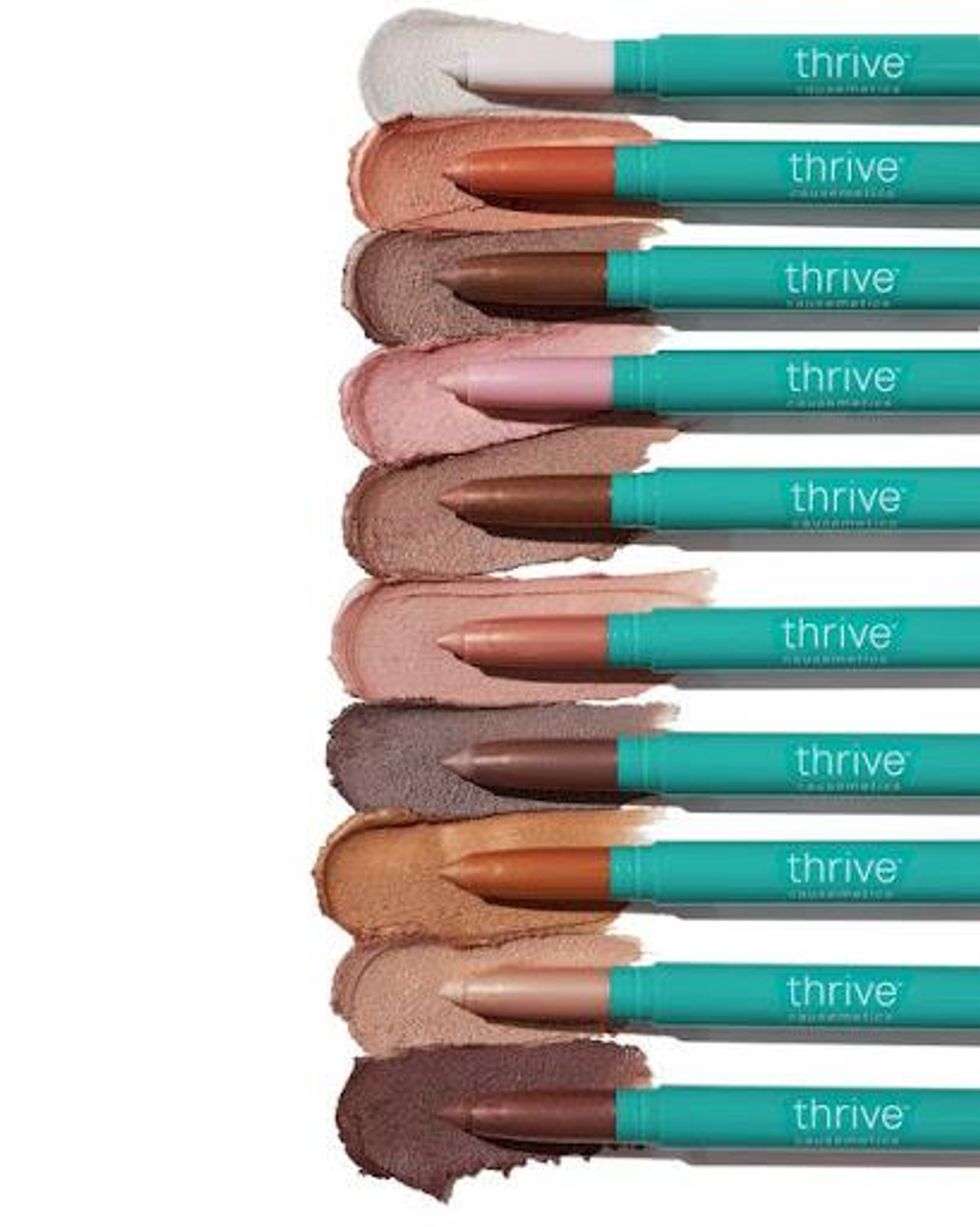 What It Is: A water-proof cream to powder highlighter for the eyes. Made with macadamia, meadowfoam, sunflower, jojoba, and mango seed oil – plus, vitamin E.
What It Does: Makes your eyes pop with instant brightening, while also hydrating and smooth fine lines around your eyes. Gives tired skin the look of an eye-lift with its Ring Light Technology™ providing a soft, diffused glow.
Price: $32
Our Thoughts: This is what we call a life-saver. While we still may feel tired in those AM meetings, we no longer look it thanks to Thrive Causemetics. It's super easy to apply and glides smoothly across our lids, in our waterline, below our brow bone, and of course those inner and outer corners. And it's true – this formula lasts all day with no creasing.
This brightener comes in so many colors that can be used in combination with many different skin tones. We've loved using it to simply highlight our corners, or taking it to the next level as an eyeshadow. And again we are obsessed with the good this makeup does to our skin. The ingredients here help smooth texture and fine lines through the benefits of antioxidants and hydration – not only do we see it but we feel it too.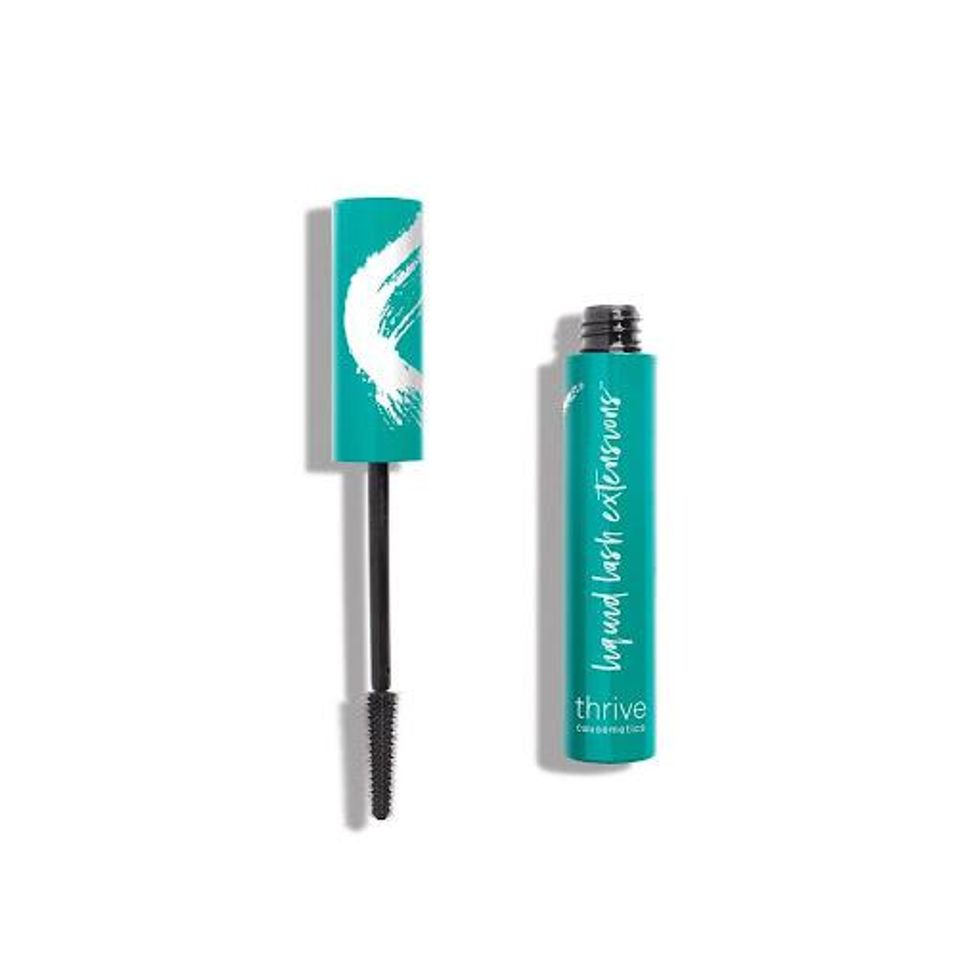 What It Is: A stay-all-day mascara, available in 2 colors, that gives lashes definition, length, and curl. Made with castor seed oil, shea butter, Orchid Stem Cell Complex™, and Youth B5 Complex™.
What It Does: Gives the look of fake extensions without the damage to your lashes or wallet. While giving a fuller, longer look it also helps to nourish, lengthen and strengthen lashes over time. Also makes the removal process easy, by coming off with just warm water and a washcloth. It leaves no streaks or stains behind!
Price: $32
Our Thoughts: We had to give the Allure Beauty Best Tubing Mascara of 2020 a try and we're so glad we did. Thrive Causemetics' revolutionary mascara is an upgrade your lashes deserve. Their Flake-Free Tubing Technology™ makes sure every single lash is covered giving our lashes that extra lift but also allows us to build without causing clumps.
We love using a bit to open up our eyes for our daily Zoom calls or really building it up for a more dramatic look. While we'd normally avoid mascara for daily use, there's no dreaded scrubbing at the end of the day with this one. Removal is so easy and it helps that this product does more than just make your lashes look good.
Lash care is actually happening when you wear Thrive Causemetics and after some time we noticed a difference – who would've thought we'd get healthier, longer lashes from using makeup.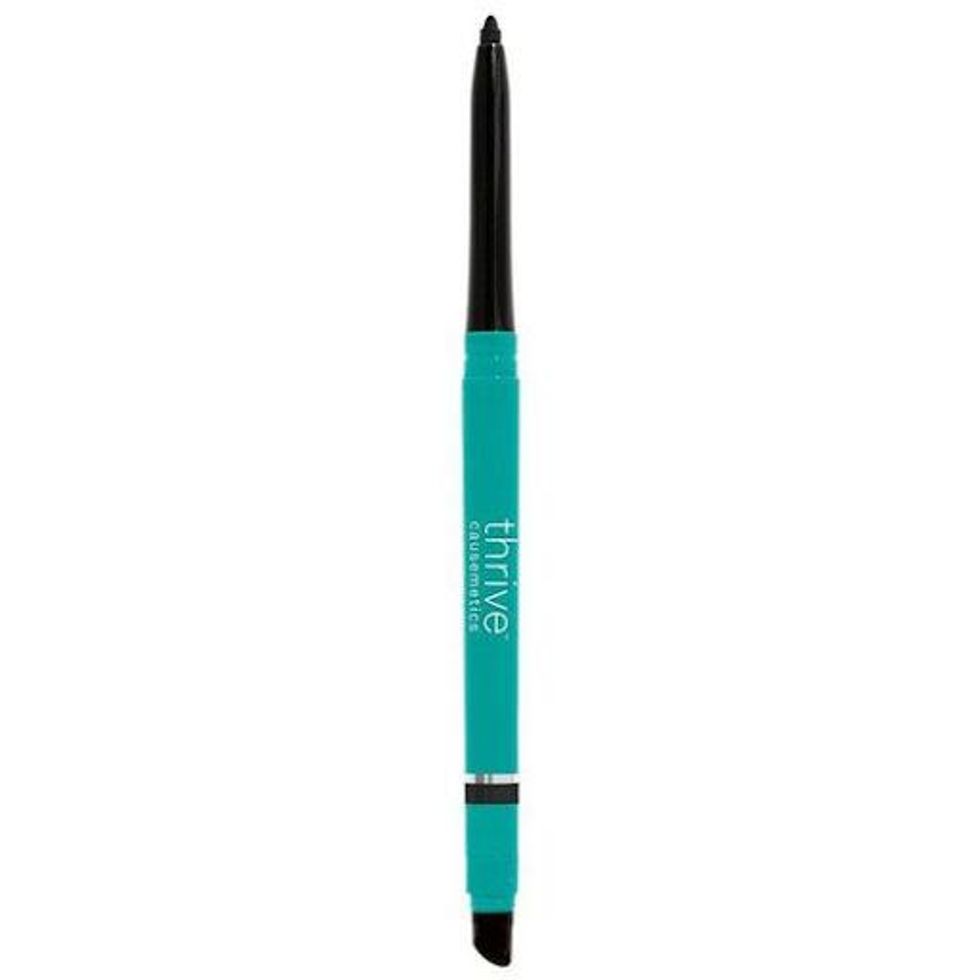 ​What It Is: A smudge-proof, no-budge, waterproof eyeliner for all-day wear. Made with shea butter, hyaluronic acid, and ceramides for strong, conditioned lashes and younger-looking lids.
What It Does: Using Semi-Permanent Micropigment Technology™, this eyeliner delivers a highly pigmented color that glides on smoothly. Brighten, define, and go–in just 30 seconds.
Price: $30
Our Thoughts: This eyeliner is essential. With 7 different colors available you can use it for a simple easy-to-use everyday look or a more elaborate one that you want to stay intact. The built-in sharpener makes creating fine lines easier than ever and the angle smudge tip lets you blend seamlessly without fumbling around for another brush.
Beyond the application, we trust this product. Eyes are sensitive and we haven't experienced any irritation with this hypoallergenic formula that's been dermatologist tested and approved.
And since we love applying to the waterline it's great knowing it's ophthalmologist-tested AND approved as well, proven to be 100% safe for those wearing contact lenses and gentle for eyes of all sensitivities.
Final Thoughts
Thrive Causemetics is the next big beauty brand in the market and has already made its name in the States. These products give you amazing quality at an amazing price. Plus, they now ship from Canada meaning shorter wait times, unlike other US brands.
Thrive Causemetics is worth it. We've never used a brand that benefits a good cause, delivers on their products, and completely surprises with the versatility of each one.
Trust us, you can't go wrong with Thrive Causemetics.