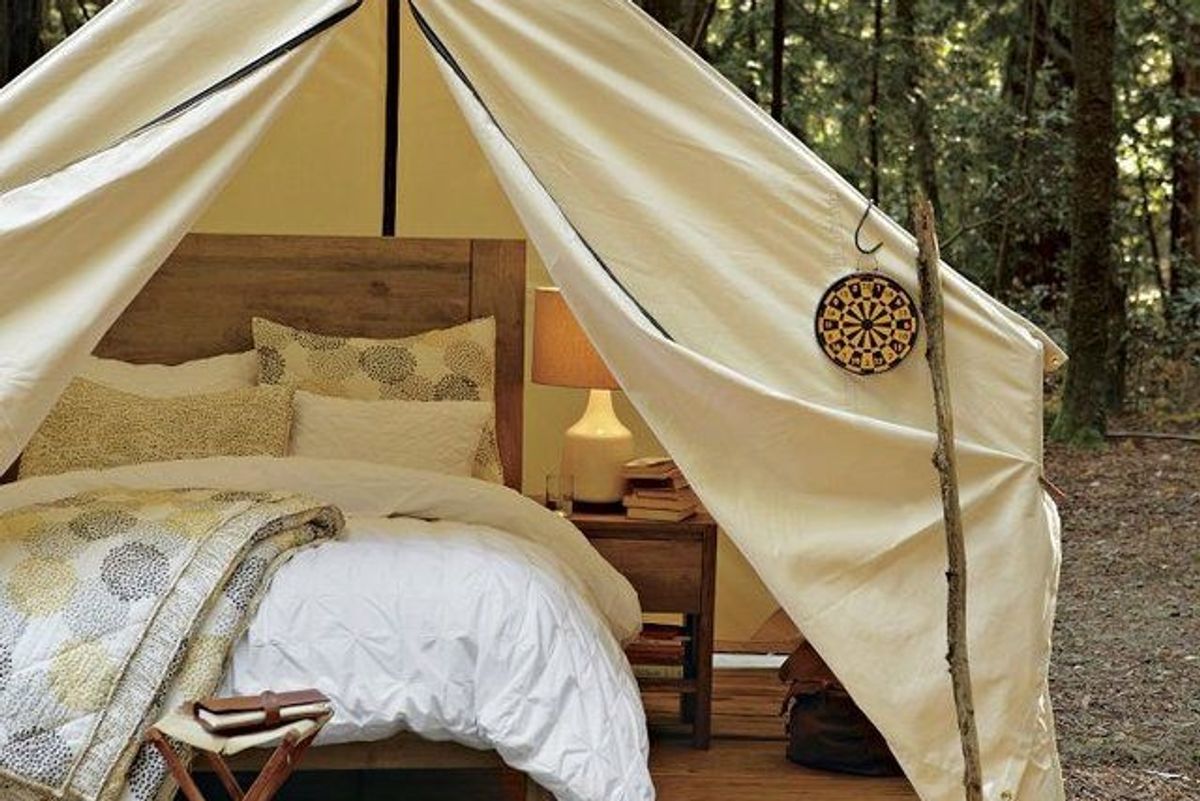 The best camping gear for comfort and luxury outdoors
You don't have to love the thrill of a sleeping bag under the stars to enjoy camping.
There are those whose favorite thing is to set off into the woods with nothing more than a towering backpack and a pair of boots, battling the wind to pitch a tent and fishing by hand in an icy stream. Then, there are those who'd rather watch Man vs. Wild from their air-conditioned living room and then lounge in the pool. You do you. But what if this latter person feels like they're missing that thrill and decides that they want to see what it's all about without giving up on real food and a hot shower? Just for that person, here are the best tools and equipment for camping in comfort and luxury.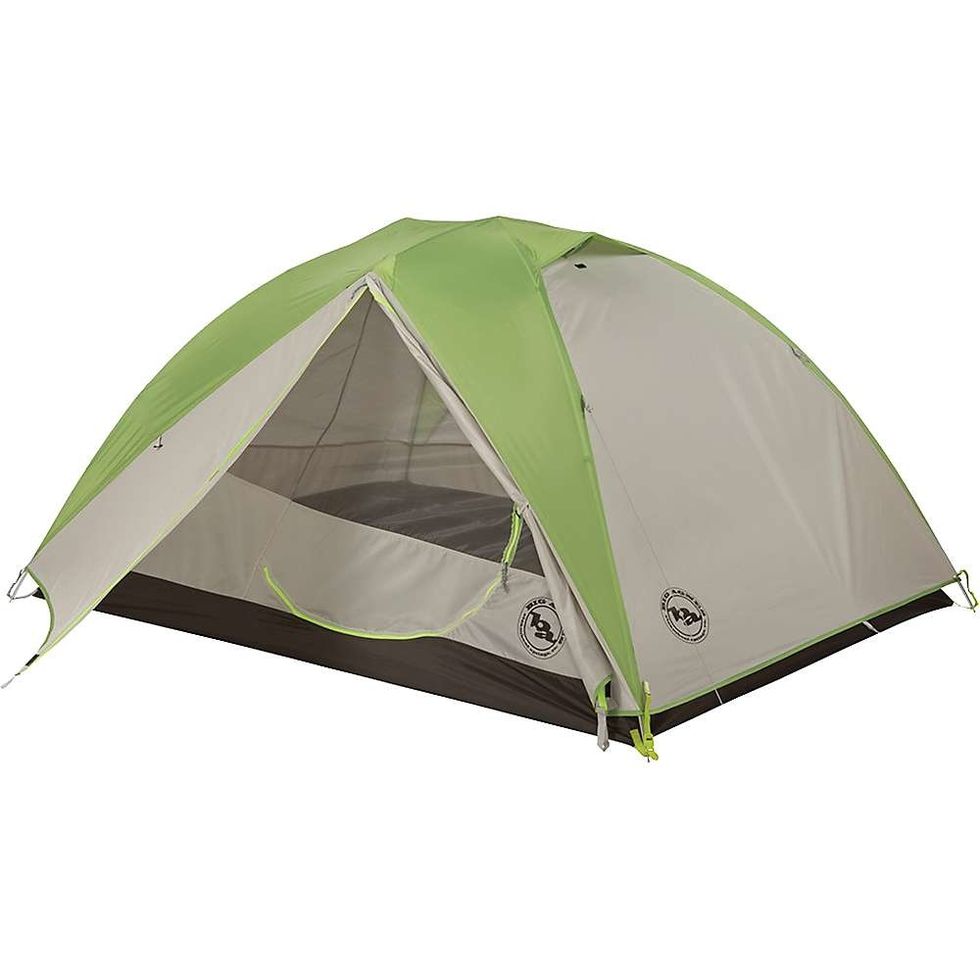 Big Agnes Blacktail 3
Shelter
The most essential part of a fun camping trip is comfort, and the most important factor in comfort is shelter. Pack the Big Agnes Blacktail 3 for the best night in a standard tent that you can have. It's a large, 3-person tent with 18 square feet of external rain coverage and 44 inches of headroom. About $500 more will get you Heimplanet's inflatable Cave Tent that assembles itself once you turn on the pump. But for true luxury outdoors, look to the Lotus Belle Outback Deluxe, a sixteen-foot portable living room with space for beds and a couch and whatever else you can't bear to leave behind for a few nights under the stars.
Whether small or large, you'll want a soft, warm sleeping bag to zip into. Montbell's Down Hugger 650 is made of light nylon and filled with 650 fill down for a warm, packable, flexible bed. If you're someone who sleeps cold in almost any conditions, the EURO Blackcan Heat Mat will help. Using a butane or propane gas canister, its hot water heating system is good in even the stormiest conditions and heats the mat to 86º F in below-zero weather.
The hygiene-conscious camper will want to freshen up after a day outdoors. There is no better way to do this than Ozark's 2 Room Shower Tent. Its five-gallon solar heater prepares a hot shower while its second room acts as a vented changing room with pockets for towels and toiletries. A rainfly keeps unwanted water out while mesh drains remove your used water to keep the interior clean. It's hotel luxury in the woods.
Radiate Portable Campfire
Fire
Even on hot, summer nights, a fire cooks dinner, keeps the bugs away and provides a centerpiece to your campsite. InstaFire Fire Starters are reliable and inexpensive. They come in waterproof pouches and usually light with the first match. If you're willing to spend a little more for a lot less work, the Radiate Portable Campfire is everything you need. Made from recycled soy wax, it's a waterproof, reusable, and refillable campfire in a can. Use it on its own or to start your campsite bonfire.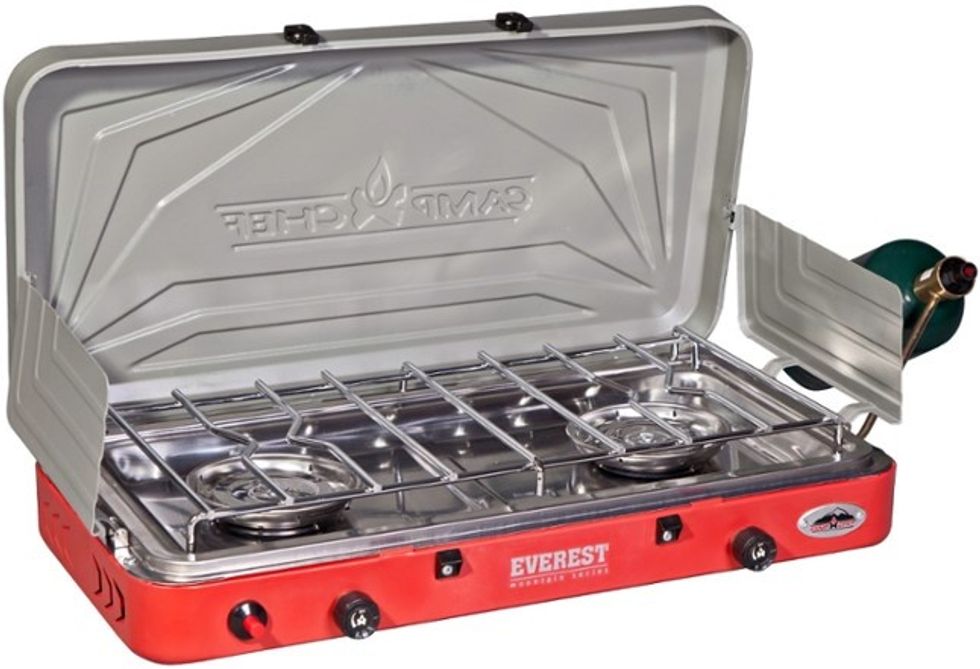 CampChef Everest
Food & Water
Now that you've made fire, it's probably time for dinner (or breakfast). Space food and granola bars won't do. Use the Snow Peak Tamago Pan to sauté the catch of the day or to fry up the bacon and eggs you packed. It weighs under two pounds and has a removable handle for easy storage.
Drop some of Alpine's 100% Arabica instant coffee into hot or cold water and be surprised at some of the best instant brew you can buy. Heating a titanium mug over the fire is a great way to burn your lips, but Snow Peak's HotLips Titanium 600 mug comes with a silicone mouthguard so you don't have to wait for the mug to cool.
Of course, if you've brought the car, pack the CampChef Everest. Its two burners put out 40,000 BTU in total and its push-button starter makes it easier to light than any wood stove or charcoal grill. You'll want utensils to eat the multi-course meal you've prepared, and The Muncher Multi-Utensil is diverse enough to handle any meal. It even has a peeler, can opener and flint packaged into its tiny form.
While water is important to any successful camping trip (the Yeti Rambler is the essential water bottle), sometimes the magnificent sun setting below the mountain you've just climbed (or driven up) calls for a celebratory drink. Stanley's rugged Happy Hour Shaker is exactly right for the job. Nested inside its 30oz stainless steel shaker casing are a juice reamer, strainer and four double-walled rocks glasses. You can't fail with a setup like that and a few flasks of bourbon.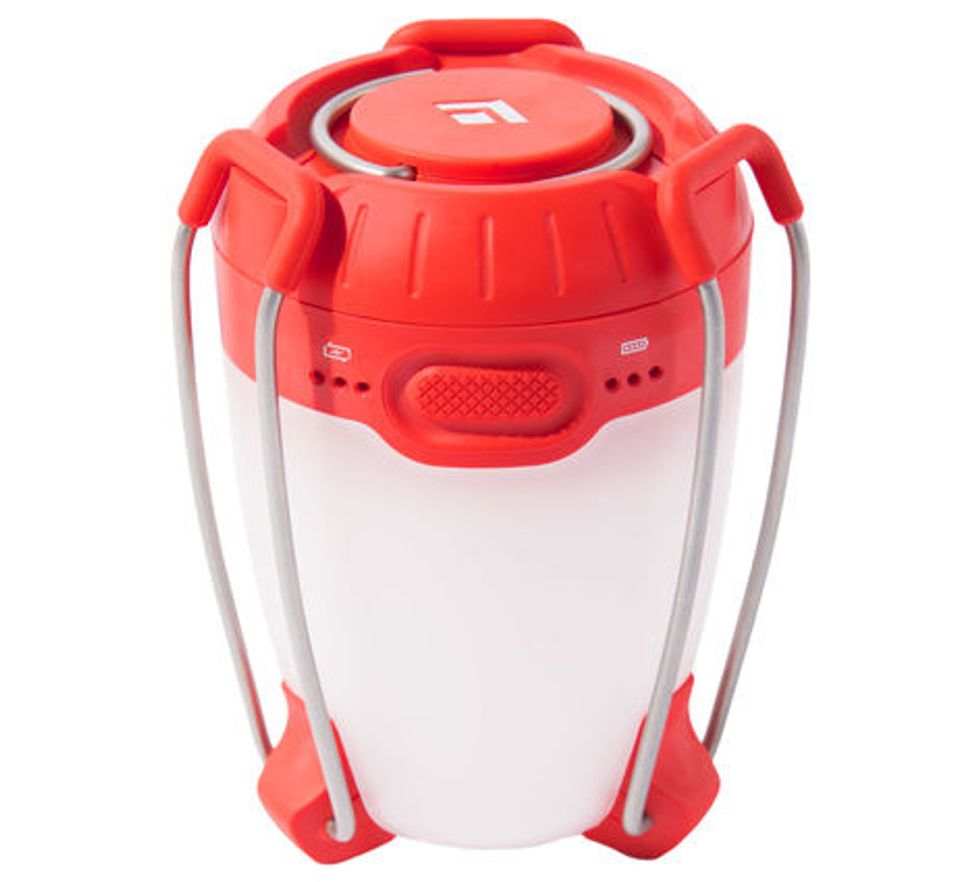 Black Diamond Apollo Lantern
Light
The Black Diamond Apollo Lantern is the right light for camping. It's bright without creating glare and has USB charging ports for your group's phones. With a rechargeable battery and slots for AAAs, it can run for 24 hours straight. It also has a double hook for hanging and three collapsable legs for standing.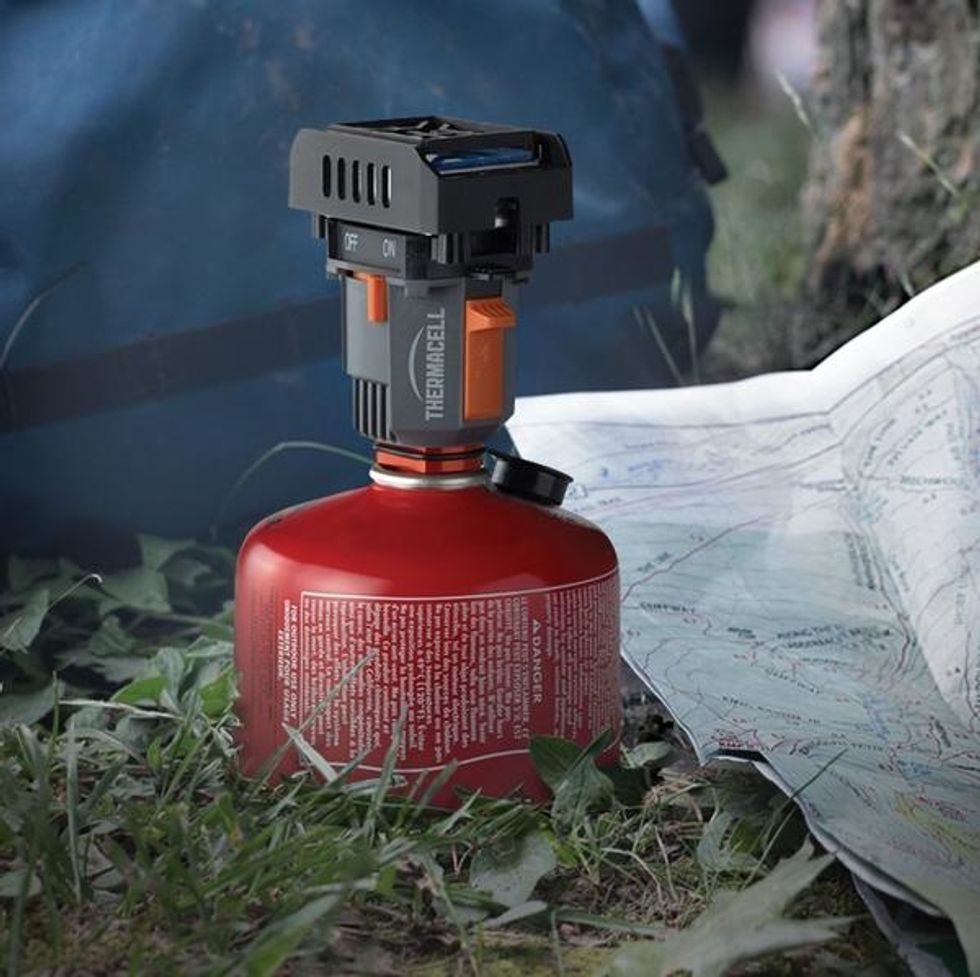 Thermacell Backpacker
Bugs
Lights attract bugs, but the Thermacell Backpacker Mosquito Repeller creates a 15-foot bubble of protection with only a small amount of heat required. Fueled by a standard backpacker's fuel canister, it emits repellent for up to 360 hours on a 16oz canister. It's scent-free (a big bonus compared to competitors) and works up to 7,000 feet with no hassle once you've turned it on.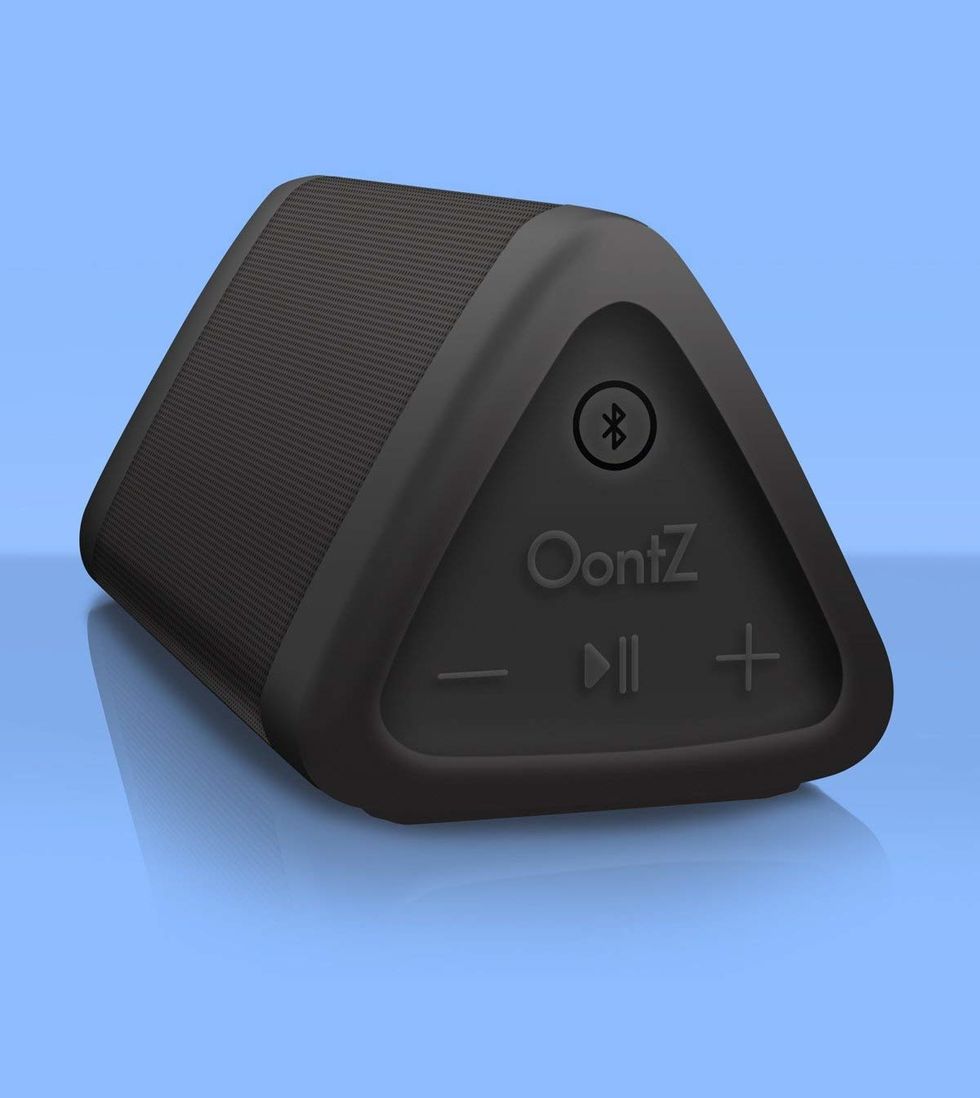 OontZ Angle 3
Gadgets
No adventure can be made worse with a little music and the OontZ Angle 3 wireless speaker is one of the best. For only $25, you get surprisingly high-quality sound, noticeable bass, and a 12-hour battery life. It's also water proof and ready for inclement weather.
At this point, no one should judge a camper for wanting to keep their devices charged and ready for pictures, music or emergencies. Be ready for anything with the River Bank charging system, a $300+ investment that can charge every device you can think of, including your car's battery. It has USB and USB-C ports, a Qi wireless charging pad, an AC Outlet and a 51,200mAh/188 Wh Li-ion Battery to keep everything powered. It works with stackable modules that change its function but keep its form small enough to pack. The main module alone can charge a phone up to fifteen times.
With the essential equipment, a camping trip is an exhilarating, perspective-changing excursion. With this equipment, any camping trip becomes a no-hotel vacation.